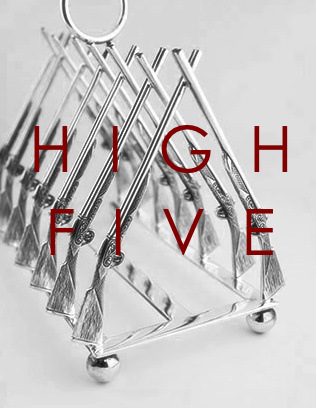 High Five for Friday, January 26th.  Here are five things that have my attention:
1.  PGA Tour Pro Zac Blair buys his golf shoes off Ebay.  I absolutely love this…not because it's exactly what I'd do, but because Footjoy needs to get the message…and it sounds like they did!!  Classics, baby.
2. Thomasville Tomme Cheese.  We stopped by the Cheese Shop for dinner in our recent trip to Thomasville, and enjoyed waaaay too much of this delicious treat.  We brought some home and recently ran out…good thing we can order it online!
3. Chaco X Fishpond Native Flip.  I can't express how much I dig these.  I'm not on the Chaco train yet, but these may be my gateway.
4. Colonel Littleton's EDC.  Having met the Colonel, I completely get the simplicity of his everyday carry.  I can actually relate to most of it.  You can learn a lot from a man by what he carries in his pockets.
5. Sterling Silver Shotgun Toast Rack.  File this under 'what should be on my desk'.  I love old stuff like this.  So much character.  I'm sure I could find a use for this – maybe to hold mail?