I'm a bit of an Ebay junkie.  I really enjoy obscure searches to see what's out there.  While today's Ebay is completely different than it's original inception, there are still a ton of treasures to be found.  Every once in a while I'll post about some of my luck.  I've found some goodies over the years.
A common search I do is 'engine turned buckle' or something close.  Rarely does it yield anything of significance, but recently it did.  I found and won a sterling silver, engine turned buckle from Tiffany & Co. with my Grandfather's initials.  The price?  $50.  How could I say no?  When I think about monograms and initials, I am not sold that they 100% have to be mine.  I recently got a few shirts monogramed with my son's initials.  I have my eye on a buckle where I plan on doing the same.  My grandfather and I were very close, so I would call this a significant find.
Now, this is an older buckle, so it needed a thinner 1″ strap, rather than the normal 1 3/16″ straps that you normally see with these buckles.  I reached out to my good friend Grayson Dingman (son of the famed Martin Dingman) to see what he thought.
"Send it to me and I'll let you know…"
After a week or so of his wheels turning, he told me to check my mail in a few days.  What came back was outstanding.  What's even better, he documented the process.  Keep in mind, I had no idea what was coming, so opening it was like Christmas morning.
He created two straps for me: a houndstooth strap, and an alligator strap.  The Houndstooth is a similar design to a limited edition they did with Onward Reserve about five years ago.  It is an excellent belt, and has darkened and patina'ed extremely well.
This is the brass roller die that attaches to a machine where the belt is fed through and debossed with the houndstooth pattern. The wheel not only applies pressure but also heat to achieve the pattern. The reason the pattern is darker than the base leather is because the heat actually burns the natural vegetable extracts in the leather. This burning creates sharp detailing. Inferior quality leathers do not actually burn, but melt:
This is the machine that combines the top leather and the lining leather after the adhesive has been applied.  The first (back) wheel set in the photo applies pressure to help combine the leather.  Between the wheel sets is a set of curved knives that shaves 1mm off each edge of the combined belt.  This is called beveling.  You can see the shaved off strips peeling away in the photo.  The reason for this is two-fold: it ensures a perfect alignment between the top and bottom leather straps, and it contours the edge of the belt to give it a more rounded profile, rather than blunt, 90 degree edges:
A nice touch: Dingman applied the snaps to the lining before the top and bottom leathers are combined, rather than applying the snaps after the two pieces are combined. This keeps the snaps hidden:
The iconic orange boxes arrived just after the new year.  I was giddy to open them.
This is the first of the two: the houndstooth leather with the Tiffany & Co. buckle.  I absolutely love this look, because I know it will age very well.  This is a great look on the golf course, or with natural colored pants (khaki, greens, grays).
The matte alligator belt is immediately one of my favorites.  I love the dressier, thin look, and look forward with putting some miles on this one.
Notice the edges: both belts are what are called a flat construction with an English bevel.  This is a vintage style that is beginning to make a resurgence: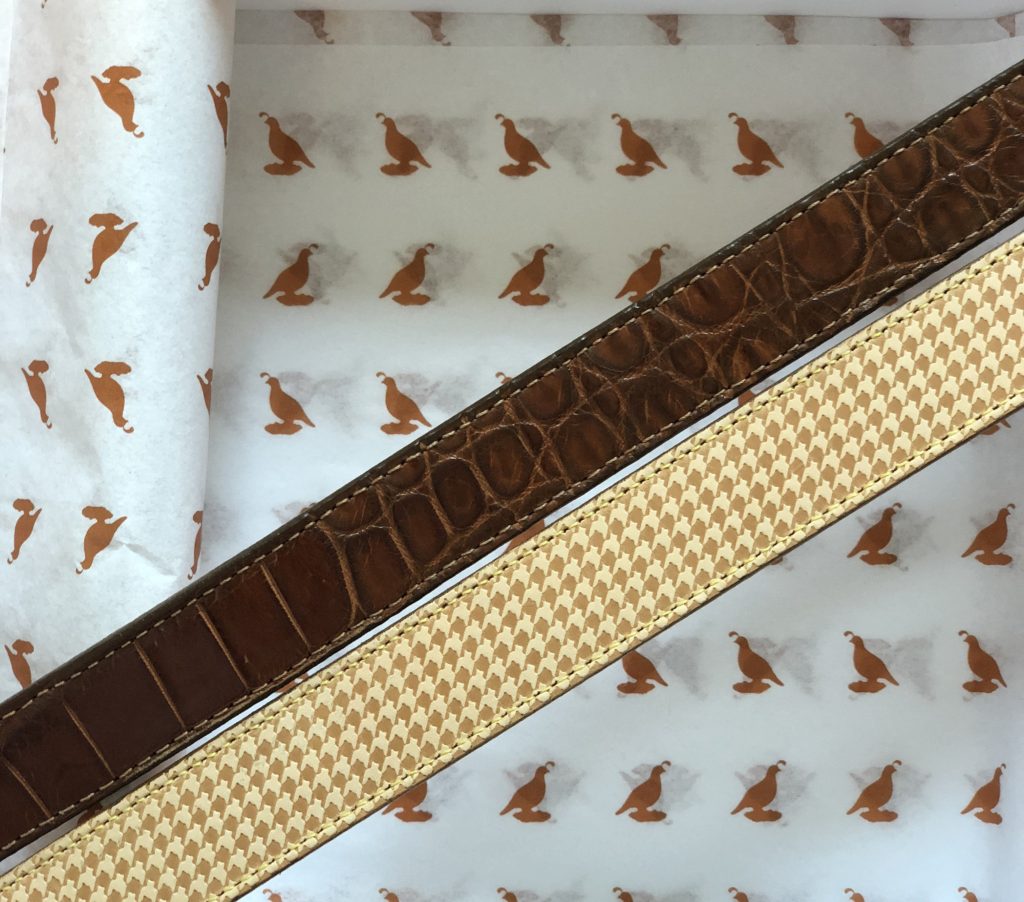 The hidden snaps: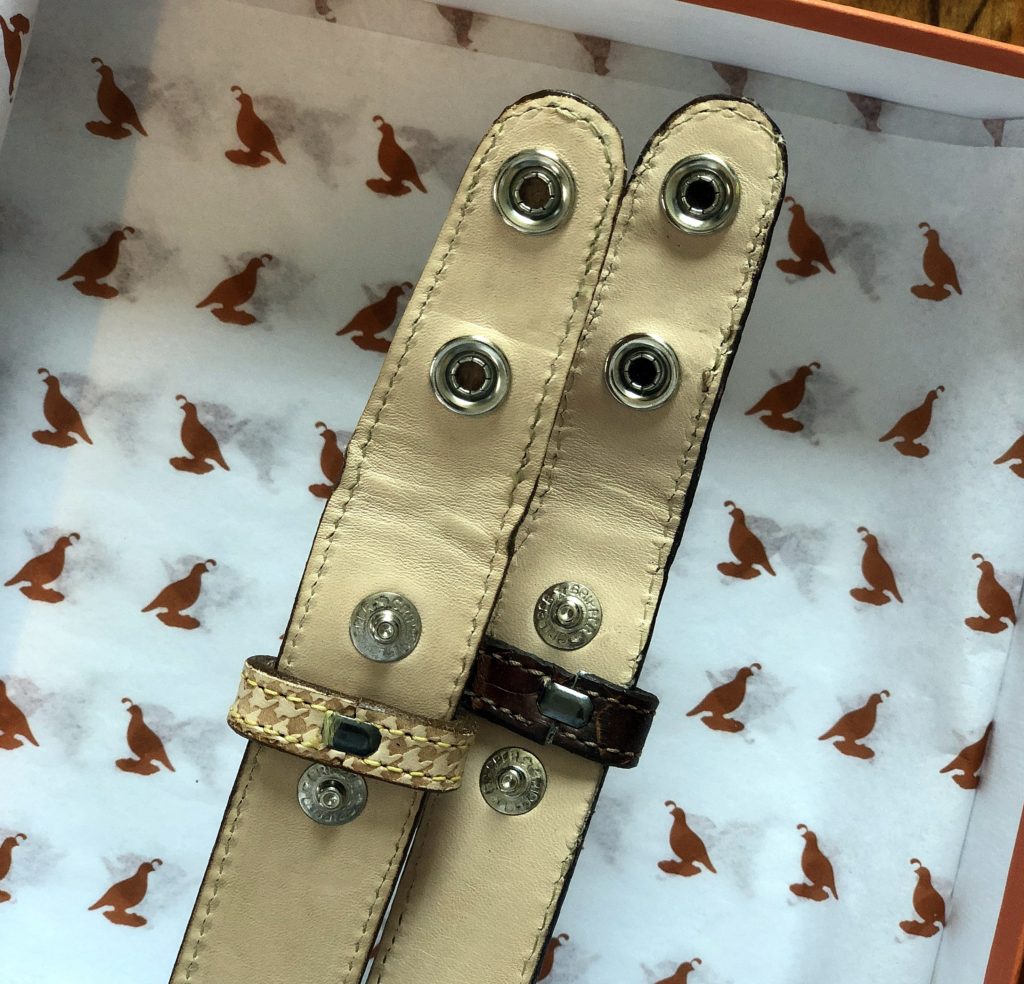 This is my favorite part.  Grayson stamped both belts with the dates they were created.  This makes them an heirloom piece that hopefully I'll pass down to my son.  Dates give the belts a story, and I am so happy that the Dingman team was able to help me tell this one.
Got an old buckle you'd like to dress up?  Reach out to the Dingman team.  They'll treat you right.