We are all familiar with 'Go To Hell' pants – they were highlighted in the OPH, and have been a staple ever since.  Now, GTH(ell) pants are fun, and have their place, but there hasn't been much mention of what I like to call the 'Go To Heck' pants.  Also known as diet-GTH pants, these are essentially regular pants, but in different colors than the standard khaki, stone, navy, and olive.  The theory I have is that GTHeck pants can be incorporated daily (without the flippant attitude) if done correctly.
The good folks at L.L. Bean Signature think so as well, and sent me a couple pairs of their canvas cloth pants to prove it out (full disclosure).  Below is 'Dark Russet' – which is basically a deep orange/red/rust color, and 'Deepest Green', which is a dark emerald color.  Both are great colors, and shouldn't be looked at as costume-only options.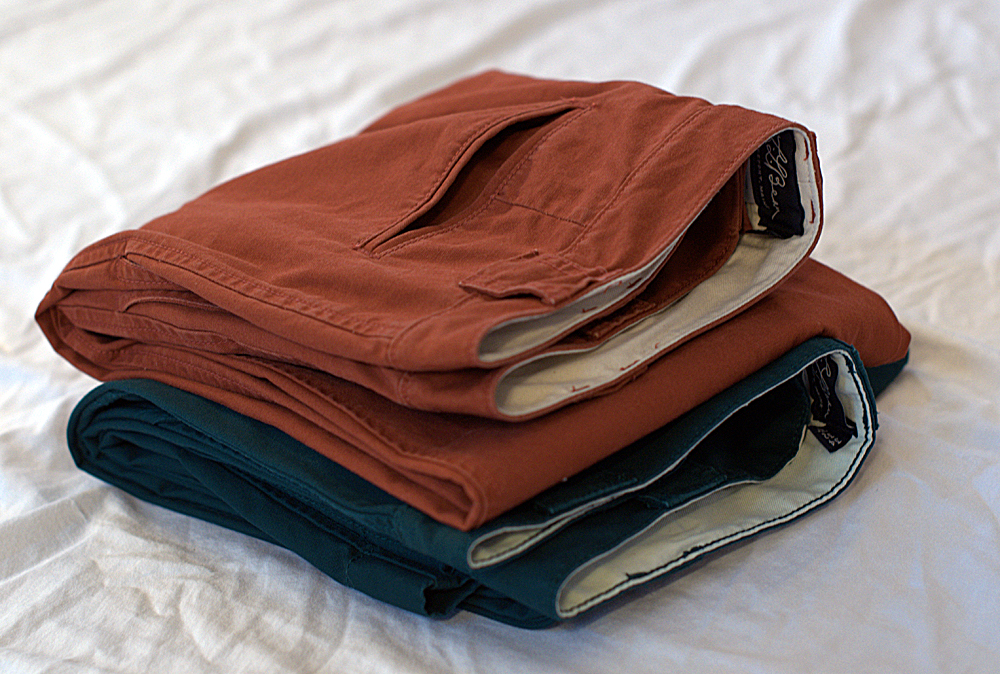 The key to making these pants work is muting the rest of the outfit.  Let these pants be the 'statement' piece, but be quiet with the rest of the outfit so that they are acceptable in everyday use.  Below is the look with the 'Deepest Green' pants:
They are paired with a blue OCBD and a burgundy tie, a navy 3/2 sack blazer, shell cordovan loafers and belt, navy socks, and an vintage Omega Seamaster on a Smart Turnout nylon strap.  By muting the rest of the outfit, the green pants become a part of the look, and not a glowing attention grabber.  I would argue that this outfit would be 100% acceptable in any office environment.  The shell cordovan and the strap are going to show that you know what you are doing – to those that need to notice.
Next is a transition look with the 'Dark Russet' pants:
For an office/professional look, the pants are paired with a light yellow OCBD, a corduroy 3/2 sack, a hoof-pick belt, navy argyle socks, and tan longwings.  The yellow shirt and tan jacket bring out the 'rust' color in the pants, which is a great contrast to the shades of khaki your co-workers will be wearing.  Again – the hoof-pick belt and the argyles will show that you know what you are doing.  For the After Work/Happy Hour/Cookout/Trip to the Lake transition, ditch the jacket and the longwings and add the sweater and Loungers.  Bean it out.
You like those Loungers, don't you…(keep your fingers crossed)
So there you have it.  We've covered rust and emerald green, and while both of these are thought of as colder-weather colors, Spring time offers another array of options: lighter blues, lighter greens, and oxford cloth pants.  It's good to mix it up – be that guy.