I got a few reader questions in my Hunting Trip: Lessons Learned post, so I wanted to address them here, along with a few images from the trip, and bring everyone up to speed on what I sent the organizer as a thank-you gift.
First off, the questions:
From Nem: One thing you didn't address…shooting.  Was your ammo transport and accessibility adequate?  What about carrying your downed birds?  How about ear and eye protection?  Gun cleaning supplies?  Don't keep us in suspense!
I brought my Silver Pigeon 20ga and my A300 12ga.  I packed both in gun socks and then in a Pelican 1750.  That worked like a dream.  One thing to keep in mind: the airlines require all lock holes to have a TSA-approved lock.  I saw a lot of guys get dinged with that.  I didn't have any trouble at the airport, but I studied up and made sure everything was up to snuff.  As for ammo, our lodge provided two boxes of shells per shooter, and we supplemented at Scheel's in Sioux Falls before we headed out to the country.  I brought two boxes home, and packed them in their original boxes (required) in my checked bag (also required).
As for downed birds, it was a group effort.  The guide's dogs would bring all downed birds they found to him but we all ended up carrying a few as we came across birds that didn't go down immediately.  I wore two different vests: the Browning Upland Vest and the Fifth and Fields X Boyt Strap Vest.  Both have game pouches, and both were used.  
Nothing special with ear and eye protection.  I wore sunglasses 95% of the time, and used the foam ear plugs.  I have a dopp kit that I use a travel gun cleaning case, where I bring travel-sized cleaning stuff.  Mostly Rem Oil Wipes, a snake, and we borrowed some WD40.
From TCB: iPhone counts your steps for you.
It does, but only if it's charged.  
From Fritz: Love Filson bags, but feel that their biggest flaw is weight when fully loaded.  Seems like the rolling duffels are a great option, especially when on sale.
You are exactly right.  A fully loaded (older) Filson Medium Field Bag was 35 lbs +, and was a bear to lug through the airport with the rest of my gear (rolling Pelican and a carry-on duffle bag).  I pulled the trigger on the Large Rolling Duffle on sale at Nordstrom Rack.  It's impossible to beat that deal.  It arrived the other day, and it's going to be perfect for the next trip.  It'll be easy to manage the 50 lb airline limit.  I highly recommend getting something that rolls.
Also, please update as to how the Silver Pigeon/A300 performed, and which one you went with.
As I mentioned above, I brought both guns, and hunted the Silver Pigeon 20 ga. every day.  I didn't need the 12 ga.  I am a HUGE Silver Pigeon fan – they are extremely dependable, and very fun to shoot.  My buddy brought his A400 20 ga, and hunted it two out of three days.  He would tell you he wished he hunted it all three days as well.
Second, some images from the trip: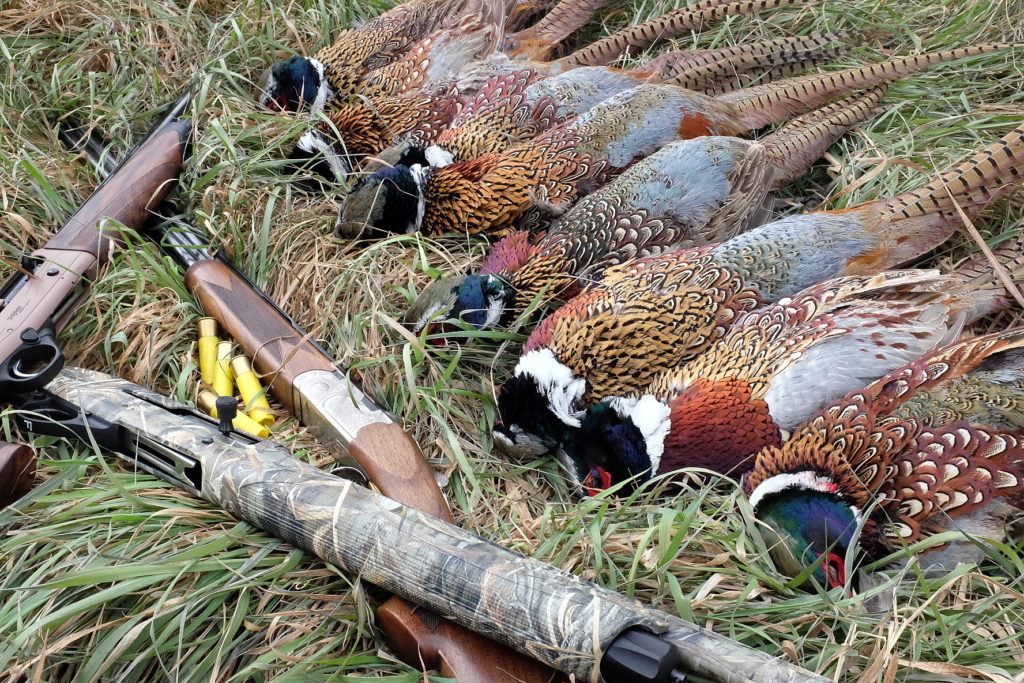 Lastly, I wanted to do something nice for our trip organizer.  He did a ton of work keeping everyone informed and organized which resulted in a really great trip.  I thought a lot about this, and instead of getting him a gift card, I wanted to get something that was trip-related, and something that I could have personalized.  This is what I went with:
It seems simple, but he doesn't have a shot shell belt.  I wanted the authentic shot shell, so I got a Tory Leather belt locally at London Trading Company (cost: $45).  This is the belt that we all remember, made of the thick brindle leather, and the brass buckle and authentic Federal shell.  I then took it to Atlanta Luggage in Roswell, and had 'SD 2017' stamped on the tip of the belt in the smallest font they offered ($10).  After shipping to Nashville ($5), it seemed like an appropriate gift.  Not too much, very useful, and personalized.  He absolutely loved it.
I have a few hunts scheduled over the next few months…I'll keep everyone in the loop.