The second stop on my tour was Martin Dingman's workshop.  Located in northern Arkansas (about 45 minutes from Branson), we fought a slight blizzard to make it down.  We all arrived in-tact, and I got to see where the proverbial 'magic' happens.  The workshop is located on a beautiful piece of property – it is large, but doesn't look as big as it is from the street.
Inside the workshop are some offices for the marketing folks, the distribution operation, the manufacturing offices, and Martin's office.  I was struck by how great everyone treated me – they are such a nice group of people.  They have all been with Martin for 10+ years; most have been with him much longer.  In my previous post I mentioned that Martin was a leather artist.  While Martin is the artist, the operations team are all extremely talented at crafting Martin's designs.
The floor – to the right…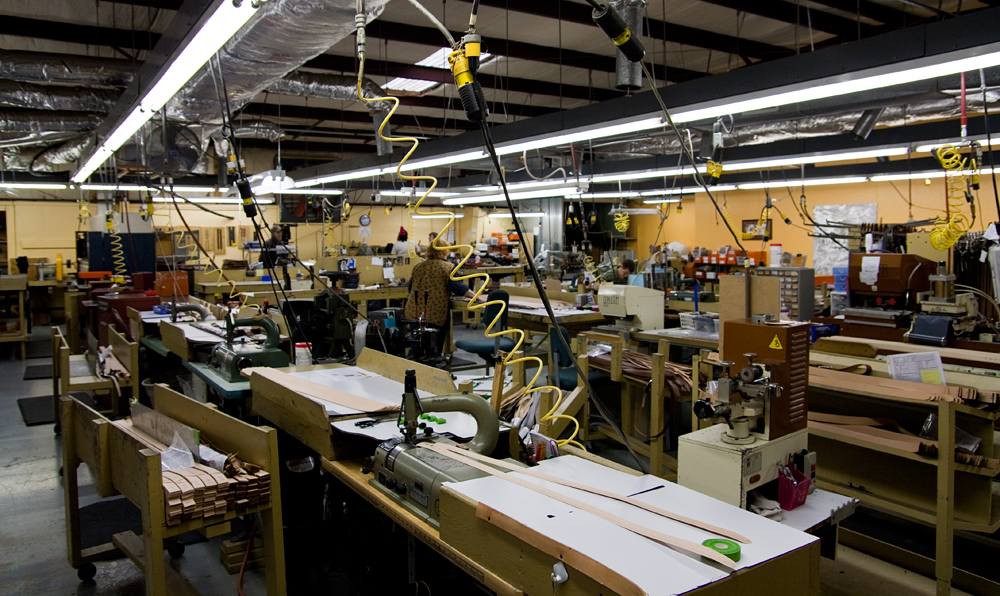 …and to the left.
The workshop is where all of Martin Dingman belts are created.  There are multiple stations (which I will get into in the next post) with equipment for specific purposes.  I was struck by how some of the equipment seemed 'aged'.  I mentioned this to Martin, and his response: 'Well, we've bought newer equipment for this or that, but it doesn't work as well as this one, so we returned it'.  I like that – an 'if it ain't broke, don't fix it' attitude.
The workshop has been expanded a couple times – mainly for storage and order pulls.  The coolest scale I've ever seen is in the newer section:
A good part of the workshop is the 'back row', which has a bunch of samples or pulls from previous seasons.  All of it was amazing – including this alligator belt:
Notice the tortoise shell roller on the buckle?  It's the little touches that set this belt apart, like the alligator tabs and brass buckle on the pink woven belt: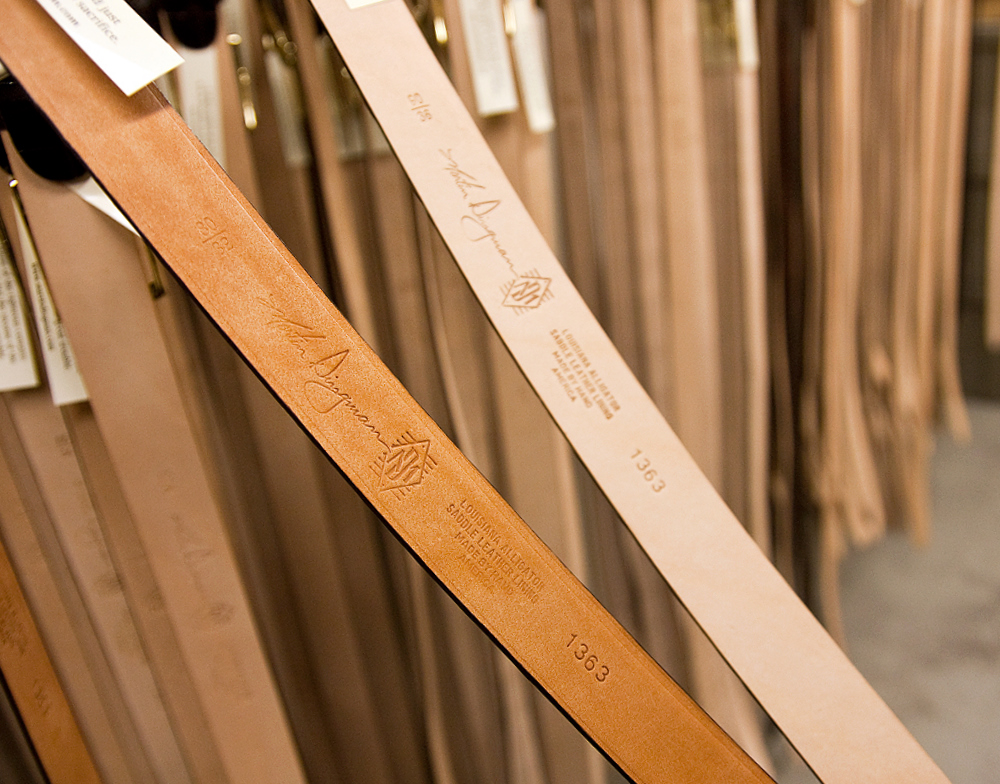 Oxidized leather (on the left).
The belt every man should own.  Martin perfected the dual-buckle option.  His belts are created with hidden snaps, so swapping buckles is no problem, so those come with a silver and a brass buckle.
Making belts requires leather – lots of leather.  This part of the workshop was probably my favorite to see:
Listening to Martin talk about the characteristics of each type of leather was a treat.  This is his medium, and he knows it beyond expert level.  This is a piece that we spent time with – the leather that he uses for his belt backing:
Remember the belt that every man should own?  Guess where it came from?
Another roll
Stocked shoes
Last but not least, some of his samples that have been retired:
Shell Cordovan chukkas and oxfords
The most amazing alligator chukka boots I've ever seen. 
Until next time….
**Congratulations to the twenty folks who won the card cases.  You will all be contacted today.