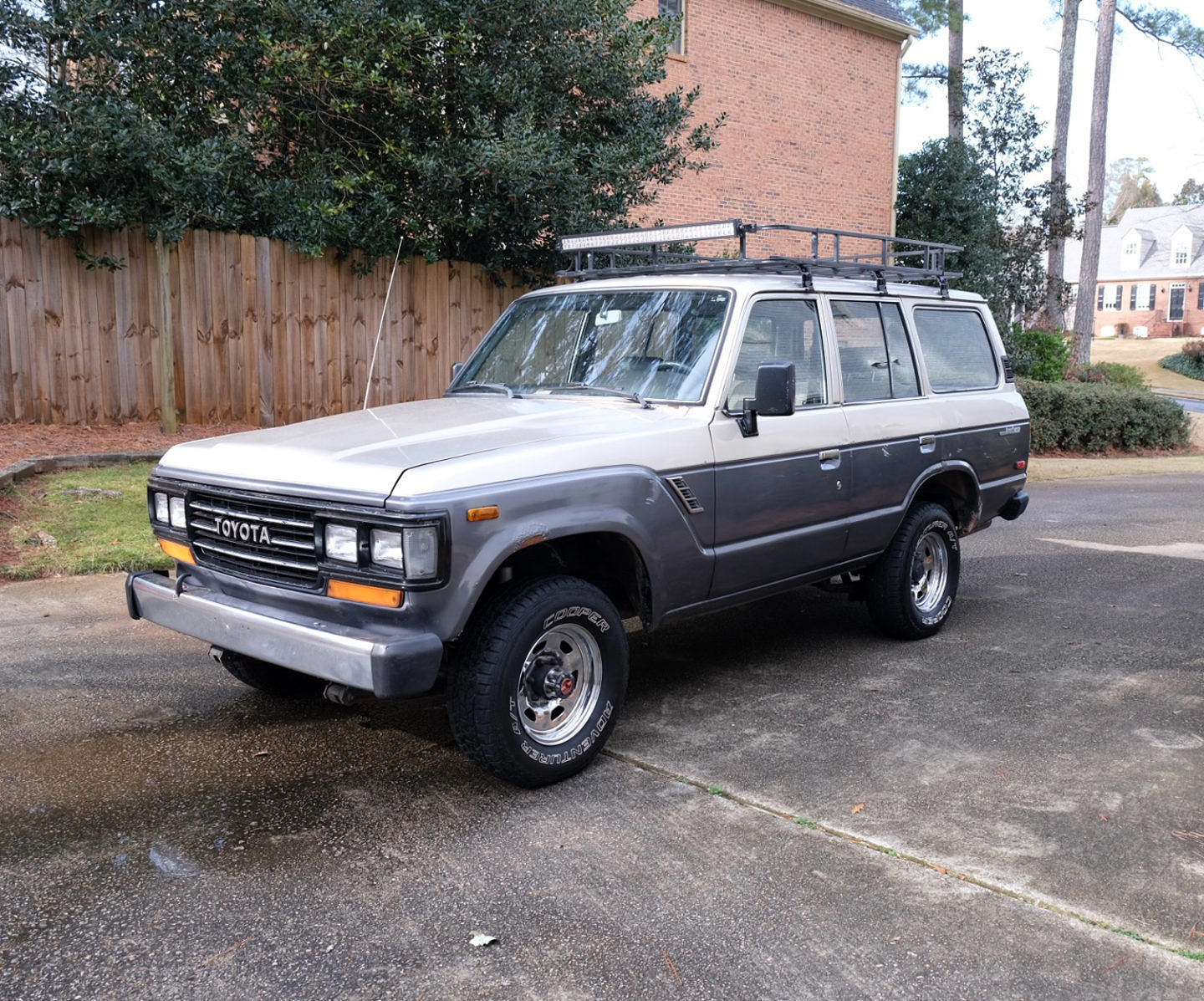 For those of you that follow RCS on Instagram, you saw that Santa (Mrs. RCS) bought me a new sled for Christmas.  She's a 1990 Land Cruiser FJ62 that we are lovingly naming Bertha. We've been on the hunt for a vintage SUV for a long time, but wanted to find just the right one…  She popped up on Autotrader, and after inquiring, we were lucky to get the call from the seller (who lived 13 minutes from our house…).
The good news: she's in good shape.  The previous owner had her for about four years, and within the last year, he did some extensive work to the engine and put in a new transmission.  She runs well.  He also had a thorough inspection through ACC Garage and there's a healthy list of stuff to do.  Not that any is an absolute need to get her on the road, but things that we'll eventually tackle.  I'm planning on going down and reviewing the list with the team and work out prioritization.
There are a few things that I'm going to get done ASAP, mostly around safety so that I can start bumming around town:
New muffler (per a high recommendation from the previous owner)
Fix all the door locks (some are a little squirrelly)
Replace the tailgate latch and lock
Interior lighting (the dash backlight/dome lights aren't working – it's not a fuse)
Upgrade the headlights to LED (they are pretty dim at night)
She also needs a serious cleaning inside and out.  I'll start tackling that here shortly.
After that, there are a few rust spots/paint gouges that I need to address.  I am a HUGE fan of the two tone paint and will keep it.  I'm not looking for Bertha to be showroom quality, but I do want her to look as clean as possible.
Needless to say, Mrs. RCS and I are over the moon excited.  This should be a great adventure for our family.  Be sure to follow along on @berthasbigadventure.  I'm going to do my best to document all the work done, adventures had, and general eye candy.
Here is the official 'Before' photo tour: