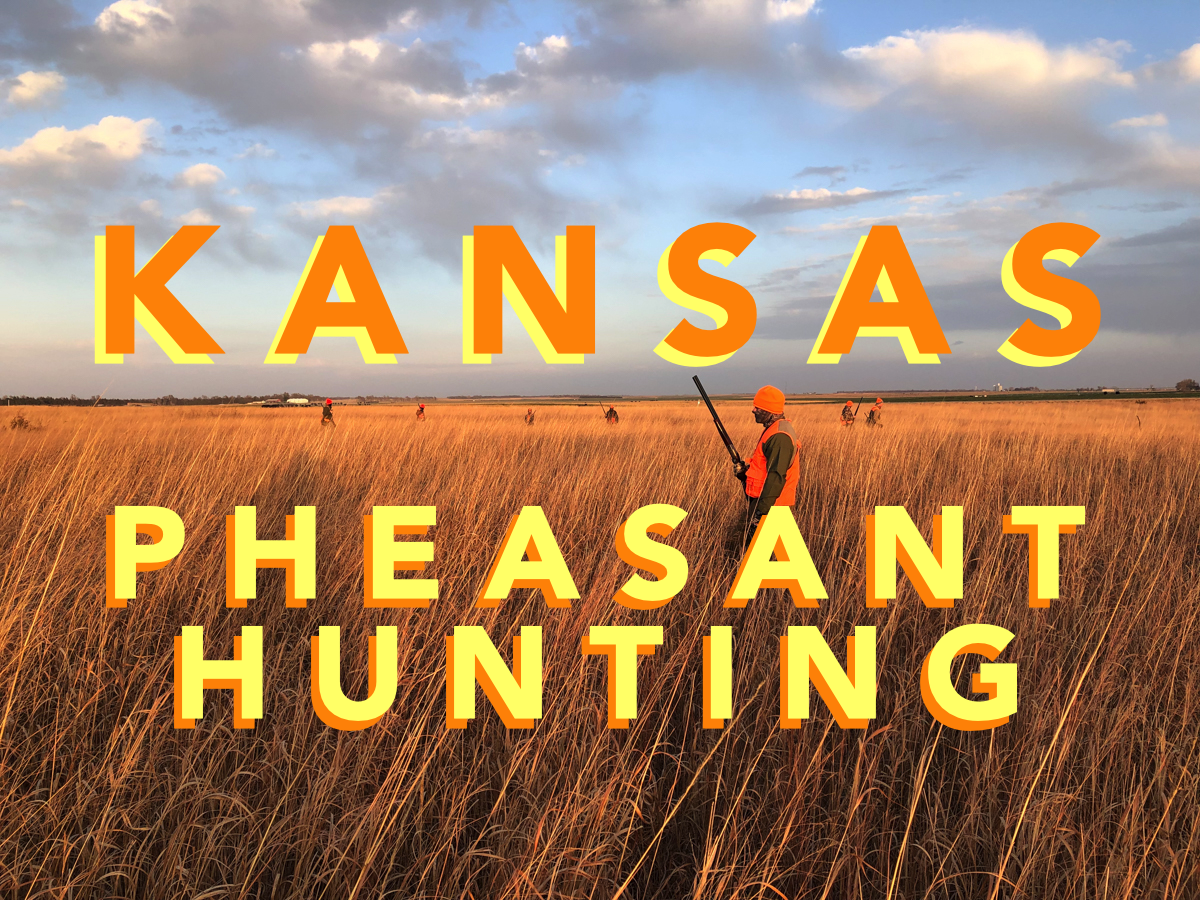 The Trip
The Warrior Hunt Club has been around for a few years.  The group is mostly made up of our college buddies, and then friends of our college buddies who fit in.  We typically do a few side trips a year, but one BIG pheasant trip for the whole group.  We usually aim for about sixteen hunters, and always have a great trip.  Back in June, we booked a two-day hunt at Upland Inn Hunts in Greensburg, KS.  It came highly recommended from Shane at Semo Outfitters in Missouri, where a bunch of us duck hunt.  We had twelve go this year.
The majority of the group is out of Atlanta, with a couple in Nashville and one in Charleston.  We skipped last year's trip because of flight/health uncertainty, but we were determined to make this one work.  And I'm glad we did.  We're all working professionals, so this trip was highly anticipated.
The schedule was to fly into Wichita on Thursday followed by a ~1:45 hour drive to the lodge, hunt on Friday and Saturday, then fly back home on Sunday.  The Nashville crew drove, which was a hard 12 hours.  Shame on them.
The bird limit in Kansas is four roosters per man (aggregate) per day, and the majority of our guys are really good shooters.  Everyone brought their own guns, split between 20ga and 12ga.  There are a couple of guys in our group with great bird dogs, but we elected to leave them home (this time).  Knowing the weather is suspect, we watched it like a hawk, and packed accordingly.  The forecast was all over the place, which made packing layers the focus.
The Lodge
Upland Inn is located in Greensburg, KS.  Literally in the town.  The lodge takes up an entire neighborhood block, consisting of three main buildings, a registration area with offices, a cafeteria, and a small on-site kennel for customers' dogs.  We'd never stayed anywhere like this, with most of our lodge experience in or on the hunting field.  After learning that we'd be hunting roughly 15-20 minutes away, we paid no mind to the location.  It was an afterthought after we got there.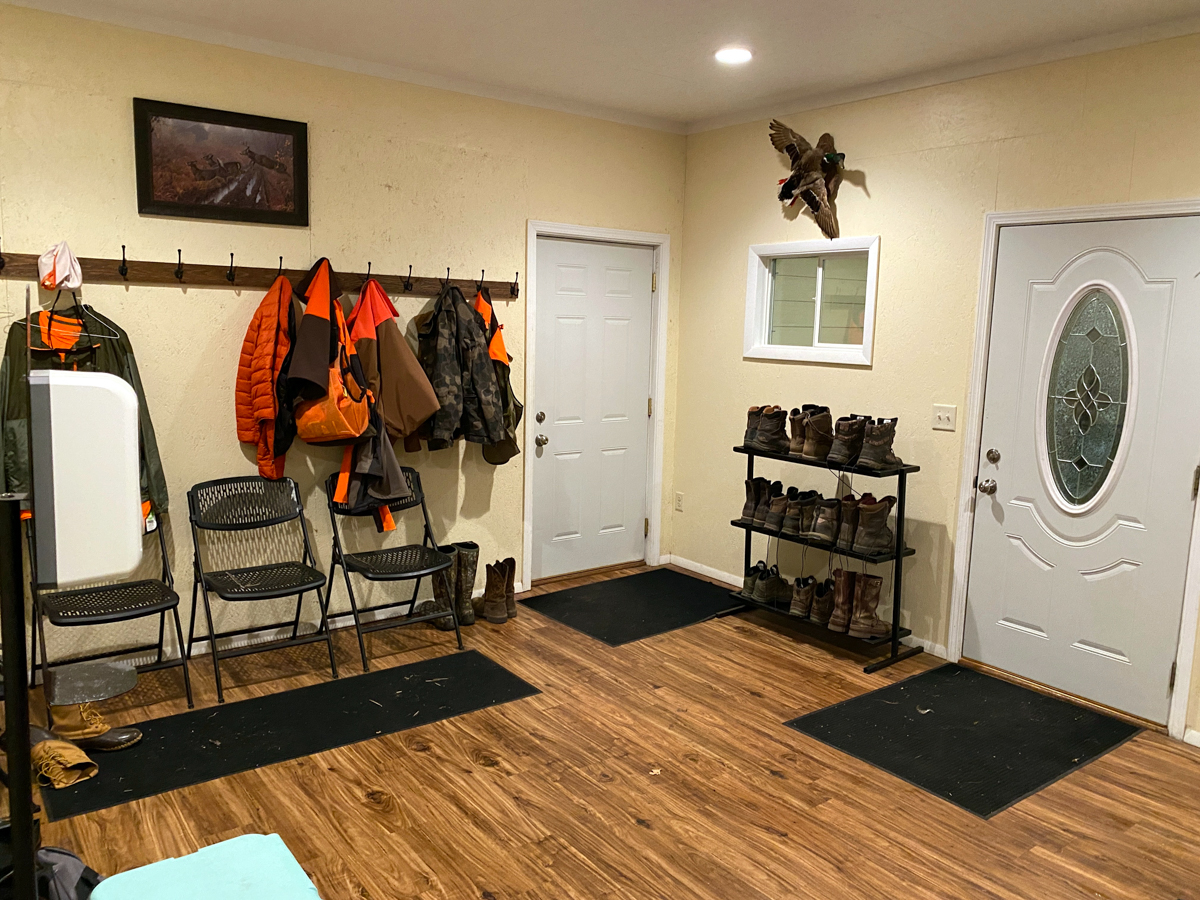 The lodge can hold ~40 hunters.  The guest rooms are each set up with two sets of bunk beds, so they can accommodate four hunters per room.  There is one full bathroom per two rooms, as well as quite a few common areas.  Each of the common areas have a kitchen with a stocked community fridge, which was a really nice tough.  The layout allows for privacy when we wanted it, or more community when we were ready to party.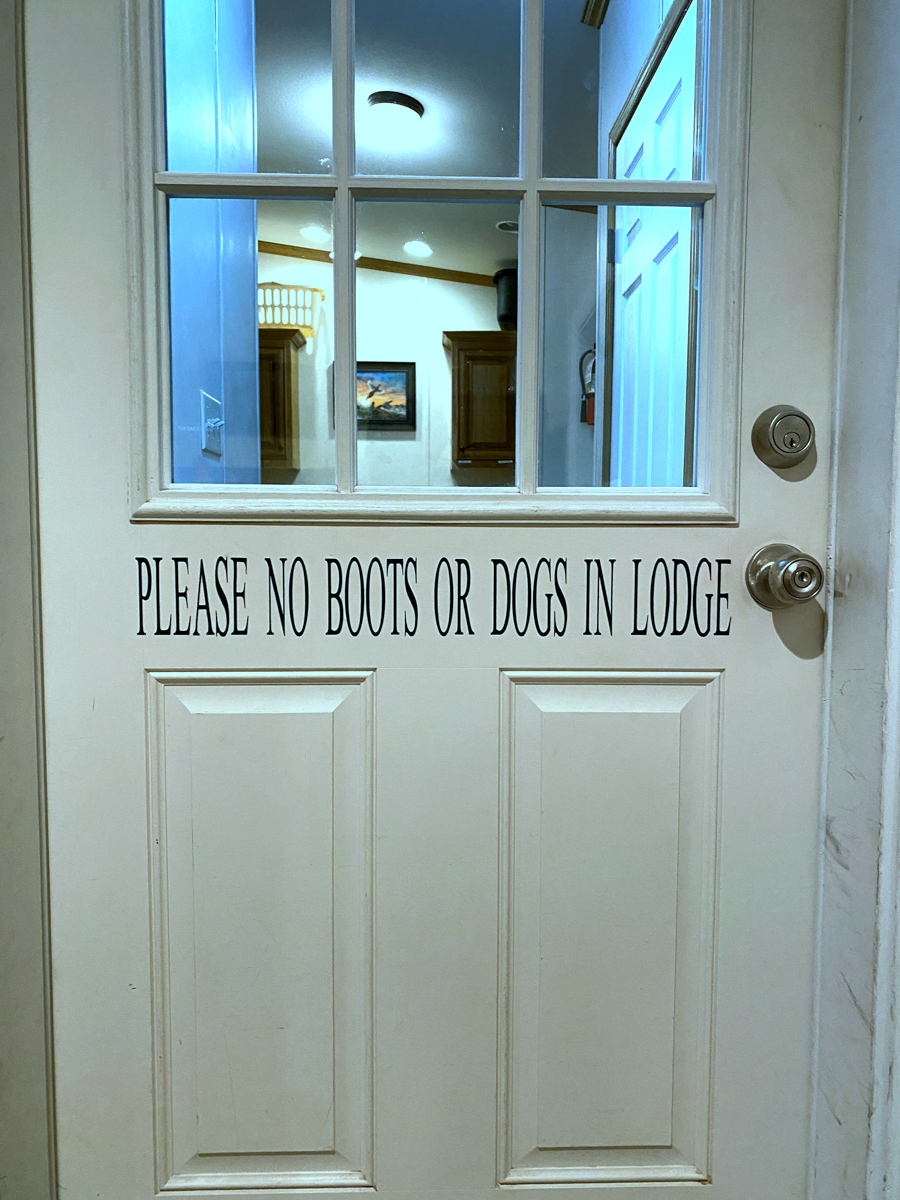 What I liked most about the lodge was the cleanliness.  They had a HARD rule where no boots or dogs were allowed inside the lodge/living areas.  While this seems like common sense, it created a DMARC between the mudroom/locker room and the living areas.  The place was professionally cleaned every morning, which is something I wish every lodge would do.  It makes the space much more livable, especially when it's full.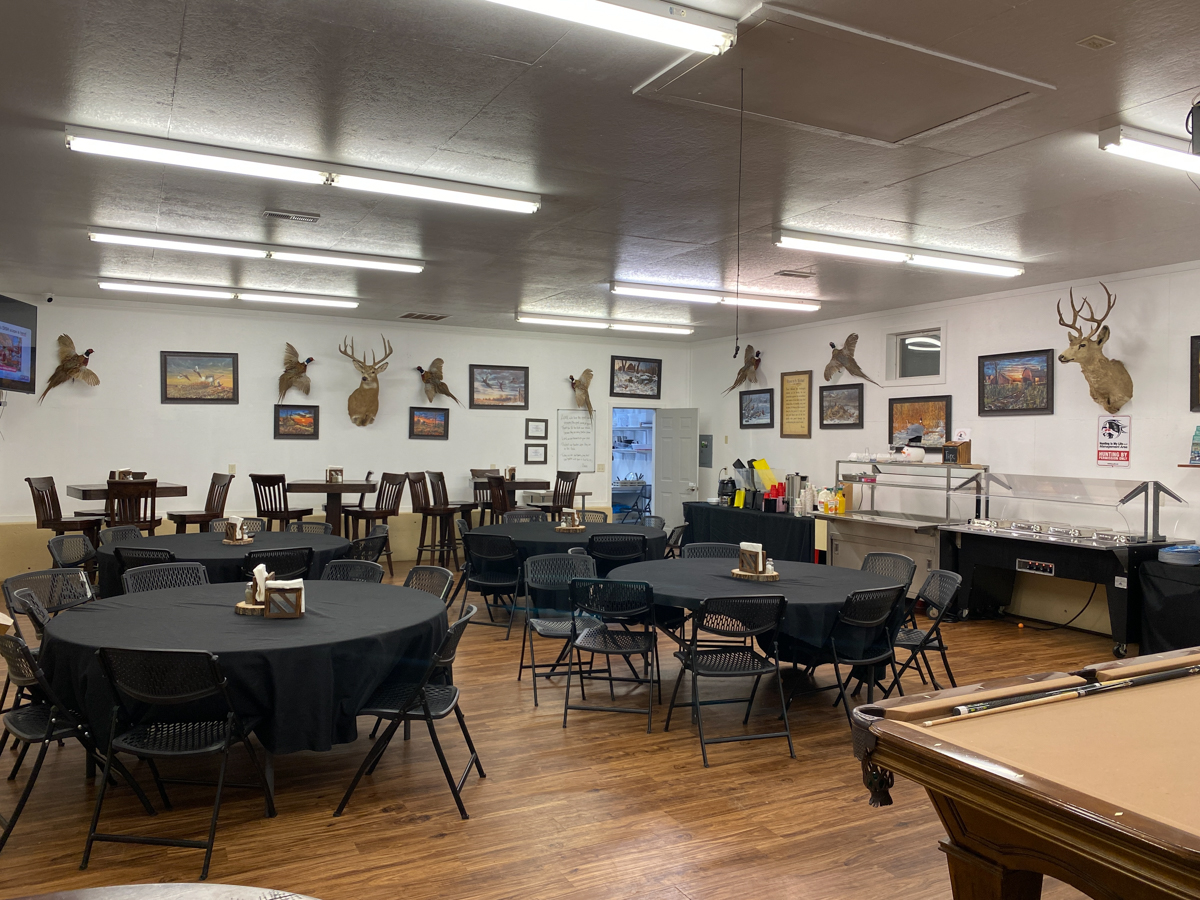 The owner was extremely friendly and made sure to 'make the rounds' every night.  He was more than happy to get to know us and do what he could to accommodate whatever we needed.  Most of the hunters we met had been coming to Upland Inn for years.  We learned why.
Day One
Pheasant hunting is very casual as compared to waterfowl or deer.  After breakfast, the team would gear up, boots on, and meet our guide in front of the lodge at 8:20 and on the road by 8:45.  Unsurprisingly, we were all ready and raring to go at 8AM.  The weather on Friday was in the upper 50s before lunch, with a cold front pushing through in the early afternoon.  The temperatures were scheduled to drop and the wind speed was scheduled to go up.  Way up.  More on that in a minute.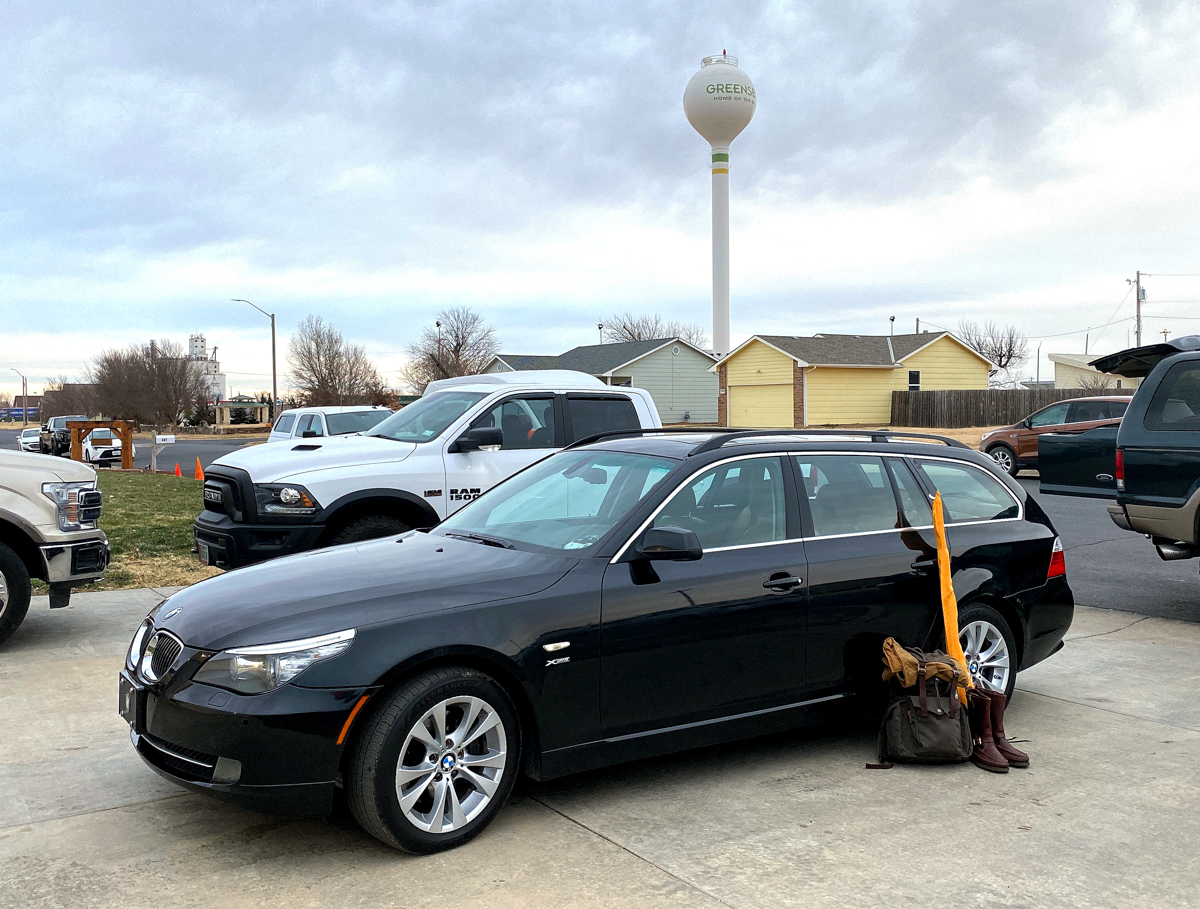 Night Rider – our Toro
The fields were roughly 10 miles from Greensburg.  We followed our guide in our own trucks, which was nice so we could manage our own gear.  Once at the field, we parked, loaded up our shell bags, put on our gloves, and grabbed our guns.  The fields out in Kansas are long and wide – mostly tall grass with strips of milo.  We spread out roughly 20′ apart, and then let the dogs go to work.  We hunted with a mix of Brittney's, GSPs, Labs, and some mutts (who the guides lovingly referred to as "field dogs").  All of the dogs were top-notch.  They worked well in tough conditions.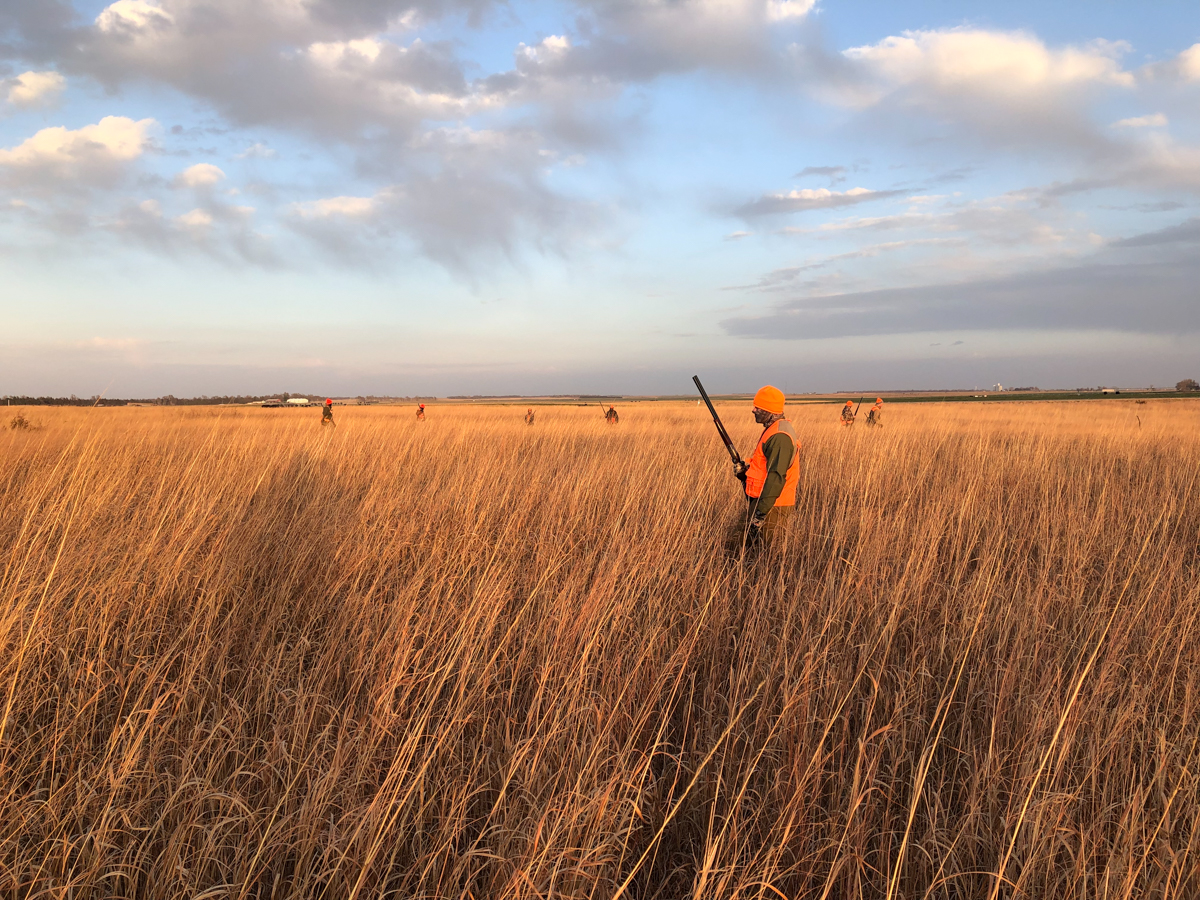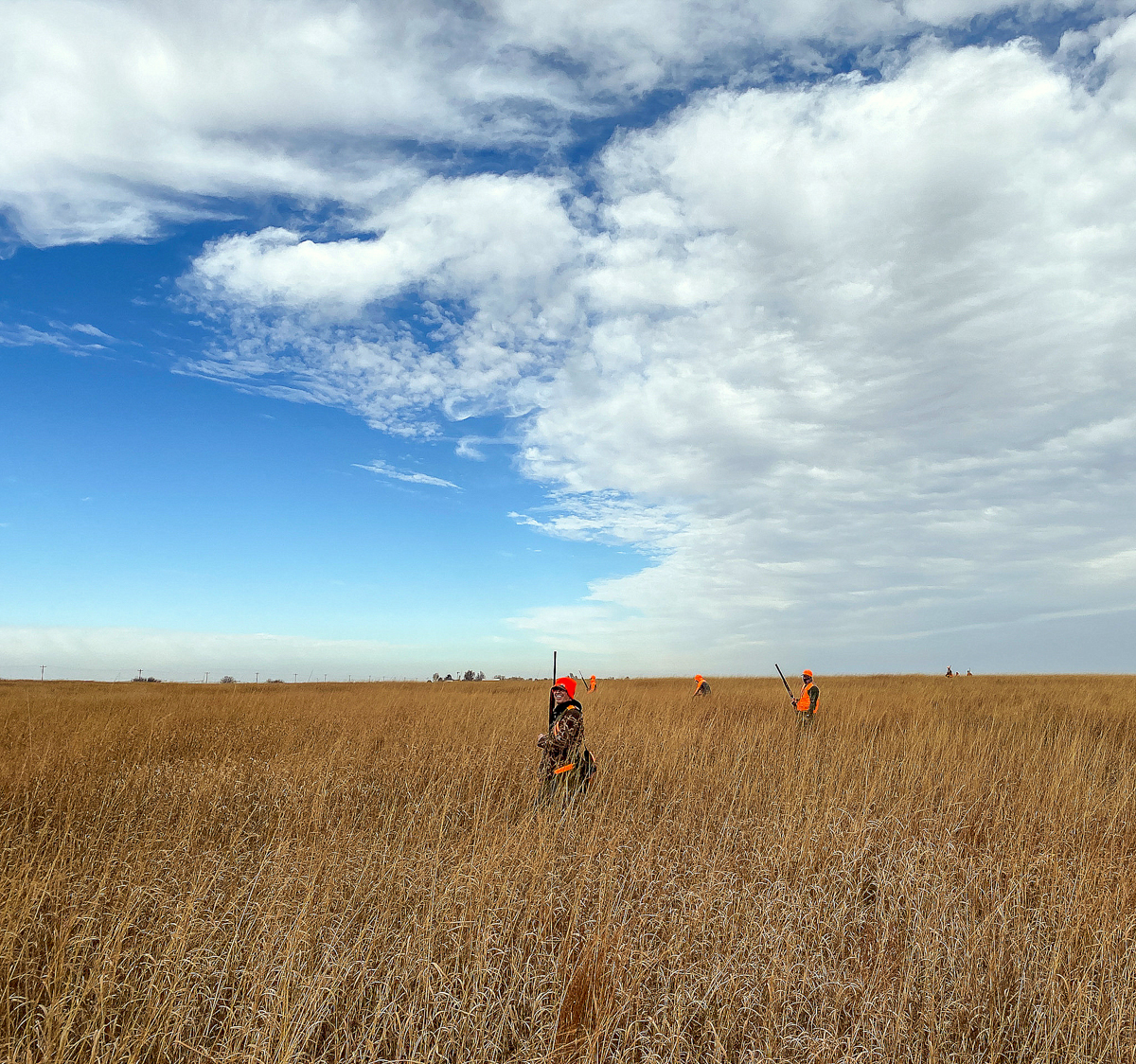 The morning pushes were long.  Very long.  So long in fact that it didn't make sense to have blockers.  The good news is that the terrain was relatively flat, with just enough gradient to handle runoff.  The grass was about waist tall, so it was easy walking.  Then dogs would get to work…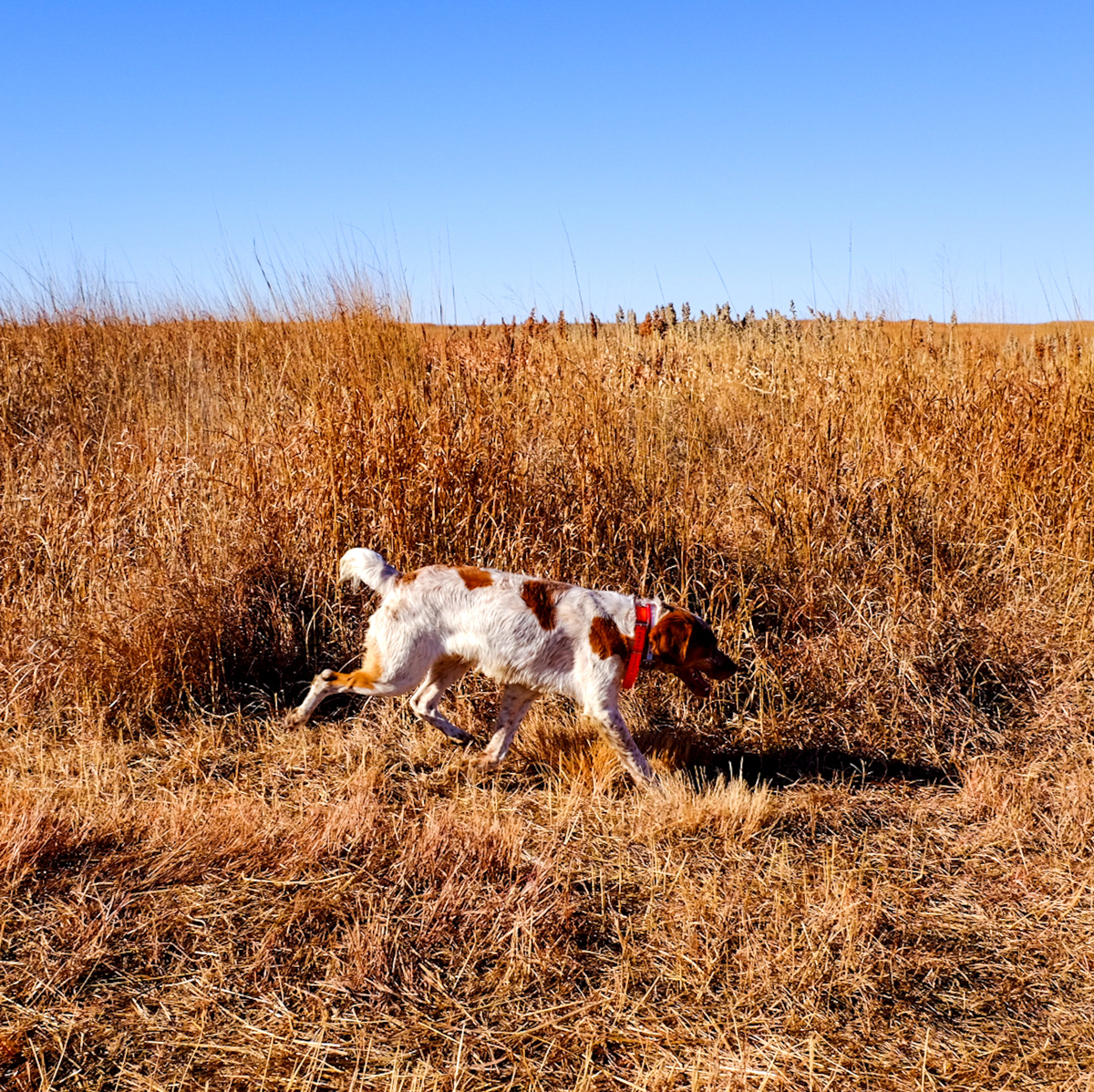 One of our Hunt Club members brought his 13-year old son.  He has been on half-day quail hunts with us in the past, so we knew him.  This was his first pheasant hunt – and first hunting trip ~1100 miles from home.  I was lucky enough to walk next to him (his dad was on the other side).  About halfway through the first push, he had a handsome ring neck jump and float right in front of him…I turned to him and said "Max – KILL IT".  He lined up and shot from about 20 yards and the bird folded over.  Dropped straight down.  I made sure to watch his face.  He watched the bird fall, looked up, and his eyes were as big as silver dollars, and his chin was on his chest.
"Did I get it??!??"
his dad: "Yes, son, you sure did."
Pure joy.
What a special moment.  I'll never forget it.  It reminds me that it won't be too long before I'm experiencing that with my boys.
We pushed that field twice, then moved on to another field which we also pushed twice.  By now it was about 12:45 PM, and we could see the cold front coming at us from a distance.  We decided to do one more push before we headed back to the lodge for lunch.  After that push, we were sitting at 35 birds (of a 48 bird limit).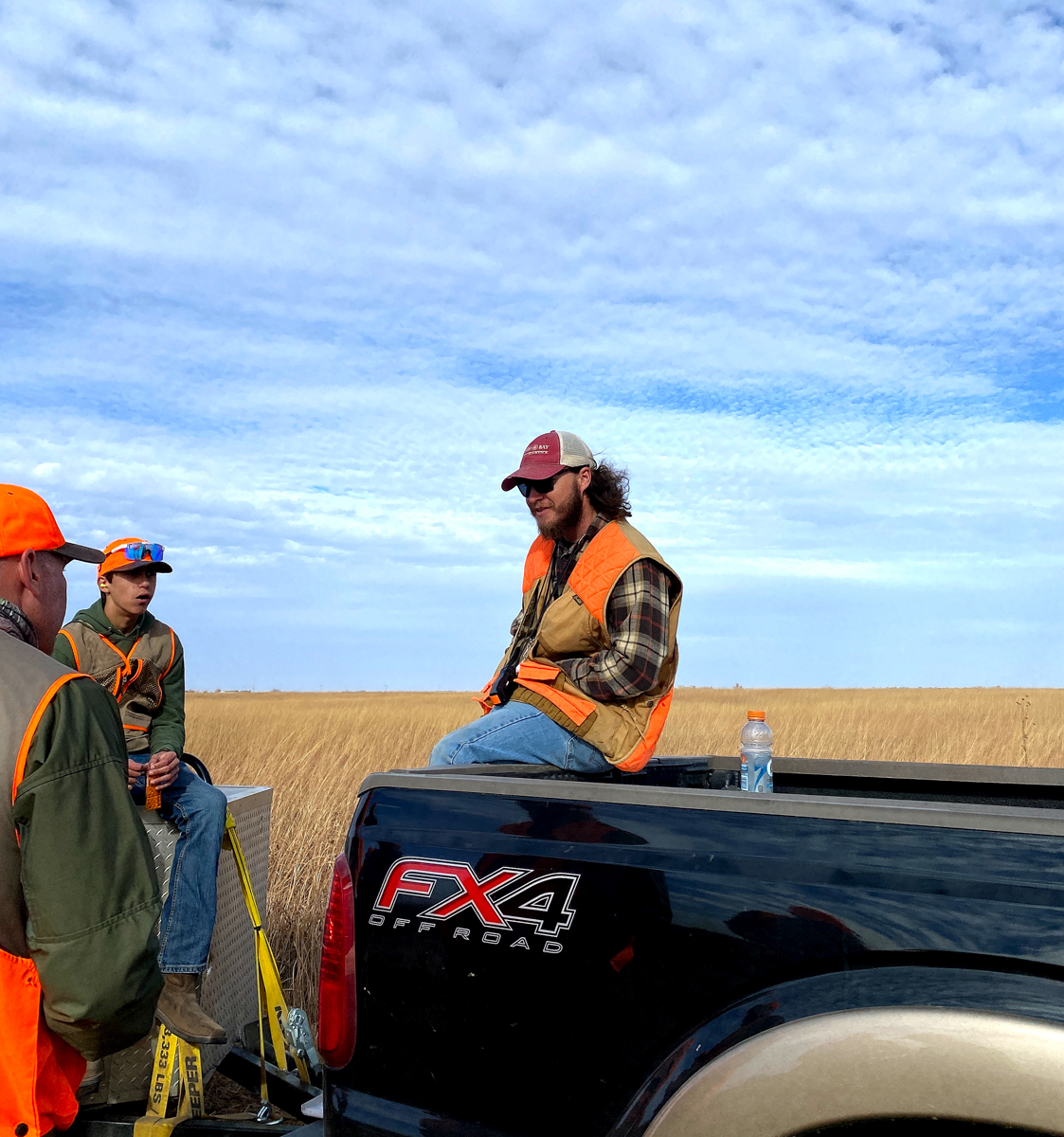 We got back to the lodge and ate a quick lunch.  The weatherman was correct about the temperature going down, and that the wind was going up.  We all grabbed a few more layers and headed out to the next field.
The wind was howling.  25-30mph sustained, with gusts up to 40mph.  We had 13 more birds to kill, and about three hours of daylight left.  Being that we are all stubborn SOBs, we weren't leaving until we filled that limit.
On our first push, we got lucky and had a few jump early.  However, as soon as the pheasant got to 20′, it was gone.  Mach two.  No point in shooting once they hit the wind.  We had to hit them early.  The high winds amplify everything that is hard about pheasant hunting.  Walking is harder.  Seeing the birds is harder – not just for us, but for the dogs especially.  Obviously, shooting is harder.  We pressed on.
We finally hit our limit at 5:10 PM.  48 birds, four tired dogs, 7.5 miles walked, and 12 worn-out hunters.  We took our pictures, cracked a beer, and headed back to our trucks.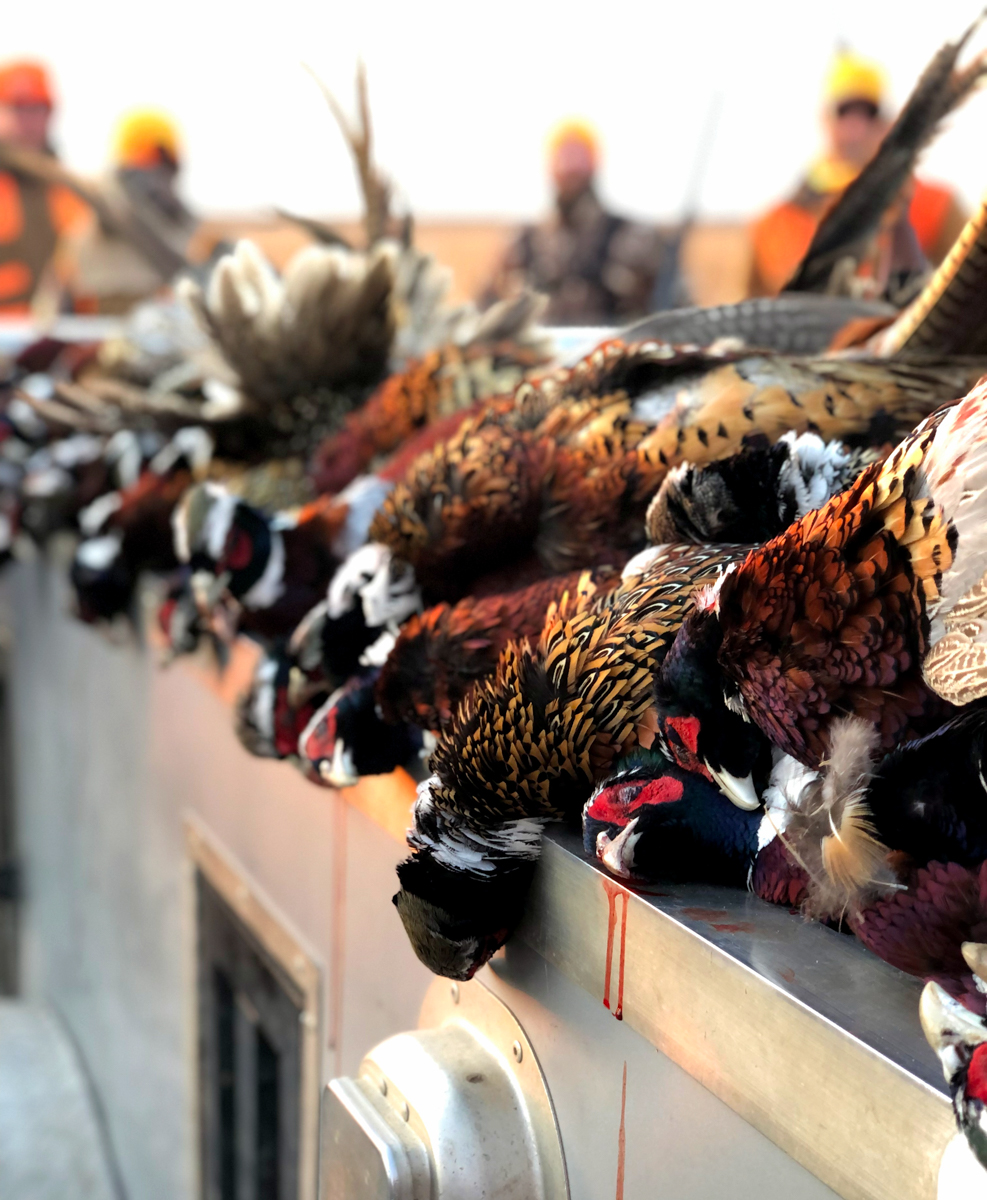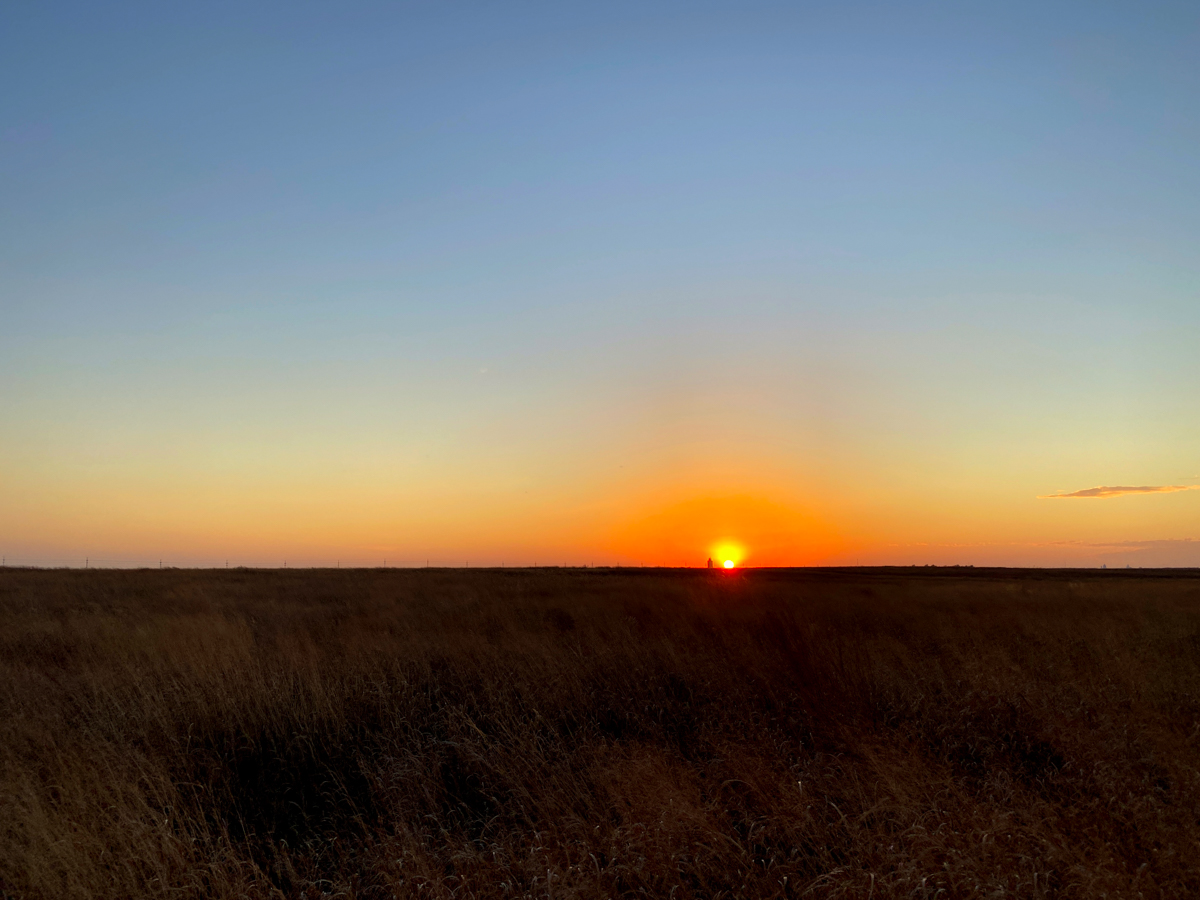 The bourbon tasted really good that night.  Really good.  The lodge served steaks and baked potatoes, which was the highlight of the menu.  After a leisurely dinner, a second (or third) bourbon, and some sh!t talking, I don't think anyone stayed up past 9:30.  We were all wiped out.
Day Two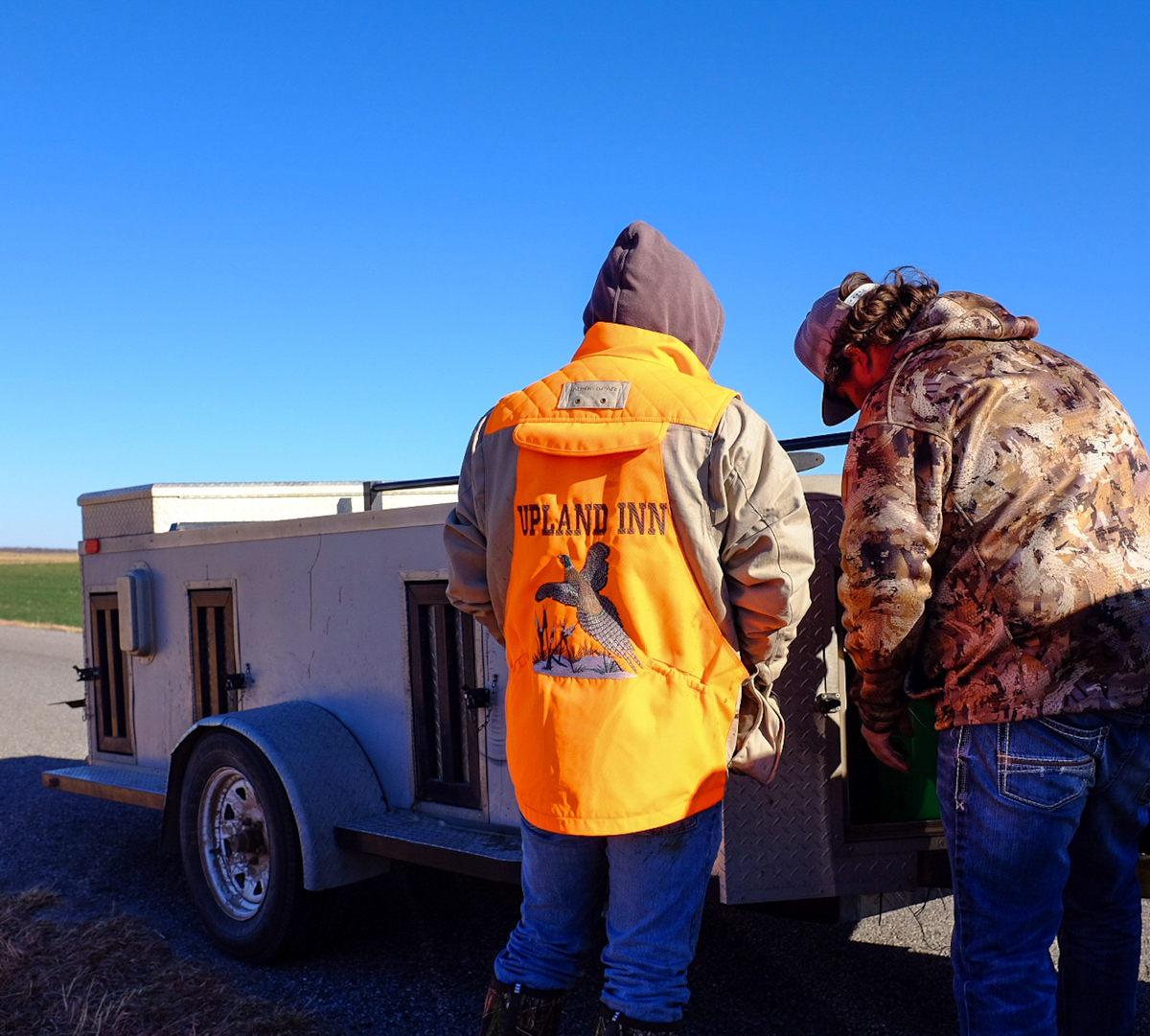 The forecast for day two was much more friendly.  It was cold (~20 degrees), but virtually no wind.  Cold is easy…we all had plenty of layers.  The fields we hunted on day two were more narrow, so we did utilize blockers.  That morning sun woke the pheasants up – we were at 27 birds after our first two pushes.  We were all shooting well, and the birds were plentiful.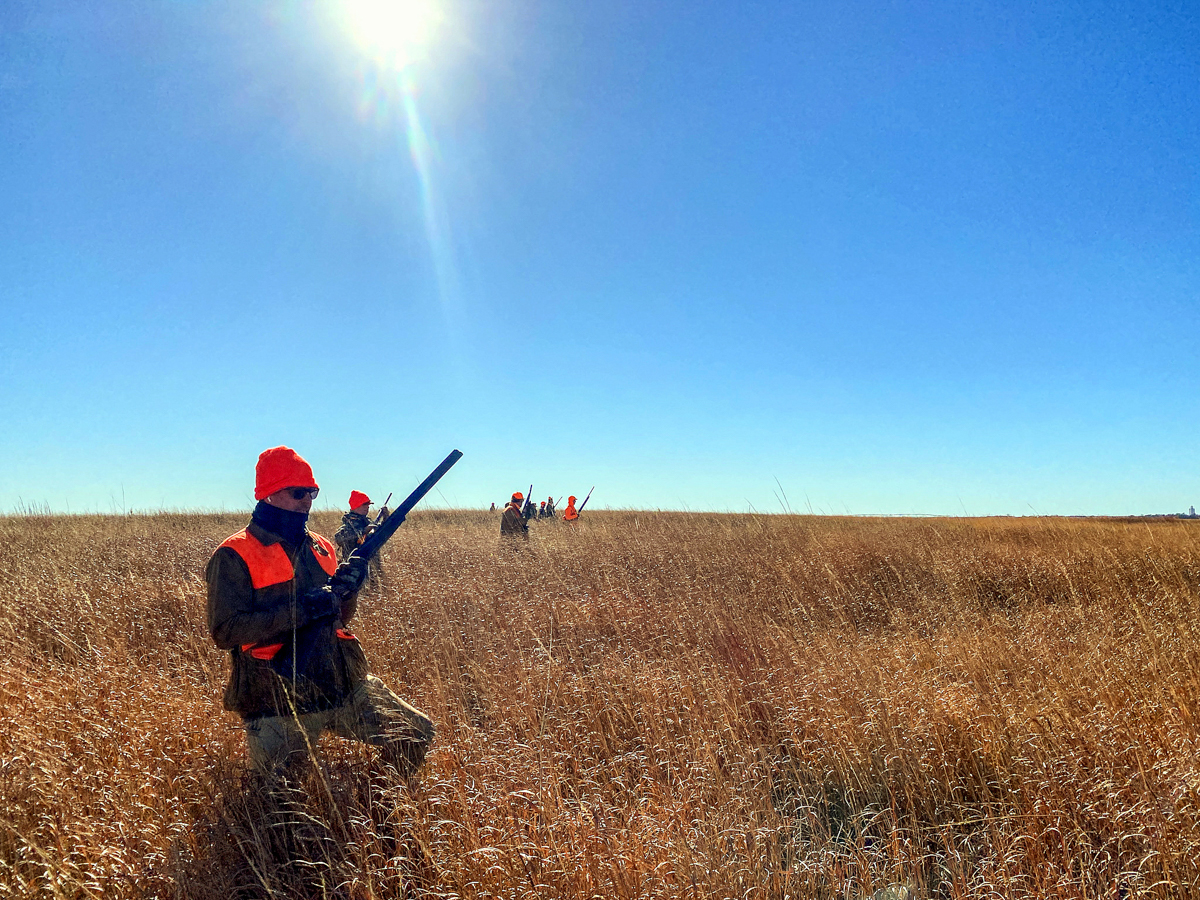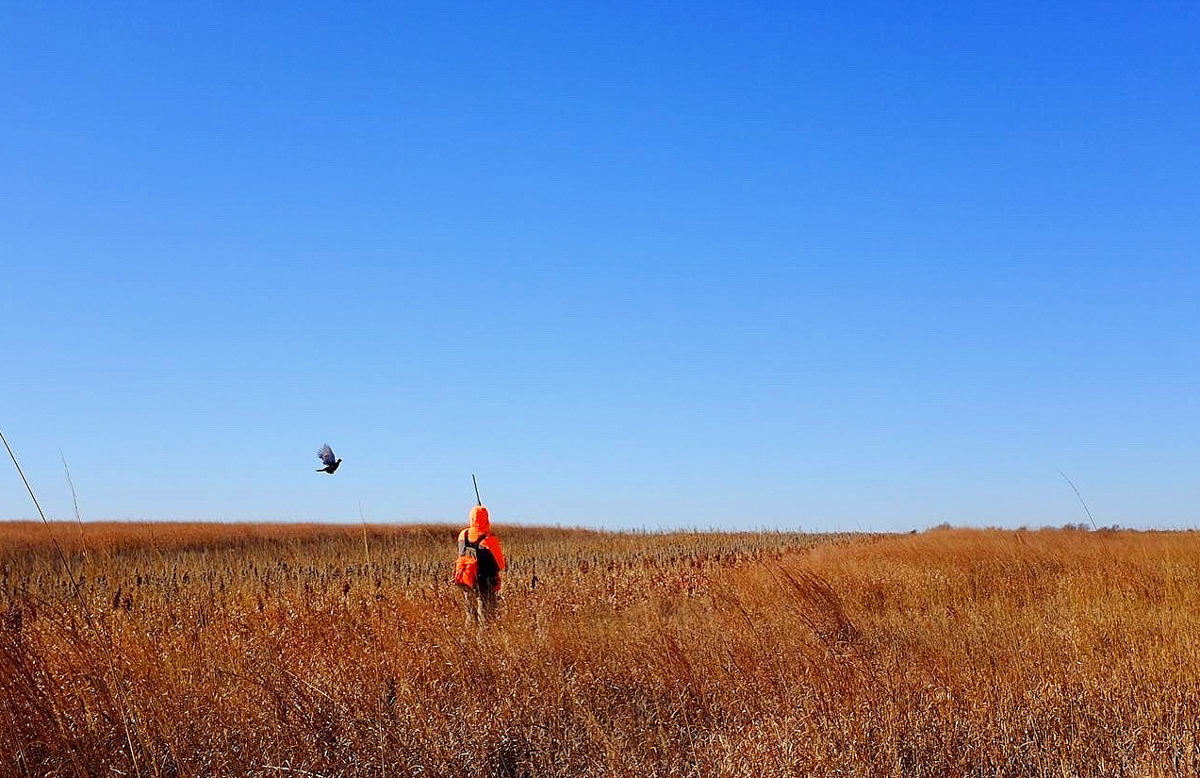 We moved to another field where we pushed strips of milo.  We'd go eight or nine wide, and the rest would block.  Knowing that we were hitting birds raised everyone's spirits…this is when it got fun.  After one push, we had ten birds left…sitting on 38.  We were determined to hit the number in the last run.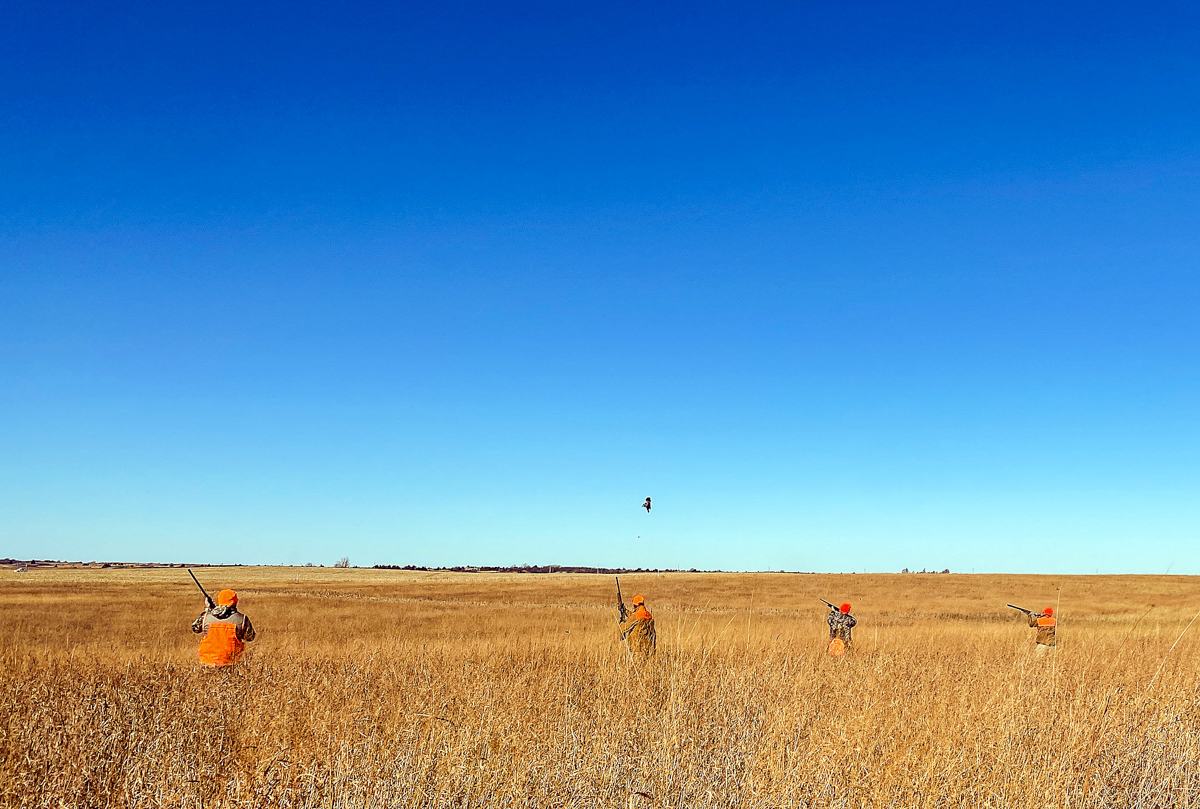 We started walking, and the lips started flapping.  Missing a bird on this strip was a BAD idea.  We walked to the top of the hill with three birds left.  Our blockers had shot three, so we took the rest of their shells.  The pushers were going to hunt these last three down.  We crossed the road, got in tight, and let the dogs go.  It didn't take long, but we put down our last three.  At 12:55 PM we officially limited out.  The group was euphoric.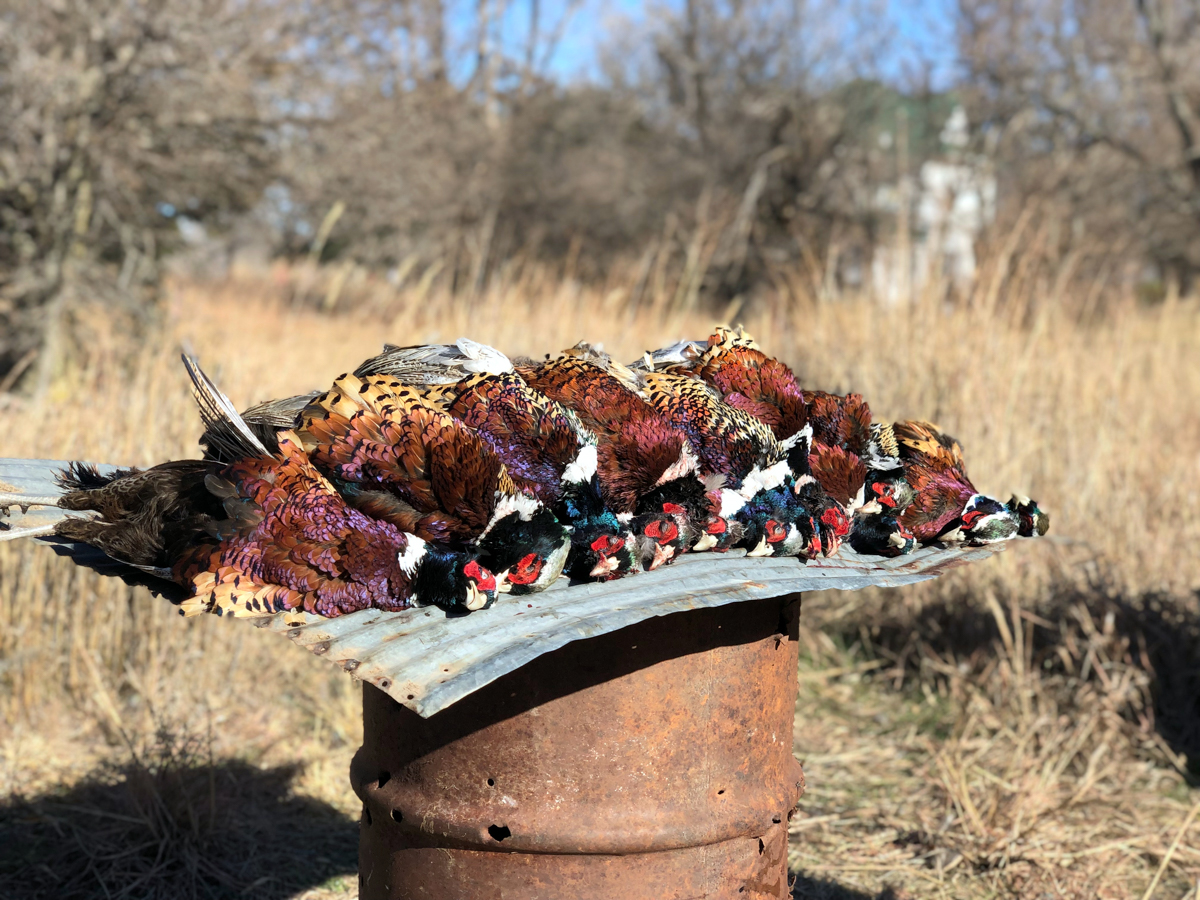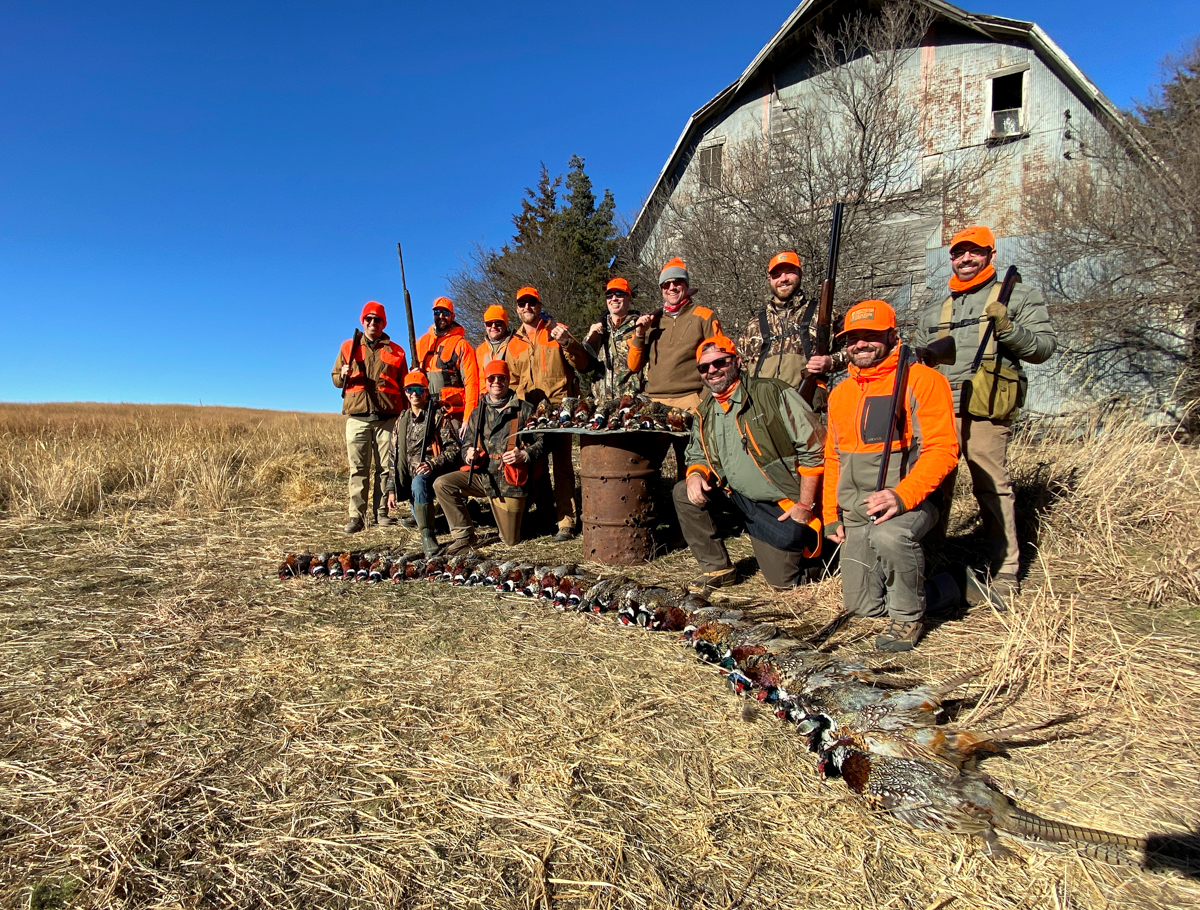 We all cracked a beer and did the picture routine.  We tipped our guide (well) and leisurely stripped off our gear.  After 4.5 miles walked and a limit, our group didn't want to leave the field.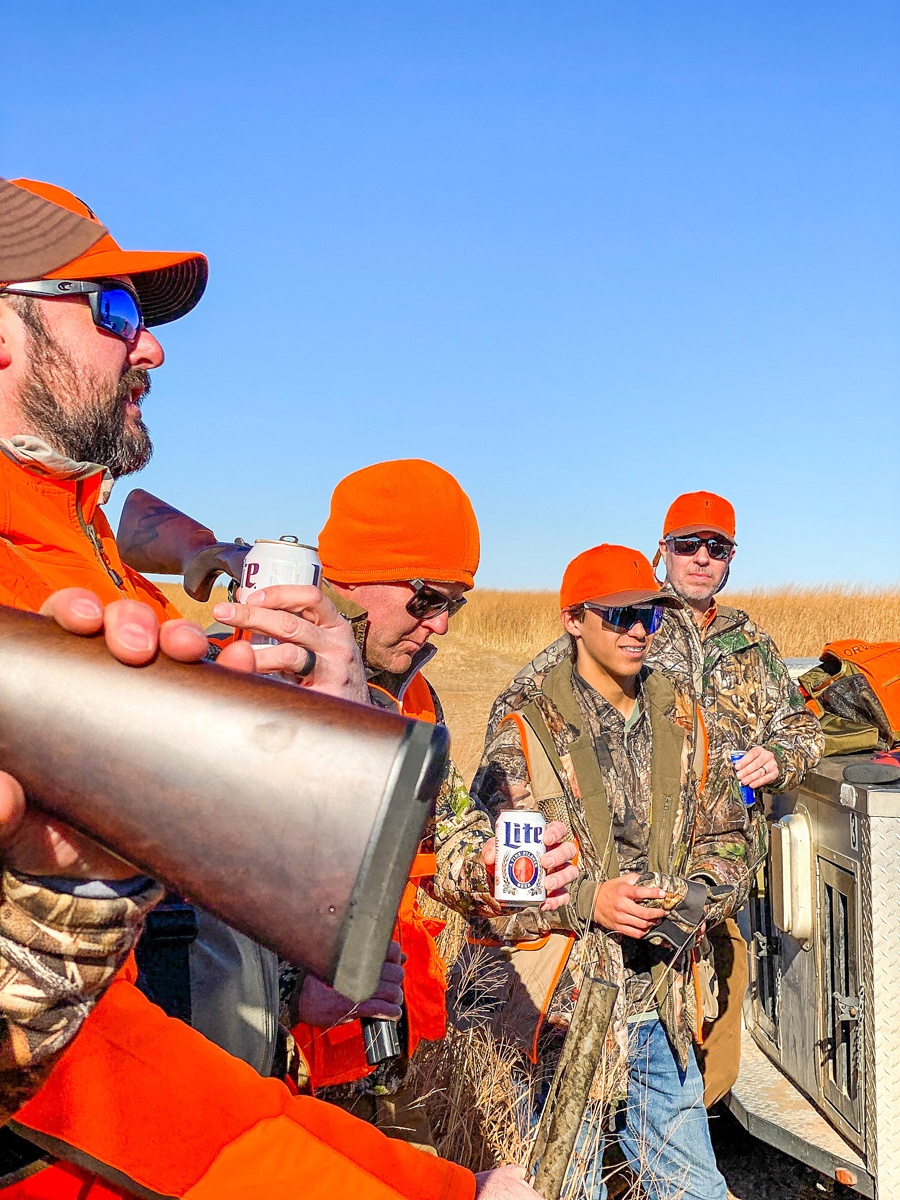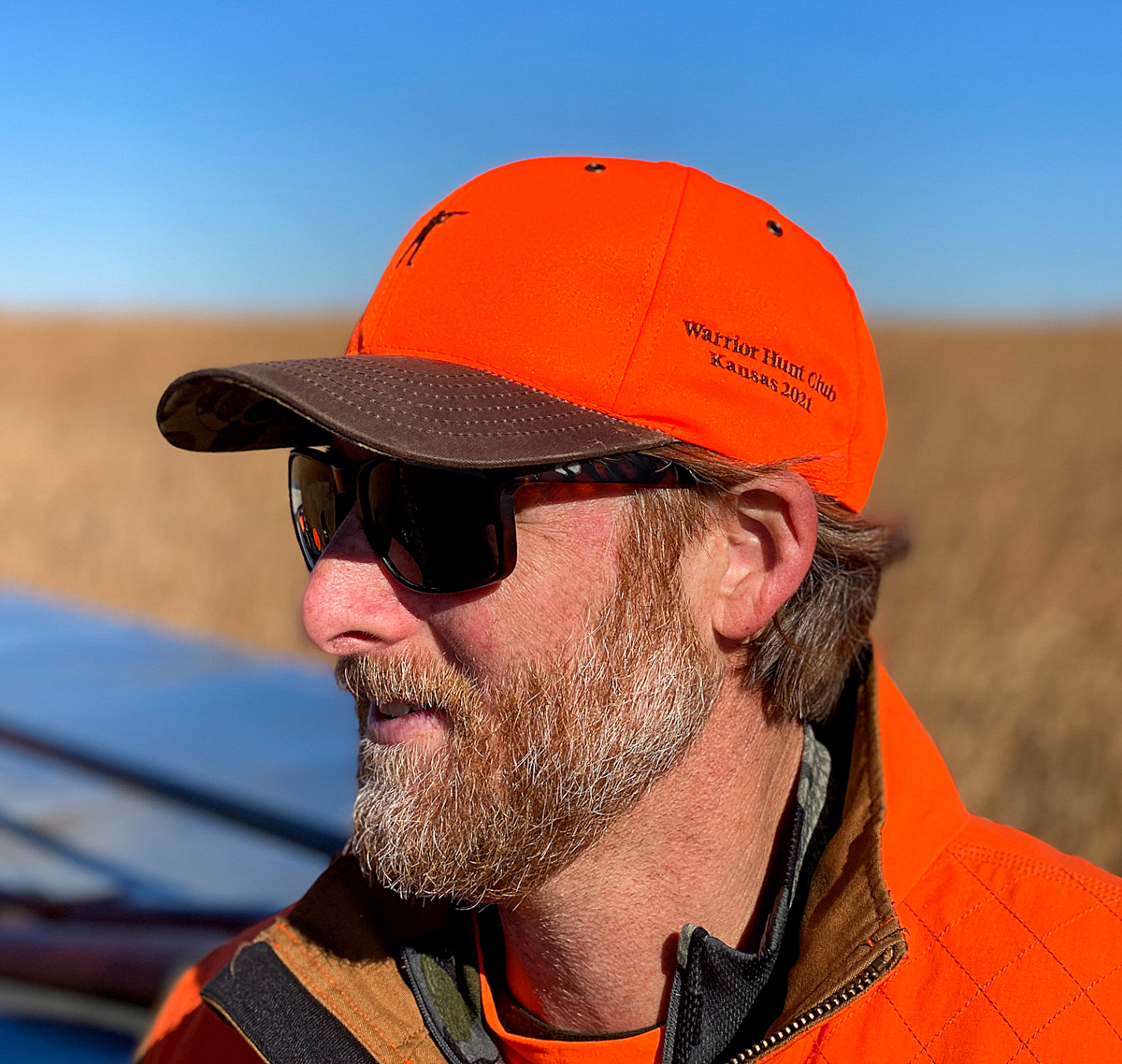 Once we accepted hunt was over, we headed back to the lodge to eat and clean up.  There were many beers consumed that afternoon, as well as a few cat naps.  We did our Warrior Hunt Club awards ceremony right before dinner:
Most Birds: a $10 check made out to Cash
Most Hens: (redacted)
Least Birds: A bag of Kansas dirt
After dinner, we all started the packing routine, but not without a beer in hand.
The Gear
From a gear perspective, I focused on the weather and the fact that we'd be walking a TON.  Outside of the normal packing list, here's my rundown: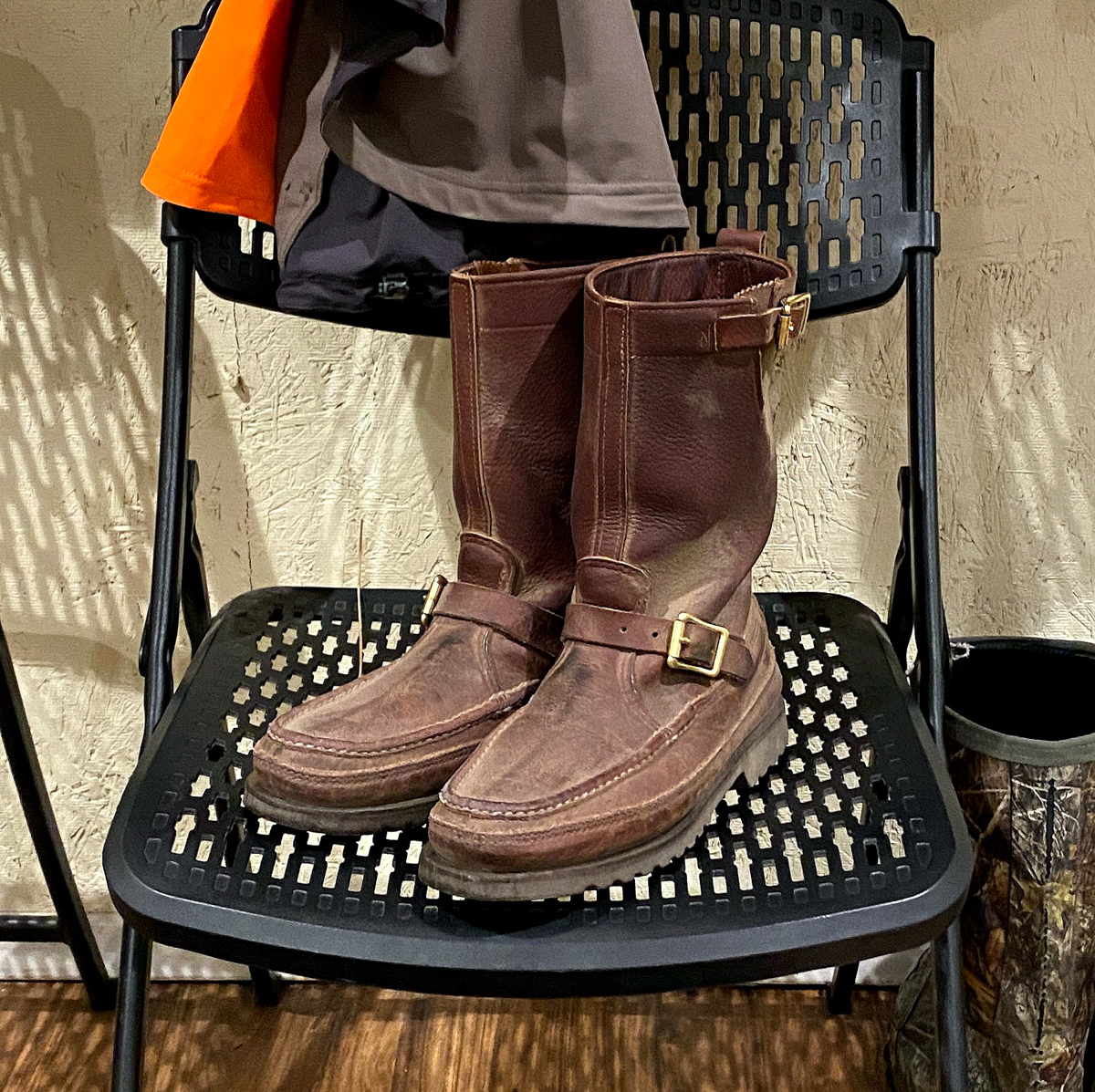 1 Russell Moccasin Boots: I brought my trusty Cavalier Crossovers. Kansas soil is sandy and dry, so I wasn't worried about mud.  I paired them the what I believe are the best hunting socks out there (Smartwool PHD OTC Ski Socks in Medium and in Light).  We walked 12+ miles in two days, my feet felt great.  A-OK.
2. Tom Beckbe Tensaw: I have an ES that I wear pretty regularly here in Georgia, but brought my camo fully leaded Tensaw out to Kansas.  I was really able to appreciate the cut and functionality of the jacket – the shooting pleats it the back, the high armholes, and the deep pockets.  I also sincerely appreciated that waxed canvas doesn't let any wind through.  The stand-up collar was greatly appreciated as well.
3. Beckbe Strap Vest: I wore the new orange Beckbe strap vest over my camo ES, and was very impressed.  I've worn a few strap vests in the past, but this one takes the cake.  It's simple, no bulk, and is adjustable to fit just right.  We all needed a bird bag on those long pushes, and the front pockets are just big enough to hold shells and whatnot.  Big fan.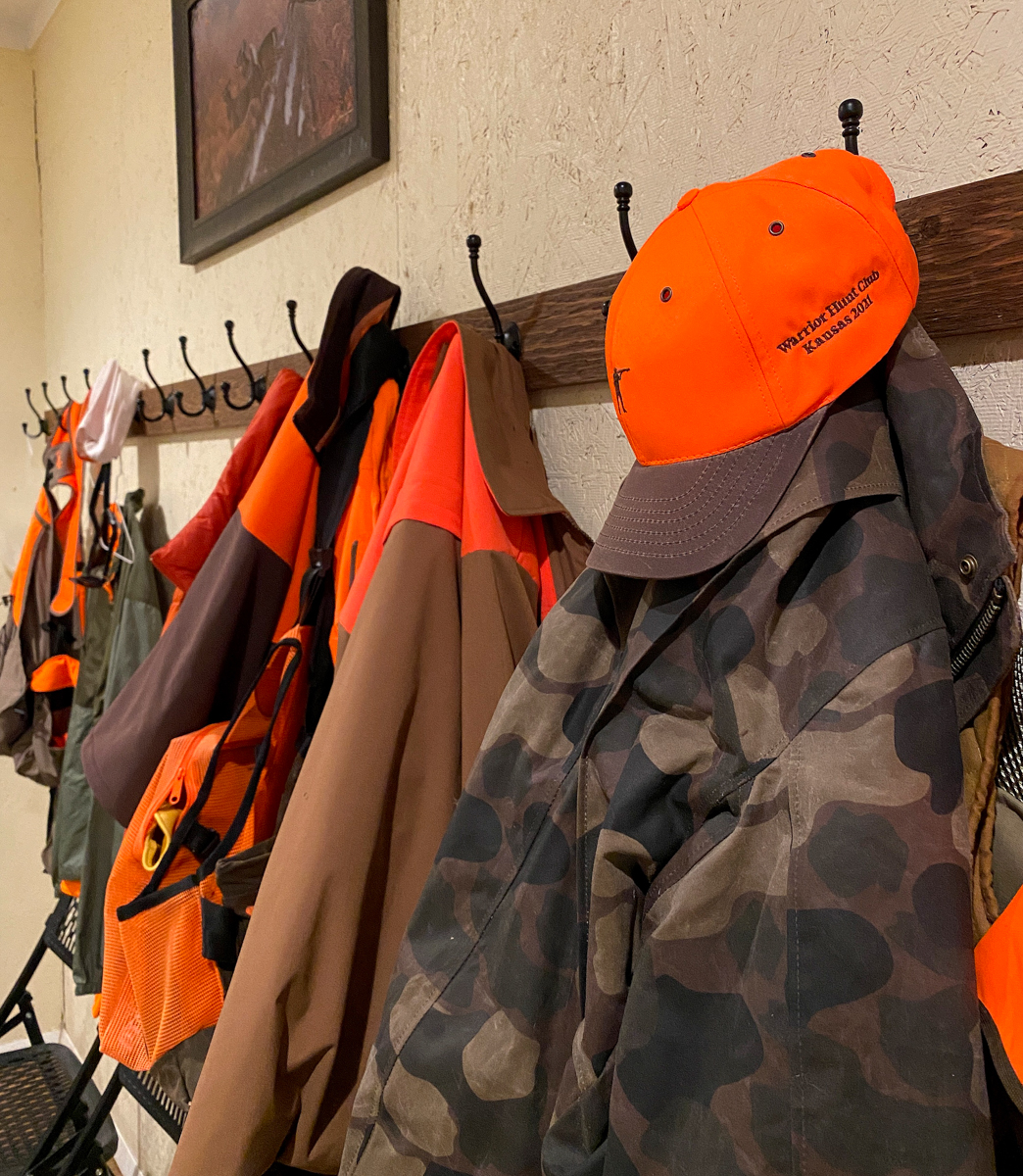 4. Tan/Yellow Shooting Lenses: The afternoon of our first day was cloudy, and I heard a few guys complaining about their sunglasses making it hard to see.  I wore my Ball and Buck X Randolph Engineering Aviator IIs which have tan lenses, and I had no issues.  While I know they look a little retro, I'd highly recommend getting a pair of shooting glasses that have those tan or yellow lenses.  You should ALWAYS wear eye protection when shooting.
5. Pelican 1700 Wheeled Breakdown Shotgun Case: This may be the perfect travel gun case for you over under shooters.  No worries whatsoever.  100% worth the investment.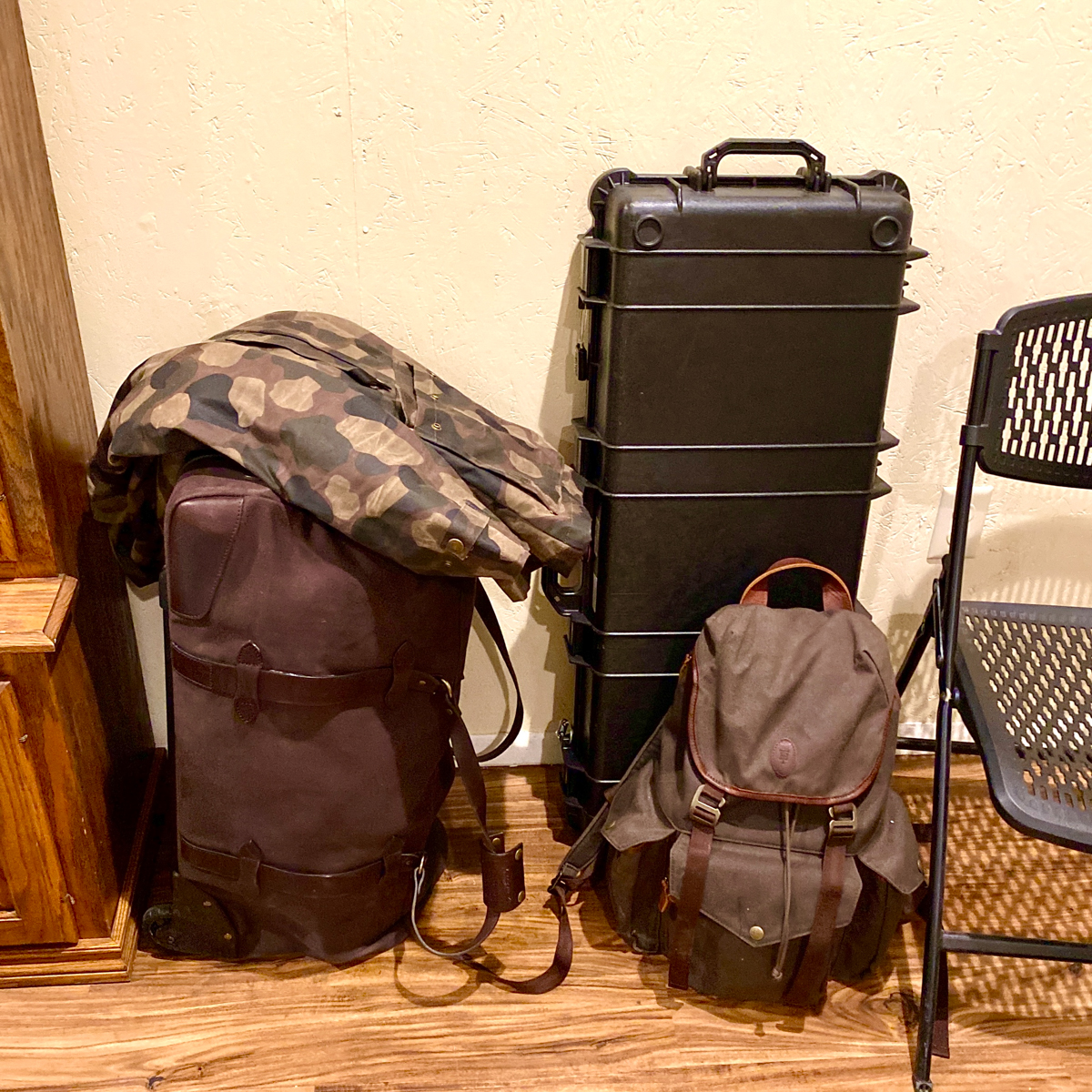 Recap
Plain and simple: without question, we are going back next year.  I think that says enough.  For the cost ($500/day) you will not find a better Pheasant hunting experience.  On top of that, the people are fantastic, the food was good, the lodge was clean, and there were a TON of birds.  Looking forward to seeing my new friends again next year.