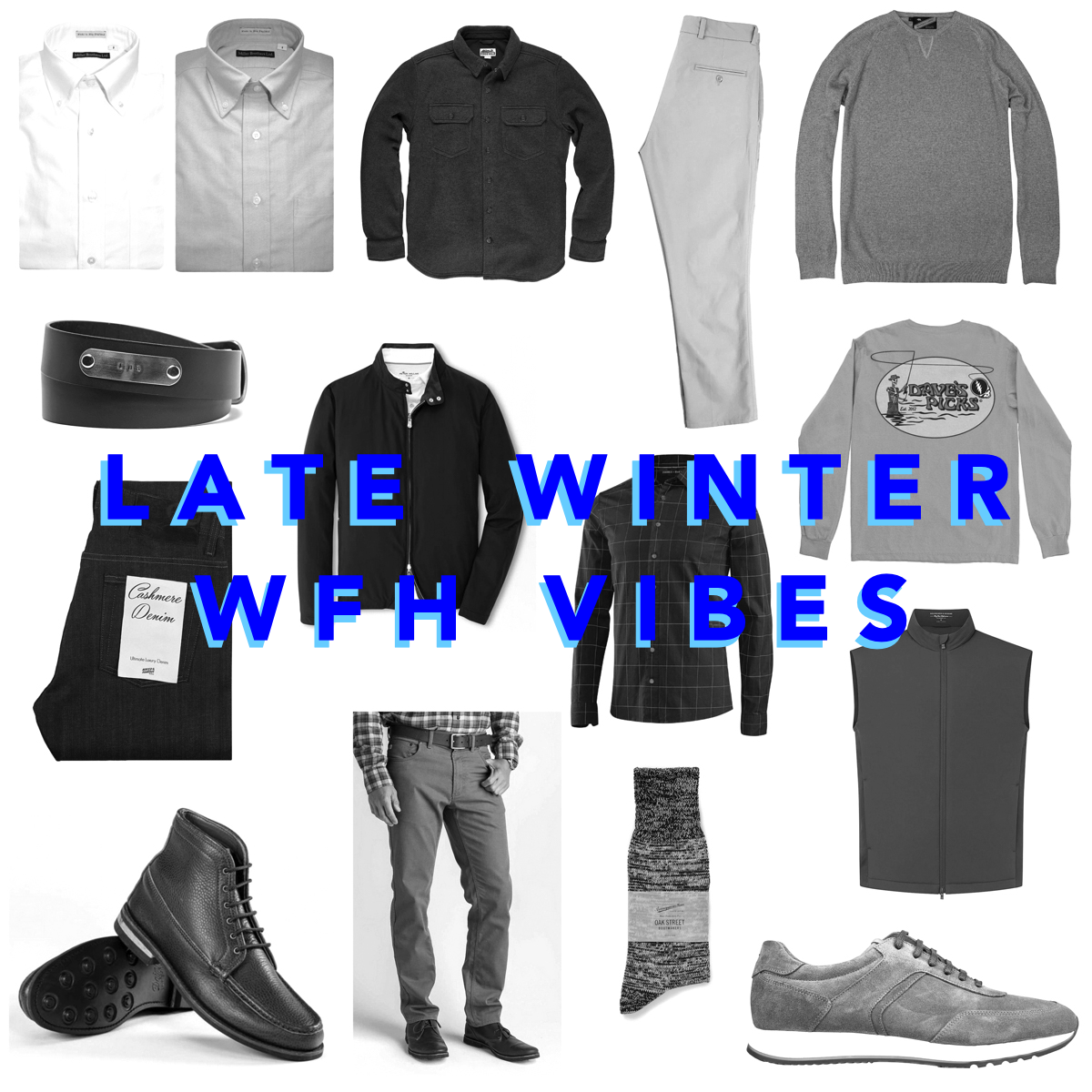 I'm all about some normalcy, and I'm all about a routine.  Of course I've had a few bad stretches, but for the most part, I've stuck to a rather regimented routine during this work-from-home station we find ourselves in.  I get up at the same time every morning, make coffee, take a shower, get dressed, and then start my day.  I have seriously resisted the urge to hang out in t-shirts and sweatpants, mainly because I'm on video calls quite a bit during the day.  My dry-cleaning bills have been almost non-existent, and I haven't needed to polish a pair of loafers in quite a while. Still, I try and keep some level of professionalism in how I dress for the day.
Coming into the late part of Winter, my vibes are more transitional.  A lot of layers, natural fabrics, and comfort, while still maintaining a professional demeanor.  Here's how I'm doing it: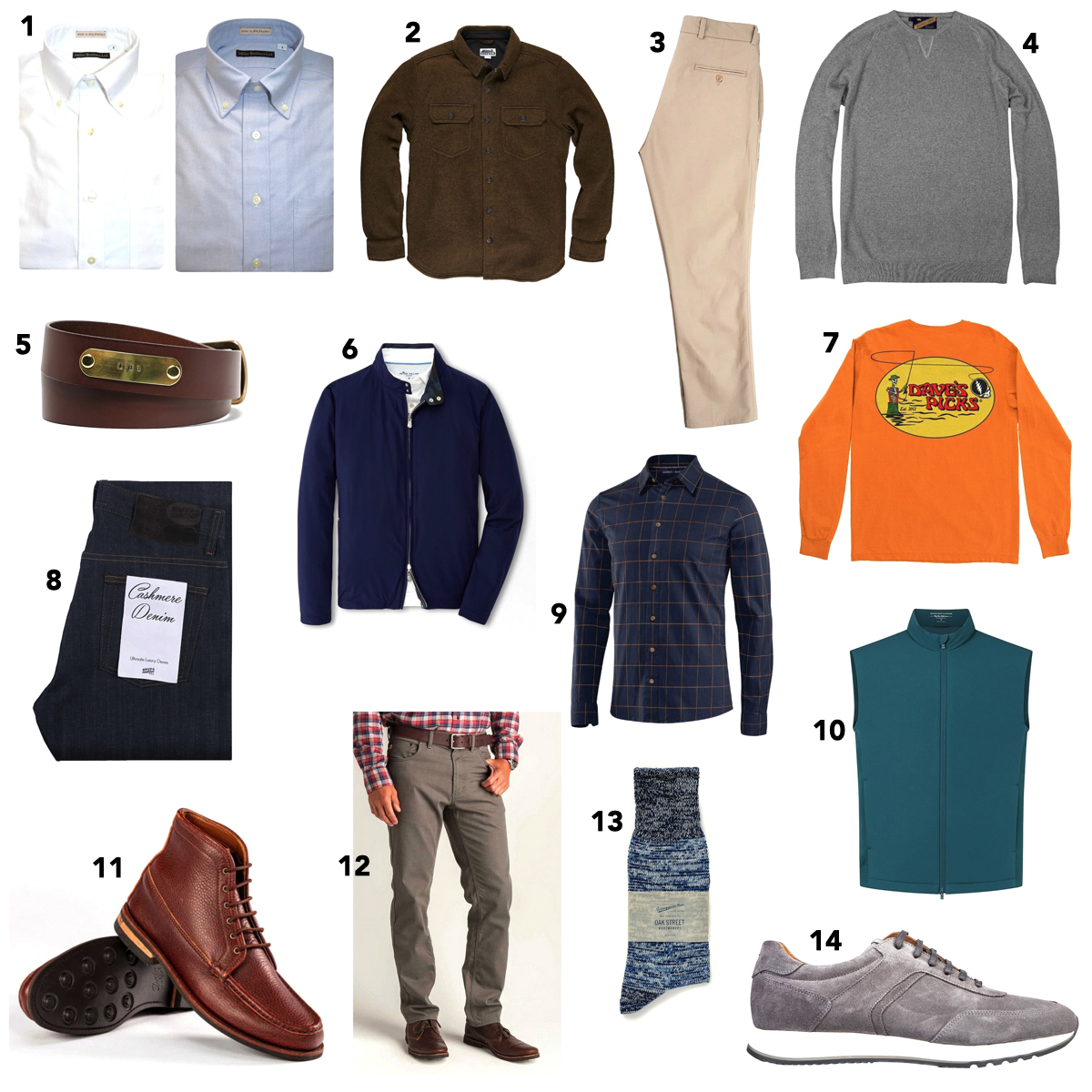 From top left:
1. OCBDs from Miller Brothers:  I have become a pro at caring for OCBDs.  First and foremost, they have to be a good, thick, 100% cotton oxford cloth.  Wash in cold, dry for ~5-7 minutes on low, then shape and hang to dry.  Throw it back in the dryer for about five minutes before putting it on, and presto.
2. Edgevale North Coast Shirt Jacket:  It's all about layers these days.  It'll be 30 in the morning and 60 in the afternoon, so having jackets like this is great for the daycare line and taking out the trash.
3. Jack Donnelly M3 Chinos:  5-pockets are all the rage, but don't forget about chinos.  Especially good chinos.  These are constructed out of military-grade twill, so they wear extremely well.  Care for them very similar to how I described the OCBD process above.
4. Onward Reserve Cashmere Waffle Knit Crew:  It's like a cashmere sweatshirt.  I can't think of any reason not to wear this all the time.
5. Harness Belt from The Sporting Gent:  A cool belt.  I like that this can be personalized.  Please do NOT get 'WFH' engraved.  It'll all be over soon.
6. Peter Millar Reversible Camo Bomber:  A great jacket with classic style.  Anyone with a history of Millar's jackets knows that these are extremely light and very wearable on video calls.
7. Dave's Catch Long Sleeve T-shirt:  I try and block out a full day a week for MINIMAL video calls so I can focus on office hours.  It's good for my brain to actually focus vs. the chaos of back to back calls all day long.  On these office days, I wear t-shirts.  On purpose.  And this one is killer.
8. Cashmere Denim from Naked & Famous:  I know all the traditionalist will roll their eyes at this suggestion, but a buddy of mine turned me on to these cashmere jeans, and I'm obsessed.  The key is to treat them more like STF vs. selvedge.  Buy a size up and throw them in the wash (minimal/no drying).  Comfort is key here, folks.
9. Fisher + Baker Richmond Shirt:  Like the OCBDs, brushed cotton shirts are great this time of year.  Good quality ones like the Richmond from Fisher + Baker hold up well, have a great look, and are very easy to maintain.  It's worth having a few of these in the closet.
10. King Vest from Holderness & Bourne:  It's always vest season.  If you haven't tried the King Vest from H&B, do yourself a favor and take the plunge.  They just released a few new colors (my favorite is the Spruce).  Incredible.
11. Russell Moccasin Pebble Grain Chukka:  Russell gets a lot of warranted attention for their hunting and snake boots, but don't forget about their more casual options, like their mocs and their Chukka boots.  These are fantastic…Keep the heavy-duty laces as they are, or upgrade to flat waxed laces for a dressier look.
12. Duck Head 1865 Five-Pocket Canvas Pants:  The best 5-pockets on the market.  And now they are available in grey (as well as a couple of other colors).   The grey will transition well from the colder Winter months to the warm Spring afternoons.
13. OSBM Anonymous ISM Socks:  If you have to wear socks, wear good ones.
14. Onward Reserve Suede Sneakers:  Heavy on style and comfort, these suede jobs from Onward Reserve are a great option for the professional.  No logos, solid color, and classic style.  Check.
What are you sporting these days?