I've been excited about writing this post for a while.
I wrote an honest post about Duck Head's flat relaunch late last year.  Remember the marketing campaign in G&G of some older guy on a vintage motorcycle?  This was October 2017:
Read the whole thing here (along with the comments).  The takeaway from the blog post: "To me, Duck Head was a culture.  The big yellow tag was a nod to a lifestyle that wasn't about excess or luxury.  It was about a simple pair of inexpensive khakis that started as your 'good pants' for church, work, and dates, and eventually transitioned to yard pants, and ultimately cut off as shorts.  What stayed through that transition was that iconic yellow tag, and the attitude.  It's a shame, folks.  A crying shame."
This was an important time for Duck Head, as they were trying to find their place, but they fell flat.  That post garnered quite the response, proving my hypothesis that there is a very large, devoted customer base just waiting for Duck Head to get it right.
The feeling of Duck Head is one of the many inspirations for Red Clay Soul.  I hate to think of it as a 'Southern thing', but all of my friends wore Duck Heads, and we'd wear them to death.  We wore them because our older brothers in high school and college wore them.  Before every school year Mom would take us to Uptons and buy four of five pairs of Duck Heads in a few colors, knowing that they'd eventually be passed down to my brother, or cut into shorts if I wore out the knees.  The yellow tag was a badge of honor.
This old Duck Head marketing sums it up:
A couple weeks after I published that post, I got an email from a gentleman named Bill Thomas.
Bill had just been appointed the new Brand Director of Duck Head, and wanted to chat about my article.  We hopped on the phone shortly thereafter and had a good conversation.  The long and short of it is that they got the message.  The pushback they received from the release, both on the Garden & Gun marketing as well as the general online sentiment resonated.  There is already a loyal Duck Head customer base, and
I shared my perspective of Duck Head specifically on how it's more of a feeling; a stockpile of good memories rather than just a brand.  I expressed my concern about the price ($118), and how I understood a $29 pair of khakis isn't feasible, but convincing someone to pay that much is too much of a stretch.  I told him that it felt like the last two or three relaunches of Duck Head missed the mark: it was all about the yellow tag on the back, and there seemed to be a reluctance to bring that back.  These had a green badge, which my have had some historical significance, but it didn't resonate.  The relaunch before this one had used a printed white tag, which was a complete joke, and fell flat as well.
Bill agreed. The marketing campaign was created before Bill took the helm.  That ship had sailed, and immediately created an uphill battle.
Bill has a long history in the khaki business.  Ever heard of Bill's Khakis?  Yeah, he's that guy.  Bill's mission was to rebuild the brand based on the principles that garnered Duck Head such a big following back in the 80s: make khakis that are affordable, but meet a quality standard to keep brand loyalty, and to use the yellow tag.
We went through his product roadmap, where he shared his vision of three levels of khakis: the entry level that would attract the yellow tag lovers, a mid-grade that would be an 'upgrade' and more alterable, and then his aspirational idea was to have a pair of USA made, super nice khakis for the hardcore audience.
We talked about sourcing materials, and the current economics of mass producing a pair of khakis.  He walked me through his pricing structure, which after explaining, made a lot of sense.  His goal was to recreate the Duck Head yellow tag chinos for under $100.  The reality is that it's not possible to sell khakis at $29 like they did in 1985.  They aren't looking to end up in Goody's again, so Bill was beginning his work to create a great pair of khakis that today's college crowd and young professionals could start making the memories I had when I was coming up, as well as guys like me could re-live our glory days.
Since last November, Bill and I have stayed in touch.  We had numerous lunches, phone calls, and text messages.  Bill is a true developer: and he was looking for focused feedback on the khakis.  Some fun conversations:
Discussing yellow tag options:
The first prototype:
Let me clear something up: Duck Head has paid me no money, nor have they promised me anything.  My greatest asset to you readers is my credibility, and my loyalty can't be bought.  If I didn't believe in Bill and his vision, I would have said no.
Fast forward to today:
Duck Head has relaunched, and taking a 'join the revival' approach.  The chino lineup is exactly as Bill envisioned, and quite frankly, they hit the nail on the head.  I have touched and felt the Gold School chinos, and they are excellent.  The $89 price tag is very palatable and warranted for what you get. They create a context for the lineup.  It aligns with other khaki brands at that price point.  The yellow tag is prevalent, but not as BIG as it was back in the 80s.  This was a conscious decision, as the market points to a more subtle label that is appropriate for professionals (who aren't big on huge logos).
There's a small bit of stretch in the fabric, which is common in today's khakis.  The fit is what I'd call a 'trim classic' cut.  They aren't baggy at all, but not slim by any means.  I'd say the sizing lines up with Levi's garment dyed 501s; not very 'vanity' in their sizing, more true to size.  The leg opening is good for loafers and boots – around 8″ for a size 32 waist.  For care, wash them as you normally would, then dry for ~5 minutes, and hang to dry the rest of the way.  They'll be ready to wear the next day, or give them a quick iron if you're going for a crisper look.
Duck Head also offers an upgraded model, known as the Green Badge chinos (the same ones they launched back in October of '17), which are really nice when put into context with the release of the Gold School chinos.  Duck Head will be releasing the Gold Glory chinos in September, which are the USA made chinos.  I saw these last week, and are really incredible.  I can't wait to tell you about them…  Here's a sneak peak: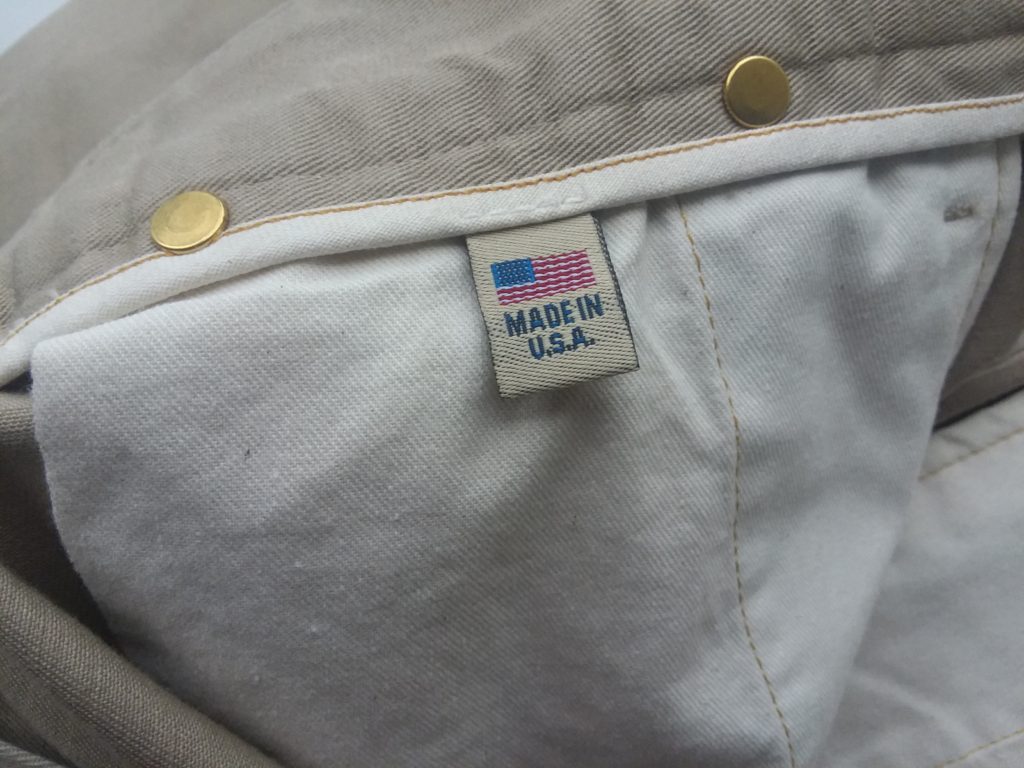 Over the next month or so, you'll be seeing quite a bit of marketing on Duck Head's relaunch in different mediums.  Given how much we've talk about them here on Red Clay Soul, I thought it was important to share my recent experience with all of you.  I really think they've gotten the message, folks.  Chinos are a part of our culture, and Duck Head is back.  Thank the Lord.