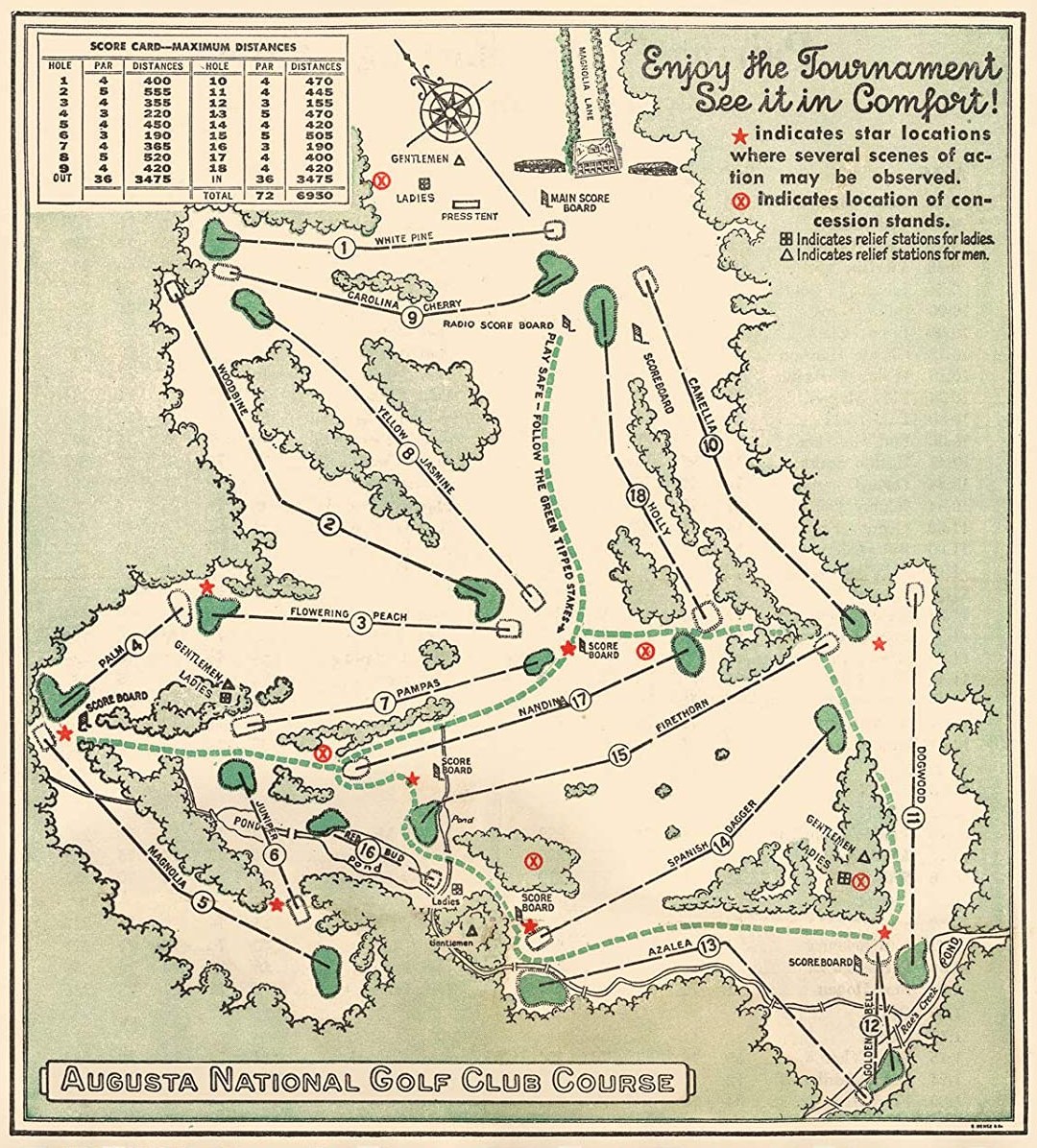 It's a little strange, but doesn't it feel like we were just here?  Well, it was only November, where Dustin Johnson took home the Green Jacket in magnificent fashion.  The course felt a little different, as the wind was much more of a factor.  And good for Dustin.  He seems to have matured quite a bit, but I like that there is still some South Carolina 'neck in him…check out his elevated Cracker Barrell menu for the Champions Dinner.  He had me at 'Pigs in a Blanket':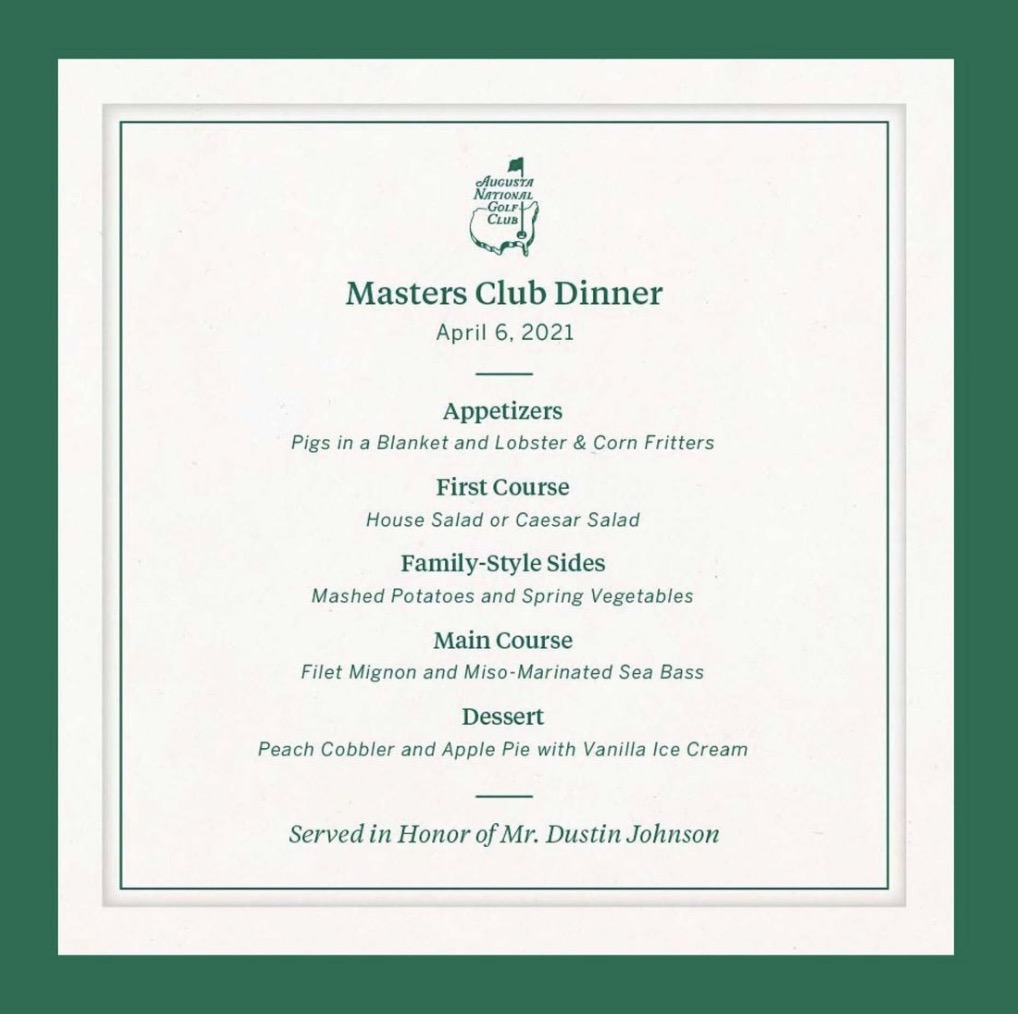 I strongly believe that Dustin will contend at this year's event.  He's such a strong player, and his game is in great shape for Augusta.  More on my picks in a minute.
As we ease back to normalcy, it will be really enjoyable to see patrons back on the property.  After watching the November tournament, it's clear to me how important they are to the look and feel of The Masters.  Mrs. RCS and I are lucky enough to be heading down for the final round on Sunday.  We lucked out on a pair of badges, and it will be my first time going to a tournament round in YEARS.  We usually prefer to go to a Monday or Tuesday practice round, but with the limited capacity, the aftermarket prices are ~400% higher than in previous years.
In our house, The Masters is the unofficial kick off to the year.  By early April, we've all been cooped up inside waiting for the sun to shine, and with two young boys, that can be excruciatingly long.  Now we can spend our nights and weekends outside with friends and family…burning those all-important calories.  Our oldest LOVES hitting golf balls, and Mrs. RCS and I are 100% supporting him in that.
His younger brother is obsessed with anything he does, so he follows him around with a plastic golf club.  It's awesome.  We usually have golf on TV when we are playing inside, so the boys are starting to get it.  Looking into the crystal ball – I have a feeling that we are going to be a golf-heavy family.  Which is totally fine with me.  Mrs. RCS will buy every single Masters-logo'ed polo/thing that will fit our kiddos.  Again, totally fine with me.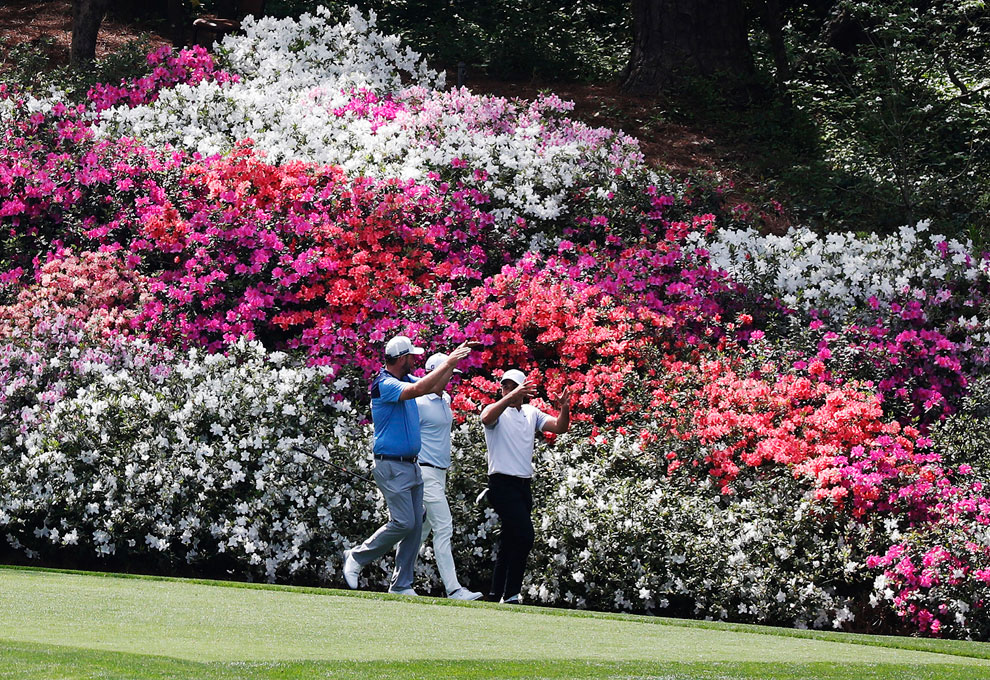 What I'm looking forward to.  There are a few things that I'm really excited about.  Here's a quick rundown:
Our azaleas here at the Fort are just starting to bloom.  I've got to imagine that Augusta National will be in peak form for this week's event.
They are requiring all patrons to wear masks on the grounds.  Should be interested to see everyone masked up.  Will the roars be muffled?
This is the first time that I'll be on the grounds without a camera.  I bring this up because I always enjoy documenting what's going on.  Not this year.
How hard will the grounds crew set up the course?  My guess is that the greens will be like a marble countertop.  Not much rain in the forecast between now and then, so those putts may get a little slick…
What's going on with Justin Thomas and his apparel sponsor?  My guess is that someone will want to outfit him during the most-watched golf event all year…
What's the record on bringing home Masters cups?  I may have to make a run on Sunday.  I'll make sure the trunk is empty before we head down.
My Picks.  To be honest, there are a lot of guys playing some seriously good golf.  It's hard to count out Rory.  He's becoming this cycle's Phil Mickelson…the 'when will he win a Green Jacket' guy.  Then you've got Jon Rahm, who is killing the ball and throwing darts at the green.  He's got a serious chance as long as he keeps his head on straight.  I also like Speith. Not sure what's going on there, but I feel like he has the mental fortitude (and experience) to put together four rounds.  JT is playing well, so is DJ.
Winner: Justin Thomas
Dark Horse: Jordan Speith
Super Dark Horse: Webb Simpson
Who's your pick?