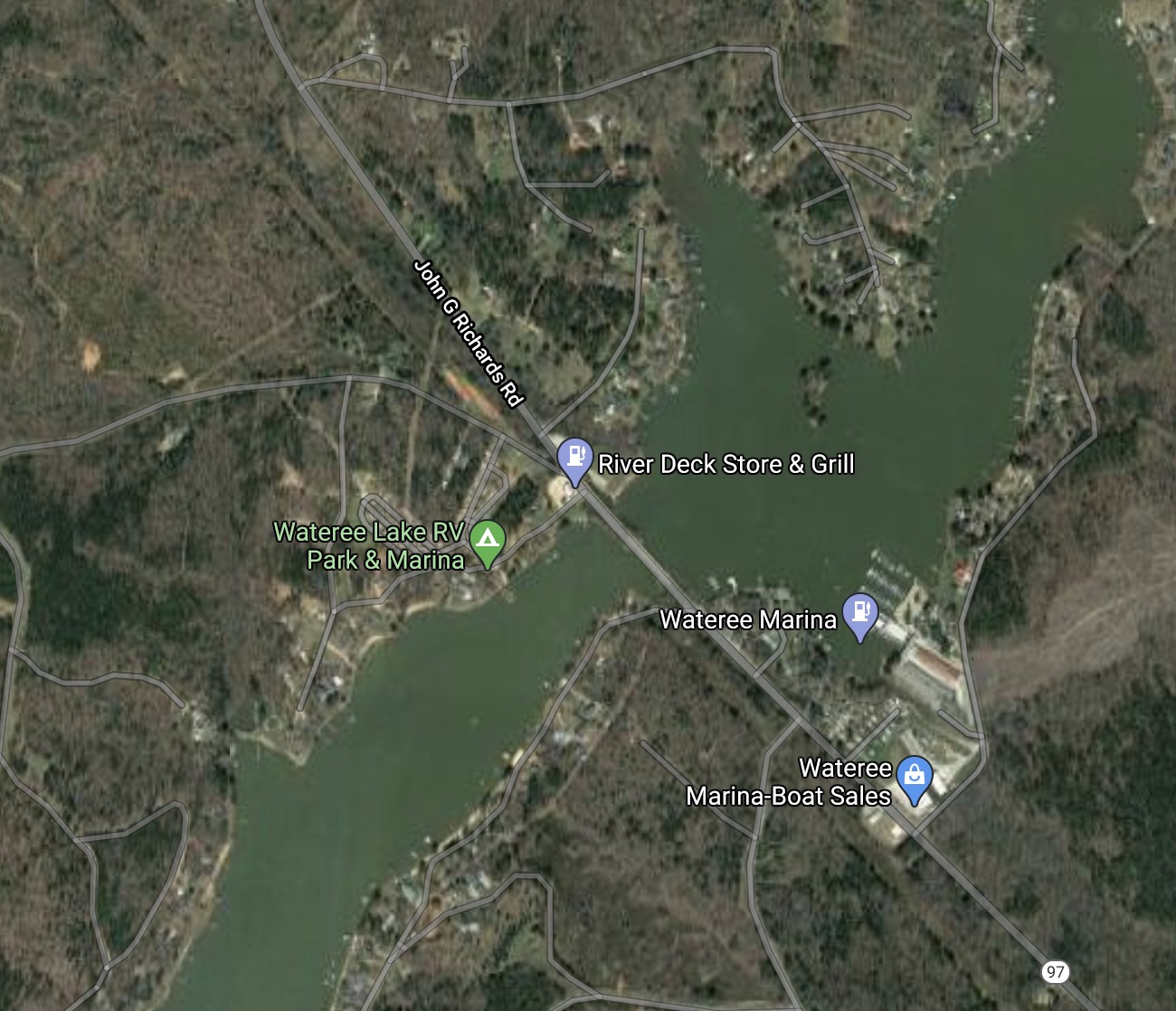 My grandparents on my mother's side had a house on the Liberty Hill side of Lake Wateree in the piedmont region of South Carolina.  We spent quite a bit of time visiting my grandparents in Heath Springs, but whenever the weather was warm, we were at the lake.
The house they had on the lake was built by them, over time.  It wasn't a trailer, but started as a kitchen, a bedroom with a small bathroom, and a deck that grew in line with the number of grandkids that would come to stay.  They closed in the original deck to make a bunk room, added another bedroom, and another deck.  While it was a bit of a ramshackle house, it was absolute heaven to us.  I loved it there, and have so many great memories…  The house was destroyed in 1990 by the remnants of Hurrican Hugo.  Another story for another day.
On the 'big turn' to the house from John Richards Road onto State Road 28 was at the bridge heading over to the marina.  We never went to the marina.  At the turn was a place called Beaver Creek Landing (where 'River Deck Store & Grill' currently sits).
Beaver Creek Landing was your typical country gas station/bait shop/beer store.  There was a free ramp that folks could drop in.  There was no trailer parking, so it was where residents dropped in and picked up their boats at the lake.
The parking lot wasn't much.  It was probably paved 20 years earlier and had deteriorated to a half paved, half gravel surface with plenty of potholes.  There were always a lot more cars and trucks vs. the number of patrons inside.  The building was nondescript.  It had 'Beaver Creek Landing' painted in big red letters.  I'm not sure if it had a locking door, but I know it had a heavy duty spring-loaded screen door.  They had a minnow room which also acted as the air freshener for the place…hence the screen door.  The first wall was adorned with polaroids of shirtless fisherman with trophy bass and catfish, and the wall behind the cash register was covered with more pictures of trophy whitetail deer.
The set up inside was your typical bait shop/gas station stuff – candy bars, potato chips, motor oil, hooks and bobbers in dusty plastic bags, etc.  There was a mish-mash of coolers in the back that were stocked with beer and soda.  This is where I developed my love for Sun Drop and Tahitian Treat.
We always stopped at Beaver Creek Landing on the way to the lake house.  Always.  I remember one stop where dad asked if we wanted to get some hot dogs…unbeknownst to me, there was a small grill on the backside of the building.  It wasn't much – mostly a storage room with a hot griddle and a couple of random tables that no one used.
Keep in mind that I was young.  Of course I was familiar with hot dogs, but only the plain variety mom made at home – with ketchup and mustard.  We asked the nice lady behind the counter for four hot dogs – two for dad, one for my younger brother, and one for me.  I was giddy with anticipation.
After paying for our hot dogs, drinks and Doritos, we walked back to the grill to pick up our bounty.  What was waiting for me on the counter was something I'd never seen before.  It was four hot dogs in paper boxes, but they were covered in crock pot chili, raw onions, and a thick line of yellow mustard.  For my young, inexperienced eyes, it could have been the prison rodeo sushi special.  I was literally scared just looking at them.
Dad, to his credit, handled it as any good dad should.  I looked at dad, and he saw the obvious distraught in my face.  Not wanting to offend the nice lady who cooked and served the dogs, he looked back at me.  I'll never forget the look on his face.  Under his breath, I heard him say "EAT IT".  It was one of those psychological nudges that left me no other choice than to dig in.  I picked up the hot dog, lined it up, closed my eyes, and went in for a bite.
That was a moment that changed my life…probably why I remember it so vividly.  It wasn't like anything I'd ever tasted before, but immediately knew I loved it.  Obviously it tasted great, but it felt like I was doing something that adults do, which made the experience that much better.  I finished that hot dog, my potato chips, and half of my Sun Drop before we headed back out to the car.  My brother ate about half of his, completely unphased.  He's an animal and would eat anything.  Ultimately dad ate two and a half chili dogs.  We packed in the car with a fresh bucket of minnows and headed to the lake to go fishing.
Every future visit to Beaver Creek Landing required a couple of those heavenly chili dogs.  I know my dad was excited because he loved them, and being able to share something like that with his boys was really special.  As a dad, I get that.  To this day I'm a huge hot dog guy, although I've expanded my pallet to enjoy slaw dogs, Chicago style hot dogs, or just your typical ballpark hot dog with mustard and relish.
Good memories at Beaver Creek Landing.  I wish it was still there.  It's the type of place that in small ways, makes a boy a man.