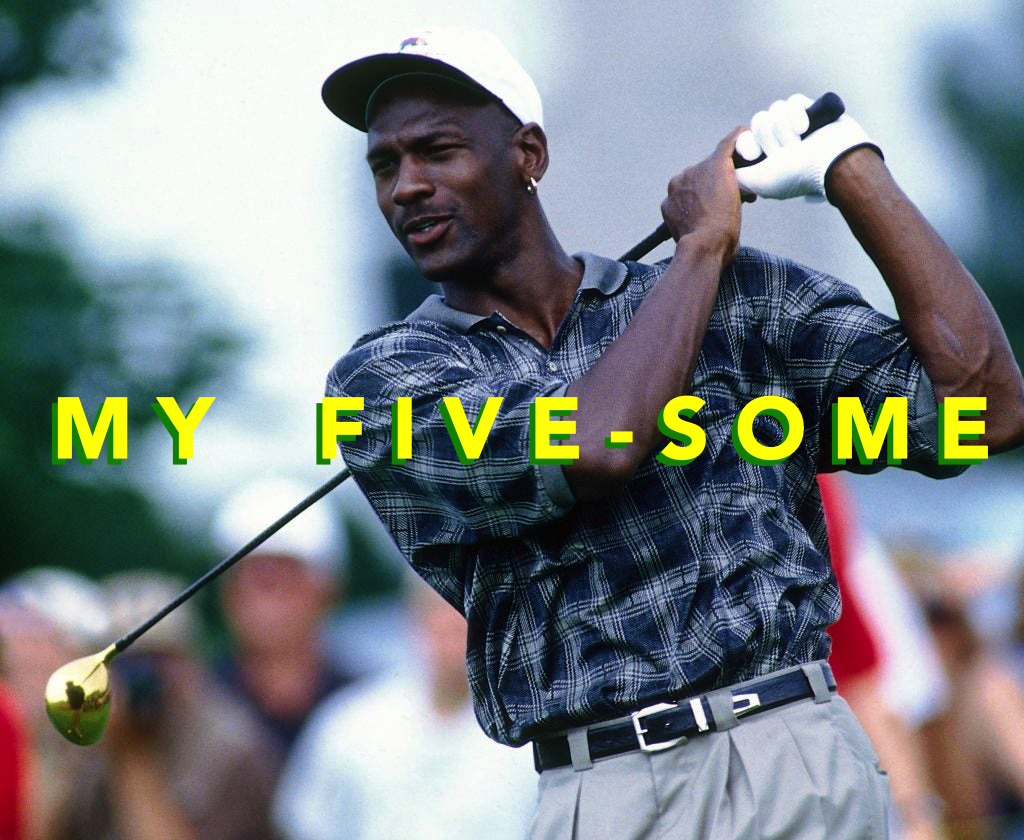 I had an interesting conversation with a friend the other night.  I can 100% confirm that some libations had been consumed, which may explain the subject matter:
Name five people you'd want to play a round of golf with.
Now, some ground rules:
They have to be alive
All individual rounds – none as a group
The course doesn't matter
Golf skill doesn't matter
Remember, this is a five-hour commitment to someone.  That can be a blessing and a curse.  It's not a quick elevator conversation or a lunch, it's 18 holes.
Michael Jordan – Arguably the best athlete ever.  No matter the sport.  I grew up in the Jordan era, and was/am completely obsessed with the guy.  The recent documentary brought back a ton of those memories, and confirmed what we all knew growing up: not only is he the best athlete of all time, but he's a really cool guy.  Well known as an avid golfer, my guess is that he's the type of guy to invite you to his course, and take care of everything.  He also drinks Miller Lite.  I'm sure the bets would be fun, but not as good as the stories.  Probably need an Uber ride home.
Dave Lemieux – The archivist for the Grateful Dead, you. can hear his #TDIGDH every morning and evening on the 7s on the Grateful Dead SXM channel.  This guy knows EVERYTHING about the Dead.  I'd love to hear all the stories – maybe not first-hand knowledge, but you know he's heard them all.  He also seems like a genuinely nice guy – the kind of dude who would pick up the tab because he wants to.  I know he's an avid fly fisherman, but he seems like the type who would be open to a round of golf.  I would be sure to bring the nicest Bluetooth speaker that I could sneak on the course…
Nick Saban – I am fascinated by Nick Saban.  He has this untouchable lore in SEC country that essentially makes him seem untouchable, or inaccessible.  Nick Saban has completely changed college football.  His ability to win, and win quickly has changed the game.  All CFB coaches owe Saban a debt of gratitude – because of him, they are all getting PAID.  Quite frankly, I'm not a huge Bama fan, but I would love to spend five hours with Nick Saban.  I have a feeling it would be an extremely interesting round – there's no telling what would come up.  I have a feeling the round would be packed full of prop bets, sh!t talk, and incredible stories from his years in the coaching ranks.
Condoleezza Rice – Quite possibly the smartest person on the planet.  Extremely accomplished in almost every aspect of society – education (she has THIRTEEN honorary degrees), politics, business, and socially.  She's a golfer (and an ANGC member), a sports fan, and should be the next NFL commissioner.  In every interview I've seen, she is smart, friendly, and gracious.  One of those people who takes a genuine interest in everything, and everyone.  After four hours+ with her, I would leave much smarter than when I showed up.
Matthew McConaughey – I've always thought Wooderson seemed like a cool guy.  Good attitude.  I'm sure we'd have a lot to talk about.  Some subjects would be a little serious, and some would probably be a little trippy.  Music, movies, college football, bourbon.  Pretty much anything that is bro-related.  I'm sure it would be an alright time.
Who are your five?