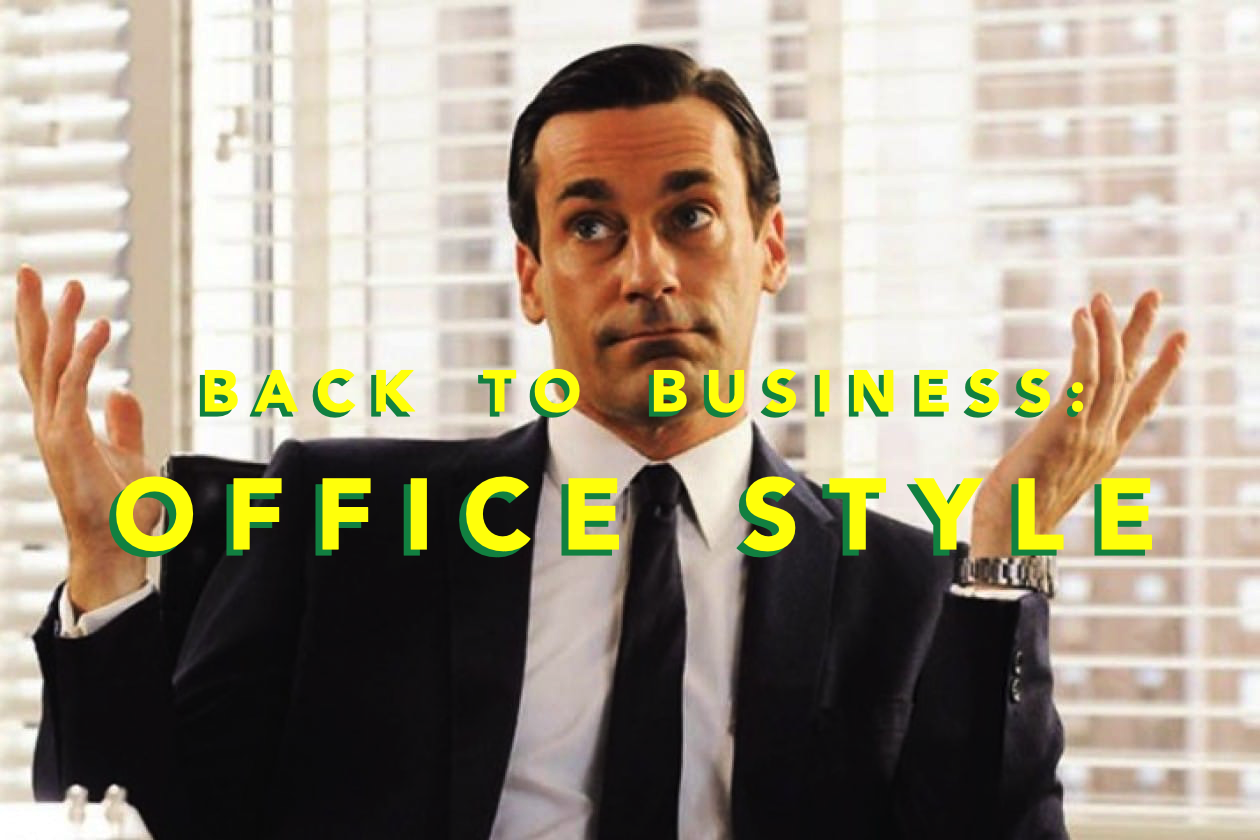 So far we've covered quite a bit.  Getting back to business is a reality that will be here soon if it isn't already.  I've done focused posts from the perspective of the home office and the actual office.  Navigating those as we transition into a hybrid model will be manageable – as long as we are focusing on an emphasis on our quality of life.
As we think about style in the office, we must first think about the situation(s) we'll be faced with.  For the most part, it sounds like most companies are going back to the office in a hybrid form.  Some days in the office, and some days at home.  This isn't a post about COVID, and the new variants are causing some delays to when the doors will be unlocked, but at this point, commuting back in some limited fashion is a matter of time.
So let's break it down:  Conservatively, it looks like some companies are requiring a 1-day a week in-office attendance, and some are requiring as much as 3 or 4 days in the office.  There are some grey areas on either side, but let's use those variables to level-set.  For those going into the office 1 day a week, that means there will be roughly 50 days in the office a year.  For those going in three or four days a week, you're looking at roughly 150-180 days.  For comparison, a normal, full-time office environment is around 240 days a year.
My point is this: the opportunities to take advantage of higher office style are less than they used to be.  Play this out:  prior to the pandemic, if your closet was built for a full-time office environment, then now you have too much.  Not only that, it's fair to say that a healthy percentage of what we have in our closets is filler.  It's the stuff that we never wear or it doesn't fit, but we keep it simply because there is real estate in the closet.  I've been thinking a lot about going into the office, and I think I have it figured out.
When it comes to new office style, THERE ARE NO OFF DAYS.
A lot of you that read this blog know that I take personal style seriously.  I know a lot of you do as well.  These are my predictions as to what will happen when we go back to the office in a limited/hybrid capacity:
1. There will be little to no dress code.  There wasn't much of one before March of '20.
2. There will be a very casual attitude.  For the most part, I think there will be a lot of jeans, polos, and some sort of leather sneakers or very casual shoes.
3. Personal care has slipped a little.  I'm not saying that folks will smell, but hair may be a little shaggy, and shaving may become an every-other-day practice.  The 'COVID 20' is real, just like the Freshman 15.
Fight it.  Fight it like crazy.  I know so many of you care about your personal style and your personal brand.  Most likely you have a strong wardrobe, which you have spent a significant amount of time curating.  As we go back into the office, it's a good time to revisit that commitment.
First off, fight the casual attitude.  I would recommend taking advantage of every opportunity that you go into the office as a way to show how serious you take your job – not just in how hard you work, but in how you show up.  I'm not suggesting showing up in a suit in an office with little or no dress code, but I'm saying dress for the job you want.  While performance is most important, optics and your personal brand will also help you advance and succeed.  While the masses are dressing to the lowest common denominator, I highly encourage you to step up.
For me, the 'new normal' style is going to look like this:
From top left:
1. J. Press Blue Oxford Shirt: The workhorse of any wardrobe.  Have a couple of great OCBDs in blue, U-stripe, and even pink or yellow.  They match almost everything and look very professional.  These can be washed, hung to dry, and ironed, or dry cleaned with no starch.
2. Eton White Dress Shirt:  The white dress shirt is a must.  For those days in the office where you have in-person meetings and you are asking for money or permission.  By 'dress shirt' I mean a structured collar.  Big time under a cashmere sweater or a navy sport coat.
3. Everlane Grey Cashmere V-neck Sweater:  The layer of layers for chilly days.  The medium grey matches everything and looks extremely professional.  Other options should be a brushed wool sweater (maybe in a fun color), or a quarter zip (go logo-less or very subtle logo).
4. Drakes Wool Navy Sport Coat:  I plan on wearing a sport coat when I can.  I love the look, and it shows that you care about how you carry yourself.  This move shows off supreme confidence.  Big respect.
5. Jack Donnelly M3 Chinos:  Sure, 5-pockets are great.  They are a quick win, and I love the look.  For the purposes of this post, I'd highly recommend getting a pair of extremely well-tailored chinos.  Jack Donnelly is hard to beat for the price and the quality.  Get them professionally tailored with 1.75″-2″ cuffs and little to no break.  Dry clean with no starch.
6. Sid Mashburn Charcoal Trousers:  Essentially the same as above, you'll need a heavy-duty pair of dress pants on for those big days in the office.  There are plenty of good options out there, but it's all about fit.  Find some that fit well in the mid-section and legs, and have them tailored to a little to no break with a ~2″ cuff.  With both the chinos and the trousers – take care of them.  Hang them as soon as you get home (vs. throwing them over the back of a chair).
7. APC New Standard Selvage Denim Jeans:  Here's why I like these selvage jeans: first off, they don't bleed like so many other options do.  Second, they are RIPE for tailoring.  They have a 'straight' leg and aren't super tight in the mid-section, so taking these to a really good tailor is the move.  I did this with my first pair about seven years ago, and they've been my workhorse pair for YEARS.
8. Holderness & Bourne King Vest:  Is it time to get rid of the Better Sweater?  No, but it is time to upgrade.  The King Vest from H&B is absolutely top shelf, and extremely light.  I'd argue it's the best vest on the market.  For an office environment, I'd recommend Navy or Spruce.  Both are killer and work well on or off the course.
9. Martin Dingman Wallace Crocodile Belt:  I shouldn't have to explain this.  Treat yourself.  A good belt is the icing on top.
10. Carmina Brown Bit Loafers:  I'm very bullish on bit loafers at the moment.  So much so that I'm recommending a brown dress pair (these Carminas), a black dress pair, and a suede pair.  What is it about deal sleds that work so well?  Because they are a classic style that works in almost any situation.  These browns are the clean-up hitter.  They literally work with almost everything.
11. Oak Street Bootmakers Black Bit Loafers:  Dress shoes.  These go great with charcoal trousers or jeans.  They immediately up the volume of an outfit by 200-300 basis points.
12. Oak Street Bootmakers Suede Bit Loafers:  Pseudo-casual loafers.  Still dressy, but the suede and the natural sole are cooler than cool.
13. Boardroom Socks OTC Navy Merino Socks:  If you have to wear socks, then get some good ones.  There are plenty of high-priced options out there, but I'm hard-pressed to find a better deal than these from Boardroom.  The quality is top shelf, the price is insanely good, and they are made in the USA(!).
We are going to be walking around in a sea of cheap tech polos and ill-fitting 5-pockets.  If any of them give you any shit about how you are dressed, simply reply with 'well, I guess I got up ten minutes earlier than you' (because that's all it takes).  I would guess they'll take that as they should.
Remember, those that need to notice will, and those that don't, won't.
Happy to discuss.