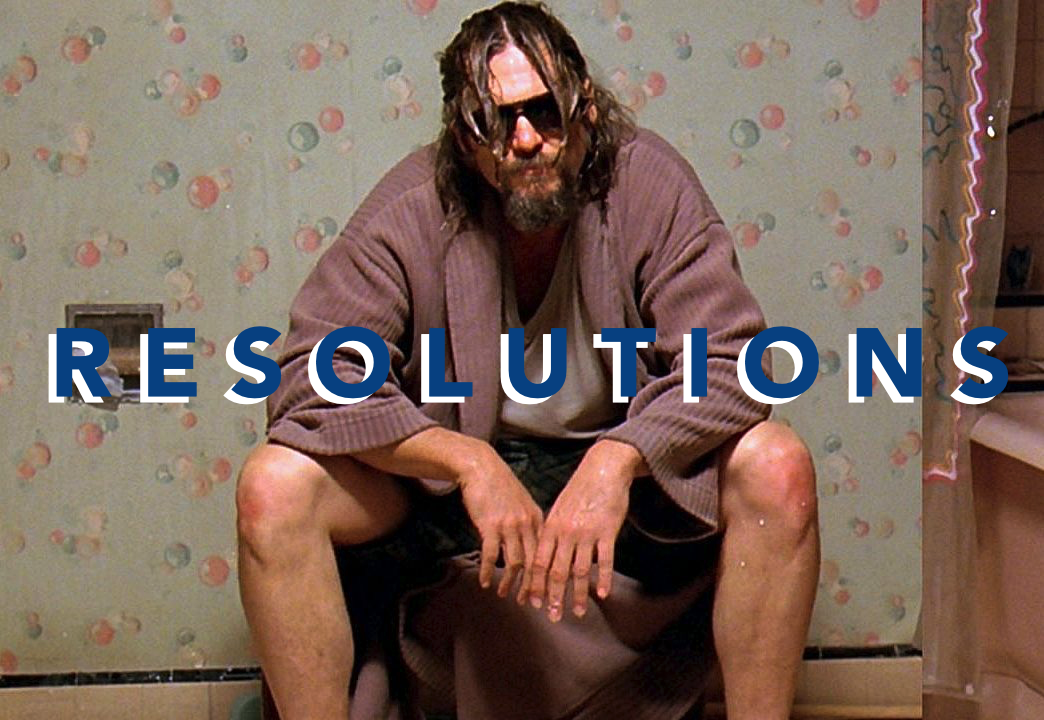 I'm not the type of person that does a lot of diets, quick fixes, or New Year Resolutions.  Personally, I don't like the mentality that a drastic change, while it might provide some short term results, will ultimately lead to a change in lifestyle.  However, while 2020 was largely a dumpster fire of a year, it did force me to do some serious reflection and focus on how I can be a better dude.  And when I say 'better', I mean just that: how can I get more out of my life, and leave a positive impact on the world around me.
So, I've come up with a few ideas – we can call them resolutions – that I'm going to work to implement into my livelihood.  I'm not putting an end date on any of these, as I'd like them to be lifestyle changes that stick.
Be more proactive.  A bright light shined on this one while working from home.  I'm a morning person and generally go 100mph before lunch, but then fall victim to the afternoon doldrums.  I get worn out, unmotivated, and lazy.  I blame it on sitting in my home office all week.  While I don't see that changing any time soon, I'm going to work to be more proactive throughout the day, and after the kids go to sleep.  Maybe it's a pre-lunch and post-lunch to-do list.  Maybe it's some ideas in the excellent WSJ article on motivation.  My dad gave me a good piece of advice before leaving for college.  He said 'remember there are 24 hours in a day, and you only need to sleep for 8.  It's up to you how you fill the rest'.  Very apropos. From a measurement standpoint (as we should always be able to measure our goals…), it's more of a feeling.  If I feel like I'm getting more done during the day, then I'll feel like I'm good.
Try more DIY.  I have been thinking about this one for quite some time.  I'm very quick to call in a professional to fix things that have broken, need installing, or need alterations.  While that saves time, it also costs money and takes away any sort of feeling of accomplishment.  I'm making a concerted effort to do a lot more DIY in all aspects of my life.  My Father-In-Law is an incredible 'Mr. Fix It', and I'm using him as an example.  I feel like he can fix anything, or at least up to a point where someone licensed needs to do the work, and the threat of major bodily harm is imminent.  I want to be there.  There's also no reason I shouldn't be able to do some minor clothes alterations.  Hemming pants and shorts would save me a TON of time and money, and I know where I can borrow a sewing machine.  Lastly – with Bertha!  She's going to need some TLC over the next few months as we get her up to snuff, and I'm looking forward to taking on some of the minor tasks.  Measuring this one will be pretty easy as well…if at least look at the bank account and see all that money I'm not spending on having someone else do the work.
Purge 20% of my closet.  This has been a popular sentiment from a few of my buddies (ACL in particular). They are going hardcore – getting rid of 60-70-80% of their stuff, which quite frankly, I'm not comfortable with.  I do, however, need to do a major purge in my closet and storage.  This is something that I usually do a couple of times a year, but looking back, it usually turns out half-hearted.  I get the stuff out of the closet but don't do anything with it.  Well, sometimes I'll drop some at Goodwill, but it just stacks up in storage.  Not this time.  It's getting gone…either through RCS Flea (do you guys like that?) or heading to Goodwill.  I'm excited for the cleansing feeling, and the more refined wardrobe.  Look for more on this in the coming weeks.
"Health/Workout".  I haven't done any sort of exercise in WAY too long.  While I still look amazing, it's time to get going.  I'm not buying a Peloton or joining a gym, but I am planning on doing some circuit training here at the house, some dumbbell work, and eventually, more walks when the weather gets a little better.  I've fallen victim to allowing this to fall off, and it's time to get it back on track.  Mrs. RCS is really good about managing our diet, so adding in some physical exercise will have great long-term effects.
Read a book a month.  Admittedly, I read a TON of books, but they are all at a 3-year old level.  I could recite 'The Little Engine That Could' in my sleep.  I have tried to read over the last couple of years, but it's tough with kids.  At night we are so tired, we just want to fall into bed and veg out.  Back when I was reading more, I would have two books on my nightstand: one that was some sort of business/motivation/history/non-fiction, and one that was serious fiction…a 'beach book' (Stuart Woods, Vince Flynn, etc.).  I want to get back to that.  I'm always looking for book recommendations, so feel free to leave some in the comments.
Take inexperienced friends fly fishing and/or bird hunting.  I'm lucky in that I get to do this a lot.  It helps that Mrs. RCS is really into both, so she gets it.  I don't have to make any sort of excuses, or any sort of quid pro quo.  It's a real issue that the number of hunters and fisherman are going down.  For those that know, there is no amount of scrolling, Netflix, or brunches that will replace the personal satisfaction of hooking a fish on a fly rod or watching a covey of quail explode.  I get quite a few questions in my 'Ask Me Anythings' like 'how do I get into fly fishing', or 'how do I start quail hunting'…and this year I'm making a resolution to do something about it.  My plan is to introduce as many folks as I can to both fly fishing and bird hunting.  I'm thinking of my immediate friend group, and can easily think of 10-12 folks (both guys and gals) that have all expressed interest in one or both, and this year I'm going to bring them along.  Whatever it takes.  I want to do my part to introduce more people to these experiences that I hold so dear.  Pass it on, right?
What are you thinking about this year?