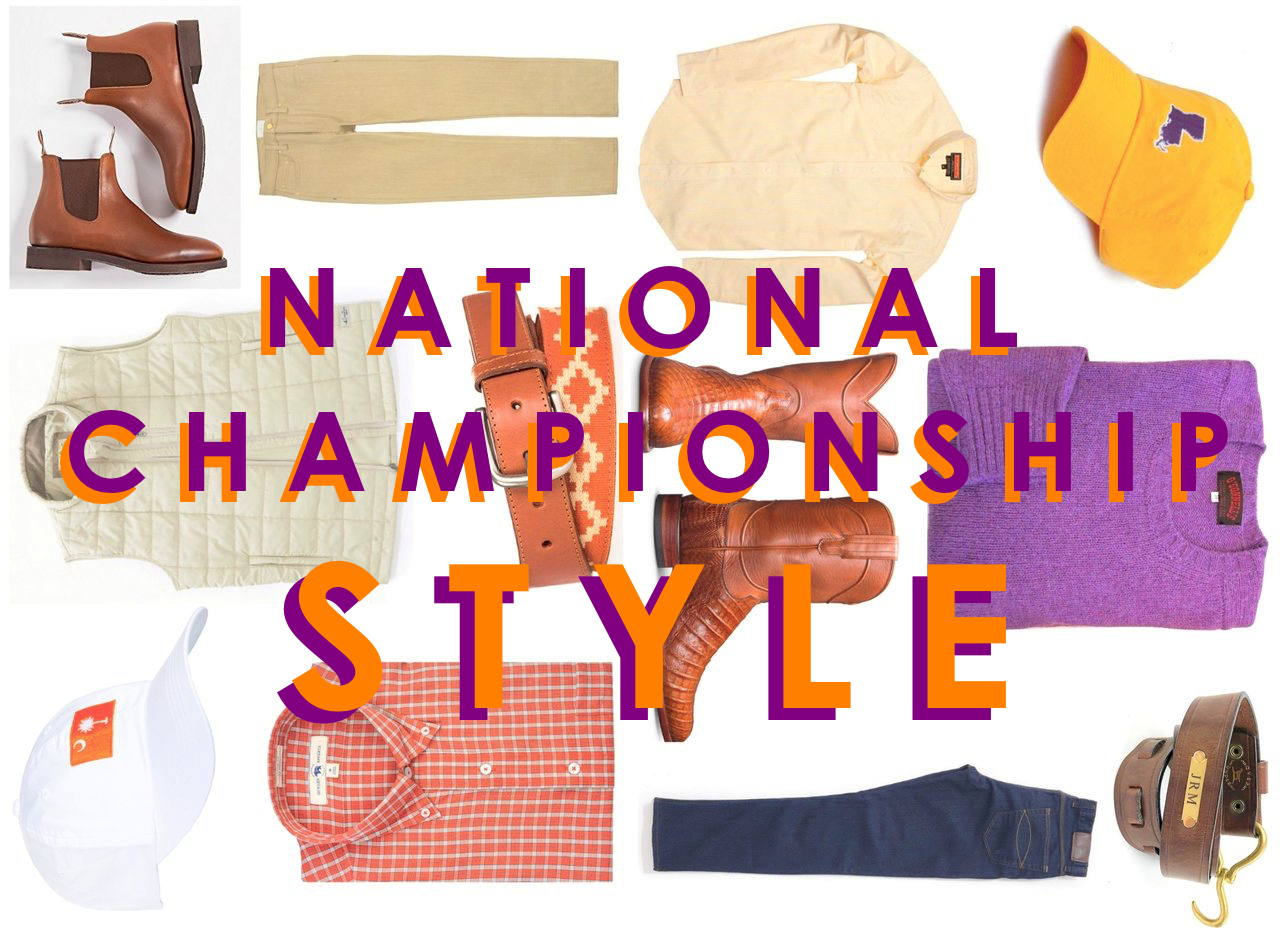 In a little less than a week, two Tiger teams that both play in a Death Valley will descend into New Orleans for the college football National Championship.
Going to the game?  Attending a watch party?  I highly encourage either, as this should be a game for the ages.  Now…what to wear?  My thought is that it's so much cooler to go logo-free.  The vast majority of logo stuff looks like you raided the sale rack at Dick's Sporting Goods.  It's also not great to dress like a coach…because you aren't.  You are a professional adult.
Personally, I like to dress how I normally would, just including team colors.  Here's how I would do it from the LSU end zone, as well as the Clemson end zone: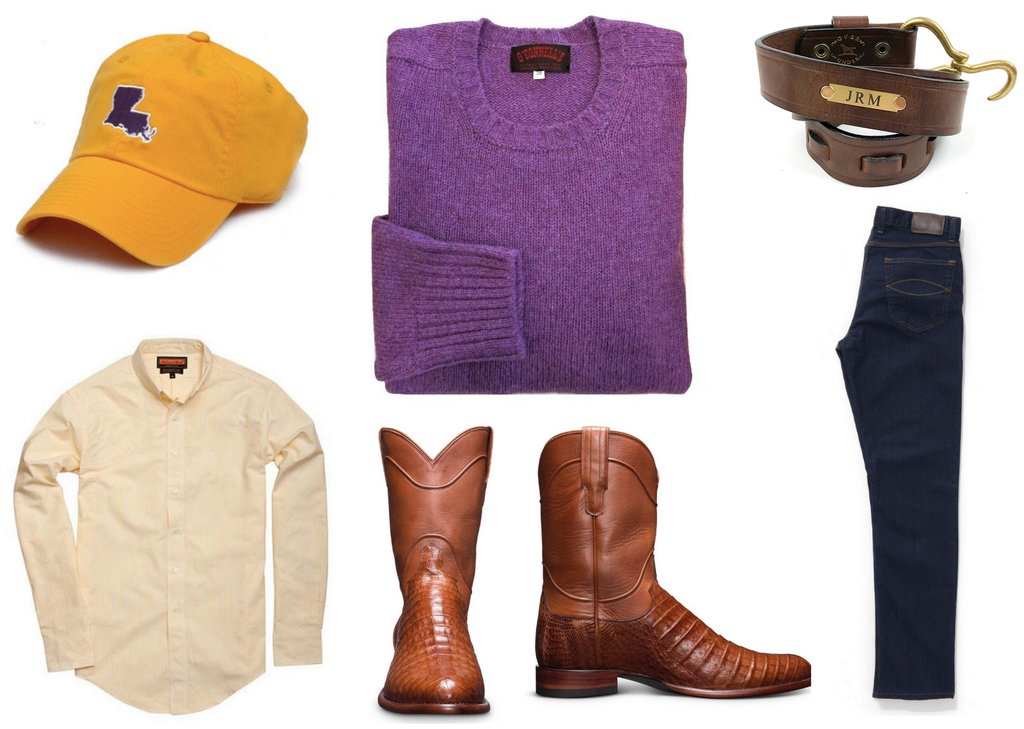 Clockwise from Top Left:
Baton Rouge Hat from State Traditions:  A hat that you can wear on any occasion in LSU colors.  Your wife/better half will enjoy stealing this one from you.
Shetland Sweater from O'Connell's:  The game is in January, so an outer layer is a must.  Purple can be tough, so go shetland.  You'll wear it more than you think you will.
Hoof Pick Belt from Over Under:  You know, Clemson has been known to run a pick play or two…
Hunter's Shirt from Ball and Buck:  A tough yellow and white oxford shirt for a tough game.
Cole boots from Tecovas:  Choot 'em!  Gator style for the bayou bengal tiger fans…
Holston Jeans from The Sporting Gent:  Some good, comfortable jeans to finish it off.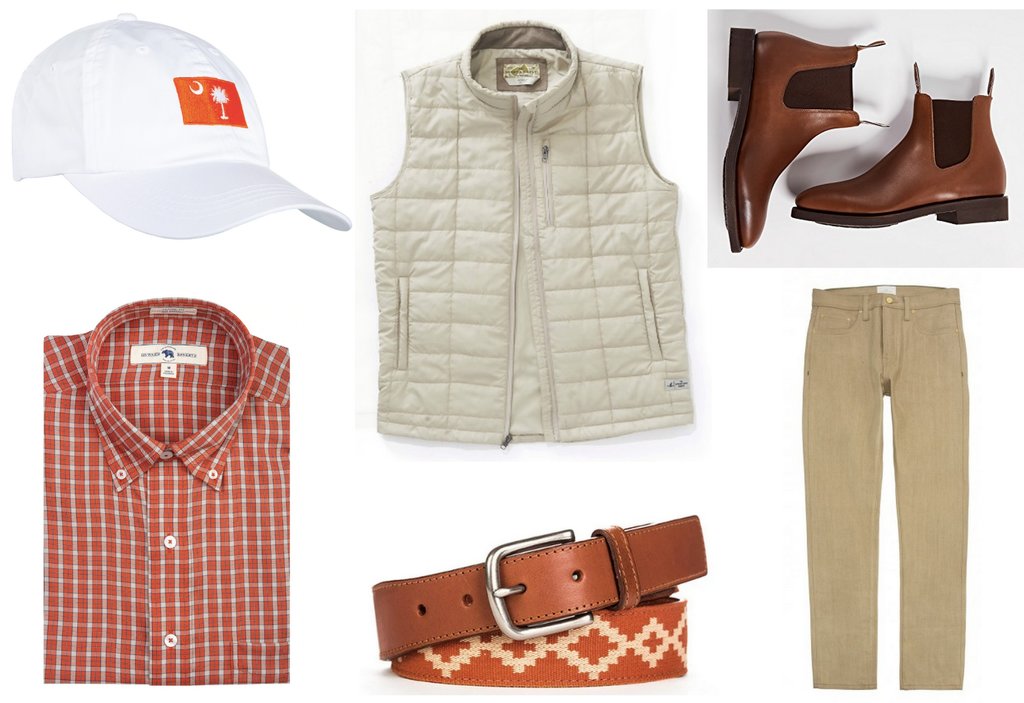 Clockwise from Top Left:
Orange State Flag Hat from Onward Reserve:  There isn't another state that has embraced their state flag like South Carolina.  I love it.
Mid SZN Vest from The Sporting Gent:  Good outerwear option for the game, as well as celebrating after the game.
RM Williams Lachlan Boots:  Comfortable boots that are good for walking, and a cool, mature look.
Sid Mashburn Khaki Selvedge Jeans:  Khaki jeans.  You can't beat 'em.
La Matera Talampaya Belt:  Probably one of the most versatile belts I own.  Great for upland hunting, wearing to the office or on a date, and for Clemson fans.
Twill Buttondown from Onward Reserve:  A good orange plaid button down becomes the star of the show.
Who you got in the game?  I literally have no idea…maybe a tie??