I talk quite a bit about thrift store finds, but they usually involve some sort of clothing.  All good.  I love the hunt.  When I moved into my new place, I didn't want to immediately fill it with furniture, instead opting to buy the necessities and fill in the rest when I felt more comfortable with my style.  I don't have a match-y match-y type of style, bedroom 'sets' and matching couches seem a little too contrived for me.  I do appreciate timeless style, and a bit more of an eclectic look.  I also want there to be a comfortable feel where I live.  My house is not a museum, and I don't ever want any of my guests to feel that way.  Luckily, a lot of what I like can be found at second hand stores.  With some imagination, some elbow grease, a first name basis with half of a Home Depot staff, and just a little vision and confidence, anyone can make it happen.
***Disclaimer – I am NOT a decorator by any stretch of the imagination, but I know what I like.  Regardless, feel free to ridicule in the comments section.***
Suffice to say that I have become very comfortable with my style.  I wouldn't call it 'eclectic', or 'masculine,' or 'vintage,' but some combination of the three.  I like straight lines and substantial pieces.  I prefer stained wood to painted pieces, but I'll bend.  I've mixed a lot of things that wouldn't traditionally go together. Oh well…doesn't bother me…the bourbon still tastes the same.
Over the past few months, I've been wandering through the furniture sections when I stop by Goodwills.  I have had some luck, but we'll get to that in a minute.  Since I live in a smaller place, I make sure that I only buy what I have room for, and carry a mental list of what I'm looking for between my ears.  I knew I needed some night stands, but more specifically the wider/taller/three drawer options.  I was also interested in a pair of club chairs for a blank spot in my living area.  Here is what I've found (and some details):
First, I found this campaign chest at a Goodwill for an unbelievable $24.  This thing weighs a TON, and it had some damage. It's hard to tell, but it originally had four small nubs for feet, and one had fallen off.  In a move/whatever, that missing nub in the back had caused some structural damage to the piece.  I looked over this for what seemed like 15 minutes in the store, and came to the conclusion that I could fix it.  After a trip to Home Depot for some wood glue, brass screws, and brackets, we were in business.  I cleaned it inside and out and now it's sitting in my guest room.  TCO: under $40.  Note: the top isn't in the best shape, so I've decided to get a piece of glass cut.  Smooth top and easier to clean.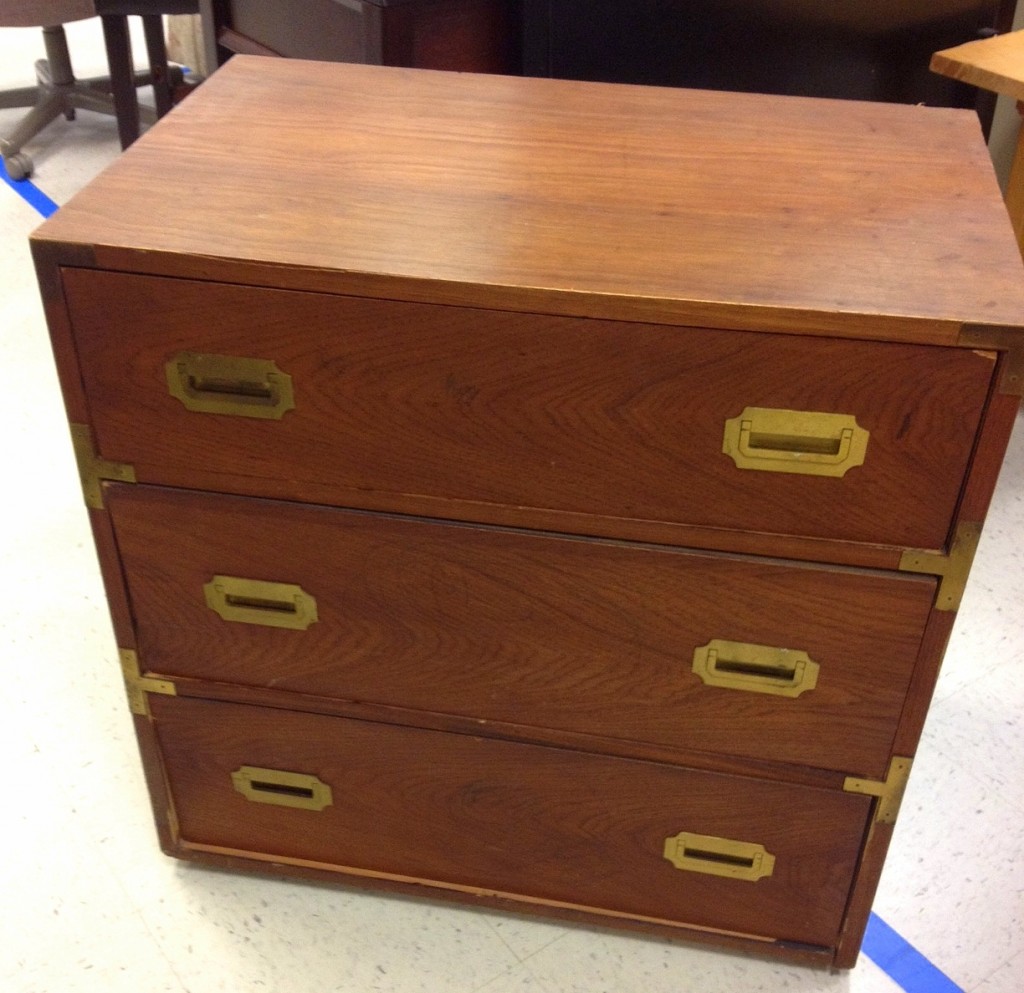 Next, I saw this nightstand at the exact same Goodwill about two weeks later.  While it is a bit 'deco,' I did like that it had three drawers and was the exact same height as the campaign chest above.  This one needed almost no work, as it was extremely clean and in very solid shape.  Again – a very heavy piece.  This is currently sitting on the opposite side of the above chest in my guest room.  Cost: $18.  No brainer.
These may have been the find of the year.  I really wanted two club chairs that were smaller in stature, which I've come to learn are very difficult to find.  New ones ain't cheap, so when we came across these at a Goodwill way north of the city, we were very pleased.  The price tag said $27, which we thought were for each chair (and were 100% fine spending), but no – it was for the pair.  They were made here in the US (Texas, in fact) and are in outstanding structural shape.  They show just a touch of wear, but it's just right – exactly the desired look.  The cream leather could work, but I'm currently on the hunt for just the right material to have them recovered (something I've never done before, and am learning that the choices are limitless.  Coin flips are imminent.).
Bonus: This wasn't from a Goodwill, but from a charity consignment sale at a historic house in town.  While she was perusing the women's clothing, I noticed this old door that was sitting on top of two saw horses being used as a display table.  I inquired, and for $25, it was mine.  This is going to be the headboard in my guest room (right between the two chests above).  All I'm going to do is lightly scrape the flaking paint and add a couple coats of polyurethane.  French cleat it to the wall and we're in business.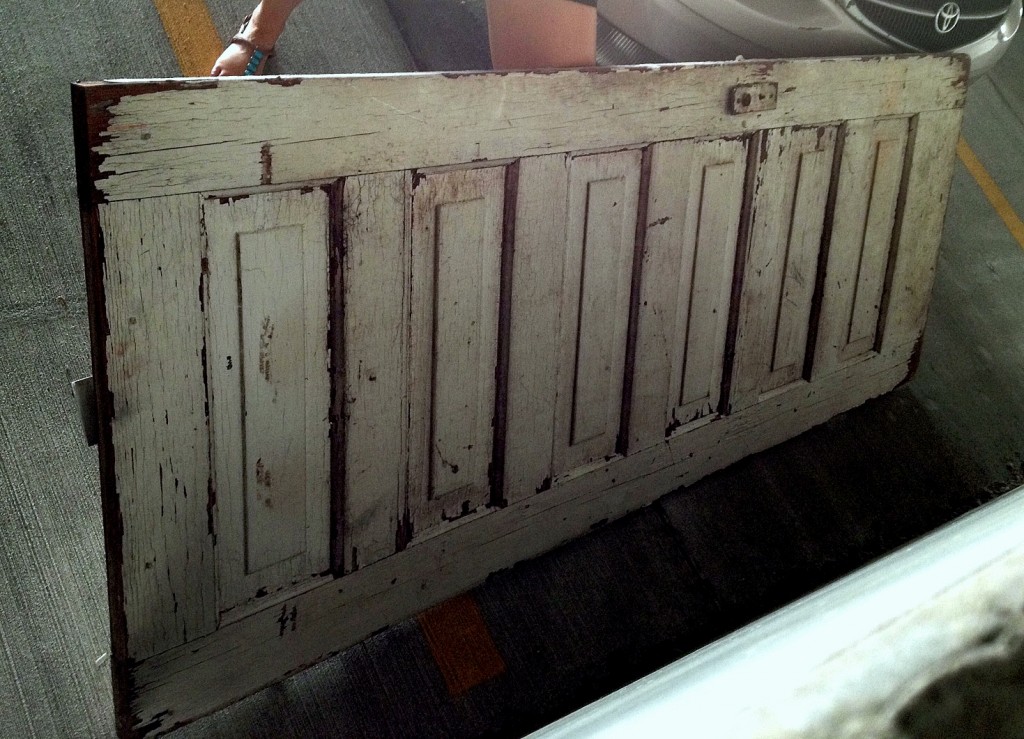 I've still got a couple pieces I'm looking for, but I'm not sharing them with you suckers.  I will keep you updated on the progress…maybe one day I'll do a 'behind the scenes at Red Clay Soul HQ'.  Or maybe I won't.  Cue the suspense…