One of my favorite parts of the Orvis website is the Adventures section.  Adventures is dedicated to the schools, trips, and shooting grounds that are all Orvis-approved.  What does that mean?  Well, Orvis doesn't lend their name to anything that isn't top notch.  Think about those old shot shell belts, the Gokey boots, or the fly fishing rod that they guarantee for 25 years…you'll be hard pressed to find better gear.
Orvis is a great partner as we share a lot of the same principles.  They reached out to me a few months ago and asked that I go check out their new facilities at Pursell Farms in Alabama.   Pursell Farms is the home of Farmlinks golf course, which most of you know about (it's the #1 rated public golf course in Alabama), and Orvis just recently opened their shooting grounds and fishing school at the same location.
We set a date for an over night stay, and I counted down the days.  Mrs. RCS was very excited to join me for the fly fishing school, but she had to bail.  Given that she was 34 weeks pregnant, being on her feet all day was just too much.  My buddy Trip, who lives in Birmingham, was more than happy to join me.  He's a new fly fisherman as well, so our skill levels were basically 'beginner'.
Pursell Farms is located about 150 miles from Atlanta, and about 45 miles from Birmingham.  It has a Sylacauga, AL address for all you GPS users.  It's an easy drive – head west on I-20 from Atlanta and hang a left at Anniston.
Upon arrival, I was struck at how expansive the farm is.  As you drive into the property, you are surrounded by beautiful fields filled with some massive bulls.
As I mentioned earlier, Farmlinks has been the draw for years.  It's a really beautiful course.
There are multiple lakes on the property, and none of them get fished too much.  This will come into play in a bit.
The Farmlinks Clubhouse is also the Grill, the main restaurant on the property.
Orvis is located on the main drag, just over Pennywinkle Creek:
The building houses a large Orvis retail space, along with a classroom, a kitchen, storage and three sides of deep front porches.  The welcoming personality of their facilities was a precursor to the weekend.
Trip and I met at the facilities at 9AM to get settled and start the class around 9:30.  Upon arrival we were immediately welcomed by Blake (the GM), Chris (our instructor for the weekend) and Tripp, his assistant.  There was coffee, drinks, donuts, and other snacks available.  We signed our waivers and met out on the back porch.
The class was separated into five parts: Casting, Fly Fishing Basics, Lunch, Lures & Knots, and live fishing.  From a scheduling perspective, we got started around 9:30AM, and finished up about 5PM.  It was a full day, but it flew by.
We started with casting, where Chris & Tripp ensured that Trip (one P) and I had a good grasp of the progressive cast, as well as the physics of the cast.
We used rods, reels, and line provided by Orvis, with different weights so we could get the right feel.  The casting portion was very interactive, where we talked about anything and everything fly fishing.  We covered line weight, types of set ups for different locations (Sylacauga has a different type of fishing than Atlanta/North Georgia), and defining success when fly fishing.  Casting was not over complicated, where once we 'got it', we were good to go.
Trip (above) getting a nice loop.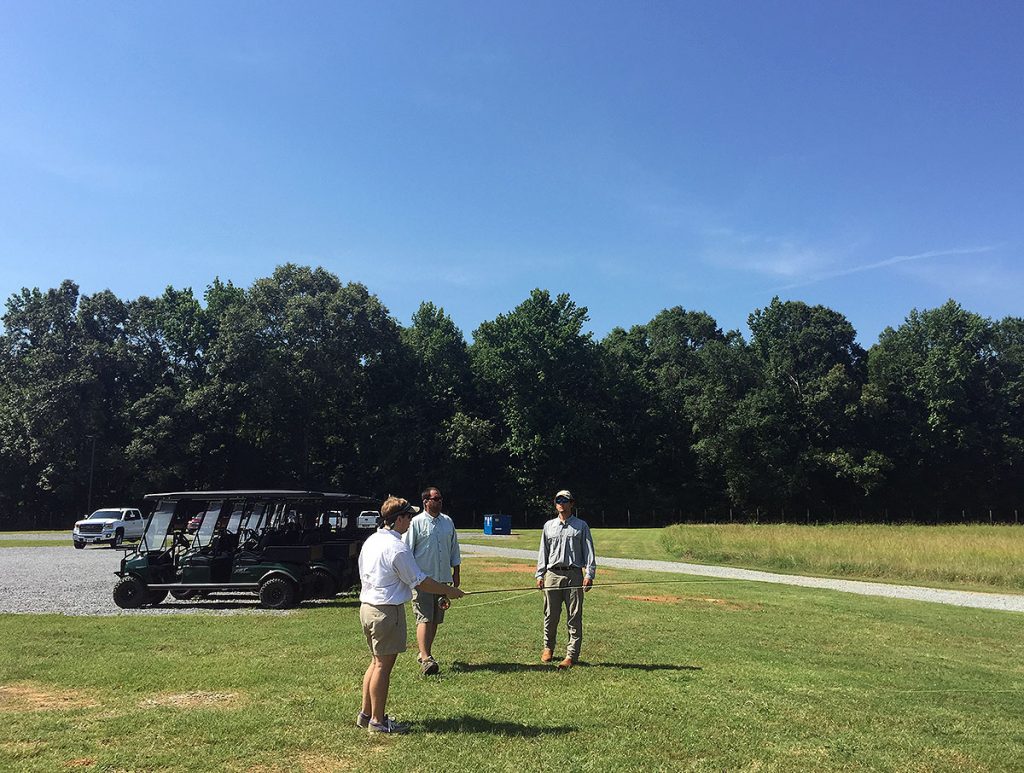 After casting for an hour or so, we made our way back into the classroom where we talked about the fly fishing basics and put in our lunch order.  We got our lunch about 45 minutes later.  I had a club, and Trip had a grilled chicken salad.  Chris, Tripp, Trip and I all ate together, continuing our conversation and education on fly fishing.  By this time, our stomachs were full, but our appetites were thirsty to continue with more learning.  We got out and stretched our legs, working on hooking techniques, as well as line drag.
We then moved on to knots and lures.  This was probably the most informative part of the day for me.  We learned about numerous knots, seeing videos on how they are tied, as well as uses.  We each practiced these knots, and didn't move on to the next until we had both successfully completed the tie.
Learning about flies was really cool.  We covered quite a bit on lures, including the difference between each, how to fish them, and hook size. We saw examples of each; Chris and Tripp were both pretty up front on their favorites and why.
Finally, we loaded up the truck and headed to Mr. Pursell's lake.  The lake is roughly an acre, and is rarely fished.  As seen above, there are quite a few lakes on the property, and our options were plentiful.
So the rubber hit the preverbal road.  Trip and I had all the teaching we were going to get, so it was time to find some action.  Chris and Trip stayed close to the cover, and started catching quite a few brim and sun fish.  Tripp and I went to the other side of the lake to chase some bass. I used a clouster streamer, and finally got comfortable with the cast.  I needed to land a ~25′ cast to get the big boys, and finally did…
I got a hit like nothing I'd ever experienced before.  I've fished quite a bit, but I've never seen something like this (luckily, Trip and Chris were on their way over, and Trip had the camera ready to shoot).  I set the hook and started getting him closer to shore.
This was a BIG bass (they estimated ~5-6 lbs), and I'm afraid my adrenaline got the best of me.  He was able to get off the line about two feet from shore, and I called it a day.  Being that I'm an extremely competitive person, I would normally be upset about losing such a great fish, but it was actually the opposite.  I honestly didn't mind at all.
After sleeping on it for a bit, I think NOT catching the fish was actually better for me and my burgeoning fly fishing obsession…all I want to do is go out and fish more.  There's no way I'll let the next one get of the line.
Trip and I were talking on the porch back at the Orvis facility, and I think he put it best: "I really didn't know what to expect today.  I didn't know there would be so much education and it would be so focused; now I really feel like I know what I'm doing."  I don't think I could put it any better.  Given that fly fishing is a complicated talent, after taking the fly fishing course at Pursell Farms, I feel like I can go out and really enjoy the sport.  Of course I have a lot more to learn, but now I have the foundation.  At this point, I can't wait to go out and practice.
Trip had to head back to Birmingham that night, so I went and checked in to my room.  I had one of four rooms in a house, which included common area with a kitchen, a dining room, a large seating area and TV, and a HUGE back porch.  The rooms were really nice; perfect for relaxing after a long day of fly fishing (or golf, or shooting…).
My place, the 'Snead Cabin':
After a shower and a shave, I made my way over to The Grill for dinner.  The Grill is located in the Farmlinks club house, and I got a table overlooking #18.  I started with a Manhattan…
Then had the traditional ceasar salad, glass of cab, ribeye, baked potato, creme brulee, another Manhattan lineup.  Everything was delicious.  After eating, I was wiped out…I headed back to my room, found a baseball game on TV, and hit the sack.
Trip met me for breakfast at The Grill the next morning.  After some coffee and some eggs, we headed back to the Orvis facility to meet Chris and go tackle the Shooting Clays course.
The course is like none I've ever shot: each of the 14 stations is set up to mimic a specific bird (or rabbit) flight.  Chris provided instruction at each station, including what to look for in the flights, where to shoot, how to aim, as well as more tactical instructions on proper form, hand placements, and other corrective behaviors.  He was busy.
Our chariot:
The course was very scenic, and had some really tough shots.  Each station offers a minimum of eight shots, so there wasn't a lack of trying.
After completing the sporting clays course, we headed back to the Orvis facility to do some gun cleaning.  We both shot 20 gauge guns: Trip had his CZ Bobwhite side by side, and I had my Beretta Silver Pigeon O/U.
Even though Trip and I have a good bit of experience with shotguns, Chris gave us a primer on how to clean and what to look for in regards to preserving our guns for optimum function and lifespan.
Chris has perfected the stomp-snake: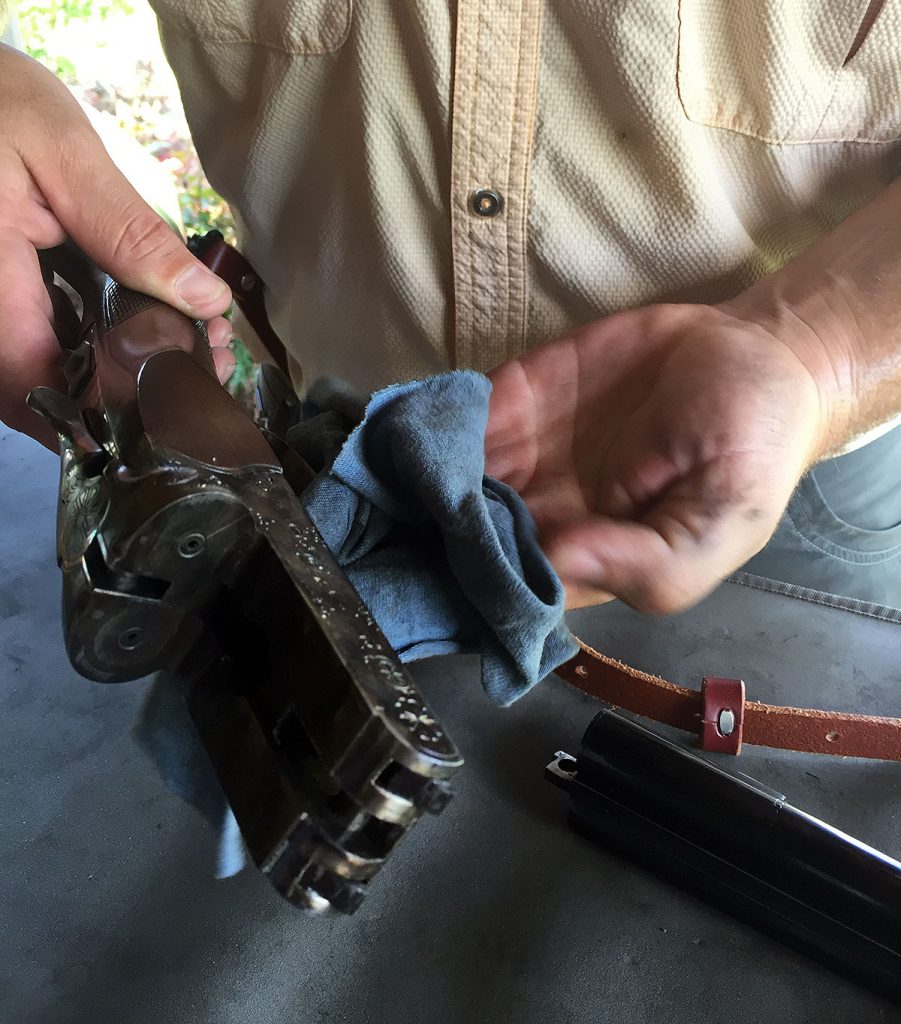 All cleaned up and ready to go:
A nice feature of classes at Pursell Farms is that they offer 20% off the Orvis retail store, and they honor coupons.
I did my fair share of damage: I took advantage and got a Hydros reel and Recon rod, along with line, flies, and all the fly fishing accoutrements I need to get out and hook a few.  Just like the class, I built a foundation so I can get out and fish, and then add as the need arises.
It is nice that they have custom Pursell Farms gear.  I got a couple hats, and a shirt for Mrs. RCS.  I took care of Father's Day gifts here as well.
They have a FULL line of shotguns on site.
Orvis' shooting gear is outstanding.  Good prices, and very high quality.  I'll get into this next…
After taking it all in, the trip to Pursell Farms was nothing short of absolutely outstanding.  I'm really sorry that Mrs. RCS couldn't join me, but I was very happy to have Trip there.  I knew he'd have a great time, and take something away to make him a better fly fisherman and shooter. All of the people at Pursell Farms are the nicest folks, and are all very talented.  They all fish, they all shoot, and they all guide bird hunts, and what's best: they know how to instruct.
There are three other activities that I didn't hit this trip: golf at Farmlinks, quail hunting (not in season), or the spa (which is apparently top shelf).  I like Pursell Farms for a guys weekend, a bachelor party, and even a couple's weekend.  From a price perspective, it's in line with a weekend trip to the beach, but instead of sitting in the sand, you golf, fish, and shoot, and it's only a 2-hour drive from Atlanta.  Next time you are looking to get out of town, give Pursell Farms a look.  You won't be disappointed.