I always get excited in the Fall and in the Spring.  Those are the transition times for my favorite season: college football in the Fall, and golf in the Spring.  Wardrobes change as well.  Spring is about rebirth – whether it's my golf game or my closet.  They both need some work this time of year.
While my usual day-to-day attire is mostly conservative, office appropriate attire, I do like to add a little of my own style into the rather mundane monotony.  I buy classic pieces that are going to last for years.  Whether it's 'in-style' or not, the pieces will work in outfits ten years from now.  Now, since I have to get dressed everyday, I do it right, and focus on style, fit, and quality.  I shop in the right places and don't take a disposable attitude towards anything I buy.  I want it to work for the long haul.
The good folks over at Onward Reserve reached out and asked what I would pick for my Spring Wish List…there is so much, but here's what I've settled on: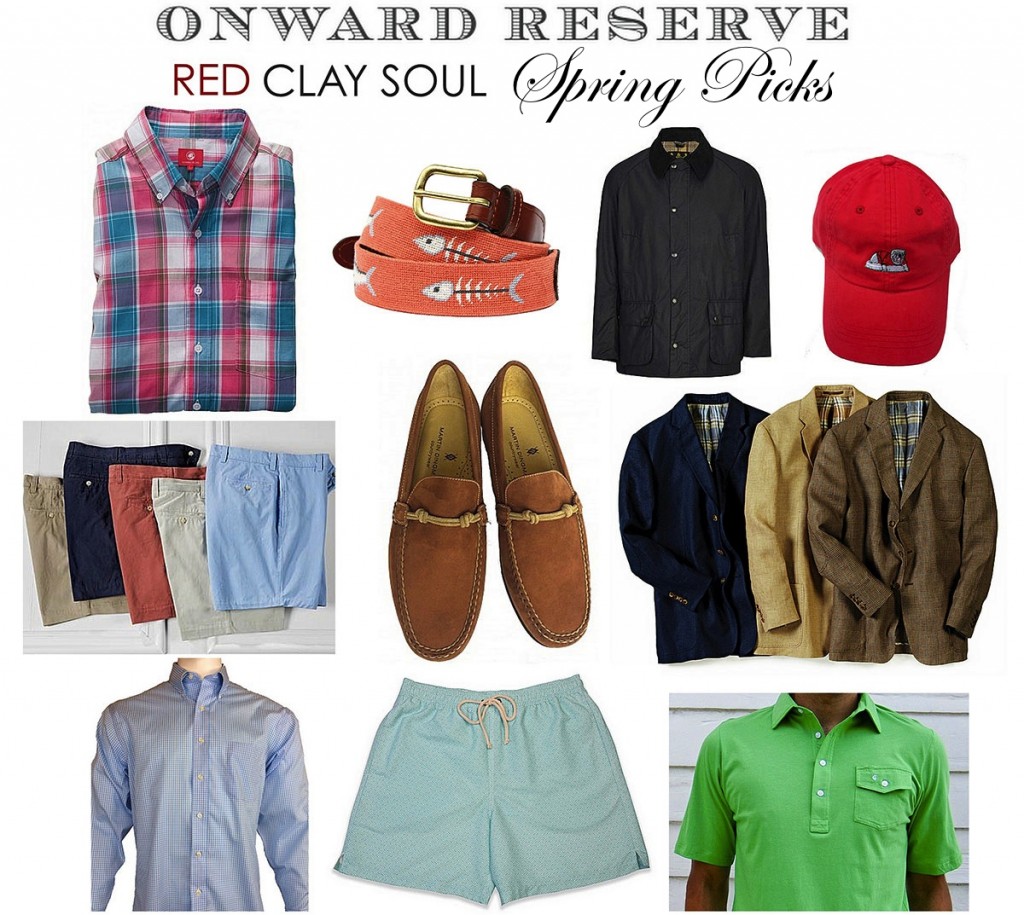 In no particular order…
Martin Dingman Field Jacket in Ticking Weave – A great tan jacket is a must for spring.  It can be worn with jeans, khakis, and even wool slacks in neutrals.  Martin knows what he's doing, and in his second season of his Countrywear line, he has knocked it out of the park.
Onward Reserve Gingham Button down in Aqua – You can't have enough gingham.  It goes with everything.  The Onward shirts are great – they have just enough non-iron fabric in them that they don't need ironing after every wash, but they don't feel "plastic-y" like a lot of other non-iron shirts.  The aqua color will get a lot of play this time of year
Southern Proper Plaid Shirts – I am so glad to see the ladies bringing those big plaids back.  It has been tight around the plaid shirt jungle over the last few years, and the big plaids actually work better with any non-tie outfit.  Pair these with jeans or khakis, or un-tucked with shorts or over a swimsuit and you are ready to rock.
Barbour Ashby in Navy – It still gets cool at night during the spring, and Mother Nature likes to dump some rain at the most in-opportune times.  The Ashby is a trimmed down version of the Bedale, and the Navy color is much more spring appropriate than Barbour's typical olive.
Onward Reserve Shorts – I make no bones about my distaste for man-pris.  No guy can call anything longer than a 7" inseam "shorts".  Onward Reserve released their private label shorts and they are spot on.  They are very comfortable, pleat-less, only sport a 7" inseam, and all the colors are the new neutrals.
Criquet Player's Polo Shirts – I've owned Criquet Player's shirts for years, and the biggest issue with owning a Criquet shirt is this:  you'll want to own all of them.  They have a style all their own: the updated version of the 70s and 80s Arnold Palmer polo in soft, organic cotton and in a prime choice of colors.
Strong Boalt Geometric Swim Trunks – I prefer my swim trunks to be unique, and Strong Boalt is a great way to stand out from the crowd.  The fit is spot on, and the designs are whimsical without being annoying.
Smathers & Branson Bonefish Needlepoint Belt – Since I'm getting married down in the Bahamas later this year, we are planning on getting some flies in the water after some bonefish on our honeymoon.  Only seems appropriate that my belt fits right in.
Martin Dingman Callahan Suede Loafer in Chestnut – I really like casual loafers this time of year.  Not as formal as a pair of bits and not as casual as a pair of driving loafers.  These Dingman jobs hit the mark.  The knotted detail and the chestnut suede are perfect for church, casual Fridays, or even with a pair of shorts.  Never with socks, though.  Never.
Onward Reserve "On the Rocks" Hat – Now is the time when I start breaking in my hat for gameday this Fall.  The Bulldogs look like they might be on the upswing, even without Murray (think UT after Peyton graduated – yeah, they won the National Championship).  UGA Mascot UGA looks great chilled out on a bag of ice…a red one with a summer's worth of fade will look mighty fine in Athens this fall.
You can read more about this over on The Gazette.  Oh – and want to see what my good buddy James Farmer picked?  Go check out his selections here.
Happy Spring, folks.