So I have talked about puffer jackets for quite some time.  I have a few puffer-esque vests from Penfield, Southern Proper, etc., but don't have any sort of puffy outerwear that includes sleeves.  It's not for a lack of looking.  I've tried on countless jackets, but none of them really fit the way I wanted.
I'm sure you can tell that I'm pretty picky in what I like.  For a puffer, I wanted something that fit well, was versatile, and some sort of color.  I didn't want a black or grey jacket.  Personal preference, but I didn't want to look like the captain of a space ship.  I was walking around the Orvis store in Buckhead and came across this beauty – their Targhee Down Jacket.
What first attracted me to the jacket was the color.  It is the perfect shade of Kelly/Emerald/Masters green.  Check.  I tried it on, and noticed how light it was.  Check.  And the fit was just right – a little slimmer than some other puffer jackets, but still enough room in a size Medium to wear it over a an oxford and a sweater.  Orvis was nice enough to send one my way to review.
After wearing it around for a bit, here is what I think: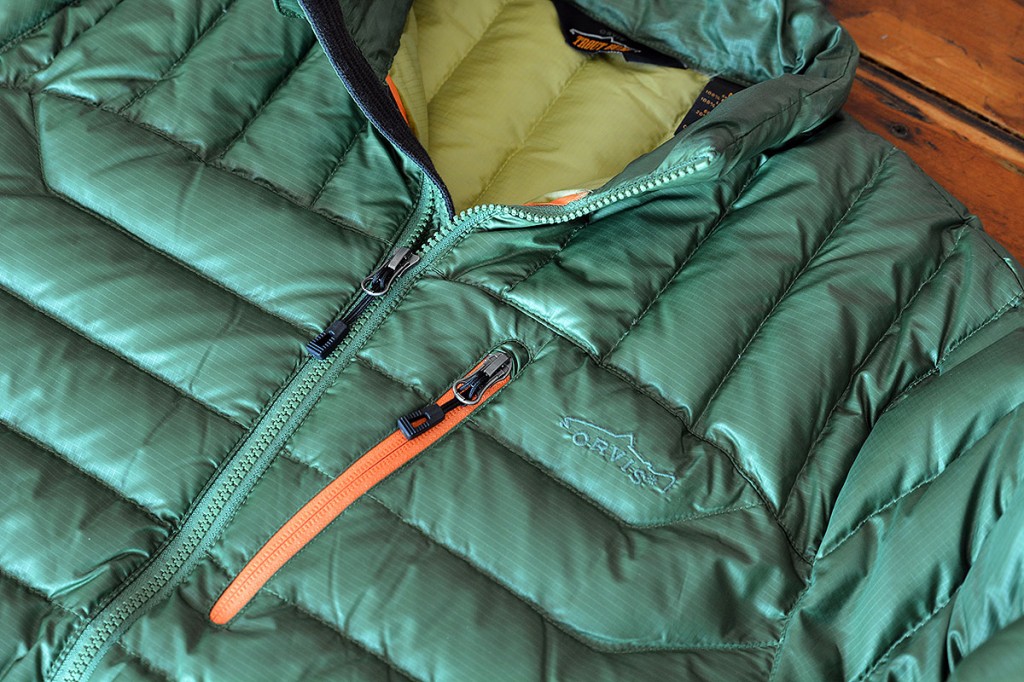 The logo: understated, just how I like it.  The chest pocket is perfect for a cell phone, gum, and anything small that my wife insists I carry.  I'm growing out out of the logo phase.  Don't get my wrong, I don't mind a logo, as long as it is subtle.  I am, however, anti-bill board.
For sizing reference, I wear a size 40R in J. Crew Ludlow stuff, I wear a 15.5 x 34 dress shirt.  The medium Targhee fits me perfectly.  The sleeves are just right.
One of the best features is the higher-cut armholes.  What this does for the jacket is give you a greater range of motion, which in turn keeps your sleeves in place.  Lower cut armholes and/or looser fitting jackets will pull the sleeves, giving it an awkward look.
This is a lightweight 800-fill down, so the jacket packs into this nice little zipped pocket.  Seriously, it's about the size of a small cantaloupe.  Very convenient.
So far, the jacket has been worn to get a Christmas Tree, spend a weekend in Blue Ridge, and a few mornings in 30-degree commutes to the office.  Of course it is warm, but it keeps the wind out as well.  These nice little clips help keep the wind from sneaking in from down below.
And the color is perfect.  Listen – I get that black and gray jackets are easy.  In fact, this jacket is offered in both colors.  But this green…it really is great.  I like that it is bright, and wear it with just about anything (see today's #WIWT Instagram).
I would give this jacket an A.  As a long time Orvis guy, the quality is second to none.  The slimmer cut and higher armholes are a really nice touch, and the perfect shade of green (they call it "Pine") is spot on.  The price point is a little higher than some of the competitors that I've tried on, but Orvis runs sales all the time – just sign up for their emails and you'll see what I mean.
Well done, Orvis.