I've carried a pocket knife for as long as I can remember.  My Granddad did, and I thought it was cool and tough.  Then I found it became habit to always have that useful tool in my pocket.  The thing about a good pocketknife is not all the reasons that a knife makes sense, but for all the reasons you can't think of.  I've replaced door hinges with a pocketknife.  I've cut drywall with a pocketknife.  I've used a pocketknife to mark a golf ball.  True utility.
Through the years I've carried a bunch of different pocket knives, and have quite a collection at home.  I find myself swapping them out for various reasons…one of which is because it gets confiscated by TSA.  My rules are that it has to be light, it has to hold and edge, and it has to be less than 3″ closed.  Otherwise it becomes more of a nuisance.  And these aren't clip knives; these are true folding knives.  While I don't have all of these, I have some version, and like them all for various reasons: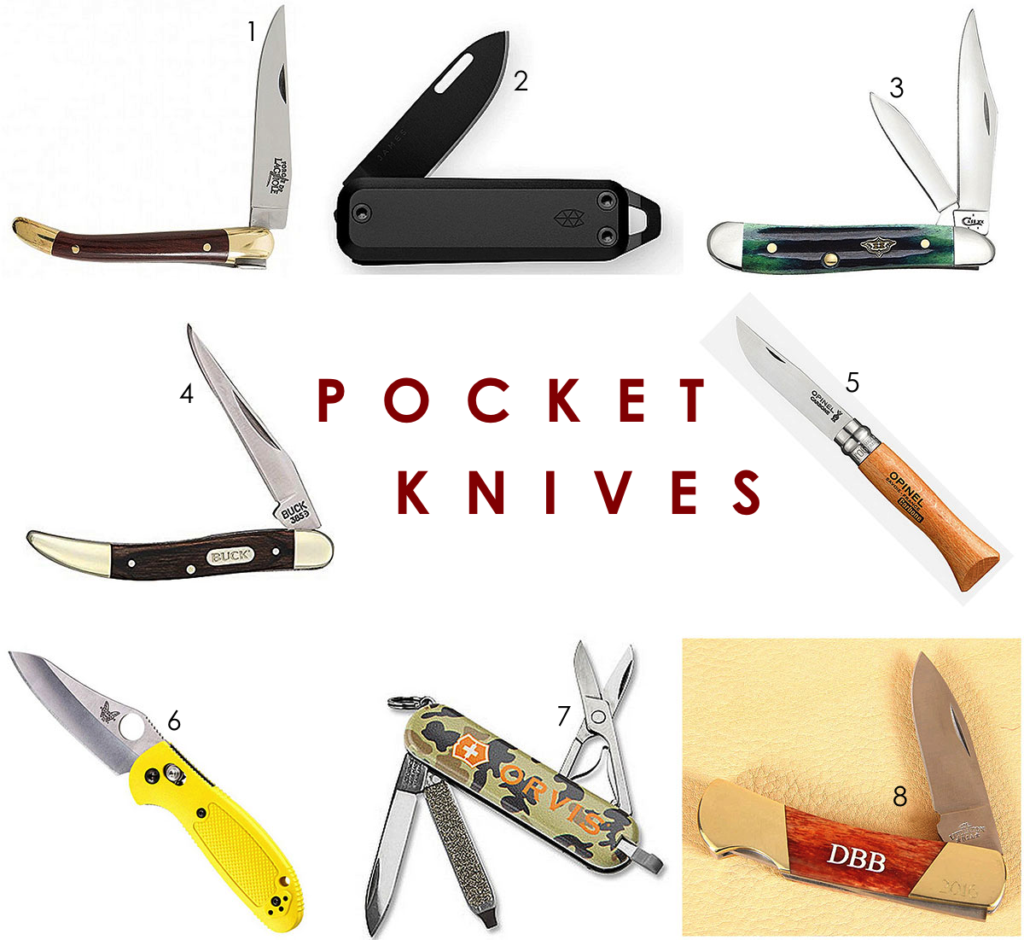 From top left:
1. Laguiole 7cm Pocket Knife:  This is getting the most use these days.  It's dressy, and keeps a really good edge.
2. The James Brand 'Elko' Knife:  I don't have one of these, but have been admiring it for quite some time.  Very Scandinavian/Star Trek.  One will be mine…
3. Case Peanut Pocket Knife:  Why have one blade, when you can have two in pocketknife form?
4. Buck Toothpick:  This is the knife that my Granddad carried for years.  We'd get him a new one for Christmas about every five years because he'd sharpen the blade to a literal toothpick.
5. Opinel No. 6 Pocket Knife:  The budget-friendly pocket knife.
6. Benchmade Mini Griptilian:  Benchmade is incredible.  While they don't offer a wood/stag handle, I'll give yellow plastic a pass.
7. Orvis X Victorinox Swiss Army Knife:  I know, we all have a million of these, but Orvis' is old school camo.  Can't beat it.
8. Colonel Littleton Firefox #3 Knife:  The ultimate groomsman's gift…a personalized pocket knife.  As cool as it gets…
Which knife to you carry every day?
P L E A S E    S U P P O R T    O U R    P A R T N E R S :