Now that the Masters has concluded, I wanted to get some thoughts down on paper.  I was in a wedding all weekend, so I wasn't glued to the TV on Friday and Saturday, which would usually be the norm.  I did catch a few hours of coverage as well as the highlights, and finally feel like I have my brain wrapped around this year's tournament.
The Good:
Danny Willett: What a great story about his son being born eleven days prior to the tournament, with Sunday as his original due date.  He also shot a bogie-free 67 on Sunday…which is almost unheard of, especially with those Sunday pins.  I was really impressed with how he pressed the accelerator after Spieth's meltdown on 12.  Willett could have very easily let the moment get the best of him, but he stayed the course and won the Green Jacket.
Bryson DeChambeau: We saw him putting on Monday, and he had three sticks lined up and varying distances.  He's a complete weirdo.  I heard him quoted as saying "I'm an artist".  I dig it.  I really hope he wins at Hilton Head this weekend.
David Duval: As I mentioned above, I did get to see a bunch of highlights on the Golf Channel, and Duval is really coming into his own as a golf commentator.  He used to be a more bitter version of Johnny Miller, but he's lightened up a bit, which gives him the ability to show off his knowledge about the golf swing, and what goes on between the ropes.  Good on you, DD.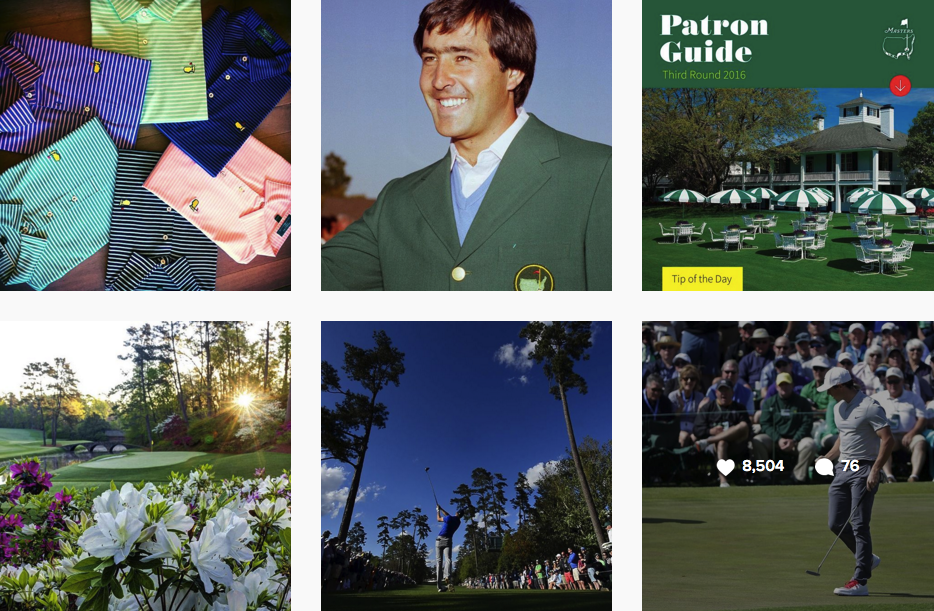 The Masters Social Media presence: I was extremely impressed with the laser focus on The Masters Instagram, Twitter, and Facebook.  They have really come into their own over the last couple of years, and are hitting their stride.  They do an outstanding job of capturing the feeling of the tournament in a 2D social media aspect.
The Bad:
Jordan Spieth's play on the 12th on Sunday:  They say that The Masters doesn't really start until the back nine on Sunday, and Spieth was a lap ahead of the field after birdies on 6-7-8- and 9.  Then came bogies on 10 and 11, followed by a complete meltdown on 12.  Look, we've seen champions dunk it off the tee on Sunday and pull out a win, but it was the second shot that really baffled me.  Instead of going to the drop zone, he chose a spot on the ball flight much further back, on a downhill lie.
Ernie Els' 7-putt:  I thought it was a joke, like some "Funny or Die" skit.
Bottom line: you can take anything for granted at Augusta National.  They don't give you a single shot.
The missing early Masters coverage:  I can't think of any reason that tournament play before 2PM or 3PM isn't televised.  I'm sure most networks would be clamoring to show early coverage, even if they are only allowed four minutes of commercials per hour.
The Ugly:
Dustin Johnson's putting:  The guy would have won the tournament if he made 60% of the 10-footers he missed on Sunday.  Did you see his second shot on 15?  He snap-hooked a long iron about 225 yards to 11 feet.  Then missed the eagle.  That was the sixth putt he missed JUST LIKE THAT.  If DJ gets his putter working, look out…
Rickie Fowler: "Golf Happened".  Good lord, dude.  Get it together.
The wind:  I've never seen anything like that over here in the US.  I thought I was watching the British Open on a color TV.
All of the above prove once again that The Masters is probably the greatest sporting event of the year.  I'm already counting down to next year's tournament.
What did you think?
Images: Google Image Search