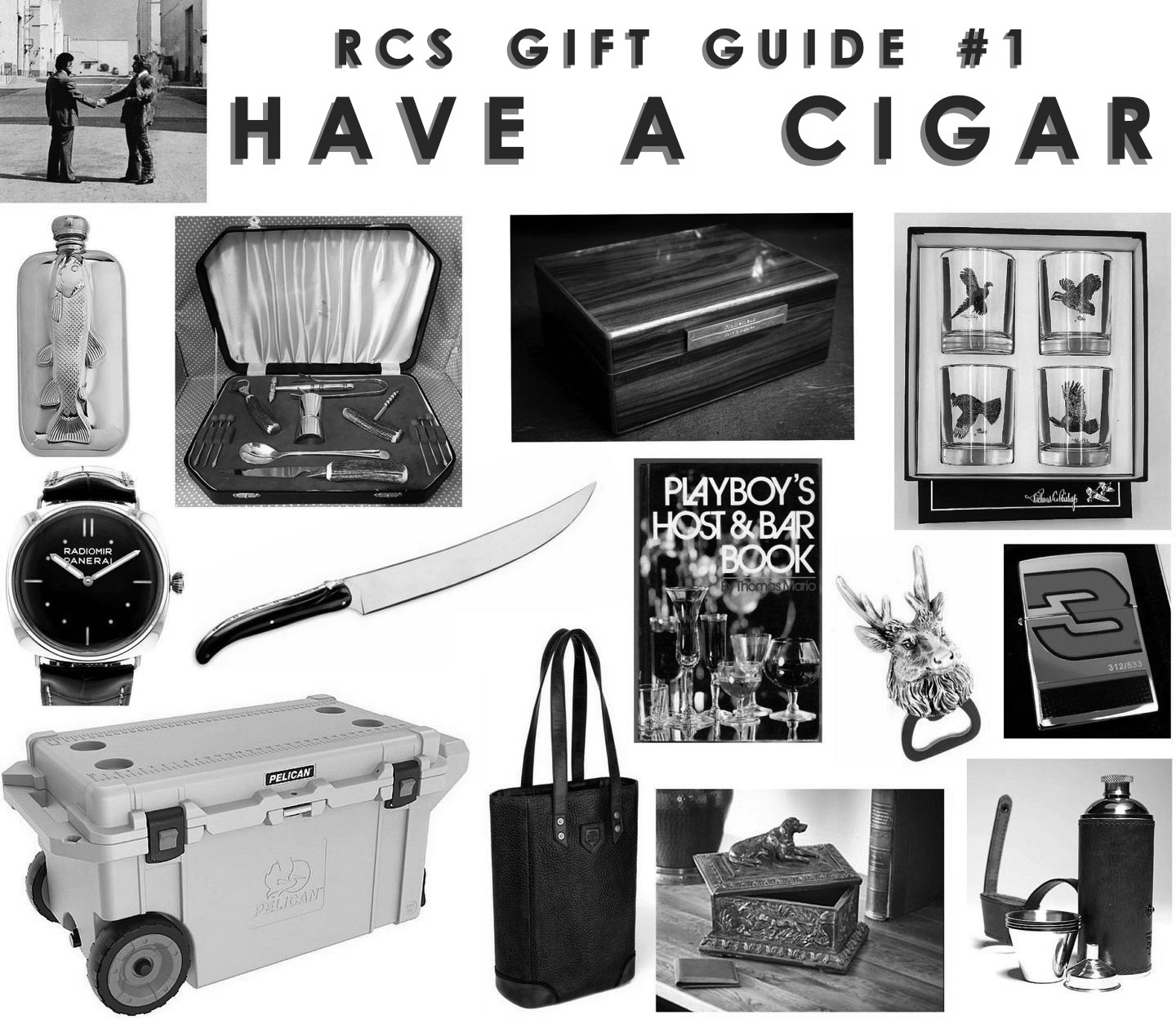 'Tis the season, folks.  It's Gift Guide time!  These are some of my favorite posts of the year.  I can't tell you how many questions I get around gift ideas – from both women AND men (don't worry guys – Mrs. RCS is hard at work getting one ready for you.  Ladies – you're welcome).  This year's theme is Pink Floyd…  I recently dug into to Pulse again, and it's been on serious rotation since.  I highly recommend.
So let's get started…our first gift guide is built around the classic 'Have A Cigar', more specifically gifts centered around spirits and libations.  Got someone on your list that is always ready to party?  Well, here you go: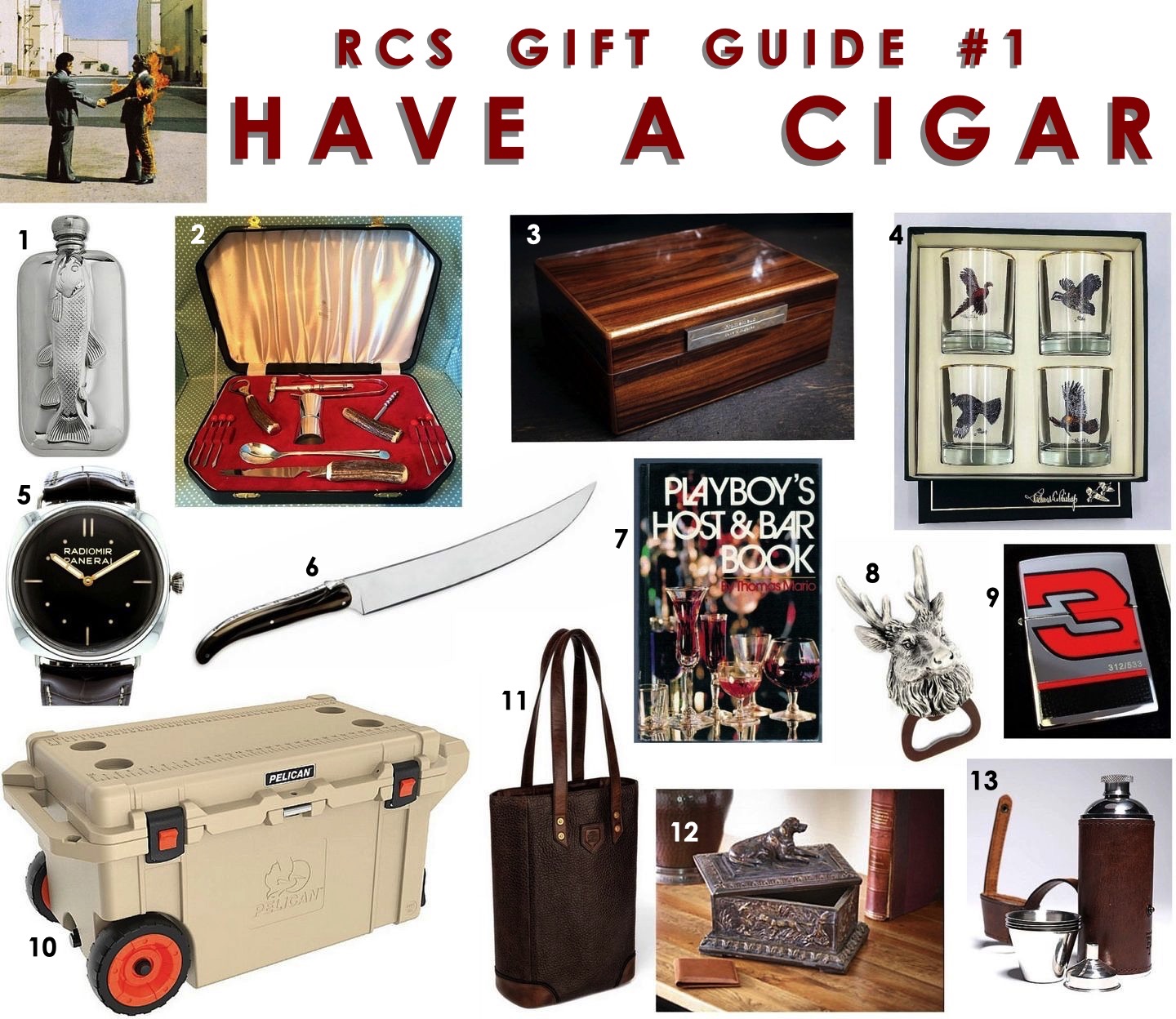 From Top Left:
1. Orvis Fish Flask:  A great gift for the fly fisherman…there's nothing that warms you up better than a quick sip of the brown water, even while standing in the water.  This one is the perfect size for a wader pocket or in a sling.
2. Vintage Stag Handle Bar Tool Set:  For the guy that will really appreciate the vintage feel of these bar tools…the stag handles are a killer touch.  He'll use these with pride.
3. L. J. Peretti Rosewood Humidor:  Most cigar guys I know are pretty serious about it.  Hook him up with a serious humidor.
4. Gamebirds DOF Glasses Set:  The 'can't go wrong' gift of 2019.  These are a great addition to anyone's bar cart in the seasonal theme.
5. Panerai Radiomir Platino PAM373 Watch:  Simple and classic…exactly how I like my drinks.  The best part about this watch?: You'll have no problem seeing when it's 5 o'clock.
6. Laguiole Champagne Saber:  Got a guy that has everything?  Well, this should give him a reason to celebrate, as well as pop some bubbly in the most manly way possible.
7. Playboy's Host & Bar Book:  For the guy who has no idea how to mix a drink.
8. Deer Head Bottle Opener from Beretta:  A great option for a White Elephant or for a stocking stuffer.  Great priced gift and a cool design.
9. Dale Earnhardt Zippo:  I don't think I want to know anyone who wouldn't appreciate this lighter.  I'd shed a tear if Santa left this in my stocking.
10. Pelican 80Qt Wheeled Cooler:  Go big or go home, right?  This is actually the ideal cooler for anyone looking to spend a full day at the pool/lake/ocean.  It holds enough beer and rose for you, your better half, your friends, and a few extras that the high school kids will steal.
11. Mission Mercantile Theodore Leather Two Bottle Wine Tote:  There aren't many who wouldn't appreciate this gift…think about this for your boss or your mentor, as it's a lifetime gift.  I'm sure your family members would appreciate it as well.
12. Hunting Dog Box:  Every good bar needs a trinket box to hold all the small stuff.  And you won't find one much cooler than this.
13. Tom Beckbe Bottle Flask:  A great gift for a hunting buddy.  Perfect for sharing a celebratory shot after a successful hunt.
Any good boozy gifts I missed?
More to come…