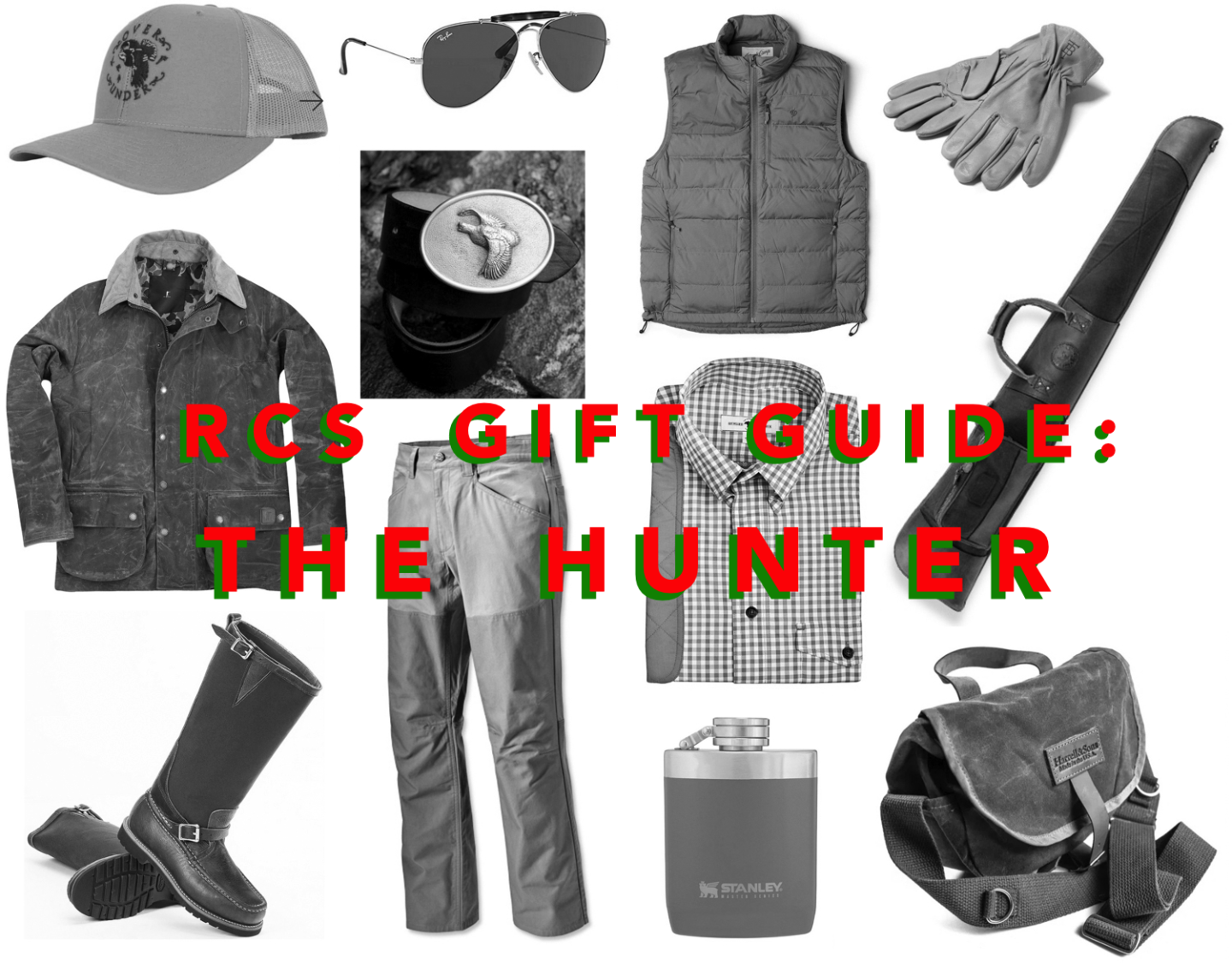 And here we go…it's gift guide time.  The holidays are sneaking up on us, and we want to point you in the right direction.  We're going to take a different approach this year.  Rather than a theme party, we are going to target different types of guys.  This seems to be much easier in terms of shopping.  Ladies, we've got you covered as well.  Mrs. RCS is hard at work.  More to come.
We're going to feature great products and ideas that are must-haves, or upgrades to what you currently stock.  There are quite a few of these lined up, so I hope you enjoy.
We're starting with the Hunter.  The guys who chase game in the field or like to live the part.  Here's what I've got my eye on: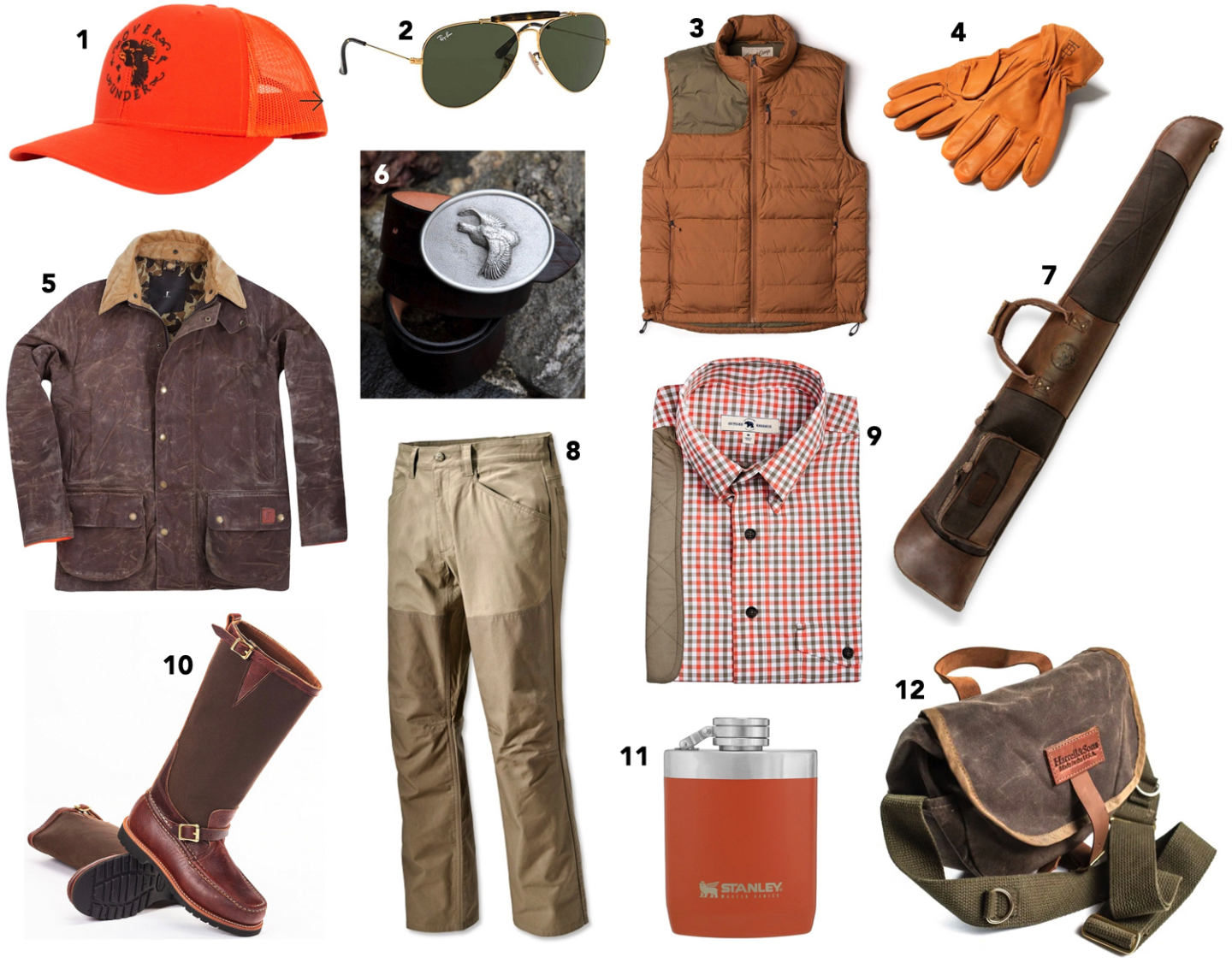 From Top Left:
1. Over Under Bob White Blaze Cap:  There are some great options being offered by the brands that we love.  Over Under released a line of the Richardson 112 hats (that we all know…), and this Bob White blaze option is top shelf.
2. Ray Ban Outdoorsman Sunglasses:  An elevated version of the iconic aviators.  Put 'em to work.
3. Duck Camp Dry Down Vest:  Duck Camp has knocked it out of the park this year.  Their releases are all not only functional, but innovative and stylish.  This Dry Down vest will be come the go-to as a layer or on it's own.
4. Tom Beckbe Shooting Gloves:  A must have for guys walking around in the field, especially when the temperature drops.  These will break in extremely well.
5. Ball and Buck Upland Jacket:  A heavy duty option, Ball and Buck created a fantastic upland jacket.  It's very sturdy, and can handle years of abuse – both in the field and in the city.
6. London Trading Company Pewter Quail Belt Buckle:  A great way to show off the love of chasing birds
7. Wren & Ivy Fowling Gun Case:  It's always a good time to upgrade a gun case.  Even if it means finding a new gun…
8. Orvis Missouri Breaks Pants:  Of all the brush pants that I own, these are the best 'middle of the road' option.  They aren't too thick or too thin, the fit is good, and the 5-pocket style is an updated look that translates well to the field.
9. Onward Reserve Tattersal Shooting Shirt:  I like to add one shooting shirt a year, and this option from Onward is fantastic.  It's a great alternative to the traditional tan/blaze shooting shirts.
10. Russell Moccasin Featherweight Snake Boots:  After a close encounter with a 6′ canebrake, I'll be putting these to work.  Better safe than sorry.
11. Stanley Master Unbreakable Flask:  Always a good idea to carry this for AFTER the hunt.  Whether to celebrate or to warm your bones, a little nip goes a long way.
12. Harrell & Sons Ditty Bag:  A small batch, heritage option that will last a lifetime.  And a GREAT price point.
What sort of hunting gifts are you looking forward to this year?