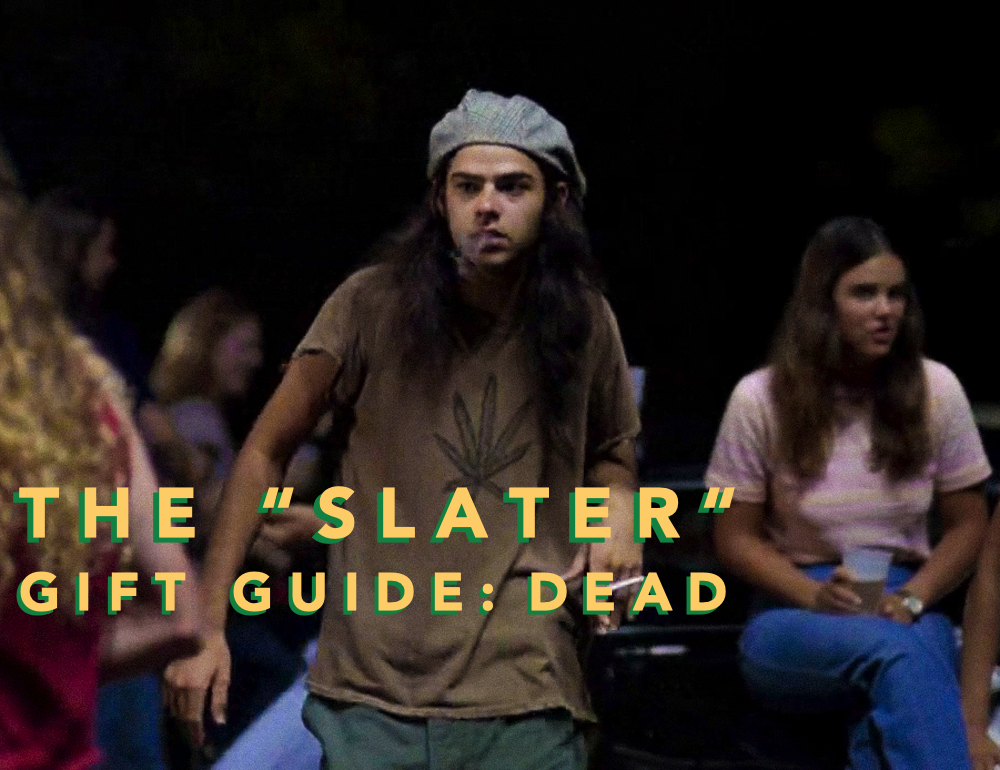 Buying for a guy who's a stoner at heart?  A 'Slater' with a sport coat?  That's me.  I would say that roughly 50-60% of the music I listen to is Grateful Dead.  I never change the station on SiriusXM, and my Spotify playlists are Dead heavy.  All that said, Slater comes to mind.  The music guy from Dazed & Confused.  Quite a few of his conversations were around bands – especially mid-70s bands (Zeppelin, Aerosmith, etc.).  He is all too appropriate as the inspiration behind this one.
Here is a good collection of gifts for the guy who is into the Dead, and needs to up his game – both in Dead-themed merch as well as in music. Obviously you've got Pesca Muerta, who has been killing it for years, but here are a few more, not-so-obvious choices…
Enjoy: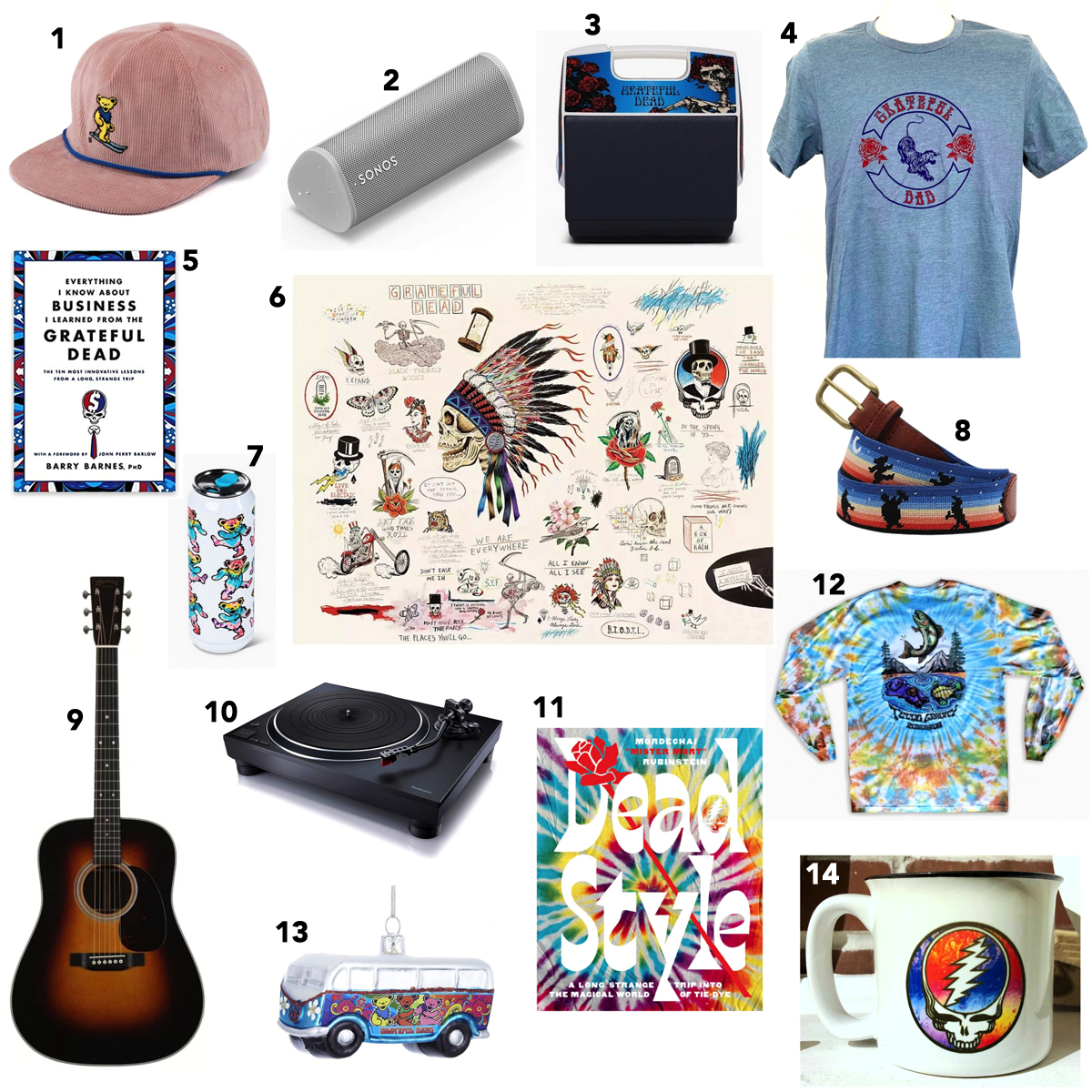 From top left:
1. Teton Gravity Research (TGR) Pink Corduroy Ski Bear Hat:  You had me at 'pink corduroy'.  Seriously – how do you say no to this hat??
2. Sonos Roam Speakers:  Bring your tunes with you wherever you go.  We are a HUGE Sonos house, and have been extremely happy with all of their products.  I like that these are sold in pairs.
3. Igloo Grateful Dead Bertha Cooler:  The perfect size cooler for a boat, a dock, a bird buggy, or the driveway.  Holds nine cans and a little ice…for just the right amount of time.
4. Drifter Merch Grateful Dad T-shirt:  For all of us dads out there.  Cool dads.  Rad dads.  Grateful dads.
5. 'Everything I Know About Business I Learned from the Grateful Dead' – Barnes: An extremely insightful and entertaining book.  Any business guy will get a kick out of this one.
6. Wes Lang Original:  Seriously cool, seriously rare, and a great investment.  Wes Lang is a brilliant artist, and won acclaim for his work on the Spring '90 set.  Every once in a while one of these originals or a belt buckle will come available…POUCE.
7. Igloo Dancing Bears 16 oz Stainless Steel Can Tumbler:  I know, I know, it's not a Yeti, but it's just a cool, if not cooler.  A 16 oz Tall Boy size tumbler with dancing bears.
8. Smathers & Branson Moondance Belt:  I have this one and wear it all the time.  Not as 'in your face' as Steal Your Face, so it's a lot more versatile.
9. Martin D-28 Acoustic Guitar:  Jerry played a D-28, so you can be just like him.  Seriously, this acoustic is incredible.
10. Technics Record Player:  Into vinyl records?  Upgrade the turntable to a Technics job.
11. 'Dead Style' – Rubinstein:  One of the coolest books out there.  It focuses on Dead Style, tie dye, the culture…it's fantastic.  Put this one on your coffee table, and it'll get read…by anyone and everyone.
12. TGR Steal Your Fish Tie Dye Shirt:  I'm of the opinion that everyone needs an annoyingly awesome tie dye shirt.  This option from Teton Gravity Research has it all: colorful tye die, heady graphics on both sides, AND down the arms.  BOOM.
13. Grateful Dead Bus Christmas Ornament:  The fun bus.  Every Christmas tree needs a fun bus.
14. Grateful Dead SYF Ceramic Mug:  Morning coffee never tasted so good.
I know you, Rider.