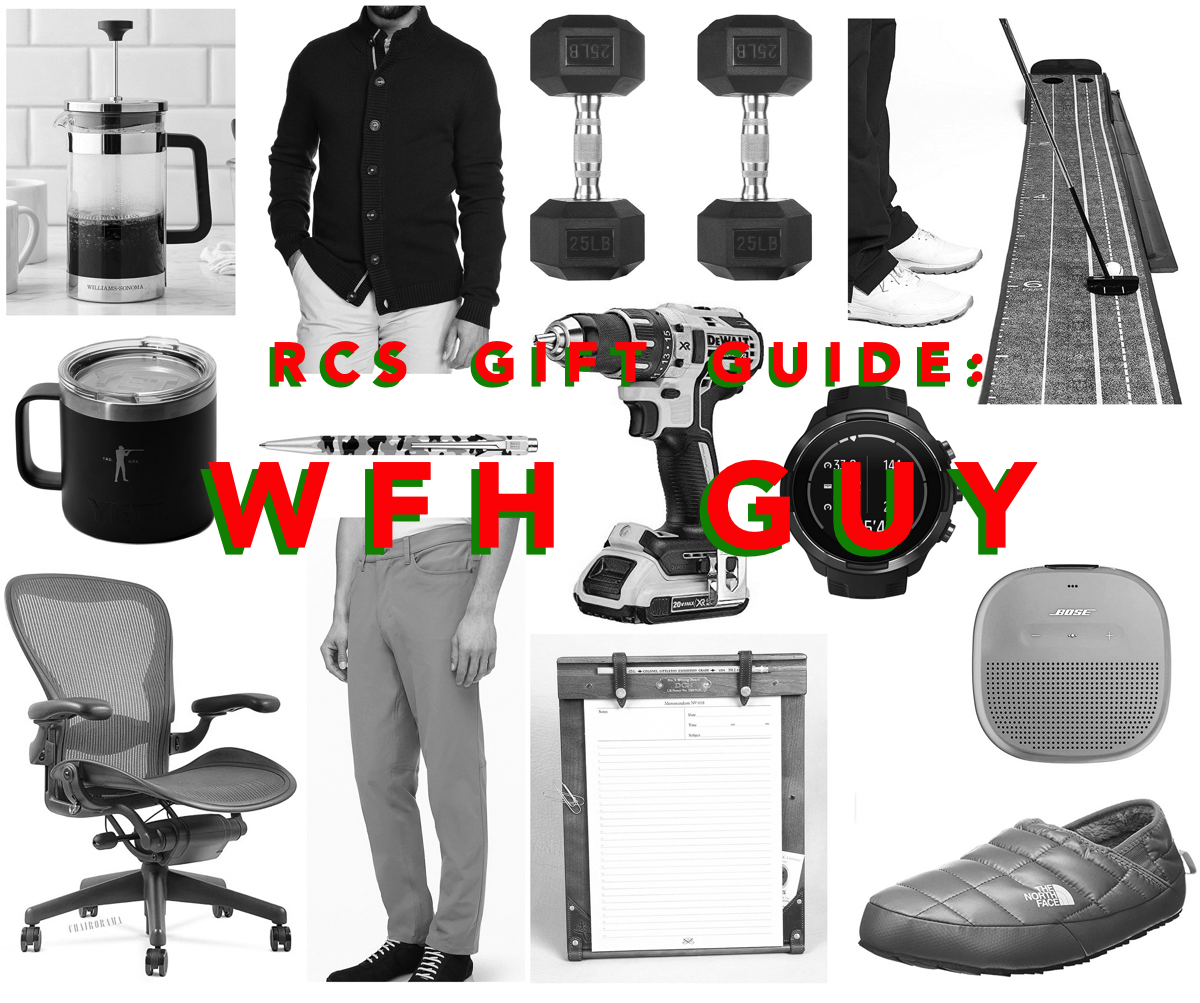 On to the second gift guide: for the Work From Home Guy.  It seems that we're going to be stuck at home in some sort of semi-permanent or hybrid approach for quite some time.  With that said, there are plenty of gift ideas that will make the purgatory much more palatable.
While these might not be the sexiest gifts, they are practical.  Welcome to being an adult: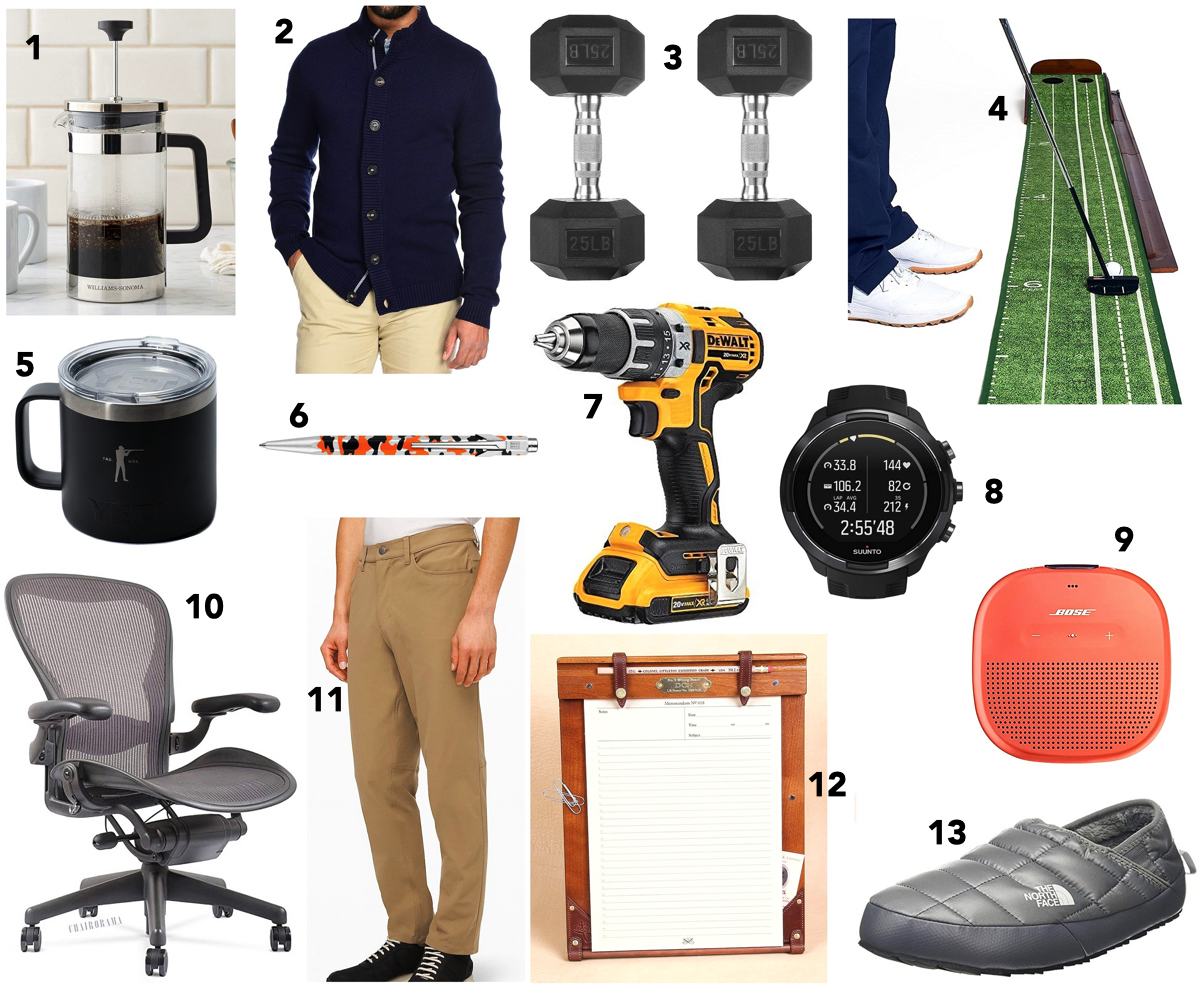 From Top Left:
1. Williams Sonoma Glass French Press:  A lot of us enjoyed the morning coffee stop at Starbucks or Dunkin on the way to the office.  Since we're stuck at the house, take the opportunity to make better coffee.
2. Fisher + Baker Palmer Cardigan:  Long gone are the days of the Mr. Rogers cardigan.  Fisher + Baker's option is updated and smart – an excellent layer for the colder days in your home office.
3. Rubber Coated Dumbbells:  Going to the office may be on pause, but the Gun Show is still on schedule.  Get to work during those long conference calls (preferably no video).
4. Perfect Practice Putting Mat:  And between sets of curls, work on your short game.  Again, don't forget to turn off your video.
5. Ball and Buck X Yeti 18 oz. Rambler Mug: Yeti has a reputation of keeping beverages cold, but they keep 'em hot as well.  The perfect coffee mug – it'll stay hot until the last drop.
6. Caran d'Ache Orange Camo Ballpoint Pen:  What's great about working from home is that none of your coworkers will sneak into your office to 'borrow' your good pen.
7. DeWalt Cordless Drill:  If you are like me, my honey-do list remains long.  And a lot of the projects require a drill.  This year, upgrade to something heavy-duty.
8. Suunto 9 GPS Sports Watch:  Gotta count those steps.  Even if it's around the house.
9. Bose Soundlink Micro Speaker/Microphone:  The speaker and microphone on laptops have a long way to go.  Add some Bose action to the mix.  This is a very cost-friendly option that will go a long way.
10. Herman Miller Aeron Chair:  Nine or ten hours in a home office suck if you are sitting in a bad chair.  There's a reason that most corporate offices stock Herman Millers.  They are extremely comfortable.  They might not go with the house decor, but your back will thank you.
11. Lululemon ABC Pants:  They look like chinos and wear like sweat pants.  While I don't necessarily advocate for these in normal settings, wearing around the house is very appropriate.  And they perform well on the golf course, too.
12. Colonel Littleton No. 9 Medium Writing Board:  I've been using mine for almost a year, and don't know what I'd do without it…especially on those afternoons where I go put my feet up for an hour or so.  Take your desk with you!
13. The North Face Thermoball Slippers:  We've all been wearing flip flops for the past six months, and now scratching our heads on what to do now that it's getting cold.  These slippers from North Face are a cost-friendly way to keep your toes warm.  They don't look too bad, either.
What am I missing?