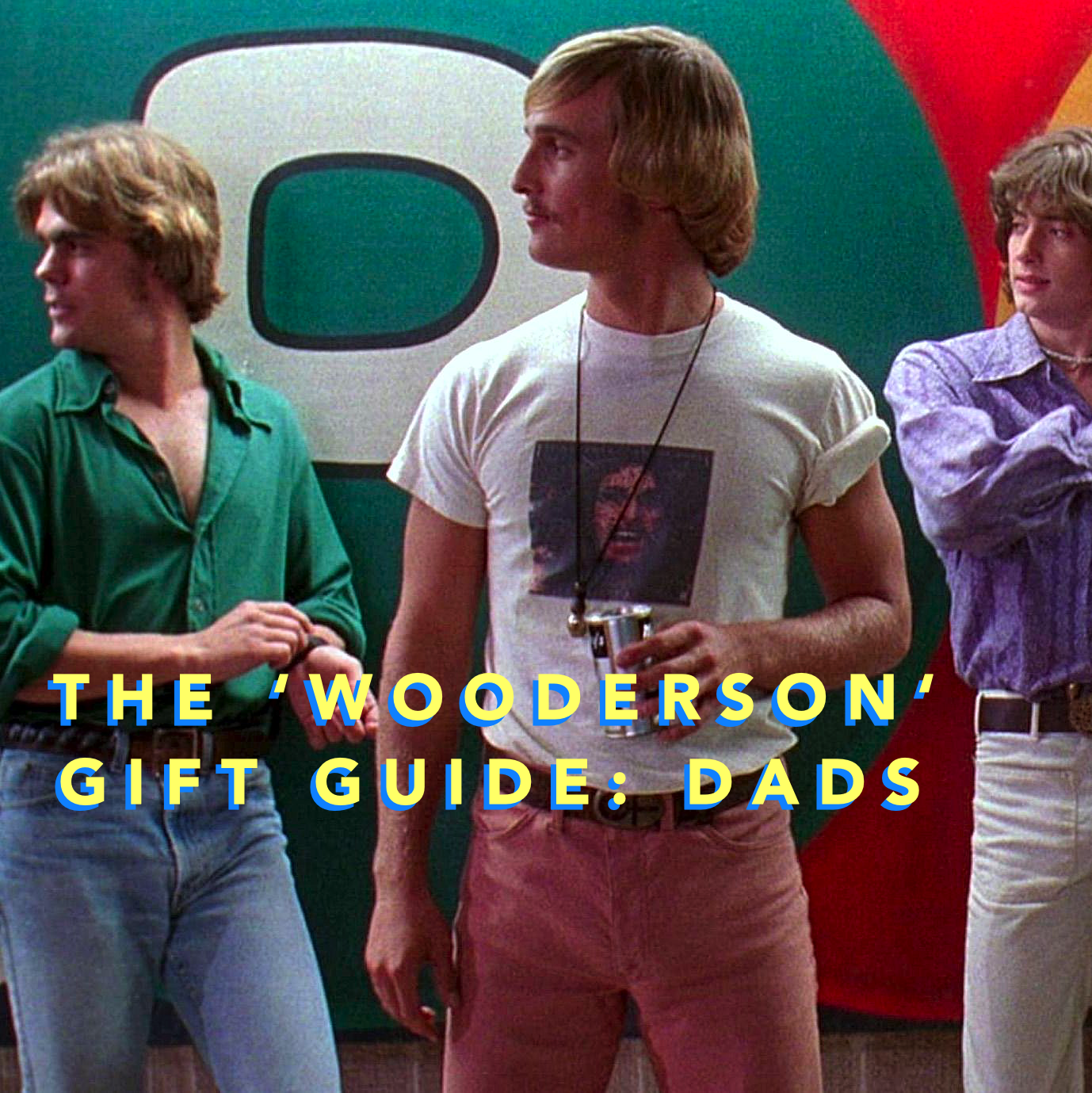 Moving right along, we are focusing on the dad here.  Dads are actually tough to buy for.  They basically have everything they need and don't want to spend money on stuff they want.  They make it work.
Well, being that I'm a dad, I take that personally.  Wooderson was the oldest (and coolest) guy from Dazed and Confused, and I'm the oldest and coolest guy in my house. I'm sure you are too.  He has so many good lines, so much elder wisdom, and arguably the best dresser.  He's an icon.
Here are gift ideas for the Wooderson/Dad of your household: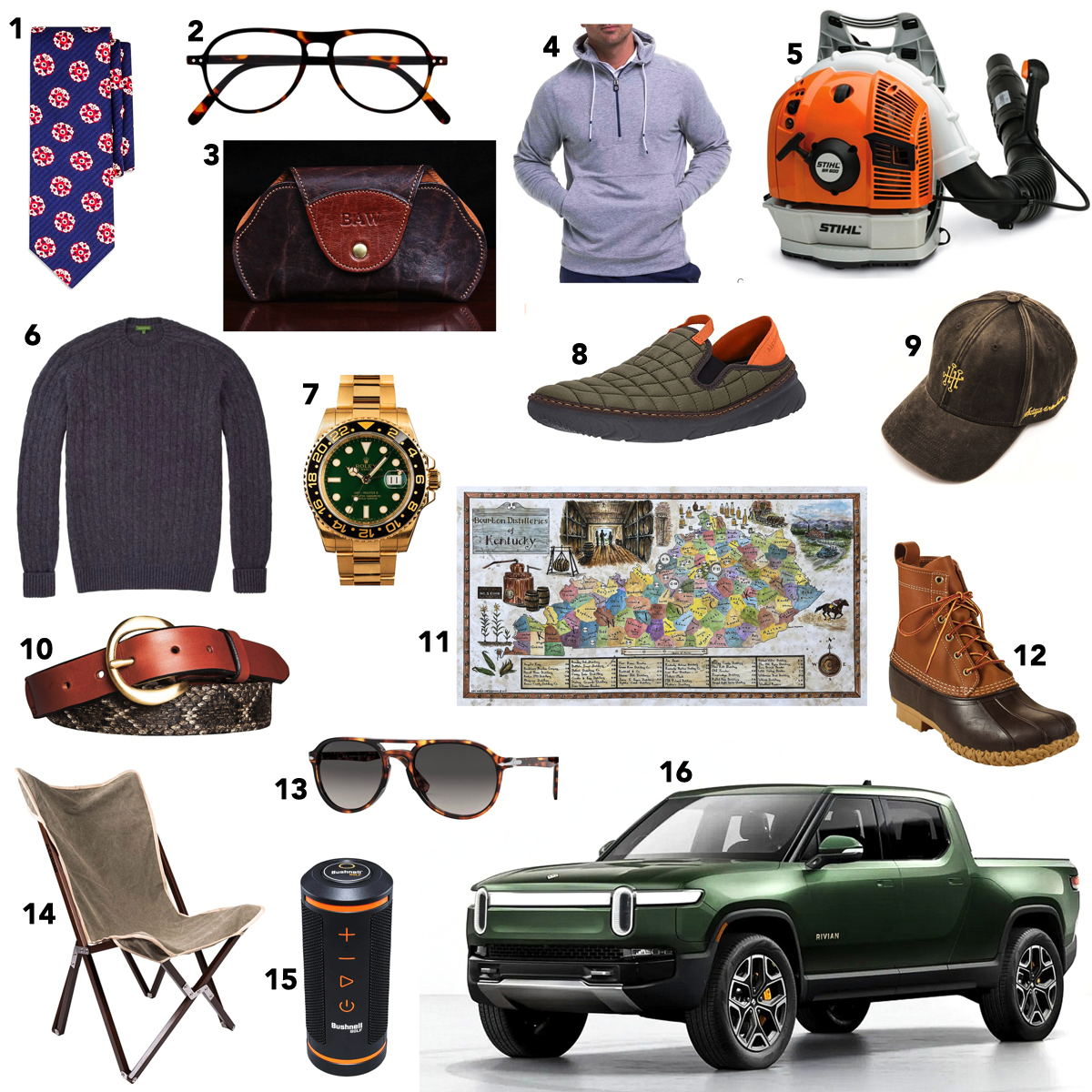 From top left:
1. Drake's Tie:  Want to get a tie for dad?  Skip the cartoony BS, and get him a real tie.  Drake's makes the best ties on the planet.  Period.  They'll never go out of style, and mom will notice.
2. Izipizi Reading Glasses:  An upgrade to his Walgreens readers…super cool and actually stylish, even though he hates wearing them.
3. Colonel Littleton Aviator Eyeglass Case:…and include a GREAT case so he won't forget them.
4. B.Draddy Proctor Hoodie:  All the kids are wearing hoodies, right?  Well, B.Draddy has figured 0ut the adult version.  This one fits like a sweater and wears more formal than the regular OTR hoodie from Journey's.
5. Stihl Backpack Blower:  And make sure it's the high horsepower that will actually strip paint.
6. Sid Mashburn Cable Knit Purple Cashmere Sweater:  Purple.  Cable knit.  Cashmere.  This may be the perfect sweater.
7. Rolex GMT Master II:  You know, something to bum around in on the weekends.
8. Merrell Hut Mocs:  Technical slippers feel like such a dad thing.  I'm sure he'll get a chuckle out of these on Christmas morning, but he'll be wearing them within 15 minutes.
9. Blade + Bow Waxed Hat:  I gave my dad one of these, and it's all he wears.  He like the 'outdoor bourbon drinker' message it conveys.
10. Onward Reserve Snakeskin Belt:  A very mature belt.  Just be sure he's killed a snake at some point in his lifetime.  Wait – of course he has.
11. Kentucky Bourbon Map from New World Cartography:  This might be the perfect gift for the bourbon lover…a BRAND NEW map from New World Cartography.  Oh – and use code REDCLAYSOUL for 10% off.
12. Bean Boots:  Even if he already has a pair, these boots are so great.  Choose a style that he doesn't have in the rotation.
13. Persol Sunglasses:  Cool shades for a cool dad.
14. Vaquero Chama Chair:  Most dads I know (me included) are always looking for a place to sit down.  Help a guy out and give him a perfect option.
15. Bushnell Wingman: Yeah, he already has a range finder, and a speaker, but how about this bad boy?  A speaker and a range finder in one.  I've played a few rounds with one, and it lowered my score by ~10-20%.
16. Rivian R1T:  Go big or go home, right?  You won't be mad if your dad picks you up in one of these bad boys.