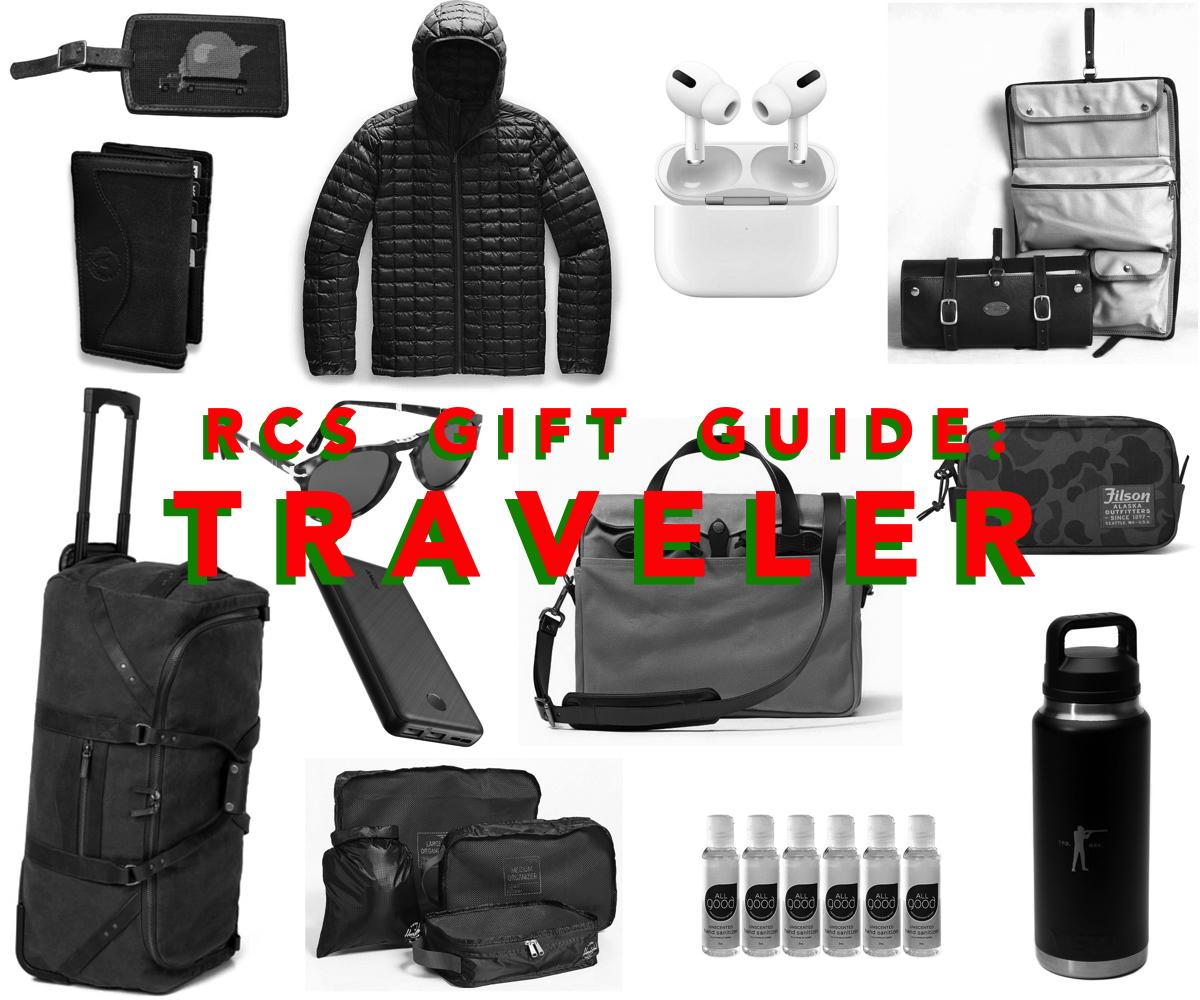 I thought today would be a good day to post the Traveler gift guide.  Thanksgiving is tomorrow, so I hope that all of you are seeing your family in the safest way possible.  Whether it's in person on over Facetime, tell them you love them.
While travel has slowed down, it's only a matter of time before we're all on the road again.  For those of us who travel a lot, it's a personal challenge to pack as efficiently as possible.  There are a lot of hacks that lighten the load, especially for air travel.  There are also some welcomed luxuries that make being away from home more enjoyable.  This guide has a bit of a business travel slant, but all can be applied to a weekend away with your family.
Here are the goods for the road: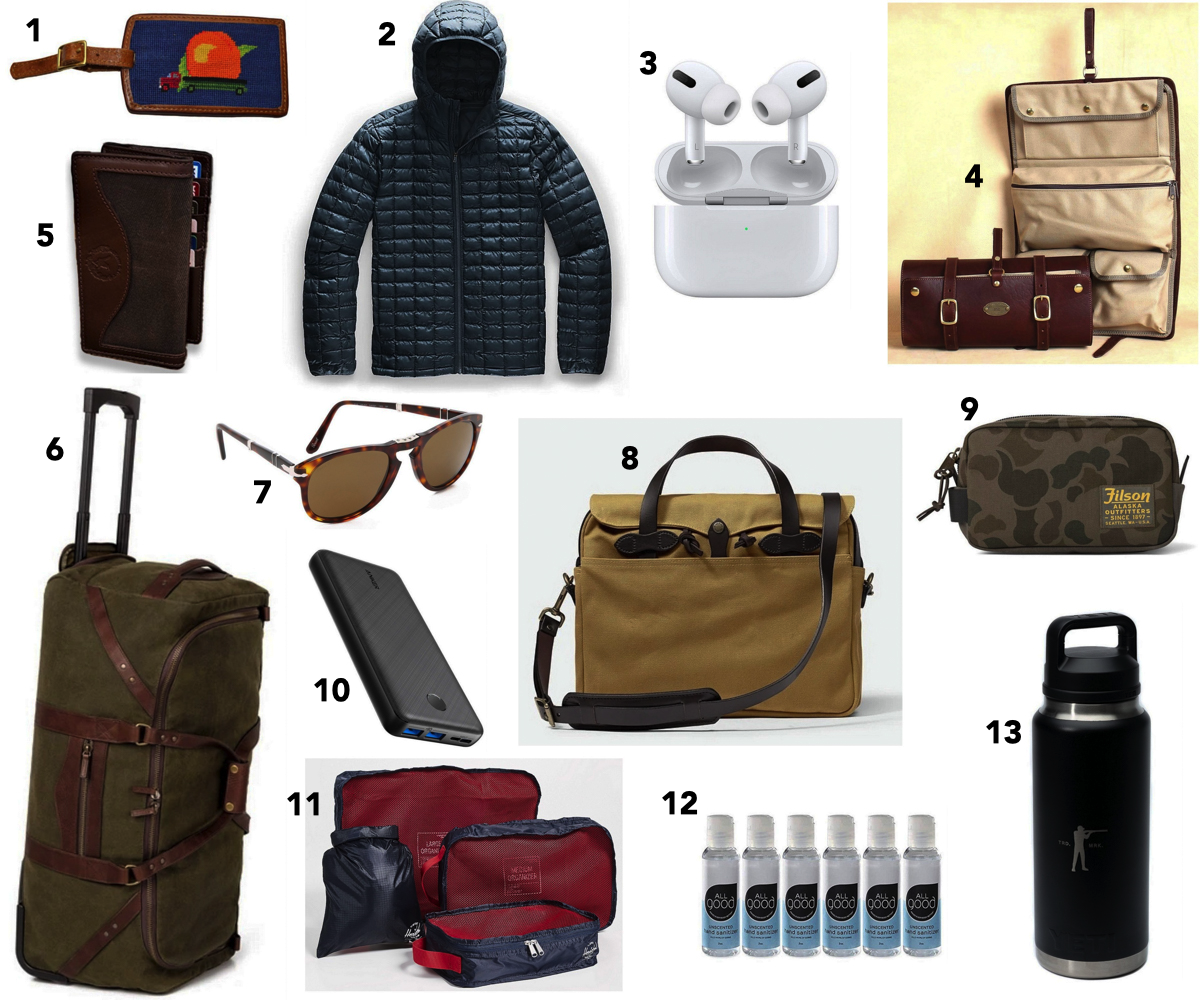 From top left:
1. 'Eat a Peach' Needlepoint Luggage Tag:  Gone are the days of knotting some weird handkerchief to your suitcase.  The luggage tags available from Smathers & Branson will easily identify your bags.  Call my guys at Miller Brothers for this 'Eat a Peach' jewel.
2. The North Face Thermoball Eco Packable Hoodie:  I carry a version of this almost every time I travel.  Airports can be cold, airplanes can be cold, or Mrs. RCS can be cold.  These pack down into the size of a pop tart but go a long way in adding a layer.
3. Apple AirPods Pro:  I have a feeling these will be gifted quite a bit this year, and for good reason.  Just remember to keep them charged! (see #10)
4. Col. Littleton No. 2 Leather Shave Kit:  This is the pinnacle of shave kits.  Colonel Littleton makes the nicest stuff, and their shave kit roll is a great size to carry all your travel-sized needs, and it'll hang on the door.  The leather will soften over time, and become that heirloom piece that you'll grab for every trip.
5. Wren & Ivy Essentials Coat Wallet:  Call me old-school, but I can't break the habit of keeping hard copies of receipts on business trips.  I carry a long wallet and collect them all for expense reports.  It also holds plenty of cards and other odds and ends.  Call it the catch-all.
6. Mission Mercantile Campaign Waxed Large Roller Duffle:  Roller Duffle bags are fantastic for traveling on long trips, either checked for air travel or in the trunk.  I've also used mine for hunting gear when I go up to South Dakota or Missouri.  Mission Mercantile makes an incredible bag, and I'd argue that it's the best value proposition on the market.  Great price.
7. Persol Foldable Sunglasses:  Folding sunglasses.  Classic style.  Need I say more?
8. Filson 256 Briefcase:  Included because Filson makes an incredible tough briefcase, which holds up to the rigors of travel.  I have a 256 and a 258 padded computer bag and have traveled with both.  This is the gift that keeps on giving.
9. Filson Camo Nylon Dopp Kit:  Are you a true minimalist?  Then this is the Dopp kit for you.  Just big enough to hold the absolute essentials in travel size.  It's also small enough to keep in your briefcase, which is a wise move in case your checked bag is lost.
10. Anker Power Pack:  My butt has been saved on more than one occasion with these Anker Power Packs.  They are essential to travel, just remember to pack the right cords, and keep it charged!
11. Herschel Supply Travel Organizer Set:  For the ultra-organized, these bags are great for keeping the inside of your suitcase or duffle in ship-shape.
12. All Good Hand Sanitizer:  Yeah.  Lots.
13. Ball and Buck X Yeti 36 oz. Rambler:  We pack one of these every time we hit the road.  Half ice and fill to the top with water.  A nice, utilitarian canteen that'll keep everyone in the car hydrated.
What did I miss?