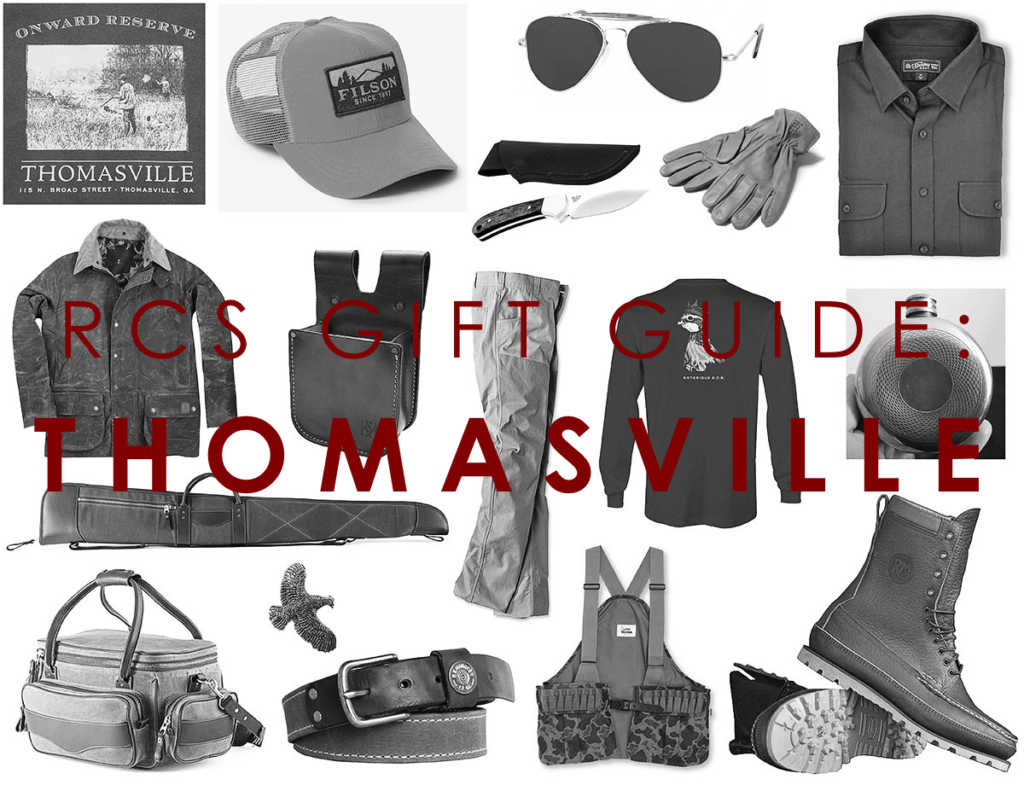 It only takes one quail hunt to catch the bug.  It happened to me after my long time friend and fraternity brother took me on my first quail hunt in South Georgia at Piney Creek Plantation (recap here).  I'll never forget it.
If you are shopping for a guy that is a quail hunter, it's not that tough.  Quail hunts are usually part of a larger day, where most of the garments and gear can be worn and used for more than just the quail hunt.  Think about a long lunch and an afternoon on the clay course or simply cleaning birds and hanging out in the barn.  Be on the lookout for for functional, multi-purpose gear that looks good.  There is always that picture of you and your hunting crew, so dress the part and make it a framer.
The unofficial capital of quail hunting is Thomasville, so this gift guide is with my buddies at Onward Reserve (how cool is that t-shirt?).  Let's find the bird!:
From top Left:
1. Filson Logger Mesh Cap:  You've got to have some blaze, so get a good hat.  Filson is known for their bags and coats, but to no surprise, their hats are top self.
2. Randolph Sportsman Sunglasses:  These glasses are made for shooting, AND work as daily drivers.  The polarized lenses are preferred, and the classic look works well.
3. Revelry Flannel Shirt from The Sporting Gent:  These are my favorite shirts to wear hunting.  I love a good flannel that isn't the typical brown and blaze/custodian look.  Add a little color…you think the birds are 'distracted' by really cool flannel shirt?
4. Buck Knives 113 Ranger Skinner Knife:  I know there are some seriously nice, boutique, custom made knives out there, and I'm all about them, but I have been a Buck guy for all my life.  My granddad swore by them, and I've never had an issue.  Here's a good field knife to get yourself out of a jam…
5. Tom Beckbe Shooting Gloves:  Shooting gloves usually get the side eye until it's freezing, and they are the most important thing you own.  Get good ones that don't sacrifice the feel of the trigger.
6. Ball and Buck Upland Jacket 2.0:  Ball and Buck is obsessive about every single detail in all the products that they produce, and their upland jacket is no exception.  2.0 offers a bunch of new features, mainly the slightly heavier waxed cotton and a refined fit.  It's good for the guy who already has a waxed coat, but is looking for an upgrade.
7. Kingfisher Leatherworks Cartridge Bag:  There are a lot of leather cartridge bags out there, but my favorite is the Kingfisher option.  The leather has a GREAT feel to it, and will develop a very handsome patina over time.
8. Orvis Missouri Breaks Briar Pants:  5-pocket pants that are briar pants as well?  What on Earth is happening??  It's like cats and dogs are living together??
9. 'Notorious B.O.B.' T-shirt:  Quail hunting is fun.  T-shirts are fun.  Add, rinse, repeat.
10. Vintage Hip Flask:  Carry a little something for after the hunt…those mornings get cold, and a few sips of the brown water will warm you up.
11. White Wing Legacy Shotgun Case:  You spent a pretty penny on that nice Beretta O/U, so carry it in something that fits the bill.
12. White Wing Legacy Guide Bag:  Yeah, the White Wing stuff is that good (and it's all on sale).  This guide bag is PERFECT for quail hunting.  Just the right size for a couple boxes of shells, a thermos of coffee (or whatever), and pockets for all the little things.
13. Pewter Bobwhite Quail Lapel Pin:  I put one of these on my coat a couple seasons ago, and love the look.  If you are shopping for a guy that loves chasing birds, he'll be proud to show off this guy.
14. Onward Reserve Waxed Cotton Shotgun Shell Belt:  The coolest shot shell belt on the market.  You've already got the all-leather version, so turn it up a notch with the waxed cotton.
15. Duxbak Sportsman's Strap Vest:  One of my favorite pieces.  I love wearing these strap vests when I'm doing a lot of walking.  They have plenty of room for shells, gloves, gear, a water bottle, and a bird bag in the back for your harvest.  And any opportunity to throw in some old school camo is a GOOD opportunity.
16. Russell Moccasin South 40 Bird Shooters:  Russell makes the best boots money can buy, and these are IN STOCK.  Got a hunt scheduled over the holidays?  Give them a call and they'll be under the tree waiting…
Did I miss anything?
P L E A S E    S U P P O R T    O U R    P A R T N E R S :