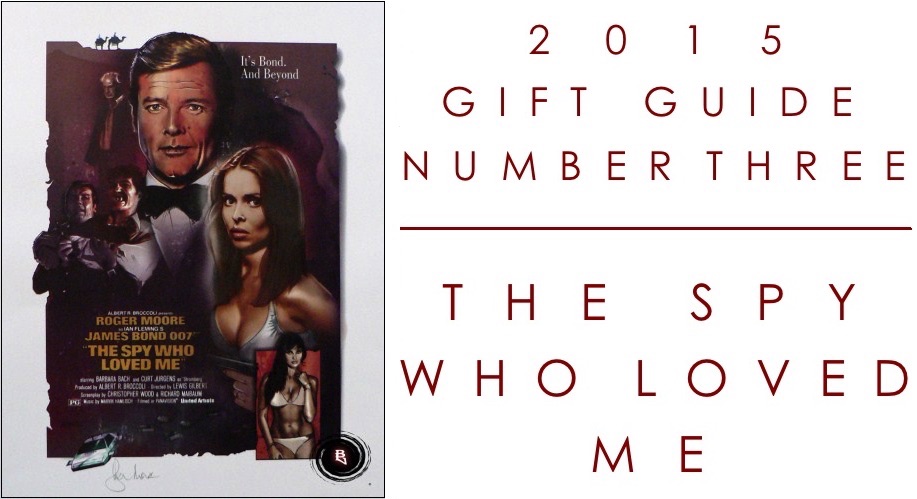 On to number three…The Spy Who Loved Me, gifts for the executive pseudo-spy.  This was a fun Bond movie, full of 70's excess; including the Lotus Esprit that turned into a submarine.  Roger Moore did a great job, as he always did during his stint as 007, as the uppity secret agent that never lost control.  This is one of the best Sunday afternoon Bond movies in the collection.
Back to the gift guide.  Think about your favorite executive: smart, organized, great hair…this is what you get this guy.  Lots of good options that are all very Bond-esque.  They seem to go hand in hand, right?
From Top Left:
1. Ghurka Gentleman's Umbrella:  Better than the typical golf umbrella, get something that has a little more class, and a leather handle.  The last think you need is wet hair, 'cause it just don't look right.
2. Res Ipsa Black Suede Formal Loafers:  Everyone wears the lace up patent leather jobs with their penguin suit…stand out from the crowd.  These suede loafers from Res Ipsa not only look outstanding, but they turn you into an incredible dancer.
3. Ralph Lauren Black Label Cream Dinner Jacket:  Bond does it, and if he can pull it off, so can you.
4. Lanvin Wool & Leather Gloves:  Gloves are funny – the one thing that you almost never buy for yourself, and only remember you need them when it's too late.  Yes, we all have a pair of work gloves, but those just won't do.  Pull the trigger on something sophisticated.  Like you.
5. Ben Silver Scottish Pound Cufflinks:  You can look at this from a couple different perspectives.  Bond is Scottish, and/or dragons are extremely intimidating.  Use situational ethics when telling these cuff links' story.
6. Brass Fox Letter Opener:  Remember the game 'Clue'?  This seems more like a weapon than it does desk decor.  Get this HR approved before bringing it into the office.
7. IM Corona Double Matte Black Lighter:  For the cigar smoker.  If the cigar costs more than your lunch are we OK then?  You need something to light it…plus, fire is cool.
8. SOG Multi-Tool:  This is a problem solver that should be in every man's desk.  Imagine the possibilities.
9. Caran D'ache Black Ballpoint Pen:  You can't beat these pens.  The more the merrier.  Blow their minds and replace the black ink with BLUE.
10. Omega Seamaster Nato:  A special edition watch for a special movie (Spectre).
11. Brunetto Cucinelli Birdseye Knit Cashmere Tie:  You have so many cashmere sweaters, you need to expand.  Expansion is key in a bull market.  Go for the necktie.
12. Tortoise Shell Picture Frame:  Show off the picture of your family in an anti-leather masculine frame.  See, you really do have a heart.
13. Oak Street Bootmakers Double-Sole Lakeshore Boots:  You know, for casual Friday.
14. Barbour International Duke Jacket:  A very sleek look for the guy at the top.  You already have a Beaufort or a Bedale in your closet, but this one is more of the "sports car" of the lot.
15. Johnstons of Elgin Cashmere Turtleneck:  One thing that is always true: don't mess with a man in a charcoal cashmere turtleneck.  Period.