I've been thinking a lot about jeans lately.  The whole time/place/value proposition thing…there really seems to be a formula and an attitude that goes into jeans.  More on that later.
One of the coolest things about raw denim is how it becomes one with the owner after a relatively short period of time.  Like a second skin.  I'm not a fan of tight jeans, but I do like jeans to fit.  And jeans that fit will develop wear and whiskers.  I work in a business casual environment where jeans aren't allowed (but I still wear quite a bit of colored jeans – thanks Levi's), so it's tough for me to reach the optimum faded look in short order.
There are so many choices for raw denim.  The first pair I had was from the Gap, which were great.  That pair of jeans really helped me understand a couple things: 1. dark denim is good, 2. making your own whiskers is cool, 3. jeans are really tough, and 4. you really don't have to wash jeans unless they absolutely need it.
I lost some weight and had to retire those jeans, and have moved on to some Levi's Made & Crafted, Naked & Famous, and APC.  They are all great…and different.  At night and on the weekends I pretty much wear jeans and khakis exclusively, and I'm over the 'well, maybe I need a pair of jeans to bum around in'.  Buy well and wear it.
That said, a worn-in pair of selvedge jeans is a thing of beauty.  Google Images is a goldmine for this sort of thing.  Here are some examples of APCs that have been well loved: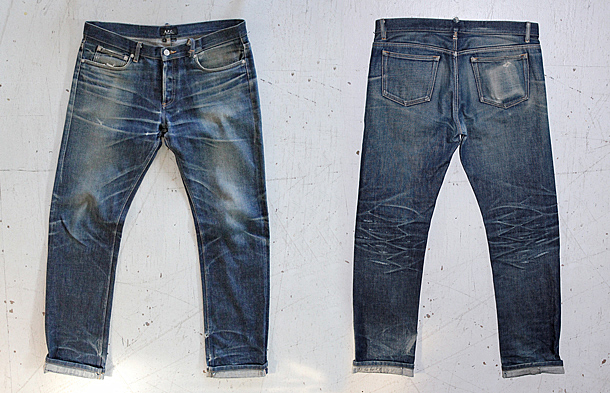 Pretty cool, huh?  Yeah, looks like APC thinks so too.
Images: Google Image Search