As anyone who as read this blog for longer than two sentences knows that we are a very dog-friendly establishment.  Dogs are always welcome, and encouraged.  You've all watched our beloved #FrankDawg grow up over the last year and a half via Instagram, and he has become a beloved member of our family.  We love our guy, and I guarantee he loves all of you.  He's such a bro.
Last week, our breeder called and let us know that a female puppy was available.  We'd been talking about getting a second for some time.  As any dog owner knows: the best thing you can do for a dog is to get a second.  It took about forty five seconds for Mrs. RCS and I to say 'yes' and head over.  Goldie, as she will be known, has already stolen our hearts, and Frank's as well.  They are two peas in a pod, just as you'd expect from two golden retrievers:
I've owned some great dogs in the past.  The worst part about owning a dog is the end.  Dog ownership is the ability to experience all phases of life first hand.  A dog is a reflection of the owner: the more you put into a dog, the better the dog.  Having a dog reminds me to make the most of each day.  One day it will be over, and the end is never easy.
Having Orvis as a partner is a blessing in so many ways, but one is our discussions about dogs.  As you all know, Orvis is a very dog-friendly company.  Their 'Dogs' selection on their website is outstanding; it's a reflection of their company's commitment to our four-legged family members.  A lot of you have probably learned about 'Luck', but for those that haven't, here you go:
To celebrate our furry family members, we're teaming up with Orvis to give one lucky reader an Orvis dog bed of their choice.  Frank loves his bed, and Goldie likes it as well:
All you have to do to enter is email me a picture of your dog (or dogs), along with his name, breed, age, and something interesting about your pooch.  Send it to jrs at redclaysoul dot com.  Get creative!  I'll post all the images in this post for everyone to see.  I'll collect the pictures until midnight next Sunday of next week (3/26), and then we'll pick one at random as the winner.  Let's hear it!
I have a feeling that this is going to be a lot of fun…
~~~~~
March 20th Lunchtime update:
1. SOPHIE: By strange coincidence, my pup turned one last night. Here she is at puppy preschool being taught how young pups should act by her big sister, Annie, age 4.
2. OZZIE: This is our 5 year old Chocolate Lab, Ozzie. Ozzie is all about being outside. Hiking, swimming, and retrieving a tennis ball are some of his favorites….dressing up as bat man for Halloween required some work.  Ozzie was part of a small liter outside of Athens, GA (In Winder).  As a puppy, he was an integral part of weekend time I spent together with Shelby (we met while we were both working in Atlanta).  We have since relocated down to Florida and have been married for about two years. Ozzie still continues to be a huge part of our family.
3. PERRY: This is Perry and she is a 6 year old golden retriever. She's a former city dog from Savannah but now spends her days in the Kentucky countryside.
4. NOODLE: Here are a couple of photos of my 19 month old Goldendoodle named "Noodle". She is a very special dog and has a gentle heart. Noodle enjoys more than anything else driving in cars whether it is the 93 240 wagon or the truck she is a worthy co-pilot.  Her favorite treats are McDonald's fries and teriyaki beef jerky.
5. JETHRO: This here's Jethro, 4 year old Walker – Pit mix.  Rescued from a local shelter after being abandoned there by his second owners in late 2014.
The back story is we've had sporting dogs, high blood lines, pure bred since I can remember.  Most recently, from 1995 to 2003 we had a champion golden who died of cancer.  From 2004 to 2013 we had a black lab who died from age-related complications.  Both were what I'd call Orvis dogs.  Orvis bedding, toys, leather collars, blankets, you name it.  After the lab died I asked the family to take a break from dogs…my heart just couldn't take another loss.
Which leads us to January 2015.  I was in Randolph Co. for the weekend shooting hogs off my friend's farm fields.  It was so damn cold that my iPhone locked up overnight and needed thawing before use.  It wasn't until late in the afternoon that I saw the texts from my wife and youngest daughter featuring pictures of this black & white skinny long-nosed fella asking to come home with them.  I gave a weak attempt at refusal, and after some bargaining I gave in.  It would be the next day before I got home anyway…
Turns out the dog, who I named as part of the bargain, is a pretty good hound.  He's spastic and emotional, and absolutely despises UPS and USPS carriers, but is fiercely loyal to his people.
He's a step-Orvis dog, if you will.  He's using old bedding but has a new Orvis sweater.  He tore through the leather Orvis shot shell collar so I fixed him up with an orange strap from Tractor Supply.
In closing, not all good dogs are pedigreed or even recognizable.  I'm sure you'll get some impressive pure breeds and champion working dogs on the blog from some impressive sounding owners.  What makes our Jethro special is that he knows he was chosen not for his papers, but for his loyalty and love, and goes everywhere we go.
Keep up the good work!
6. FORD: This is my dog Ford. He is a rescue terrier mix, with crazy energy. My wife and I picked him up in Virginia right after we got married when he was only about 6 months old. He is now 3, and hasn't lost a bit of his puppy energy. He has been with me in good times and bad- and nobody gives sympathy like a pup. He takes care of my wife and me as much if not more than we can for him. He loves laying on his bed right by the back door where he can keep an eye on the yard incase any squirrels dare sneaking under the fence.
Dogs are the best friends!
March 20th Dinnertime Update:
7. EVANGELINE, a.k.a. "E": 2 year old Brittany Spaniel, much more of a biscuit eater than a bird hunter. Enjoys Sunday afternoons at Lafitte's in New Orleans.
8. BIRDIE: This is Birdie, black lab, 3yrs old (turning 4 in April). She will immediately jump into any body of water regardless of temperature but will not go outside in the rain.
9. MARLEY: Meet Marley, an almost 10 year old Keeshond, that I adopted at 5 months from an abusive couple going through an ugly divorce.  She has the nickname "Marles" because by best friend, drunk one night after we graduated college, said that if Charlie is short for Charles, then Marley must be short for Marles. To this day, she responds to either.
10. TRAVELLER: I have attached three pictures of my Boykin Spaniel, Traveller. Trav just turned one on 3/18 and is all spaniel. He is named after Robert E. Lee's horse and just turned one on 3/18. Traveller is all spaniel and loves to retrieve dove and duck decoys, he hasn't been on a real hunt yet, but we are working towards being ready for dove season.
11. CABELA: White Lab, Age: 9.  She's a duck fanatic!  Spent her first 8 seasons hunting from Canada to Arkansas but has started to slow down with age.  Now she spends her time hunting furry yellow balls all over the back yard.
12. BUDDY: This is Buddy.  Buddy is an 8 year old Boykin Spaniel.   This dog follows me everywhere.  It's amazing how smart they are and how the they pick up cues from us.  I knew he was the one when I was at the breeder's and he promptly walked over and fell asleep on my foot.  We've been inseparable ever since…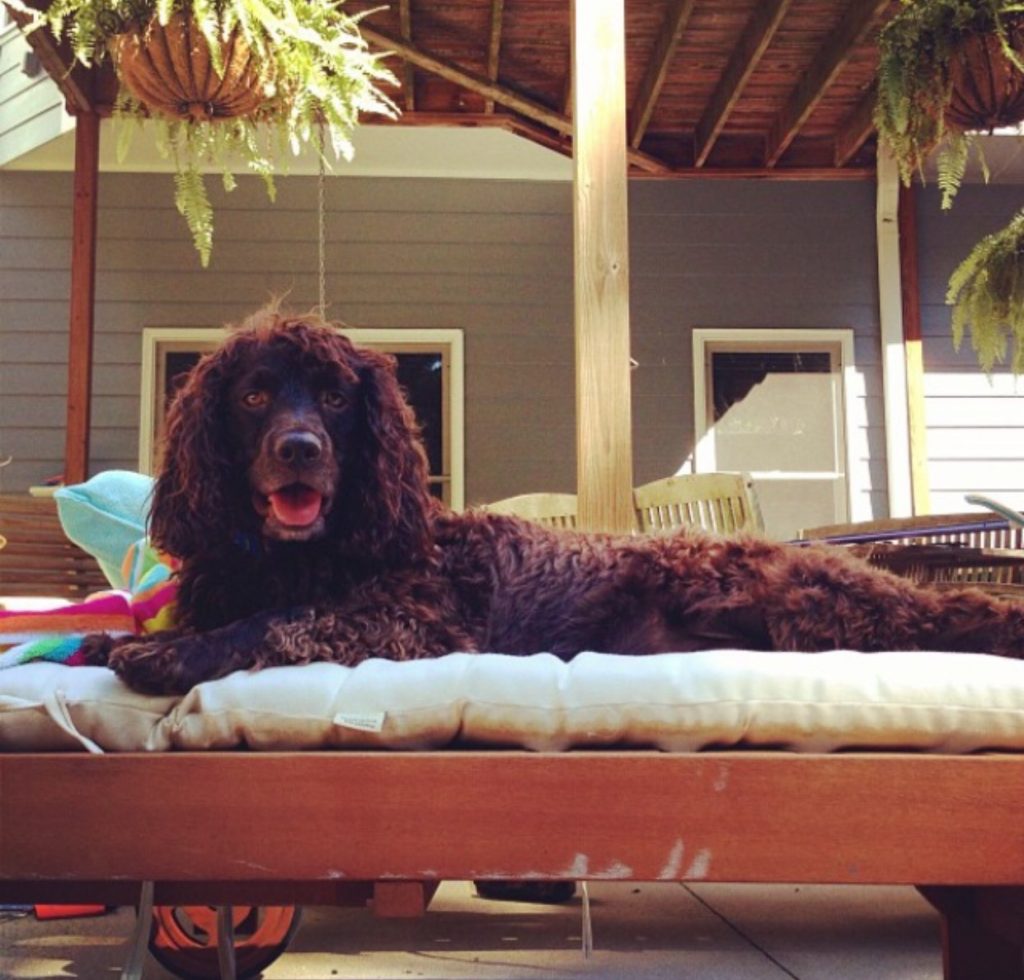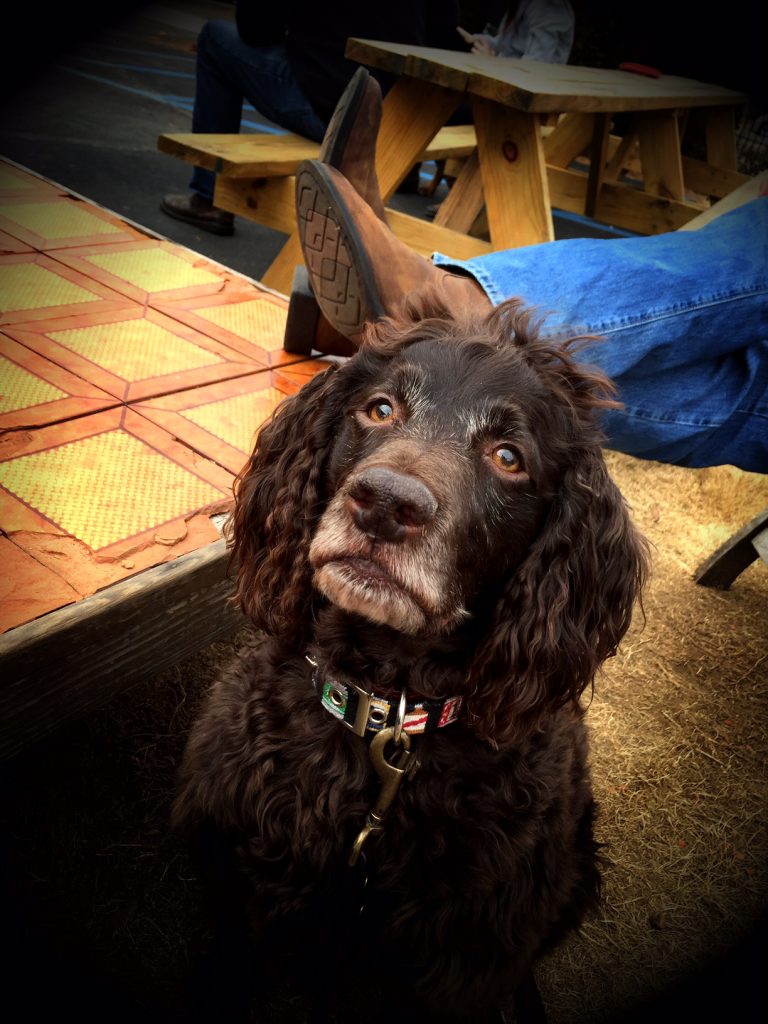 13. Our six year old Wheaten Terrier Beau experienced snow for the first time this year having moved from Charleston to Spartanburg, SC and couldn't get enough of it. All he tried to do was eat it the entire time.
14. BIRDIE: Lady Bird or "Birdie" lives with Texas and Alabama transplants in Brooklyn. She's already outgrown her bed (78 lbs in 7 months). This is an official challenge to Orvis to find a bed big enough for the Birdzilla.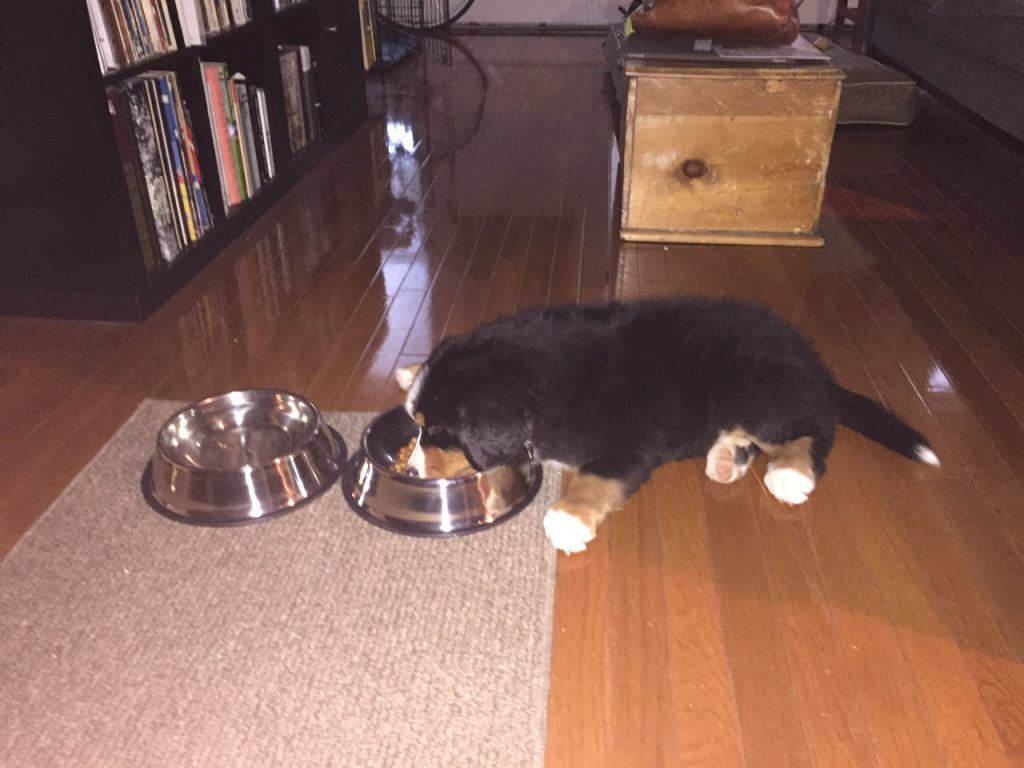 15. COPPER: This is Copper, an English Springer Spaniel. He is 15 months old and can't stay out of the water or pluff mud. He enjoys partying in and around Charleston, SC.
16. DUBYA: Dubya is a 2 year old Boykin Spaniel from Atlanta. When he isn't sleeping on the couch, he is stalking the windows and storm doors for any unwitting birds or squirrels. My wife and I decided to pull the trigger when I while I was studying for the Bar and she was working on a state wide campaign and couldn't have asked for a better family member. He loves riding on the boat at the lake, hunting squirrels, and is obsessed with tennis balls.  We purchased an Orvis Shotshell Collar before he was born and he still wears when he isn't in the water.  When it does get wet, we use a little saddle soap and it shines like new.
17. CHARLIE:  Please allow me to introduce you to Charlie Huskey.  She's a 6 year old black lab.  I've had Charlie since she was a pup and over the last 6 years she's taught me a lot. I've attached a few pictures that highlight her personality.
1) Charlie's lovable grin
2) Charlie rep'n her stunna' shades
3) Charlie showing her love for our country and her desire to Make America Great Again!
18. JACK: This is a recent pic of our 14 month old Welshie (Welsh Springer Spaniel).  Jack is great dog and is named after my wife and my alma mater "Jacksonville State".  In fact, his registered name is "Jax State Jack".
19. LEAUXLA: This is Leauxla. (Pronounced Lola for anyone who didnt grow up on a steady diet of crawfish, jambayla, and boudin).  As close as we can tell she's almost two. She's a rescue from a Rottwieler shelter in Georgia. They found her and her sister wandering the rough streets of West Georgia. We're not sure what she is, so we joke that she's a Nap Hound. She's not a sporting dog, but has tons of energy. If she's not running around or chasing a ball she can be found curled up on a couch or bed catching up on her beauty sleep. She's been true blessing to me and my wife.
20. IZZY: Meet Izzy.  She is an 8 year old Weimaraner.  She loves to run, swim, eat treats, and chase animals.  During warm weather she spends weekends at Lake Cumberland in Kentucky where her Yeti products are put to the test and she enjoys sunset rides on the water!
21. HANK & LEVI: Pictured below are my 2 American labs: Black -Hank 11, Yellow -Levi (had to put him to sleep 6 months ago when he was 13).  I raised both of these dogs starting at 6-8 weeks old. To say they are family members is an understatement. I could write for days about how awesome these guys are. Their most favorite thing to do is ride around in my vintage SUVs.
22. CAMDEN: Here is our GSP taking in some much needed R & R, and protecting the lake time refreshments.
23. ACE: This is Ace. My 11 month black lab. I have only had him for a month but this guy is already my shadow. He is a great looking young gentleman. I rescued him from LRCP Lab Rescue. Great organization. He is well trained and loves the outdoors already.
24. GEORGIA MAYBELL: This is Georgia Maybell (I'm from Mableton, GA… creative, right?) the 9 year old Bluetick Coonhound currently residing in Charleston, SC. She loves being a lazy hound dog, but also loves catching the trail of any local raccoons and trying to befriend them. She was a rescue from an old hunting camp in Goose Creek, SC. She used to be silent and really timid, but has not only found her voice within the last 5 years of my partnership with her, but has turned into a regular ham in the neighborhood.
25. JACKSON: This is Jackson, our 8 year old English pointer, though he was much younger in this photo.  He hates produce for some reason and stole this cucumber from my wife's garden, only to shred it and leave the remains on the living room rug.  He has also saved us from evil watermelons and zucchini.
26. MOLLY: I rescued Molly in 2013 about a week after her previous owners abandoned her on the side of the road.  Now, Molly is 4 and a half and one of the most people loving dogs I know.  No matter what I am doing, she is sitting next to me or under my chair.  Molly's favorite activities include hiking, sleeping, and getting into the garbage.  This dog can get into cabinets just as easily as people can!  Aside from her spots, Molly's ears are my favorite. Depending on the day, they either look like Dobby's (Molly loves Harry Potter) ears or Yoda's ears.  She responds to a wide variety of names, including Molly, Molls, Moll Dog, Walle, and Wolliford.  If we aren't off exploring a trail, Molly is ignoring her basket full of toys and sleeping on the sofa.
27. ABBEY: This is Abbey the English Bulldog; she lives in the Texas heat.  She is our first child, purchased on our first wedding anniversary.  We are now expecting our third "human" child, which makes Abbey six and still really our first child.  My wife and I can't imagine a day without her.  She's been a great family member, and I'm pretty sure she buys into my statement that "the pie is getting bigger" as we all prepare her for baby 3.  Thanks for everything Abbey.
28. ELLIE & CHESTER: Our two dogs Ellie and Chester (left to right). Ellie is a pure golden and Chester is part boxer/beagle – he is a rescue and probably the most athletic dog you'll ever set your eyes on. The two of them love to get on the ice as we find ourselves playing pond hockey up in the northeast during wintertime. This picture was taken a few years back – true companions.
29. RAIDER, REBA, LUCY, & SALLY: Raider is a 7 year old Boykin Spaniel living west Texas, one of the last great places to hunt wild quail!  Reba, Lucy and Sally are English Pointers living the good life in Texas quail country.
30. RENNY:  Name: Renny  Breed: Brittany  Age: 3 years  He may be a 'bird dog,' but we really refer to him as a 'bug dog' as his favorite things to chase are butterflies, moths and any other flying bug.  Exploring the trails by the house at Kennesaw Mountain.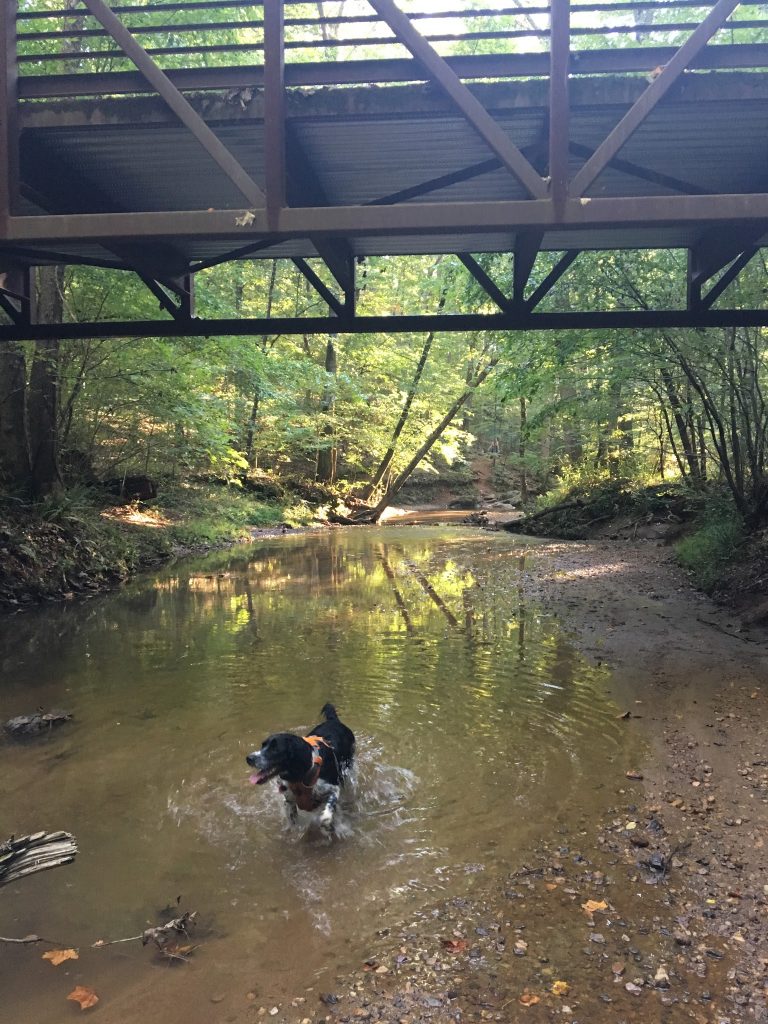 31. FINBAR:  Meet my yellow lab, Finbar. He's nine years old and is the best pal I could ask for and is a huge part of our family. He's always by my side, especially when I'm cooking up something good. I never have to pick up any food or crumbs that make it to the floor because he's all over it.  He's the silent type; he has probably barked less than ten times in his entire life! He's always been a mellow guy and has gotten to a be little bit more like  "Yellow Dog" from Funny Farm lately but he's still always up for an adventure at the beach or a stroll downtown.
32. COOPER: Here is my two year old labradoodle named Cooper. He loves playing with the water bowl. We have since got a much bigger bowl. Cooper loves going everywhere but especially work where he can play with his buddy Blackie. Cooper and Blackie would love a bed big enough to share at the office.
33. ANNIE: Here's a pic of our young pup, Annie, an English Setter.  I've read your recent increased time spent upland hunting.  I'm in Ohio, and spend my summers fly fishing in PA, and my autumns and early winters grouse hunting in Western NY and PA.  No better bird dog for grouse than an English Setter, and this girl has been a dream so far.  Just training and a good home life, but she is dialed in for a first-year, and we will be ready with the Beretta come October 15 next fall.
34. BO: This is our puppy, Bo. He's a 5 month old English Lab. My girlfriend brought him back from her parents' ranch in Wyoming at Christmas. He's getting used to life in the city, but he's still unsure about the hunting prospects here in Detroit.
35. MAGGIE:
Maggie came to be a part of our family when she was a little over 1 year old.  My wife and I had been married for less than 6 months and I had been wanting a GSP.  My wife was still a little hesitant about getting a dog but didn't shut down the idea.  I decided to search on Craigslist of all places and found Maggie for sale about an hour away from our house.  I called the number and the man on the phone explained how they had got her from a bird dog breeder in Texas to be a house pet.  They had two daughters under 10 years old and Maggie was great with the girls but he just felt guilty because he didn't have a place for her to run and hunt and do what she was bred to do.  We drove over the next weekend and to put it mildly, Maggie had a lot of energy she needed to let out.  She was CRAZY!  For some reason, my wife didn't object as I wrote the check and loaded Maggie up in the back of my truck.  On the way home we both had a "what have we gotten ourselves in to" look on our face.
Over the next months we would take her running in a field not far from our house most every day.  I bought pen-raised quail to get her ready to go to Texas quail hunting the next year.  But mostly, we laughed, and laughed A LOT at all of her personality.  It would be an understatement to say that she bonded with us and became part of the family.  The only negative I could think of is she demanded to be the center of attention, including sleeping in the middle of the bed between the two newlyweds!  3.5 years have gone by since we welcomed Maggie into our family and she has done nothing but provide joy.  This past year, we welcomed our first daughter to the world.  As you can see from the pictures below, Maggie has adjusted just fine to having a little one around the house.  In the next month or two, we will be moving into our home that is currently under construction and Maggie has informed me that she will need a new Orvis dog bed to match our nice new furniture.  You don't want to let Maggie down, now do you?
Thanks to everyone who contributed!