The Smathers and Branson needlepoint belts are really works of art.  The designs are crisp, the colors are bright, and the leather backing is really nice for a $165 belt.  I love the look…I have a TON of (let's call them) emblematic belts, but I'm being drawn to these S&B belts more than the others.  These are my collection of Smathers & Branson belts (I have a few other non-S&B belts).  I have four belts more in the works, and I'm pumped to add them to the rotation.
Now, while I love the normal S&B catalog, and am looking forward to sharing their new designs with all of you readers, I have really enjoyed their custom belts.  As I'm sure you've all seen, S&B does belts that aren't available on their website, and require some digging on the Internet or a visit to the golf club/resort/etc.  The exclusivity gives them a bit of a unicorn feel, and they draw quite a few comments and questions:
The first custom S&B I got was the Masters belt back in 2012.  My friend Emmie got this for me while she was down in Augusta, and really had to dig to find it.  I posted about it, and my social media exploded.  Over the next couple years, the S&B presence at The Masters has exponentially expanded…you can get just about any size and color you need on Ebay (for a nice premium).  My others are from some private clubs, Charleston, the Fine Swine, and the Shotgun belt from Onward Reserve.
So, let's make this post the definitive Smathers & Branson custom belt resource.  I found all these online, and I know there are a TON more.  Do you have a custom S&B belt?  Send a picture and a description to jrs@redclaysoul.com and I'll update this post.  This should be fun:
Sea Island needlepoint belt
Southern Proper lifestyle belt
"Eat a Peach" belt from Miller Brothers in Atlanta (this one is on the way)
Merion Golf Club
Pappy & Co Belts (available in blue and khaki)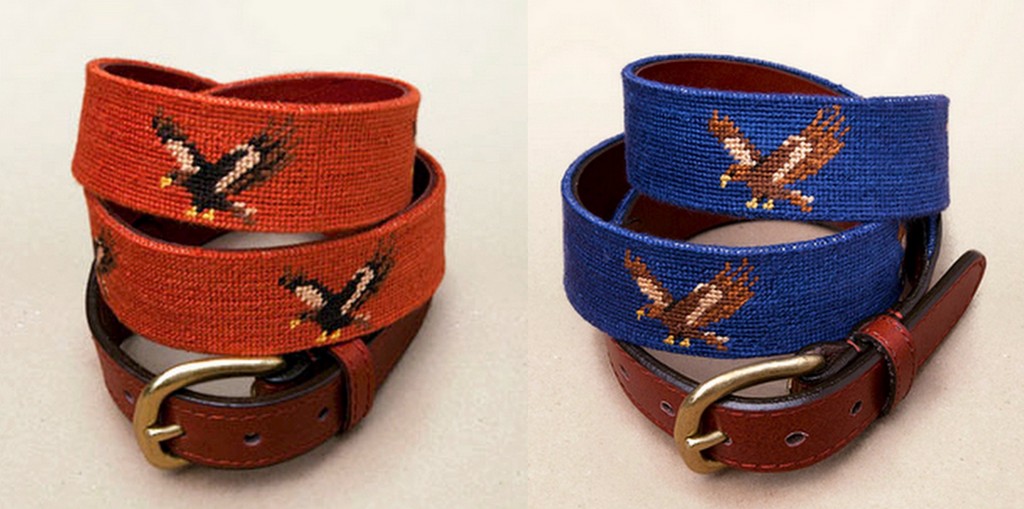 Plainswear (WDE)
Bandon Dunes Golf Club
Locksicker (much more on these folks later..)
Kiawah – I couldn't find the belt online, but if they have a keychain, they should have a belt.
Keeneland
Grateful Dead options
Alright, folks – let's hear it!  What custom Smathers & Branson belt do you have?  Send me a picture and a description and I'll post it here…
READER SUBMISSIONS:
Boca Grande Outfitters from J. Obeck:
Old MacDonald, Custom Elon, and Custom Lifestyle belts from G. McKnight:
Custom Needlepoint from J. Payne: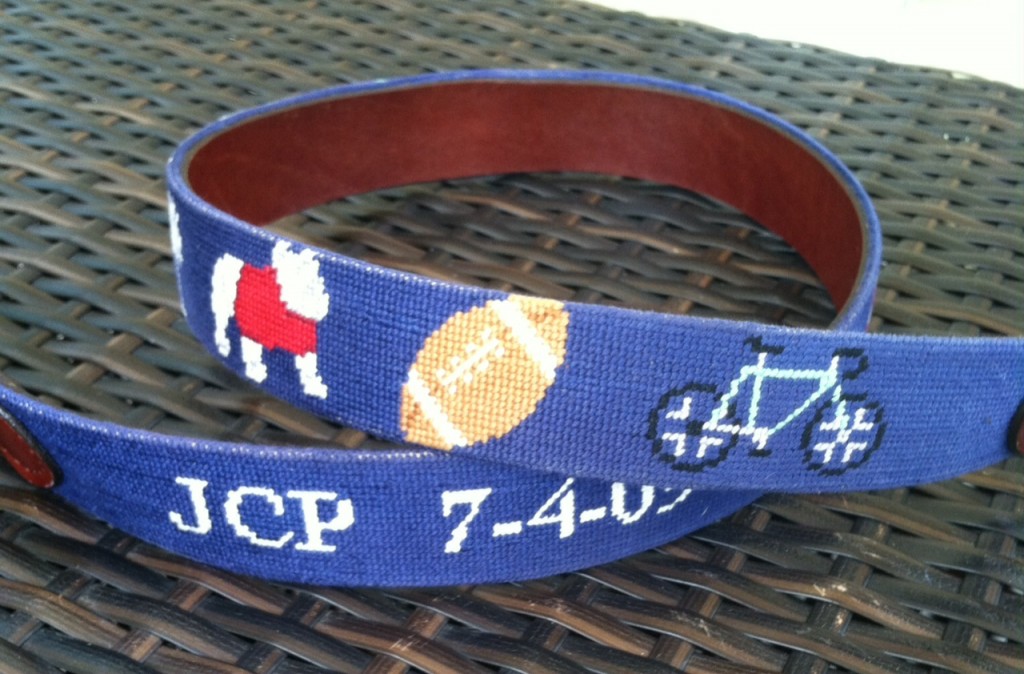 A very nice collection from Sugarloaf Social Club:
One of B. Bujnowski's many custom S&B needlepoint belts, this one from Stonewall Links:
WEDNESDAY READER UPDATES:
Pace Academy from E. Irvin:
Oakmont CC from @bonairgolfclub:
Country Club of Florida Member-Guest Invitational custom belt from J. Ray:
TUESDAY, MAY 5TH UPDATES:
The lawn and Mr. Jefferson's University from Wm. Barker:
Callaway Big Bertha Belt from Ashli W:
S&B Virginia belt that is custom for Peter Blair, a haberdashery in Richmond from JKB:
First one is a life belt and the next to are for The Pingry School (a private high school in NJ) from Kevin S:
 From EMG…starting at the top:
1.Custom needlepoint belt, gun theme.
2. Masters
3. Nantucket
4. Nantucket
5. Polo Ralph Lauren
6. Hunting Theme, Ralph Lauren
7. Boca Grande
MONDAY, MAY 11TH UPDATE:
Perlis down in New Orleans coming up BIG, with Pelicans, Hot Sauce, and Raw Bar:
Cypress Point members logo and The Country Club (Brookline):
How about it, you Clemson Tiger fans…from M.H. Frank:
And a really nice collection from H. Lacassagne:
June 14th, 2017 Update:
From Bradley Walker:
Squire Creek
Louisiana belt from Perlis
Cubs
Prairie Dunes
USA
Masters Visor from Bluegrass Fairway
Smathers
Pacific Dunes
Old Macdonald
Squire Creek
Keep 'em coming!  Send me a picture of your custom S&B belt to jrs@redclaysoul.com and I'll update the post…