I had a major life event happen.  Seriously major.  Sit down.  Hold your breath.
They are allowing us to wear jeans to work.  Everyday.
I know.  Sweat, tears, wails.  Let it all out.  I did.  We have gone from a business casual environment to a jeans-friendly environment.  Even though we were business casual, I always dressed it up.  I wore wool trousers quite a bit, and a sport coat well over 50% of the time.  I opted for dressier khakis.  I never wear polo shirts in the office, instead option for OCBDs and dress shirts – always crisp.  Throughout my career, I have always taken my personal presentation seriously.  As my dad told me long ago: those that don't need to notice won't, and those that need to notice will.  Good advice from an even better man.
The reality of this shift is big.  I still adhere to the 'dressed up' mentality on days when I have a big meeting or a presentation, but otherwise I'm in jeans.  Now, of course I'm not going to phone it in when it comes to jeans.  I am as picky about them as I am any other piece in my wardrobe.  I do have a couple pairs of jeans that I would deem appropriate for the office, and have been wearing them well.  Right now I am in buy-mode.   have been looking for another pair or two to add to the rotation, as I don't take a denim-head approach to jeans (wear them everyday until they fall apart).  I like to have choices and give them a day or so between wears to chill out.
Now – I've been looking for additional jeans for the past couple months.  I want something dressy, but that won't require a ton of alterations.  For example: I love the APC New Standards, but they require tapering and hemming, which cost a pretty penny.  I wanted a pair where a hem was all the doctor ordered.  The timing of the dress code change lined right up with the Huckberry collaboration with Tellason for their slim-fit Elgin jeans.  They were nice enough to send me a pair to try out:

Out of the box, I am highly impressed.  When dealing with selvedge denim, you want them a bit tight to start, but not so tight that you worry about the strength of the rivets.  I wear a 32 waist in Levi's 501s (non-STFs), and got the same waste in these.  They fit like a glove – not tight, but in need of a few all day wears to start the transformation to my body.  As with any selvedge denim, they will stretch.
The button fly is a must.  No brainer.  The slim fit is just right, with a 7″ leg opening.  I'm going to have to get these taken up, but there will be no tapering required.  I won't be able to wear these over cowboy boots, but they will be perfect with loafers, chukkas, and oxfords.  I'm pumped to get these into the rotation.
Again, they take this collaboration seriously.  Here is video proof:
Huckberry x Tellason – Behind the Brand
from
Huckberry
on
Vimeo
.
In terms of aesthetics, the denim is a really handsome dark blue.  They are indigo-ed pretty heavily, but the ~15 oz denim needs it.  I don't plan on soaking these until they start to stretch, so they will naturally fade a bit.  Let's just say I won't be lounging on a white couch in these any time soon. What's important about this that these jeans will develop a patina like no other.
Finally, a really nice touch is the stitching.  The dark stitching makes it invisible, and gives the jeans a sleek look.  I was toying with the idea of using a dark red or another color for the hem to provide some contrast, but I'll just stick with Navy blue.  I will be able to shamelessly wear black dress shoes with these without looking like a club promoter.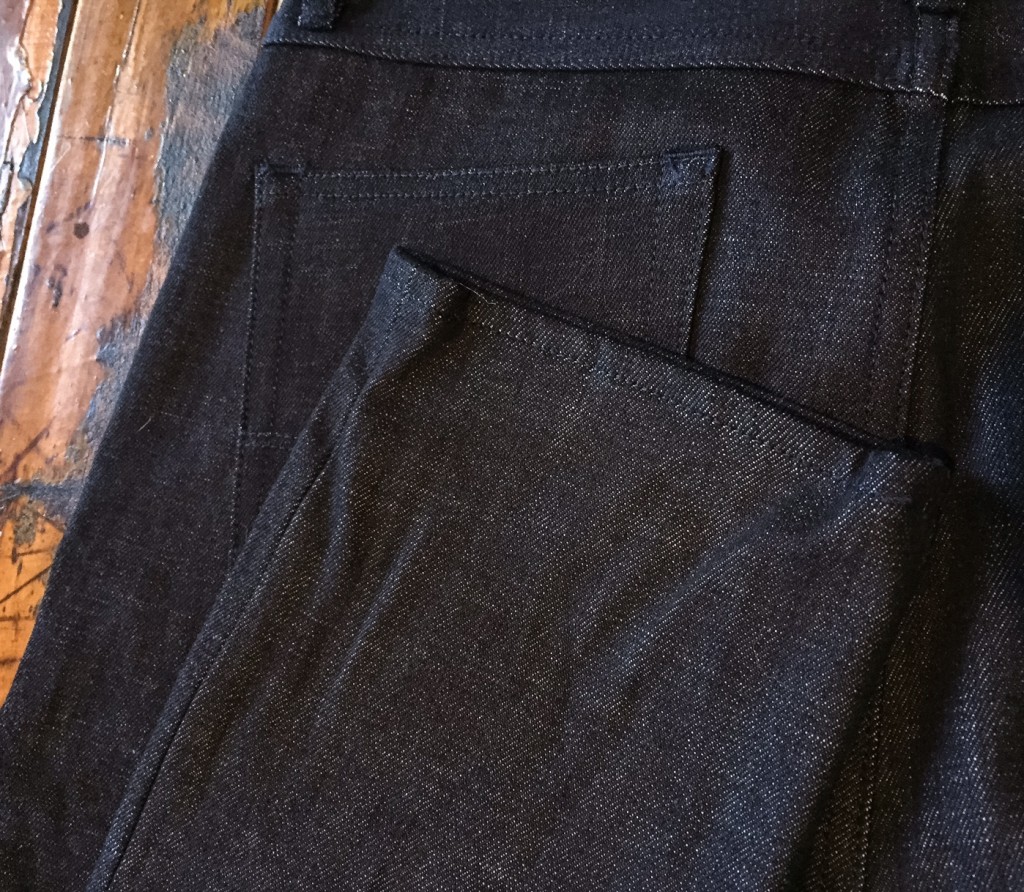 You know, for a good pair of jeans, you are going to have to drop some coin.  I'll argue that the value proposition for these is high; call these your 'Saturday Night' jeans, or your 'closer' jeans (for us in a jeans-friendly work environment).  They get the job done.