Father's Day is right around the corner, and while it receives roughly the same amount of fanfare as Columbus Day or Arbor Day, it's top of mind now that I'm a dad.  Let's get emotional for a second: being a dad is the best job in the world.  My two boys mean so much to me, and have become the suns in my solar system.  I feel extremely proud when they figure something out, clean their plate, or pee in the grass…there's nothing like it.  I cherish every day.
However, being a dad is hard work.  Apologies to all the moms out there: I am not discounting how hard (and rewarding) it is to be a mom.  Not only do you take care of the kids, but you also take care of us.  We aren't worthy.  But let's take a day for the dads.  A day off from the honey-do list.  A few beers during the Braves game.  Dad's choice for dinner…you get it.
And while gifts are necessarily required, it is a love language.  Here are a few things that I know any dad would appreciate: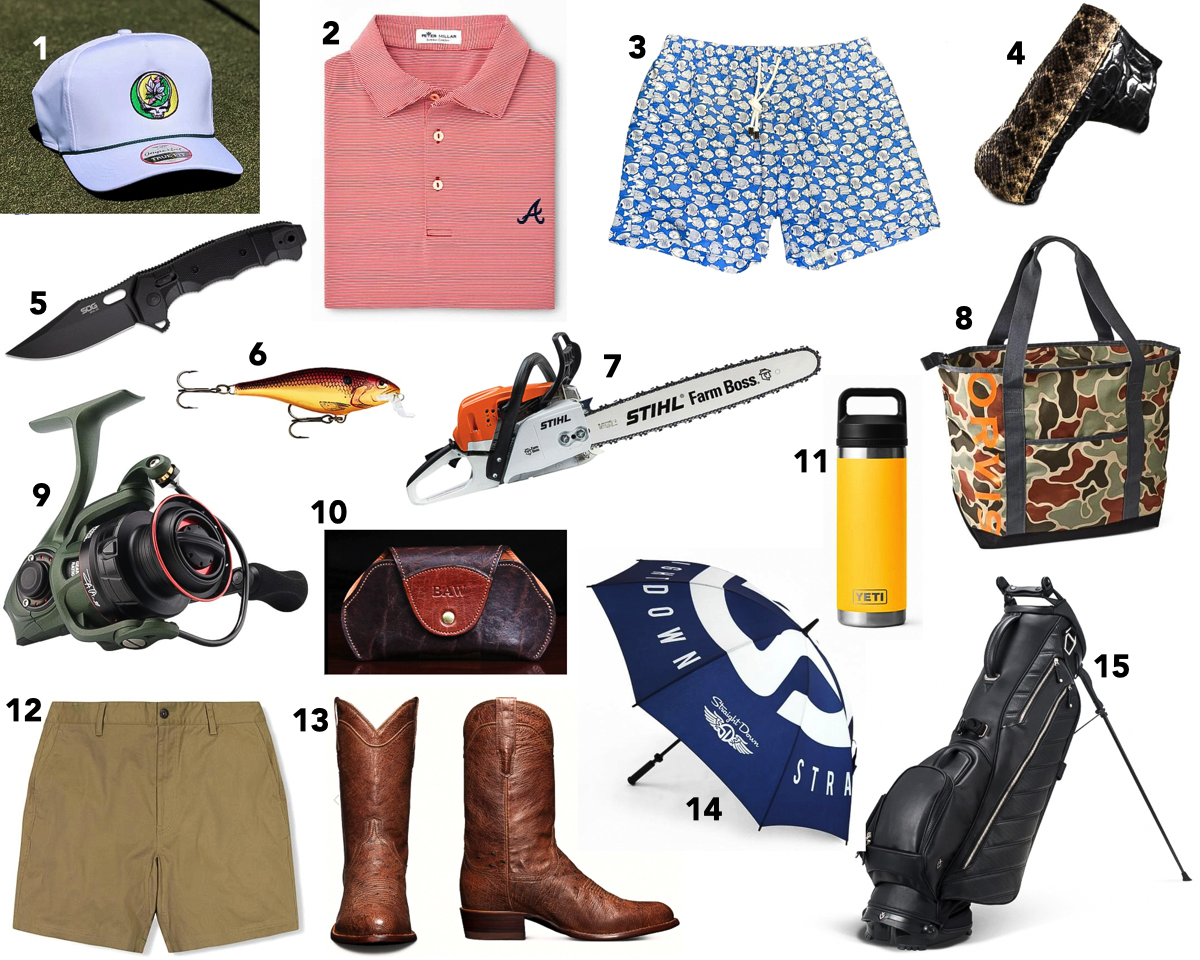 From top left:
1. Sugar Magnolia Hat from Magnolia Golf Company:  Skip the dad hat for something higher.  And cooler.
2. Braves Polo from Peter Millar:  Get ready for the Bravos to make a run.  And look good while pulling for them.  I love these polos from Peter Millar, as they don't have that NASCAR look that you see from a lot of shirts.
3. Fish Trunks from Miller Brothers:  The coolest trunks on the market from one of the best stores in the Southeast.  And let's be honest: the 4.75″ inseam is the appropriate swim length.
4. Snakeskin and Alligator Putter Cover from Bull and Briar:  Talk about a good hat for the flat stick…this is intimidating…
5. SOG SEAL XR Flipper Knife:  Heavy duty blade for a heavy duty dude.  Personally, this would be a wonderful letter opener in my office.
6. Rapala Shallow Shad Rap Fishing Lure:  My brother in law turned me on to these…perfect for Spring bass fishing.  It's half topwater, half jerk bait.  Hungry bass absolutely destroy it.
7. Stihl Farm Boss Chainsaw:  Chainsaws are fun.  And manly.
8. Orvis Adventure Tote:  Given that dads end up carrying most of the load, a good tote is a must.  And at $39 each, these are tough to beat.
9. Abu Garcia Zata Spinning Fishing Reel:  Update that old dusty reel he's been throwing.  The Zata line from Abu Garcia is fantastic.  I've been using this one for about two years, and couldn't be happier.
10. Colonel Littleton Eyeglasses Case:  For those readers.  You know what I'm talking about…
11. Yeti 18 oz. Bottle:  With the chug cap, this may be the perfect Yeti bottle.  I use mine all the time.  Clip it to a hunting bag, stuff it in your tackle bag, or clip it to your golf bag.  Works every time.
12. TSG Ridge Shorts:  TSG changed the game with these…a 6″ inseam shorts in (slightly) stretchy canvas.  They are KILLER.  More to come on these.
13. Tecovas Jasper Boots:  I don't know a dad that wouldn't enjoy getting a fresh new pair of smooth ostrich cowboy boots.  These are so cool.
14. Straight Down Logo Umbrella:  Doesn't matter if he plays golf or not…there's always room for a huge umbrella.
15. Vessel VLS Lux Stand Bag:  Arguably the nicest golf bag on the market. Give your old man something that he'll be excited to bring out to the club.