So I needed a new suit.  With some welcomed weight loss and an important wedding coming up (in New Orleans), I couldn't get away with wearing my old Southwick charcoal flannel job.  Instead of heading over to Men's Warehouse, I decided to do what I've wanted to do for a long time.  Spend a little dough and get a suit that will last me forever.  This is what I was looking for:  medium grey (so I could wear brown shoes as well as black/cordovan), soft shoulders, slimmer cut, and excellent construction..
Time was also an issue.  I knew there would be additional tailoring needed, and we were getting on the plane in about 2.5 weeks.  I was over at Sid's one afternoon and came across this beauty.  Being very familiar with Sid's Suit, I was considering it, but it was at the top of my budget: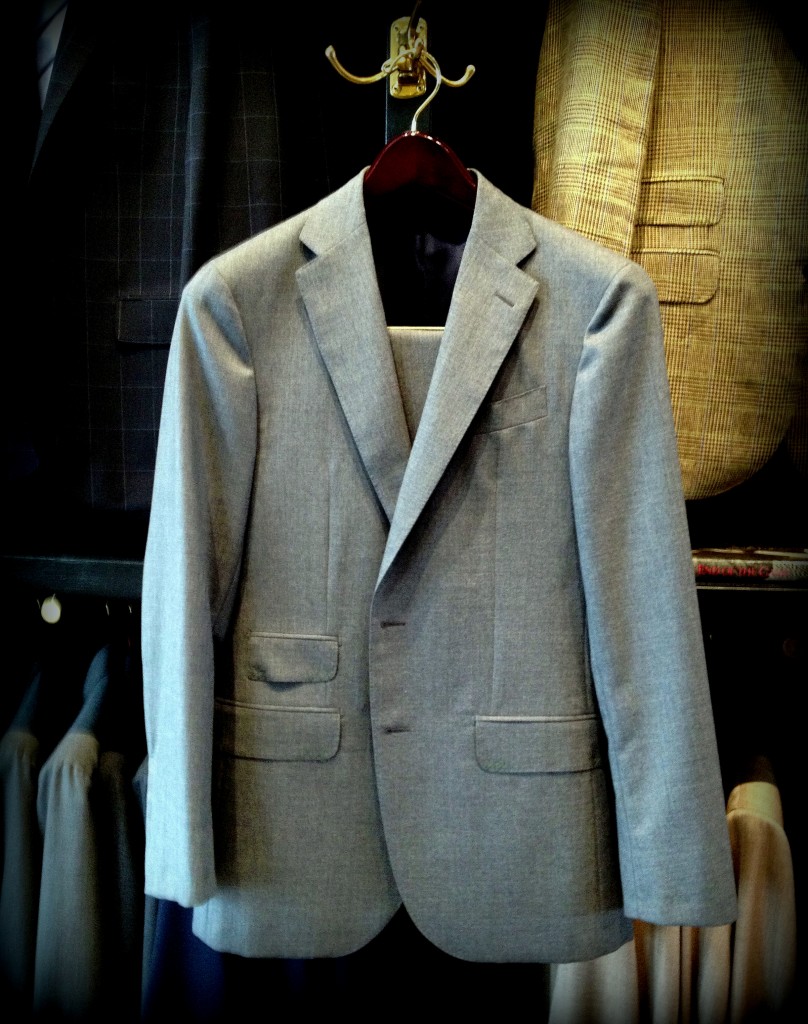 I took a picture and texted it to the girlfriend (and date) for the wedding.  Me: "Do you like this?"  Her: "Yes.  A lot.  Put it on."  Me:
Her: "The pants don't match??!!??"  Me: "Just the jacket".  Her: "I really like it.  I think that's it."  Me: "Me too."  I know.  Romance just dripping out of those text messages.  I asked Randall to hold it for me, and told him I would be back tomorrow afternoon to let her take a look (and that I was 90% sure it would be mine).  We spoke about alterations, and they assured me that it would be done in 10 days-2 weeks.  Plenty of time for the wedding.
We went back the next afternoon and it took all of five minutes to decide that this suit was what I was looking for.  I put it on, and felt like it fit well OTR, but Butler said 'follow me'.  We went back to the Operating Room and got to work.  I had never gone through the experience of having a suit custom tailored. I essentially stood there like a maniquin and let the doctor(s) go to work:
This is what was done:
Jacket:
Took in the sides about a half inch on each side
Tightened the shoulder/chest seam as it was a little puffy
Brought up the sleeves to the thumb/wrist break
Added working buttons (highly recommended)
Pants:
Brought the waist in about one inch
Added 2″ cuffs (very slight break). Yep.
Nine days later I got the email saying that the suit was ready.  Excited and anxious, we made our way over to pick it up.  Trying it on for the first time helped me understand the difference between buying a tailored suit vs. buying one off the rack.  As I mentioned earlier, it fit well when I tried it on.  After the alterations, it fit like a glove.  The fit:
This suit was at the top of my budget, but after it was all said and done, I do believe that it was a good value proposition.  If anything (my gut 'changes', I shrink, or become a bodybuilder), I can have the suit altered for zero dollars.  If something really bad happens (holes, tears, etc.), I can have it repaired or buy a replacement piece from the same fabric.  I would call this an 'everyday' suit, as it is appropriate for almost any occasion.  I am more than pleased.  And so was my date.
Tie details:
The best part of the experience is that I got an awesome suit that I'll use for years.  The worst part: I now won't settle for anything less.
*******
New Orleans was a blast…we did all the good stuff (i.e. – didn't set foot on Bourbon Street).  The reception was at a really cool event venue called Race and Religious, which was a transformed compound.  Check out their site.  Good stuff.  Also, the Fish Ocean at Aldolfo's and the burger at Port of Call are not to be missed.