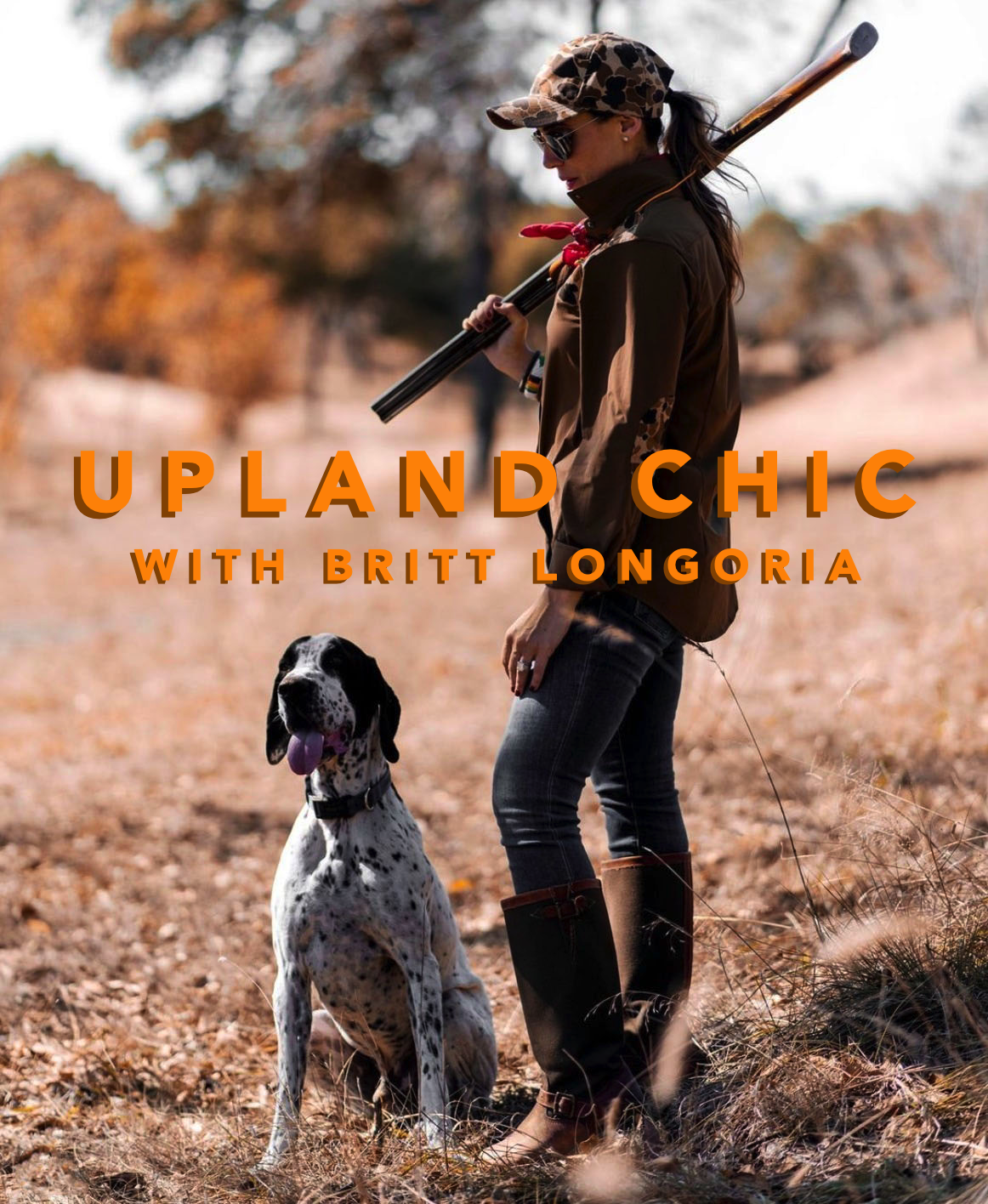 Ladies: I have a treat for you today.  As most of you readers know, Mrs. RCS and I enjoy upland hunting together.  We typically do one or two a year as an overnight 'date'.  Last year we had the pleasure of expeiencing Rio Piedra, and we have a few more on the docket this season.  Upland hunting – especially with my significant other – is one of my absolute favorite things to do.  It puts us in situation where we are sworking together, enjoying nature, and connecting in a way that can only happen in the field.  They are some of my most cherished memories.
I've recently gotten to know Britt Longoria, and I'm proud to call her a friend.  She's an extremely experienced hunter – not just upland, but all over the world.  She's a conservationist, as well as an advocate for more women in the field.  Not to mention she's very stylish.  She worked with Ball and Buck to design their recent line of women's shirts (which have been flying off the shelf).
So ladies: Britt put together a guide on how to stay chic in the field.  A quick note: what you'll notice in this list is that NONE of these pieces are 'disposable'.  Every piece is built for the long haul, and designed for use in the field, as well as in the lodge, or back home in the city.
Enjoy, and happy shooting!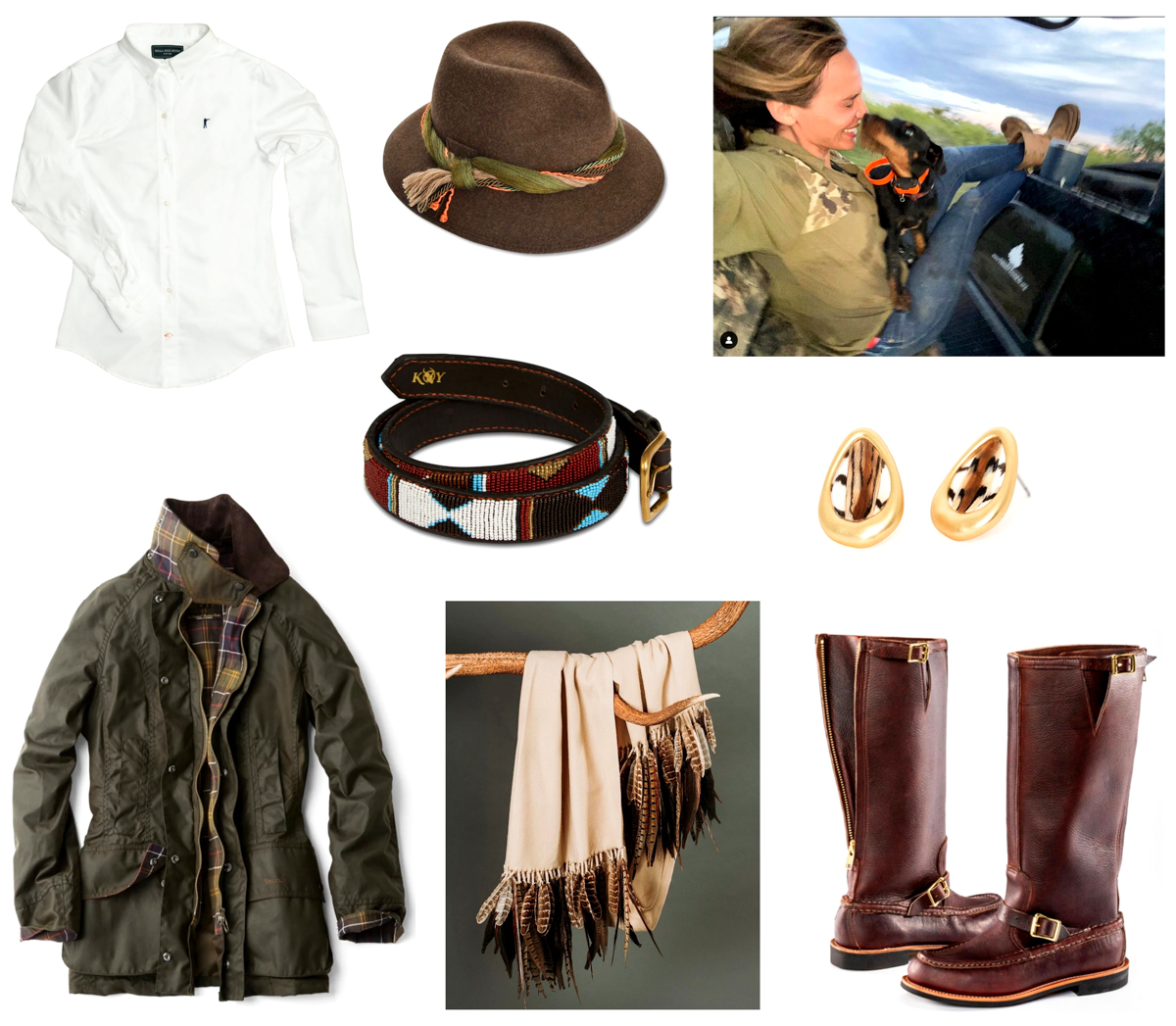 Starting at the top left:
The Joan Shirt by Ball and Buck: I worked with Ball and Buck to design their women's line based on what I like aesthetically and functionality.  These shirts are made to move and have a fuller fit, so if you prefer a more fitted look, order a size down.
Kevin's Wool Felt Fedora: I always need a good felt hat.  Kevin's has a great selection of their own creations and imported European companies.
Shooting Pants:  Take my perfect jeans (Good American) and send them to a seamstress to put thorn proof brush covers on the fronts and lower back legs.  I believe Kevin still has the service that does this, too.
Hand-beaded Maasai Mwezi Belt: I have several and constantly wear Maasai beaded belts for the colors and add texture they add to any outfit.
Thomasville Stud Earrings from Brackish:  When I'm hunting, I always still like to look feminine.  By adding these simple studs you don't have to worry about scratching up your shotgun stock…
A Barbour Jacket – the classic Beadnell: Again, a timeless classic.  I have had the same Beadnell re-waxed and patched several times over the past few decades.  Sort of like a Timex watch… it takes a licking' and keeps on tickin'.
The Pheasant Shawl from Hawkhurst South: The cashmere is creamy soft, hand-stitched game bird feathers added to fringe gives these shawls a over the top elegance (more for the apres-hunt).
Snake Boots from Russell Moccasin:  I've worn Russell Moccasins for about 20 years. I still have my first pair.  You simply cannot beat their excellent American-made quality and craftsmanship.