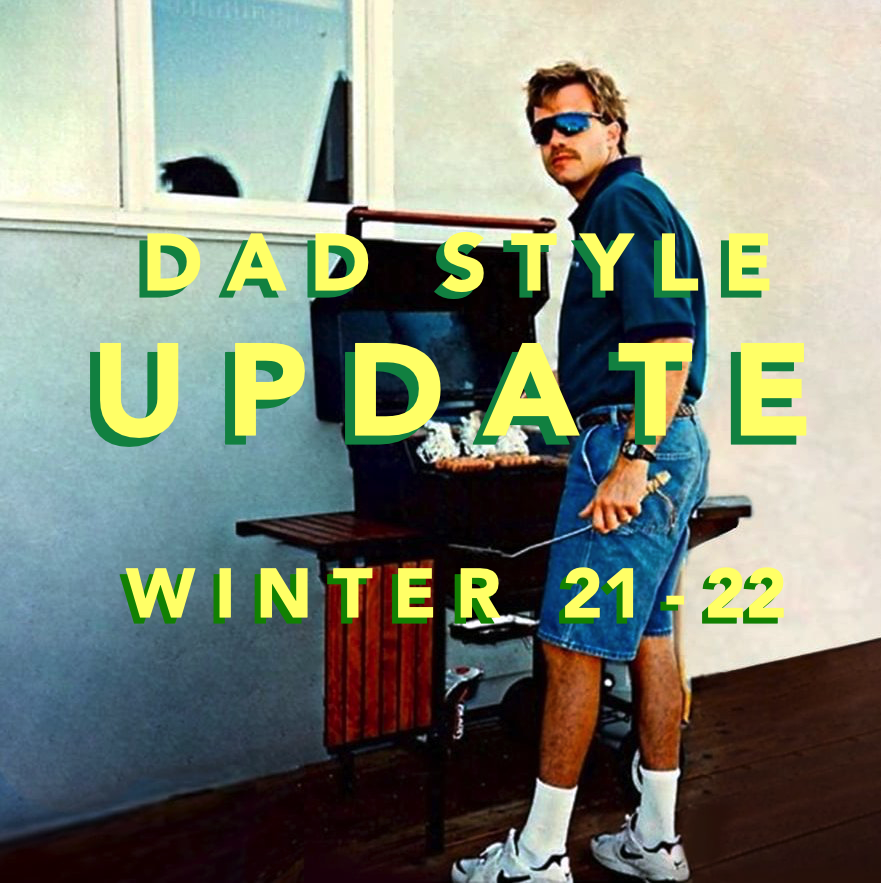 Hey guys.  How's everyone holding up from Christmas?
One of my favorite things about this blog and our little universe is the Ask Me Anything sessions over on Instagram.  Not only do you folks ask some GREAT questions, but it's a good barometer of what's going on in the general #menswear ecosystem.
In the last couple of sessions, I've heard from quite a few of you for 'Dad Style' help.  Specifically, you are tired of a tech polo, five pockets, and On Cloud sneakers.  Ugh.  I get it.  Not that there's anything wrong with that look, but it has become somewhat of a uniform.  And let's admit it: it's boring.
I'm anti-On Clouds, so I'm all about helping out.  And I love 5-pockets, but there are so many other options.  And tech polos?  We all have a million.  And yes, there are other, more stylish options.  The reason the 5P/TP/OC uniform is so popular is that it's easy.  It's the Juicy Couture velour tracksuit for guys.  There's always room for it, but there are stylish ways to amp it up without making it any more difficult.
Some baseline requirements:
Stylish.  All of this is acceptable for chasing kids around the ball field, slinging cheese dip at a Mexican restaurant, cooking out with neighbors, or lounging around watching 'Top Gun'.
Washable.  Everything here can be washed at home. Stuff happens, so have some Oxyclean spray on the ready.
Interchangeable.  All of this stuff works with everything else below.
Here are some options: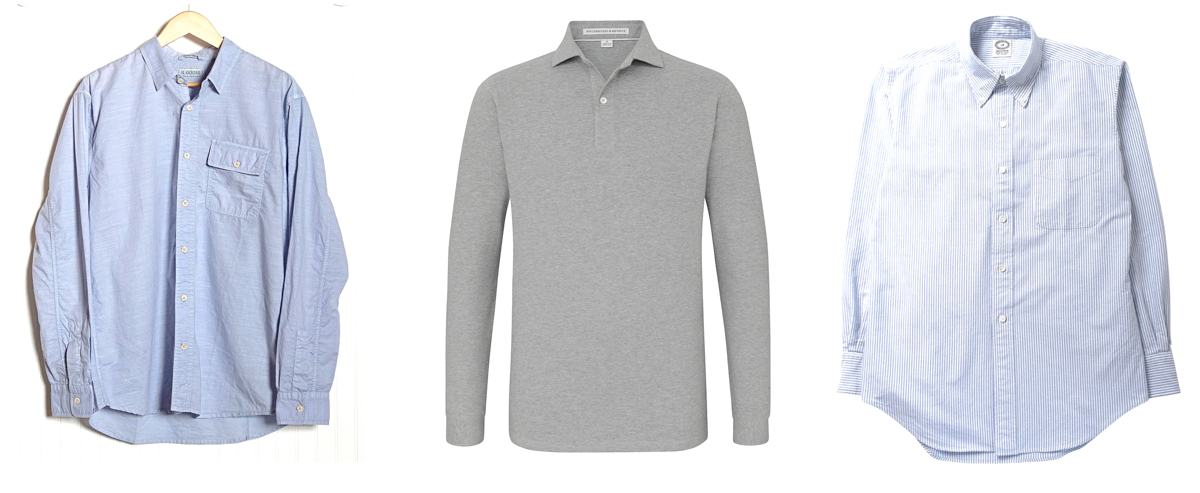 Shirts:
Chambray Work Shirt from H.Goose:  Chambray shirts are the most versatile button up in your closet, especially this time of year.  They wash and wear like a dream.
Holderness & Bourne Johnston Long Sleeve Polo:  I've gotten into these long sleeve polos, especially those with the working cuffs.  They are a little more dressed up than the Chaps versions from the early 90s.
Kamakura Vintage Ivy Slevedge OCBD:  Good oxford cloth shirts are a workhorse here.  The key is 100% cotton – they wash and dry like a dream.  Get a few with good construction and wear them liberally – under a vest, under a sweater/sweatshirt, or on their own.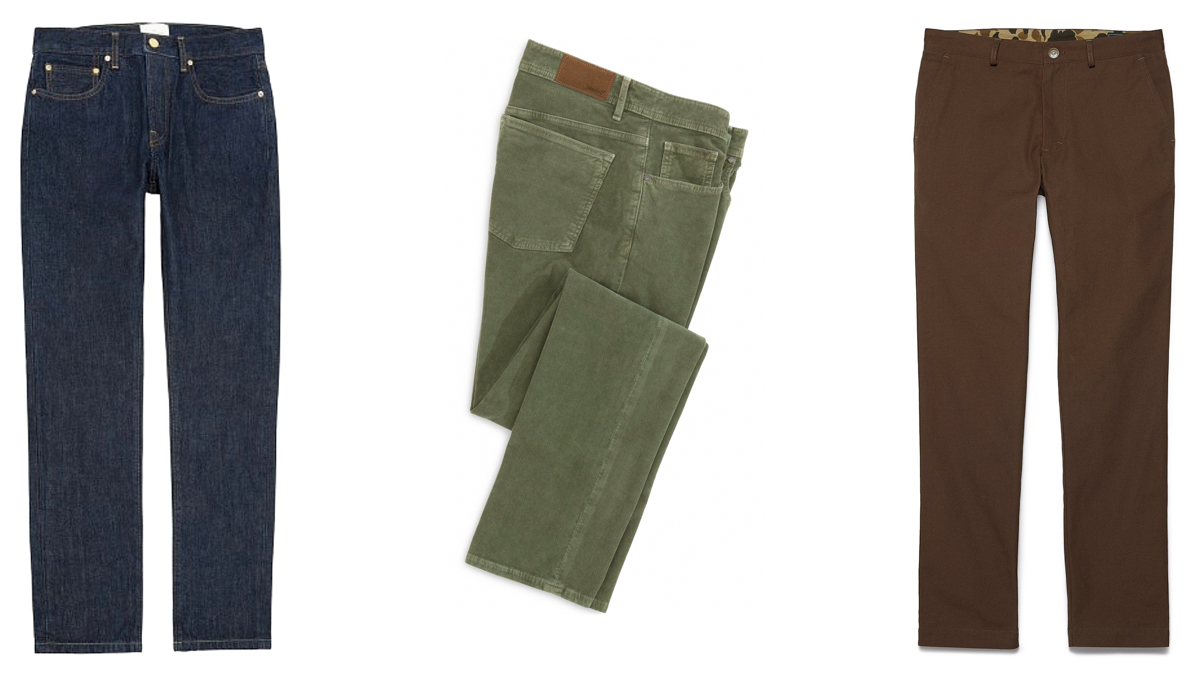 Pants:  I get that 5-pockets are all the rage, and I'm on board.  In the spirit of adding some variety (and some style)…
Sid Mashburn Non-Selvedge Rinse Denim:  You need a good pair of stylish jeans.  I know spending money on a pair of jeans that are 'kid friendly' seems counterintuitive, but your wife and self-esteem will thank you.  Don't go selvedge, no (or maybe 2%) stretch, and darker…they dress up any outfit and can take a beating.
Johnnie-O Wales Cord Pants:  I'd argue that these cords are far enough of a deviation from typical 5-pockets that they deserve a spot on the list.  Find a fun color and wear them well.  These from Johnnie-O are great (and on sale!).
Ball and Buck Overland Pants:  And don't sleep on chinos.  You already have ten pairs of khaki, so try something else.  Ball and Buck just released their Overland pants, which is the updated version of their 6-point/8-point canvas options they've had for years (and are incredible).  Get a size that you can wash and hang dry, and you'll reach for these a lot more than you think.

Layers:
Duck Head Lumber Coat:  This year has been the rebirth of the 'Shacket', with quite a few companies releasing their versions.  I've been a Chore Coat guy for YEARS, so I'm excited to see them hit the mainstream.  Duck Head crushed it with their Lumber Coat.  It's just thick enough as an outer layer, but not so thick that it's a jacket.  Perfectly loungeable.
LL Bean Organic Cotton Sweater:  Don't get on me about a 'cardigan'.  This isn't the Mr. Rogers version of a sweater.  It's a full-zip cotton sweater, which is perfect this time of year.  The standing mock neck will give it some style, and the trim fit will give your entire look and update.
Fisher & Baker Greenwich Anorak:  Anoraks are incredible.  More of an outer layer, but very cool (and functional!) for this time of year.  Good for when it's wet out, or for fighting the brisk morning air.  I have a feeling we'll see everyone releasing their version of an anorak next year.

Clark's Wallabees:  Probably the coolest boots ever released.  You've had (and ruined) the Maple Suede version of these at the Fraternity House or roaming the bars in Buckhead, so try the Beeswax option.  They are a little stiff out of the box, but will break in really well.
Saucony Peregrine 11 Trail Shoes:  For athletic shoes/sneakers, I prefer the outdoor/trail versions.  They typically provide a little waterproofing and the colorways are much cooler.  I love these Sauconys.
Loake 1880 Pimlico Chukka Boots:  A good, tough, dressy option for dads in the winter.  These feature a Dianite rubber sole so they can get wet, and the suede is treated.  Don't go trudging through the mud, but you get it.
Go get 'em guys.  Be the best version of yourself.