T-shirts don't get a ton of play around these parts, as the only time they seem to get any wear are in very casual situations.  I'm a collar guy, as are most of my counterparts – especially in public.  For me, the t-shirt quartile measurement is a body of water, gym equipment, yardwork, and/or an afternoon on the couch.  Today, besides the updated Fraternity-style t-shirts, most t-shirts today are some sort of graphic, v-neck, 'fashion forward' design that isn't my style.  At all.
There are some t-shirts that I miss dearly.  I don't know what made me think of it, but near the top of the list are the old Banana Republic Wildlife Engraving t-shirts.  These were extremely popular in the late 80's and 90's when Banana Republic rated a ZERO on the metro-sexual scale.  They were actually a mall-based safari company, and made some GREAT stuff.  Side note: if you find any of the old labeled Banana Republic safari gear at Goodwill, it is 100% legit.  Totally worth it.  A catalog from 1984:
The old Banana Republic storefronts…at the mall:
Obviously you can't find these t-shirts anymore, so this is a bit of a nostalgic post.  Here is the rundown from an old catalog:
Here's some customer feedback for Banana Republic:  Why not do a line of your vintage safari wear for Fall?  I could see it being a huge hit: heavy duty khakis in an updated fit, a cool military-esque jacket, some Earthy bold plaid shirts with double pockets, some four button sweaters, and these t-shirts.  Boom.  Call it the Red Clay Soul Capsule.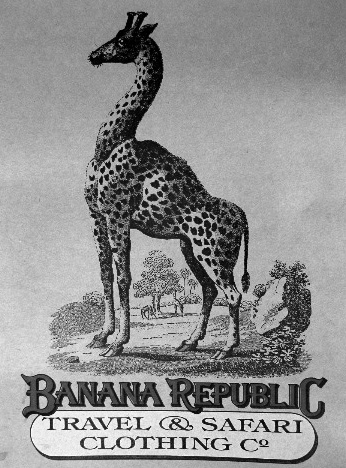 Who remembers these?