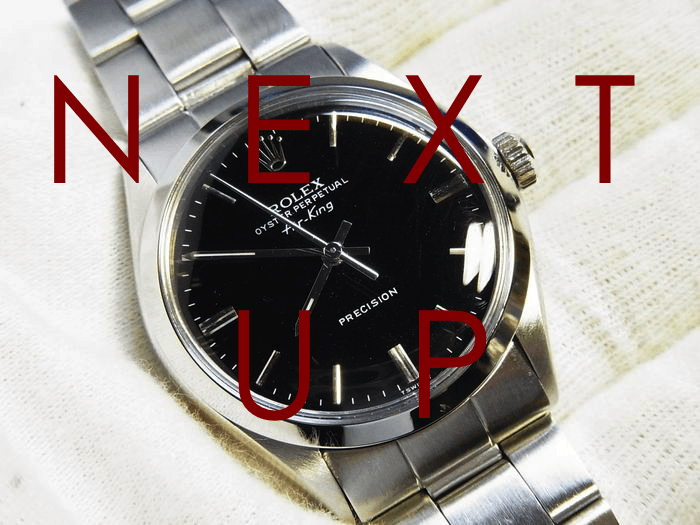 It's hard to own only one good watch.  The next logical step is to buy a second, then you are officially a collector.  Then you get a third watch, and a fourth, and so on.  I've been lucky enough to collect three great watches over the last five years, and now I'm on the hunt for number four (and probably number five).  These are not one month decisions.  Instead, it's a six month to a year process to hone in on that perfect watch that has a place in your rotation.
I'm starting that process now.  I'm trying to find a watch that is outside of my current rotation.  I'm not looking for something flashy or modern, instead I'd like something classic that I will be able to wear forever, and eventually pass on to a deserving offspring.
Here's what I'm eyeing:
1. Rolex Air King:  I'm leaning in this direction right now.  I like the smaller size, and the black face.  I like the simplicity of it, and the metal band.  I think it would be good to swap out with a brown leather band and it would keep the formality, and look good with a suit or with a golf shirt and jeans.  Versatile, and I don't have anything like it.  Let's call this 'the clubhouse leader'.
2. Glashutte Original Panomaticlunar:  I'm fascinated by the Glashuttes.  They all look so interesting, and this Panomaticlunar is essentially a moon watch, which makes it that much cooler.  This would be designated a 'dress watch' and would be limited to those occasions.  However, those occasions would be amplified by this bad boy. Very bit loafer.  Let's call this one 'dinner reservations'.
3. Breitling Avenger Seawolf:  I've got a couple buddies who are big Breitling guys.  They are serious watches.  Very heavy duty.  This route would be a unique pick, an all black Seawolf (which normally have a yellow face).  This is a bit of a flyer for my style, but I could see it getting some great use on the weekends and on 'boot days' at the office.  Let's call this one 'mud grip tires'.
4. Panerai Luminor Marina PAM049:  I've been wearing a Panerai for five years.  I consider it my home team, for lack of a better term.  My current Luminor is the PAM112, which is extremely simple and clean.  This option is essentially the opposite: white face, date, minutes, 40mm (rather than 44), and a second hand.  I really love Panerai watches, and I think this would get a bunch of wear.  Let's call this one 'home field advantage'.
5. IWC Mark XV Spitfire:  IWC watches are so cool.  They are clean and understated.  I think of these as a dressed up field watch.  This would be an everyday watch, but with a leather band.  It's hard to say that this would be a bad decision, but it may be too much of a safe bet.  I don't know…  Let's call this one 'Bell Curve'.
Which one do you like best?  Let's hear it in the comments…