All photographers that shoot with DSLRs know that you must choose a camera brand and stick with it.  The Canon vs. Nikon debate.  The reason is that lenses are made for a specific brand, and are not interchangeable.  Mrs. Red Clay Soul went Nikon a couple years ago, and I took her Canon.  While the Canon has been great, I've made the decision to convert to Nikon as well.  She has already made some great investments in lenses (50mm 85mm, 24-70mm), and we'll be able to add more once we're both shooting Nikon (a 10-24 Super Wide Angle and a 17-50 walk-around lens).
I currently use this Domke F-10, which is great for my Canon and lens.  I also bring the charger, cleaner, and cords in the bag – it works, and I'll continue to carry it for times that require specific shots (and specific lenses).  But… I need something bigger to carry a DSLR camera and multiple lenses, so I've got to get a new bag.
The first thing I'm looking for is a bag that doesn't look like a camera bag.  Given the level of investment, the last thing I want is a bag that gives away it's contents.  There are a lot of options out there, but I'm going to go with Filson.  I've seen some options floating out with two Filson bags that have been converted into camera bags, and it is exactly what I am looking for.
I think this 266 is going to be a little too big for my needs, but I really like the idea of this bag if we had to transport a lot of equipment/lenses.  The bag measures 18″ long X 11″ high X 12″ deep.
The great part of this bag is that there are pockets all around.  A buddy of mine has one that he uses when shooting, and it holds quite a bit more than it looks.  This may eventually be a case that we (the Mrs. and I) use to carry all of our equipment on trips, but for today, I'm leaning towards something a little smaller.
The medium Field Bag is just the right size – measuring in at 14″ long X 11″ high X 5″ deep.  While the exterior pockets are as substantial as the Sportsman's Bag, they are there – including two large front pockets.  The side pocket would be perfect to slip in a lens cover or cleaning cloth.
Another thing I like is that the top isn't a zippered – giving easy access to equipment under the messenger bag-esque flap.  Anyone with Filson zipper experience knows that it bites.  I also like the construction of the strap is such that the bag won't flip over when the flap is open.
Either way, I'm going with Tan.  The patina should look great in a couple years, and will only get better with age.
The inside of the bag is easy – inserts are available at just about any camera store – either in the store or online.  Both of these would fit Filson's Medium Field Bag perfectly: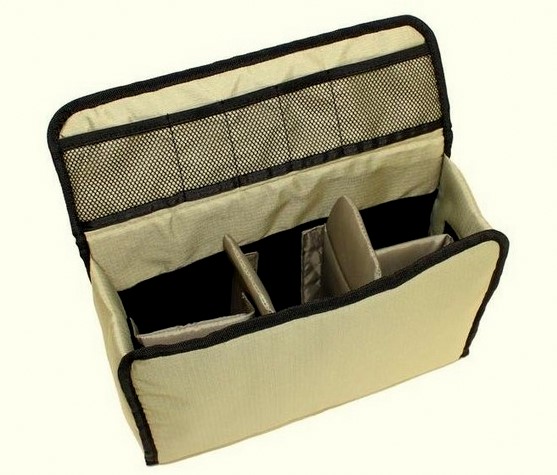 Domke 720-250D Digital SLR Camera Insert
Even though this bag seems like a big investment, chances are that it will outlast the cameras that it carries.
Images: Google Image Search