I've always been a HUGE fan of the Gokey Sandanona boots that they now sell at Orvis.  They are great looking boots; they look great with heavy canvas pants in the field, or with khakis or jeans in more casual environments.  Being that I'm a big fan of finding off-season deals on Ebay, I came across a pair for $80.  They didn't have a size listed, but according to the measurements, they seemed like they would fit.  That, and their customer-friendly return policy made me pull the trigger.  When they arrived, I tried them on and was really happy.  At the time of the boots arrival, it was 90 degrees outside.
After I got these boots (in the Summer), I let them sit in the box in a closet for about six months.  I pulled them out at Christmas  with the intent of bringing them back to life.  First, I cleaned them up with a wet rag, and let them dry.  The next day, I gave them a healthy dose of saddle soap.  That is what you see here:
You can see that the boots are in good shape, but not great.  The reality is that based on the wear, I would doubt that these were worn more than 20 times.  The soles are still pretty much new, and the scuffing is relatively light.  There are scratches around the toes and the sides, which indicates that they original owner rode a motorcycle and/or spent tome time in a field.  Works for me…the patina looks great.
Remember, these Gokey boots are built like tanks.  They are made to be worn, and I'm looking forward to putting more miles on these.  While these have a little wear, they look great for being ~29 years old:
I did a bunch of research on what to do next.  After reading on the Internets and speaking with some friends, I decided to go with Obenauf's.  I wanted something that is going to protect the boots from the elements, as well as try to enhance the look, but keep the natural patina.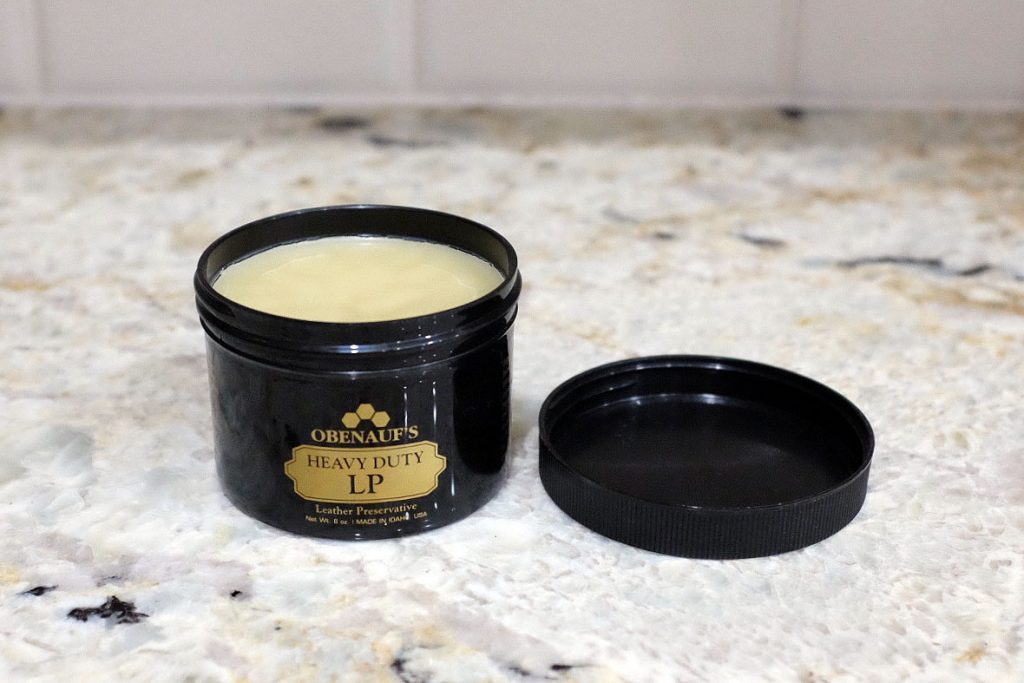 Using Obenauf's is as easy as it gets.  It's like a wax/lard type substance.  To apply, use a couple fingers and rub a circle directly on the product.  The heat from your fingers will 'melt' the Obenaufs, and you rub it on the leather.  Here I have applied the Obenauf's to the side of the boot, but not the top:
It took me about 6-7 minutes to apply the Obenauf's to an entire boot.
By this point, I was really excited about the results.  The treated boots looked outstanding – exactly what I wanted.
The final product:
I am extremely happy with the result.  I feel like I just gave these boots another lease on life.  There was a bit of a shine on the boots directly after application, but after 24 hours, the Obenauf's had soaked in, and the shine has dissipated.  This is EXACTLY what I wanted.  I can't wait to take them out for a ride…
I learned a couple things during this experience.  First, Gokey boots are worth the money.  If these boots look this good after 29 years, run that ROI on a $495 pair.  Don't forget that the Gokey team will restore the soles/etc. as well.  Second, I'm really glad I got the Obenauf's.  As you can see from the picture below, it didn't take that much to take care of my Gokeys, so it's safe to say that this jar will last me for ten years.  Again, good ROI.
Are you a Gokey owner?  Are you an Obenauf's user?  Let's hear your experience in the comments below.
2/20/17 Update:  Got this from @lankdunton: "Took your advice on the Obenhauf's and tried a little TLC on my Russells":
Great work!  Anyone else?