I'm finding that getting into hunting and shooting is an investment not only in time, but in gear.  While I'm stocking up on what I need, one thing I realized is that I've got to have a bag to carry everything.  There is a lot of 'stuff' that needs to come with you.  When thinking about that bag, I'd like it to be transitional from hunting to fishing, and any other outdoor activity that requires packing supplies.
Enter the Filson Excursion Bag, which is the replacement for the discontinued Sportsman's Bag.  The folks at Man Outfitters wanted to get my opinion, so they sent me one to take with me on a quail hunt last weekend (full disclosure).  The bag did well…a nice hood ornament on our bird buggy:
The bag worked out perfectly for me.  My Saturday consisted of a full day hunt, separated by an hour or so to eat lunch and put our feet up for a bit.  Here's what I packed: my boots, a sweater, a vest, my shell pouch and belt, shooting gloves, extra socks, sunglasses, a towel, ear plugs, a phone charger, and my new camera.  It all fit nicely, with room to spare.
The bag is set up like a duffle, but has some really nice features.  The inside is one open space, without separators (like in the old Sportsman bag).  There is also a small zippered pouch that is perfect for keys and other small things that may require easy access.
There is a huge front pocket that I used to hold easily accessible stuff, and a couple granola bars.  This is also a great pocket to hold a water bottle, and use the zippers to hold it upright.
The back features a large nylon pouch: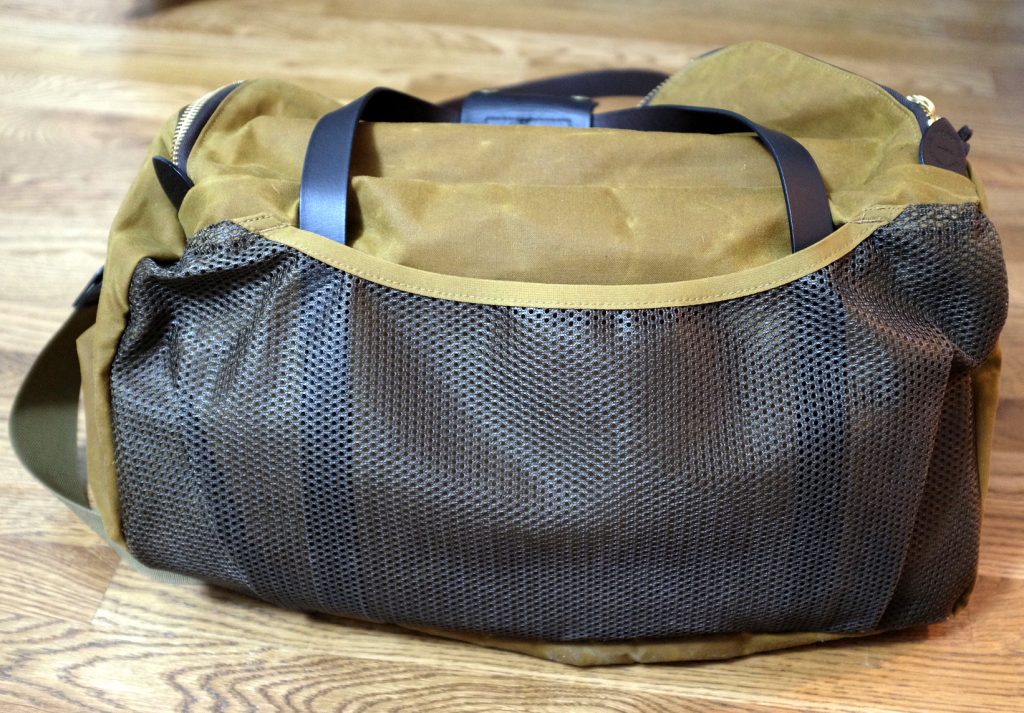 All the hardware, zippers, and handles are heavy duty – exactly what you've come to expect from Filson.
The great part of the bag construction is the Tin Cloth (in lieu of the heavy duty canvas).  This is good for a couple reason: first, it's much lighter.  Second, the tin cloth is more water repellant than the Filson canvas.  Third, the patina will be killer.
In terms of features, the L zipper is outside access to the boot/wet stuff nylon bag:
This was helpful when traveling as well.  I didn't have to drive to the hunt, or home from the hunt wearing my boots.  My buddy's floor mats were thankful.
Moving forward, this bag is going to get a lot of use when doing anything from clay shooting to hunts across the country (more on that later), fishing trips, camping trips…etc.  To commemorate, I am going to add patches as I earn them.  These two are on the way:
The price on the bag is $385.  While this is expensive, keep in mind that it is a Filson bag, so it's going to have a lifetime warranty.  This is a bag that you'll only have to buy once, so buy it right.