I came to know Holderness & Bourne last Spring.  Alex Holderness & John Bourne reached out to let me know they had started a golf brand that was right up my ally.  The sent me a couple, and they have become my go-to shirts.
Here's what I like about H&B: their shirts and gear are meant for simplicity.  They focus on great fabrics, and even more so on outstanding cuts.  The cutaway collar gives the shirts a dressed up feel, and the fabrics are very comfortable, and very playable.  The sleeves are just the right length, not too short which has (unfortunately) become the style.  The best part?: no logos.  They don't need them.
The Holderness & Bourne shirts are prime examples of what you'd buy when you go play that great club.  When you go play Winged Foot, this is the shirt you buy, not a neon, Star Trek top that doubles as a jogging shirt.  For your wife.  You want a shirt that looks great on and off the course with an iconic course logo, either with a pair of white shorts or under a blazer.  The H&B shirts are like a dress shirt for the golf course, but play like a top-shelf golf shirt.  And don't forget the vests and bags…all top of the heap, and very aligned with the refined nature of their shirts.
You know what else is cool?  You'll see Atlanta's own and super cool dude Roberto Castro wearing Holderness & Bourne on Tour this year.
Founders Alex & John were nice enough to give us an insightful look into their brand.
What is the history of Holderness & Bourne?
AH: The idea for the brand was born out on the golf course at Yale. John and I were grad students in the business school there, and ended up playing a lot of golf. The university's course is a scruffy old Macdonald / Raynor gem and we took full advantage of it. As we got to be friends, we realized that we shared an appreciation of classic style, and agreed that something was missing in golf apparel. After business school, we were working in finance back in New York City, and kept in touch over happy hours and weekend rounds. The conversation often drifted back to our idea for a golf lifestyle brand that blended classic style with a more modern approach to fit, versatility and branding. So one day we decided to do something about it, and started visiting fabric mills and cut & sew factories to learn how to make things. We prototyped for almost a year and then launched our first collection in the spring of 2015. The response was strong – we sold out of everything, got into some great pro shops, and then tripled revenues and sold out again last year. We are still a small brand, but it has been fun to see some solid early momentum.
JB: Alex and I were buddies from business school. After graduating, we both had jobs in New York City, following the usual paths, but we also had an entrepreneurial streak. Holderness & Bourne was founded over several bourbons at The Old Town Bar in Manhattan. As we discussed our ideas, shared passions and values, we wondered if we could build a career around them. We started with a single shirt design that was classic in terms of style, modern in fit, and featured a more structured collar similar to what we were used to in our dress shirts. Having no apparel background, we started by kicking around New York's Garment District on nights and weekends, trying to figure out how you turn an idea into a physical product. After about a year of prototyping, we incorporated the business and launched our first line.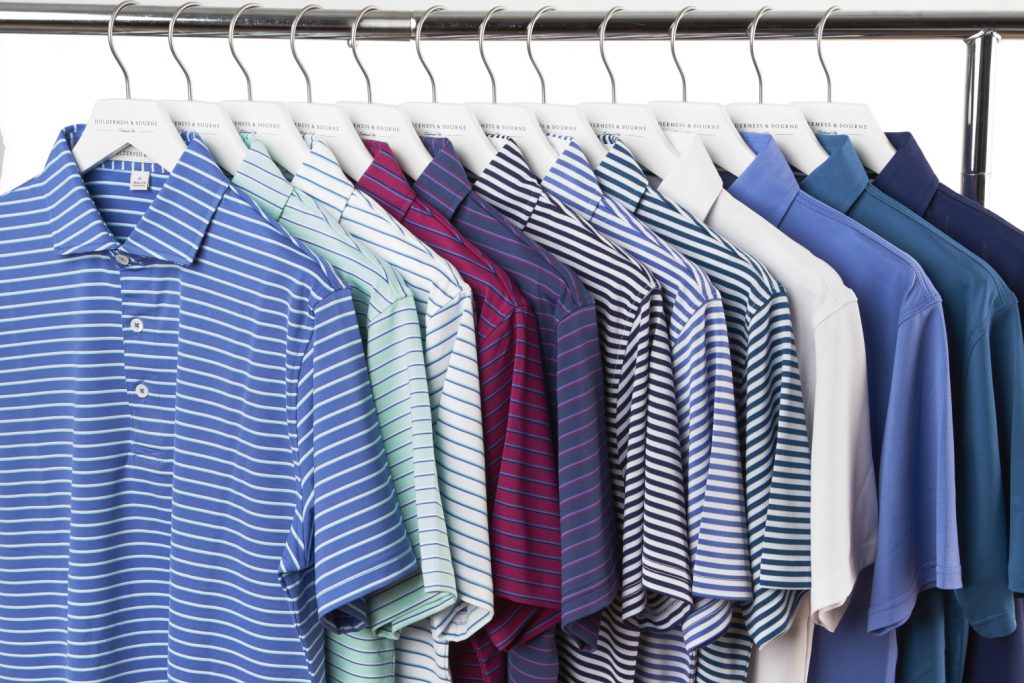 What made you want to get into the golf apparel business?
AH: We just knew that there was a real opportunity to bring a fresh brand into the game. There was this gap between the old school labels, which weren't offering the more tailored fit we wanted, and the labels targeting younger golfers, which tended to offer loud, hyper-athletic designs and too much overt branding. We appreciated what brands like Ledbury were doing outside of golf, and thought we could bring a similar approach to this corner of the market given our familiarity with it.
JB: We couldn't find polo shirts that we wanted to wear, or a brand that was speaking to guys like us within the golf market. We already knew a lot about men's apparel just on the hobby level, and the more we learned about the industry the more interesting it all became. We decided that the opportunity to build a new brand was too good to pass up.
What makes H&B unique? What is your niche?
AH: What we've learned so far is that we are solving a real problem for certain guys. They want understated good looks without sacrificing on fit or having to wear a logo they wish wasn't there. A quick point I would make about our fit is that it's a slimmer cut in sizes small and medium, but then gradually relaxes out in the larger sizes. So bigger guys can still wear the brand, and plenty do. Because of blogs like yours, they often know more about good apparel design, so they appreciate details such as our structured spread collars, genuine shell buttons, chrome zippers on the sweaters, that sort of thing.
JB: We have a nuanced but very specific point of view on style. It is fine to dress a bit bold, but that doesn't mean you have to dress loud. As most guys implicitly know, you never want to look like you're trying too hard. We have no use for garish prints, neon colors, or overt branding. There are brands that understand this but fail to appeal to the younger generation of golfers (by which I mean guys in their 20's to 40's…we are in our 30's) with the fits they offer or the tone they convey. There is another crop of brands who, in trying to appeal to a younger demographic, miss the mark entirely on style. Our aim is to fill that niche in the middle.
Who are the icons of style that you use at H&B?
AH: Within golf, it's legends such as Hogan, (Harvie) Ward, Ballesteros and Palmer in their prime playing days. Sharp, tailored, classic. Bold without being loud. Beyond golf, it's McQueen, Sinatra, Grant, Redford. The guys who made it look easy.
JB: Looking back, you have to respect the casual elegance of players like Hogan, Palmer, and Nicklaus. How they dressed was an extension of how they carried themselves – as gentlemen. Fabric technology has progressed and consumer tastes have changed since those guys were in their prime, but the same premise applies as it relates to building a wardrobe.
Who is the H&B customer?
AH: Our customer tends to be a guy in his mid-twenties to mid-forties who has made his way in the world a bit, and now appreciates the idea of owning fewer, better things. He has grown out of wearing critter logos or pretty much any loud, overt branding. He wants a classic look, a relatively tailored fit (without going too far), comfort and versatility. He wears Holderness & Bourne shirts, vests and sweaters because they deliver all of those things and don't look out of place when he leaves the golf club. He can wear H&B to work on a casual Friday, and all weekend long…whether or not he is lucky enough to be teeing it up.
JB: Like I said before, the H&B guy is most likely in his 20's to 40's. Maybe he just joined a club, or is considering it. He is starting to figure out exactly how he likes to put himself together and he takes pride in looking proper without being fussy or stuck up about it. He doesn't care to advertise for the brands he wears, and is tired of critters and other brand logos. He wants the best version of whatever he is after, and makes his choices carefully. At the same time, he doesn't take himself too seriously and just wants to be comfortable and have a good time.
Describe your golf game(s).
AH: I played a lot growing up in North Carolina and still lean on that experience because I don't really have time to practice at all. Fighting a hook all my life has left me with a reliable but boring fade. I used to be annoyed if I didn't break 80, but these days between work and diaper duty at home, I am happy just to get a round in.
JB: A work in progress. I grew up playing a bit here and there, with my dad, with friends, but I was never a competitive golfer. It wasn't until business school that I started to take my golf game more seriously, so there is still a lot of work to be done. But that is part of what I love about the game – you are never finished, you are always learning and refining and hopefully improving. The same can be said of anything worth putting effort into – your business, your marriage, your family. Stasis is death, you keep progressing because the next step is worth the effort.
What are your favorite course(s)?
AH: I spent my twenties living and working in London, and was lucky enough to play some of the greats over there. Royal St. George's and Rye are a couple of my favorites, not only for the links style of golf but also for the old traditions – two-ball foursomes, coat and tie lunches between rounds, always a couple of glasses of kümmel. Sunningdale just outside of London is also way up there on my list. Here in the U.S. I would say National Golf Links of America and the courses at Bandon are hard to beat in terms of playability and fun.
JB: Alex and I have had a lot of good times at The Course at Yale and in many ways the brand was born and nurtured there. It is also a great example of what golf should be, and what our brand strives to be – bold, classic, and not too fussy.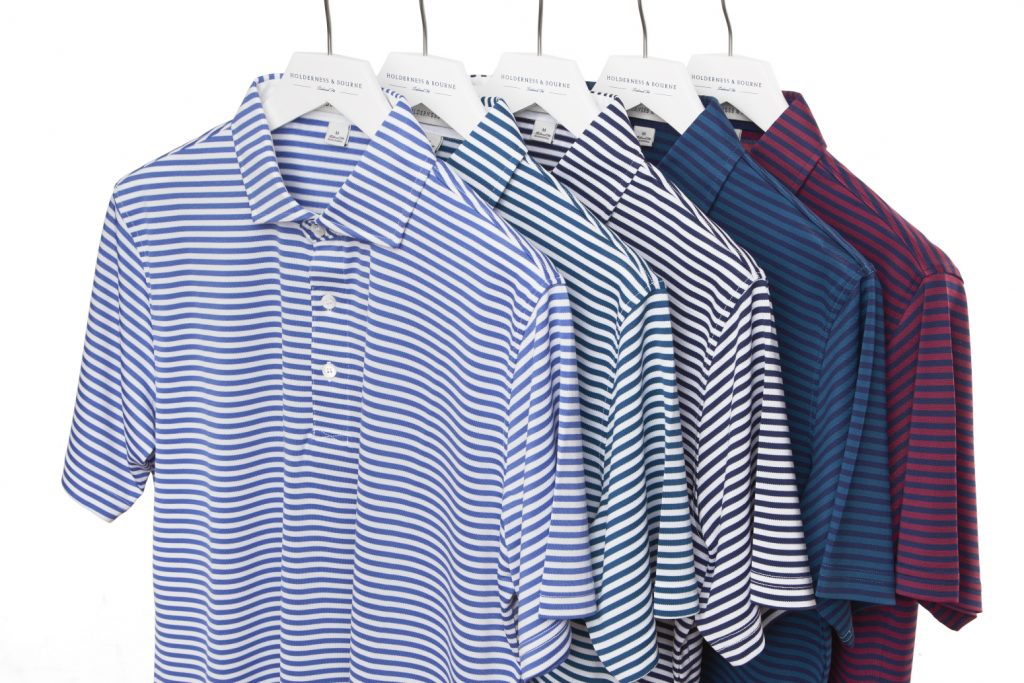 What is your position on hybrids vs. 2 or 3-irons?
AH: I've traded in my 2-iron for a hybrid, but I can't say I'm proud of it. I doubt Hogan would approve.
JB: The purist in me hates the concept, and I have never hit them that well. Those things might be related. Hybrids just don't suit my eye. I don't bag a 2-iron…one day maybe. But a well struck 3-iron with a five yard draw that rolls up close to the pin? That is about as good as it gets in my book.
What other brands have your attention?
AH: Living in New York City makes it easier to keep up.  I'll swing through Barney's every now and then to see what Drake's, Orlebar Brown, Isaia and others are doing.  I've been a Paul Stuart customer for a long time now and admire the way they push the envelope on design and color, but never cut corners on fabric or workmanship.  Walking through that shop is never boring.
JB:  I focused on newer brands because you know all the classics as well as anyone…
Jack Erwin – decent shoes featuring classic silhouettes at a fair price.  I have some suede Chukkas and some drivers that are pretty good, esp for the price.  If you can't spring for for a pair Crockett & Jones or Alden's, these do the trick.
MeUndies – Kind of a weird one, but of all the brands supposedly disrupting their category, I think these guys make a markedly better pair of drawers.  They do wacky designs, but I keep it simple.
Olivers – Ron from Pebblehurst turned me on to them.  Best shorts I own.  Nylon spandex blend that does not look or feel too techy… As long as they stay in their Athletic Wear swim lane, I am a fan.  Cooler that Lulu and better than Rhone.
Besides running H&B, what do you guys like to do?
AH: My wife and I had our first child last year, so weekends look a lot different now. I love it though. Our son is an adventurous little guy and I just try to keep up. I can't wait to get him swinging a club.
JB: As much as possible, I like spending time at home with my wife and our dog Juno. Simple things – cooking, drinking good wine, watching some crap TV series. I try to perfect my at-home Manhattan during the winter and Negroni during the summer. I do my best to stay active – run, bike, race the occasional triathlon. Hot yoga is a thing I would recommend for any golfer looking to improve flexibility, balance, and core strength. Once you get over the original stereotype and awkwardness, it has some pretty amazing health benefits. And of course golf – I am always thinking about my next round, or taking five minutes to challenge Alex to a chipping contest in the office. We have a decent little set-up involving a coaster and our wedges, which keeps things light when the stress levels start to rise.
The good news: Holderness & Bourne is completely restocked with new styles and gear to up your golf attire.  Head over to holdernessandbourne.com to stock up.