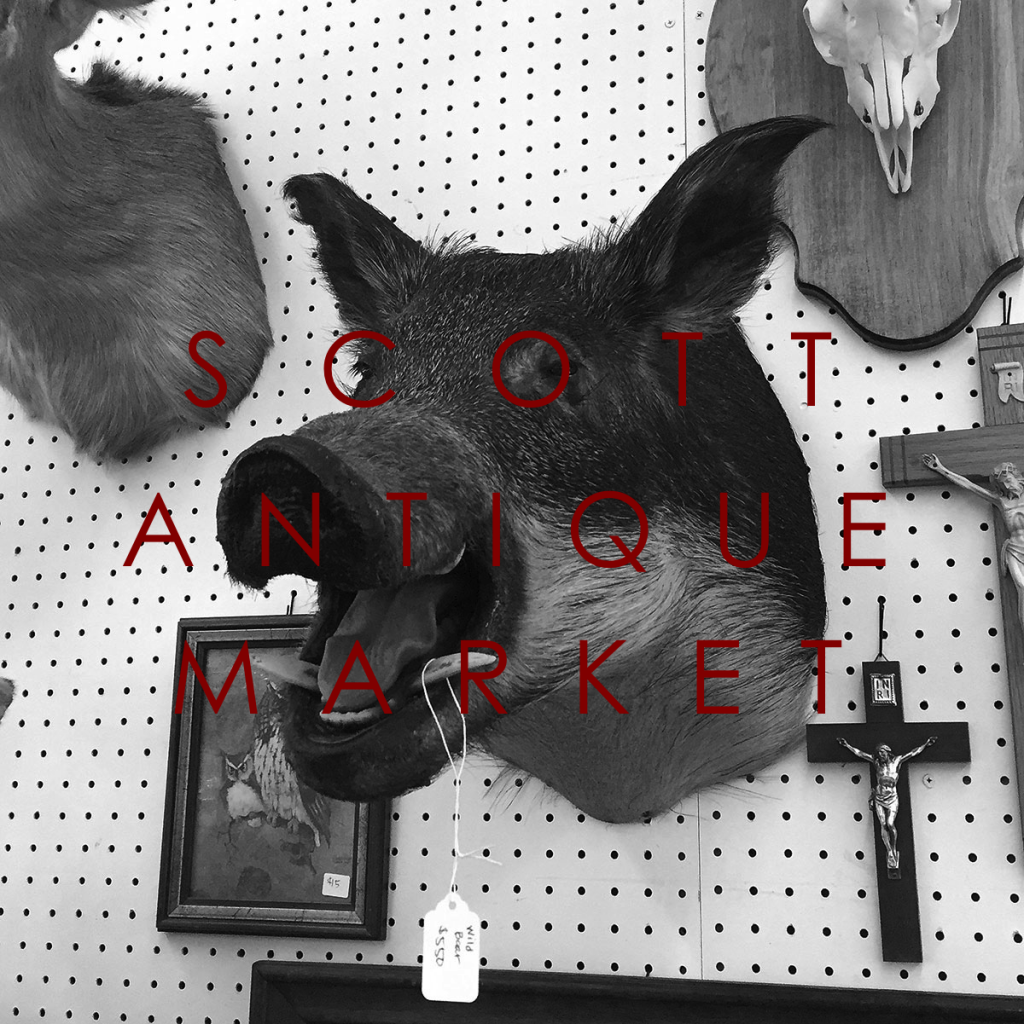 Mrs. RCS and I made our way down to Scott Antique Market for the March stop in Atlanta.  We had a few things we were looking for (and found success! – More on this later), but as per usual, there were some GREAT finds.  Here are the goods:
There was a good collection of Peter Kiels…we didn't leave with any this time, but we were VERY close to buying the two on the left.  I really dig the vintage frames:
I like anything with a crest.  I have never seen a rowing club paddle(?) like this…if I wasn't such a fan of outboard motors, I would have brought this home.
I wish my house had a peak so I could affix this weathervane.  How cool is this duck?
I tried to talk Mrs. RCS into buying this for her home office.  It had a little too much 'aftermarket' flare, but it was nice.  A little overpriced for a pseudo-vintage.  Too much lipstick on this pig.
Vintage decoys.  Super cool.
Taxidermy.  Check out the coyote!!  Looks like the Jupiter Coyote logo…
There is a guy in the North building that does more cast iron that I've ever seen.  There is always a congregation at his booth.  Awesome stuff.
We see serving trays like this all over Scott.  Some are vintage China, and pretty expensive ($385), but there are some at all price levels.  Since Mrs. RCS loves to host, we are always keeping an eye out for these.  We decided that we are going to start a collection of serving trays, not only for us, but for wedding gifts, housewarming presents, etc.  We didn't get this guy, but it is a great example.
Vintage Fraternity paddle (I think that's Sigma Nu?).  Are these still legal?
Very nice vintage bamboo fly rods.
Vintage leather golf decanter.
Metal champagne bucket.  Room for ice (on the right), and room for the bubbles.
The best coffee tables ever made.  No way these didn't make it through the day.
Vintage Hungarian chest.  These are only $600 a piece, and super sturdy.
It'll tickle yore innards.  This sign was HUGE, and Mrs. RCS didn't agree that this would look incredible in our dining room.
No comment needed.
Box, monogrammed 'AC'.  Perfect condition, and only $275.
A very vintage humidor for the cigarellos.  I've never seen anything like this.
There was some GREAT pheasant stuff.  I keep wearing Mrs. RCS down on us needing some Pheasant action in our house.  She said 'you go kill some in November and we'll talk'.  I feel like she's kicking the can down the road.
These wall mounts were excellent.  About $200-$250 ea.  The one on the far right was in superb condition.
These wall decorations were incredible.  The vendor sourced them in Italy.  They were about 30″ tall, and looked like painted porcelain.  Outstanding, but at $1400 for the pair, a bit out of our kitchen decorating budget.
Now this bad boy is EXACTLY what I am looking for.  Table mount.  For the dining room.  Passed on this one.  Give it time…
Incredible.  An VERY well cared for.
The crown jewel.  Brass pheasant and marble desk set.  Very antique, and very expensive.  I'd rather have an old Land Cruiser…
I scored two finds…first, this antique brass valet.  I got it for a STEAL.  I was thinking about polishing it up, but now that it's at the house, I like the patina.
And this old silver box.  How am I going to pass on this…and an RCS monogram?  Here's your $24…
More to come next month…