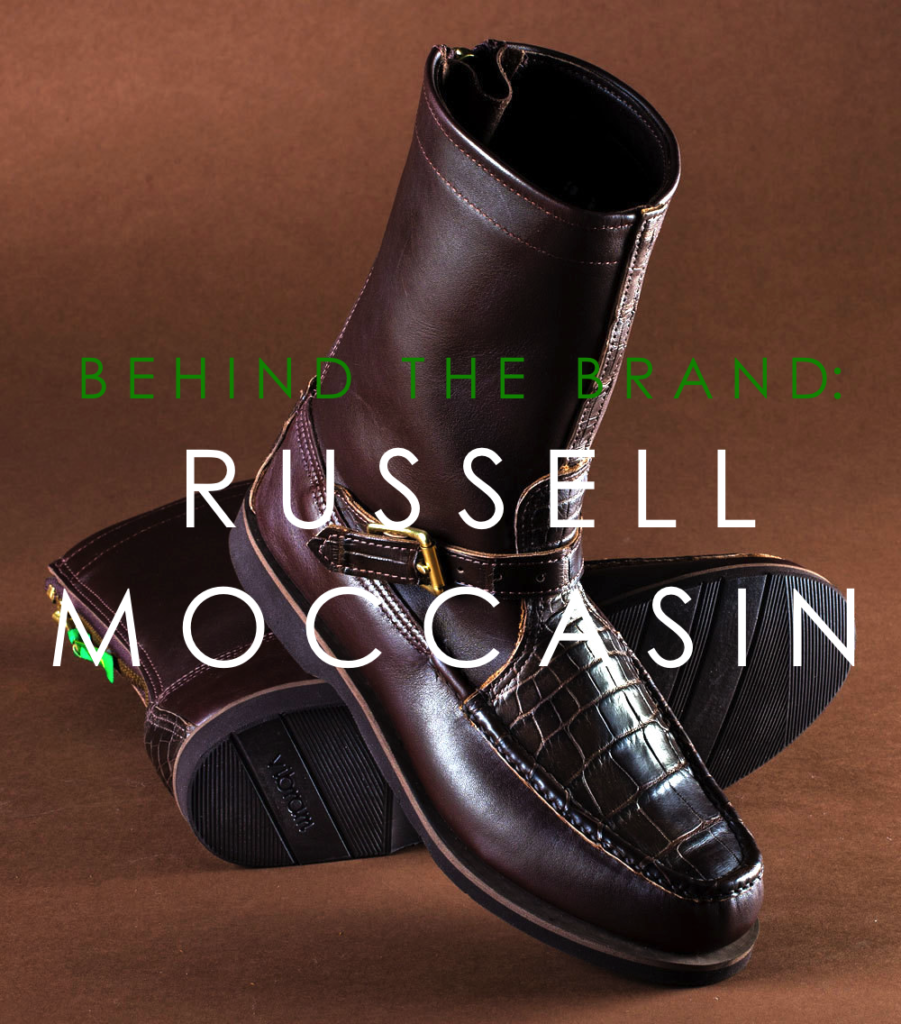 Russell Moccasin is a company that embodies all that is good.  A hometown, USA-made product that is built to last.  They rely on superior craftsmanship and word of mouth rather than slick marketing or cheap materials.  They've been around for 120 years, and their trajectory is still heading up.  From a company perspective, they are unique, but in an inspiring way.  It's very common to see Sue Fabricius, Russell's VP of Marketing and Sales, directly answering customer questions on Instagram/Facebook, offering her direct office phone numbers.
Reading the comments on their products is really interesting: you'll see that most customers end up with multiple pairs of Russell Moccasins.  There is lots of talk about fathers handing down their boots to their sons and grandsons.  They are almost viewed as heirloom pieces rather than footwear.  The price is the price, but quite frankly it's worth it.  Outbound TV did a great video on Russell Moccasin, where they take you through the process:
Sue and I recently had a chance to speak.  Mrs. RCS and I were trying to stay warm in Highlands, NC, and Sue was fighting a cold up in Wisconsin, but it was a great conversation.  I felt an excitement about sharing Russell Moccasin's story with all of you.  Sue was nice enough to do the 'behind the brand' conversation:
What is the history of Russell Moccasin? Custom Made for More than 100 Years. It's hard to believe that the famous hunting boots worn by presidents, generals, kings, movie stars and hunters the world over, have been hand made in the same rustic, vine covered building on Franklin Street in Berlin, WI, for more than 120 years. But it's true!
The Russell legend began in 1898 when Will Russell hand crafted his first pair of boots for the then booming Wisconsin logging business. Hunters quickly recognized the value of the Russell hand sewn product…thus a legend was born.
Young Bill Gustin(my grandpa) joined the company in the 1920's as a traveling salesman. Armed with a degree from Ripon College and a keen interest in the outdoors. Gustin spread the word about the wonderfully comfortable, handmade moccasin boots from Russell. W.C. Russell sold the company to the Bass brothers from Texas in 1926. Gustin managed the company for the Bass Brothers for a few years and purchased the company himself in 1928.
The rest is history. Gustin, a competitive trap and skeet shooter, hunter, fisherman, foresaw the needs of sportsmen and set out on a path to provide sportsmen with the finest hand lasted boots and shoes that human hands could make. In the early 1930's he introduced the now famous Russell Bird Shooter plus a line of oxfords, loafers and casual shoes.
Bill Gustin ran Russell Moccasin for 55 of its 120 years. Gustin was joined in the business by his son-in-law, Ralph "Lefty" Fabricius in 1956. Gustin passed away in 1994 at the age of 95! Today, Russell Moccasin is currently run by President, Ralph "Lefty" Fabricius who is 88 years young, followed by his daughter Suzanne "Suzie" Fabricius ,VP of Marketing and Sales and Joe Gonyo, VP of Production.
What would you say are the best characteristics of Russell Moccasin? Comfort…..That it is true moccasin construction. Your foot is cradled like a hammock thus allowing your foot to be free without any restriction of your toes. It is comparable to walking barefoot. Our customers say they feel like slippers and they don't want to take them off, even after wearing them all day! Quality…..they last forever, can be refurbished and resoled.
How would you describe a Russell Moccasin customer? Our customers recognize quality. They recognize craftsmanship, the history of the company, 120 years of being made in America. Hard to fit outdoorsmen/women who sport very narrow, very wide, very large or very small feet. Add too, the outdoorsman/woman who wants the very best money can buy. Avid hunters, professional hunters and guides who demand the best in mountain footwear, safari shoes, bird hunting boots are… as are men and women of all walks of life who know the value of high quality, comfortable, custom fitted shoes and boots. Hipsters love to take our product and make one of a kind styles for themselves.
What is your biggest seller in the Southeast (Georgia)? Double Moccasin Bottom Zephyr or as they call in the South "Zephyr II"…. Hands down.
Describe the experience of being a 100% Made in the USA company. Being 100% American made is becoming more and more difficult because we have become an instant gratification and throwaway society. Our company makes a quality product that lasts for years/decades. We make a product that can be rebuilt, resoled etc…Something that is refreshing to see is the amount of young people in their late teens to mid-40's purchasing our product. It's great to see the younger generation valuing an iconic American made product that their Granddaddy or Father wore/wear.
Why is Wisconsin the perfect place for Russell Moccasin? We've been in Berlin, WI for 120 years. It was ideal because of the German and Polish immigrants in the area. Their work ethic and their craftsmanship were bar none. Because of this, Berlin become known as the fur and leather city.
What is the best part of working for Russell Moccasin? We have the best customers in the world and we truly believe we make one of the best handcrafted, custom made products in the world.
What's on your playlist? A little bit of everything:
Year of the Cat….Al Stewart
Glorious…Macklemore
Back & Call….July Talk
Sweet Jane…Cowboy Junkies
Shape of You.. Ed Sheeran
Magic Man…Heart
Evil Woman…ELO
Whenever, Where ever…Shakria
Dirt on my Boots…Jon Pardi
Titanium/Pavane…The Piano Guys
More to come on Russell Moccasin…lots of good stuff here.  Are you a Russell Moccasin wearer?  Send us a picture of your boots and a little dialogue and I'll post it below.