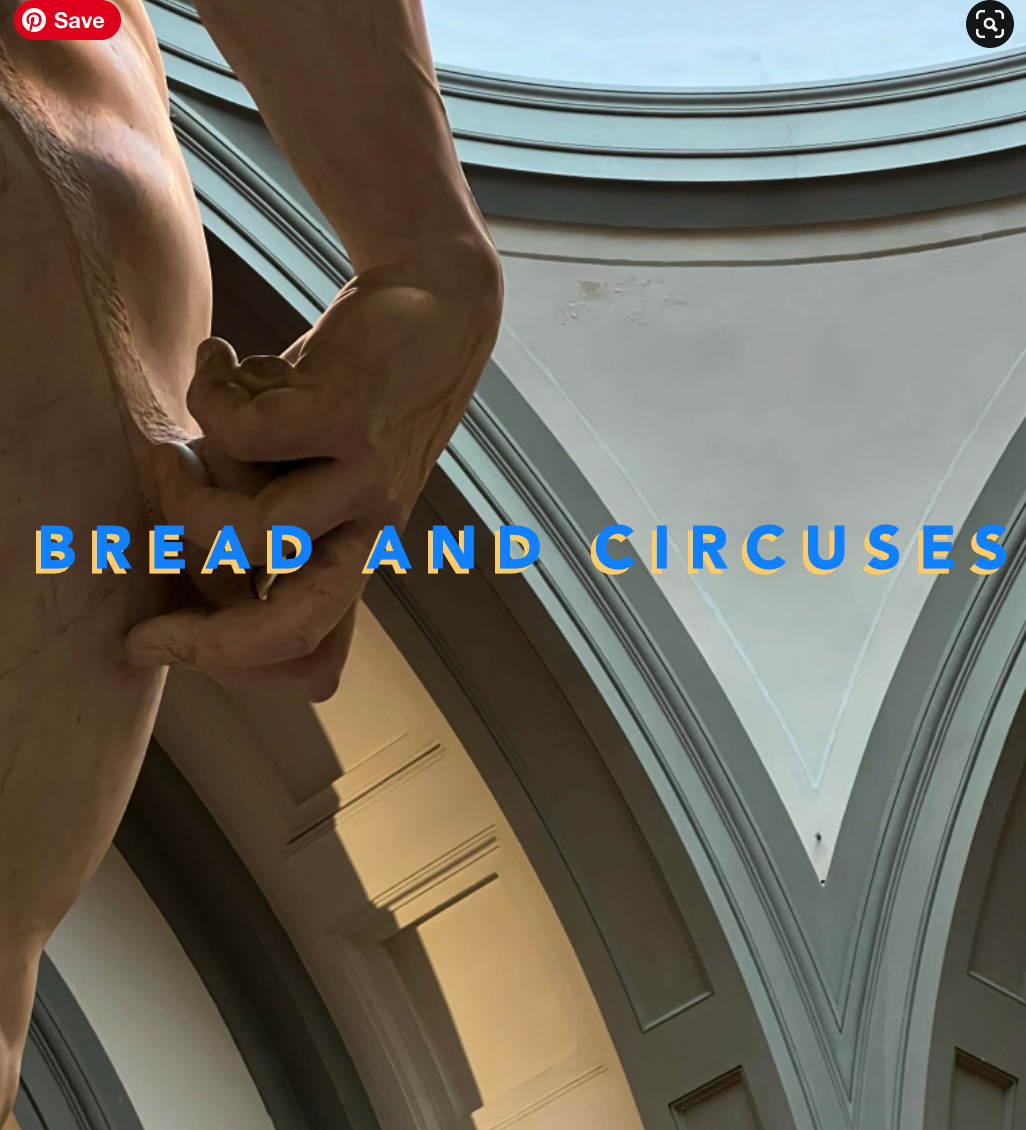 …nam qui dabat olim imperium, fasces, legiones, omnia, nunc se continet atque duas tantum res anxius optat, panem et circenses" Juvenal. Satire 10.
"…for that sovereign people that once gave away military command, consulships, legions, and every thing, now bridles its desires, and limits its anxious longings to two things only: bread and games of the circus" Juvenal. Satire 10.
So, we went to Italy
A wonderful trip
The 50th Birthday present from me and my wife to me and my wife
To paraphrase Ferris Bueller, it is so choice. If you have the means, I highly recommend it
We weren't looking for grand entertainment at any point in our trip, but, we got it
One evening in Florence
Bread and circuses
Apertivos and acts
Upon our arrival in Florence, we were whisked away to our hotel on the Arno River overlooking the Ponte Vecchio
I took the above-picture immediately upon arrival in our riverside room
The view stunned, even in the rain. The pouring rain. The monsoonal rain. The driving rain. The cats and dogs rain. Rain so hard that the concierge apologized like he could do anything about it kind of rain
We had a walking tour of Florence scheduled
Which we took
In said downpour
With umbrellas and rain coats
Stops by the Palazzo Strozzi, where Donatello, the Renaissance will be exhibited until July, the Palazzo Medici Riccardi with the capella portraying Cosimo, Lorenzo, and crew as the Magi, the Duomo, the Baptistry with the Gates of Paradise, the Giotto designed Campanile, the Piazza Republica, the Porcellino, the Old Bridge
And, of course, the Galleria dell'Accademia to see David, the Slaves, and St. Matthew by you-know-who
Two plus hours with our guide Angela, former marketing executive for Gucci under this American dude named Tom Ford
Maybe you've heard of him? IDK
She's now a licensed guide, which is, come si dice, "BIG DEAL"
She was not a name dropper, but I did ask her about her schedule in the last two years. Her last guided tour before Rona was for the Board of Trustees for the Getty
Wait, the Getty in Los Angeles?
Si si si
So, there we two Sandlappers were walking around Florence with the lady who probably gives the Queen of Norway tours when she's in town
After two plus hours we parted ways with Angela, telling her we would see her again on the following Tuesday for more Florentine fun
We parted ways right across the Ponte Vecchio
Ciao!
Ciao!
And, it was back to our hotel to get out of the soggy clothes
By then, it was almost 5 p.m. and the sun was just starting to peek out under the clouds heading towards a beautiful sunset west over the Arno
Golden Hour
Ora d'Oro
More importantly, by then, it was almost time for an apertivo, the most delightful of Italian inventions
A drink
A few nibbles
To open the appetite before the evening meal…since apertivo means to open
Leisurely
One or two drinks before supper
We call it cocktail hour, but apertivo sounds so much more, well, civil
After changing into drier clothes, I began to see what was close to us
"There's always downstairs"
Yes, always
We're big fans of hotel bars
But, we're in Florence
Itt-lee
"Hey, how about Harry's Bar across the river?" I asked
"Oh, hell yes" came the reply
A quick walk across the Ponte Sta. Trinita and west passing the baroque ain't no joke Palazzo Corsini and onto Lungarno Amerigo Vespucci. The Vespucci were Florentines
We had to go
It's on America's namesake's embankment on the river in the style of an American bar
Andiamo!
With the rain having cleared up, we sauntered north across the Holy Trinity Bridge, then west along the Arno until we reached the bar
Into the pink-walled and pink tableclothed main room. Highly polished parquet floors. Dark wooden bar lined with every bottle imaginable. Well uniformed staff smiling as we entered
Buona Sera
Due, por favore
Ushered to a table to the right off the bar. Inside were the maitre d', the bartender, one waiter, ourselves, and four patrons seated at the bar
Four patrons seated at the bar
Four patrons kind of all over the bar
Two men
Two women
Sort of draped all over the bar
Sort of draped all over each other
The men in bear hugs with adamant expressions in Italian of whatever it was they were saying with the certainty of the drunken
The women giggling their conspiracies
Then looking at the men and giggling some more
Then one of the men leaning back and almost falling of his barstool with sweeping gestures across the room and belting out "Ragazzi…." with no follow up
Then, "Andiamo!"
No one moved
The bartender came to hand us drink menus and said, "Buona sera. Come sta?"
We replied with our full Italian vocabulary, "Bene"
He then said, "I must apologize; they have been here since 12 hundred"
It was now 17:30
We knew we were in for a good show
Apertivo and acts
Bread and circuses
And what a show
Our "Ragazzi" exclaimer hugged the other man, hugged both women, went outside for a cigarette, came back in with a cigarette, ordered Gin and Tonics for his whole crew, ordered Tequila shots for his whole crew, patted one of the waiters on his face, patted one of the women on her bottom
At one point, he violated all decency by grabbing one woman's chest and exclaiming "I miei meloni!"
Oh boy
She probably wanted to say, "Me tooi"
Even we knew what he meant
She slapped his hands away
Moments later, he shouted, "Andiamo!" again and made for the door
He laughed at his victim
She did not laugh at him
He kept shouting, "Andiamo!"
No one was leaving, especially him
Like the stage directions at the end of a famous absurdist play
The absurd and the sublime
Speaking of the sublime, being at Harrys – cousin of the famous Harry's in Venice – my bride ordered a Bellini
I ordered a Manhattan
It being Italy, chips, peanuts, pistachios, olives, and two perfect bites of shrimp covered in a pink aioli accompanied the drinks
They were wonderful. Looked something like this:
Would that we would serve such nibbles with drinks in our watering holes
So civil
So easy
So worth the price of the libations knowing food will always be involved
Other patrons began to trickle into the bar
Another couple who ordered "cocktail martinis" in Italian. Guess that would be versus the "breakfast martinis" or "coffee break martinis"
Two young ladies who ordered Bellinis themselves
The waiter came by and apologized again
"They are local. He comes here once a month. Tomorrow is Liberation Day, so no one is working"
Anniversario della Liberazione d'Italia, Anniversario della Resistenza, or 25 Aprile. Call it what you will, Ragazzi. Just a good day to get tore up from the floor up
As only the truly smashed say to one another:
"Te amo"
"Te amo"
"Te amo"
"No…no…no.. TE AMO!"
Drunk people in every language often tell their drinking buddies how much they love them
I LOVE YOU
NO! I LOVE YOU
In vino veritas
No difference on the Vespucci Embankment than on Bourbon Street
Our drunkest pal, the most entertaining pal, who was indeed a happy drunk, who was indeed an assaulter, who was indeed obnoxious, who was indeed drunk, ordered another round of drinks
The bartender, maitre d', and waiter all shook their heads
"No" said the bartender
"Si si si" said our drunken neighbor
"Mi dispiace" said the bartender. We knew enough to know that meant
I'm sorry
But he wasn't
Our old sot then stumbled from his barstool and back outside
His friend, the man, followed
The women, looking horrified, also followed
We have all seen this part of the opera
Immediately, all four came back in with recrimination and finger pointing
I don't know what was said, but I imagine, "Do you know who I am?" or "I'm in here all the time" or "You can't do that to my friends" or "Y'all…I mean..come on"
He sat back down on a bar stool and it was clear he was not going to be upright for long
Seriously
Because his pants had started to fall below acceptable limits
Even in Europe
Allora: looka here
That was the view over the potato chips
At least for a minute until our entertainer was asked to leave once and for all
"Scusi…" he said and then left
Only to burst back into the room seconds later
We've seen that scene in the opera, too. That last grasp. That quick run of the strings and double time timpani. With cymbals clanging
Mimi in the snow
Radames and Aida in the tomb
Violetta alone in her room
Calaf kissing Turandot
Porgy leaving for New York
This opera ended differently: three grown men blocking another grown man then showing him the door
Uscita ——>
The waiter came to our table to apologize, again
"No need," I said, "This show is great"
We ordered another round of drinks. The Italian couple near us winked and smiled as the Florentine fool finally left the room
The bartender came to apologize, again, "We don't usually have this type of behavior"
All the ragazzi were so apologetic
But, it's not often tourists get a show for free
Drinks and drunks
Bread and circuses
With only one clown
G. Hamlin O'Kelley is an RCS contributor and a fine gentleman.  We're lucky to have his work grace our pages.