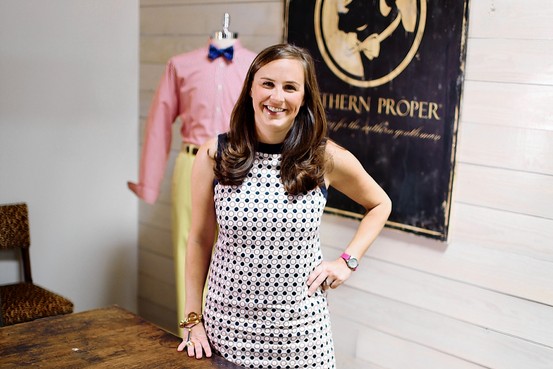 I've said it before, but it bears repeating – one of the best parts of running Red Clay Soul is getting to meet all the great people that are involved in the industry.  The absolute top of the heap has been Emmie Howard of Southern Proper.  The first time I met Emmie was at a trunk show at H.Stockton about five years ago, and I'm so proud to say that she is still a good friend of mine today.  She is one of the best people I know, not only as the leader of her brand, but as a person.  I have tried to be as supportive of Emmie and her business as I can, and she and the rest of the Southern Proper ladies are so supportive of my ventures.  I'm a lucky guy to know her.
I've written about Southern Proper at length.  Their products are great pieces that keep the theme of aspirational southern lifestyle, and her brand is experiencing tremendous growth.  She has been featured in the Wall Street Journal (image above) talking about small company's'  successes.  Not only did they recently move into a new headquarters (a really cool space…more on that soon), but I've seen their Fall product guide, and it's going to blow you away.  Southern Proper is not only maturing as a company, but they are starting to be a leader in the space.
The last time we did a piece on Southern Proper was some time ago, so I thought a 'catch up' was in order.  Here's what's going on with Southern Proper:
How's business? Our Business is Well-Heeled and Teed Up for Unbelievable Growth! For years we've worked on building an authentic brand that truly reflects a lifestyle we all love. This year you'll see tremendous expansion in our product offerings, as well as partnerships with great Southern icons and stores that only enhance our originality and heritage.
What have you learned over the last two years? Business is in the details! We've tried to focus on improving our business through the "little" things! Putting more social in our brand, paying attention to the customer's needs and making fresh distinctive products. We're trying to do less Selling and more Helping! We feel that in today's society, service can truly differentiate you from your competitors. That's why you'll always find hospitality and kindness as the cornerstones of our company.
"If it's not Southern in its roots, Its not Southern Proper"
How has the industry changed since Southern Proper started? Southern Proper was started on the forefront of the "Chic-Southern Trend". We've always known that the South was special and that people all over the world adored its charm. Over the past 7 years, we've seen every type of "Southern" company pop up in the traditional clothing market as a result of this. We have remained persistent and hang our hat on being the Original and #1 Southern Clothing brand.
The industry has also truly changed men's clothing by bringing in a younger, new customer. We are finding that our customer base is expanding beyond the young adult and fraternity set to that of the high school age. That's why its so important for us to put Social in our brand!
How has Southern Proper changed in the last few years? Our growth in product depth has absolutely been a big change over the years. We've gone from a neckwear and accessories company to a full blown clothing line. However, we have adopted the motto "If it's not Southern in its roots, Its not Southern Proper'! We want to make sure everything we offer is designed for aspirational southern living and serves a specific southern purpose.
What excites you most about Southern Proper? Everyone at Southern Proper, from the interns to our investors, are involved in the development and vision of our company. We all believe that looks do count and manners matter more. Our team is growing with our success and includes some of the brightest, most talented and southern folks you'll ever meet. I get excited to work with them every day and THEY teach me!
Eleni, Emmie, and Ansley with the Red's Outfitters guys (Instagram)
What is your all-time favorite Southern Proper piece? Cotton Boll Tie. It will always remain a staple in our line as well as a reflection of my family!