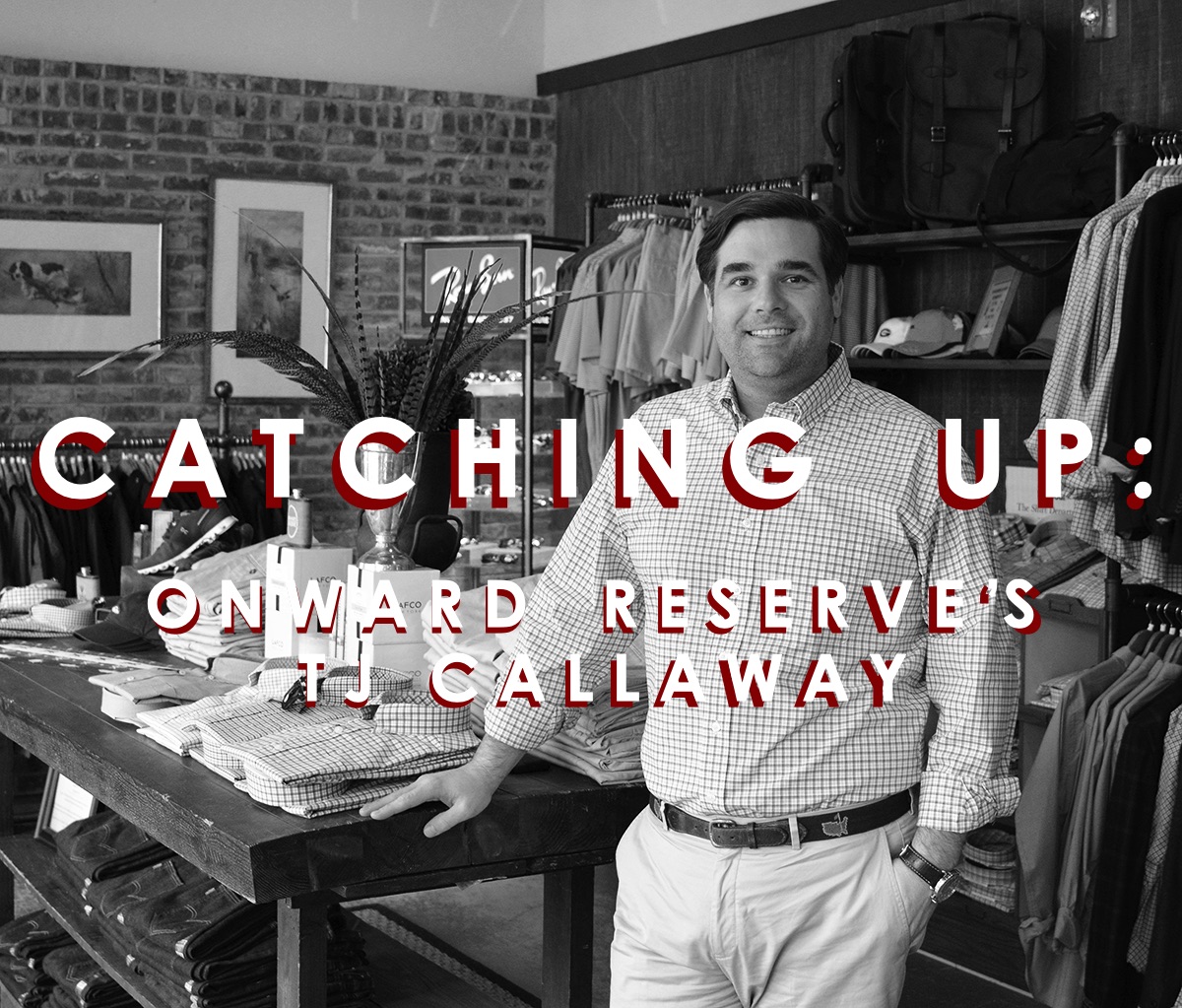 I remember when I first heard from TJ, back in ~2010.  At the time he was running Five Mile, and looking to get the word out.  Our first phone conversation lasted about an hour, as we figured out pretty quickly that we had quite a bit in common.  Besides the Dawgs, being Georgia born and bred, and a handful of mutual friends, we were both really interested in the menswear space, branding, and the "southern" culture.  Our friendship has grown since then…two weddings, three (almost four) kids, some houses, a couple dogs, and an entirely new company called Onward Reserve, and here we are.
Anyone following Onward Reserve has watched the company grown from their first store in Athens to locations all over the Southeast and Texas.  What I like about OR is that each of the stores has their own feel, but is consistent with the brand.  Quite a big of their store real estate now houses Onward Reserve-branded merchandise, and their online presence is a clean, concise look that makes shopping easy.
TJ was nice enough to sit down and give me the low down on what's going on over at Onward Reserve:
How would you describe Onward Reserve's journey over the last several years? We have continued to grow our collection as well as our store and digital footprint, but in a slow and controlled way so that we don't lose quality or consistency. It is really exciting to see how far we have come with our collection. It has doubled in size over the last couple of years. We have expanded our core programs like shoes, button downs, golf shirts etc. We have added more colors of our best selling 5 pocket pant. We have added more selection to almost every category including a lot of new accessories like bags, wallets, belts etc. We have also added some collaboration pieces which is fun.
Onward Reserve has a unique look and feel, and you've been able to capture that in all of your stores. Why is it important to keep that consistency? I would rather be the first choice of a few than the second choice of many. You know pretty quickly when you walk into an Onward Reserve whether you connect with the brand or not. The first store in Athens reflected my personality and I don't think that has changed with any other store. It is important to me that we stay authentic. Dallas (Snider Plaza) and downtown Clemson, SC are the two stores we opened last year. They are both awesome locations that feel right to me. In addition to being consistent with my personality and lifestyle, both of these stores also have their own identity. My vision was that we would never have two stores that were alike, and we are holding true to that vision. Every store is worth a visit because they are all different.
How has menswear changed over the past couple of years? I really try to focus on what we are doing here at Onward Reserve and don't worry too much about what other people are doing. It is most important to me that we are staying in touch with our customers and evolving to meet their needs. One way we have done this is making it easier to wear Onward to work. We have upgraded our sport coat program in a major way and have added stretch cotton button downs and a new stretch chino as well as another style in our Pace loafer collection. This takes Onward Reserve into the office with our guys who work in more professional/traditional environments. These items are very consistent with the Onward Reserve collection, just a little dressier.
Have you seen any changes in your customer base? There are more of them, which is great! Onward Reserve wasn't born in some branding think-tank. It was born out of my passion for a particular lifestyle. I know I am supposed to have a more concrete answer about who our customer is, but honestly I would welcome anyone who wants to come hang out. I am still humbled every time I see our products in the wild. There are guys of all ages enjoying our brand. Perhaps more importantly, ladies are still steering them to us. I hope it stays that way because it is an indicator to me that we are doing a good job holding to our lifestyle focused vision rather than zeroing in on one guy's demographic and trying to profit from him like other brands do.
What are some of your favorite pieces that Onward produces? We have some new stretch chinos that are AWESOME. Just got to stores last week. I have already worn them on the golf course and to work. Very excited about this piece. Very consistent fit to our other pants so order the size you wear in the 5 pockets.
Our stretch cotton button-down has been a great new piece bc it is more work appropriate than some of our other button downs for those guys who have more traditional workplaces.
I still wear our 5 pocket pant almost every day.
What do we have to look forward to from Onward? We will open more stores this year, but I am not ready to announce where. You might also see a very cool new concept in Athens that I can't tell you much about yet, but I can tell you it involves Bourbon!
…and I got a peek at the freshly stocked retail space in Buckhead:
There's a lot of good stuff happening over at Onward Reserve.