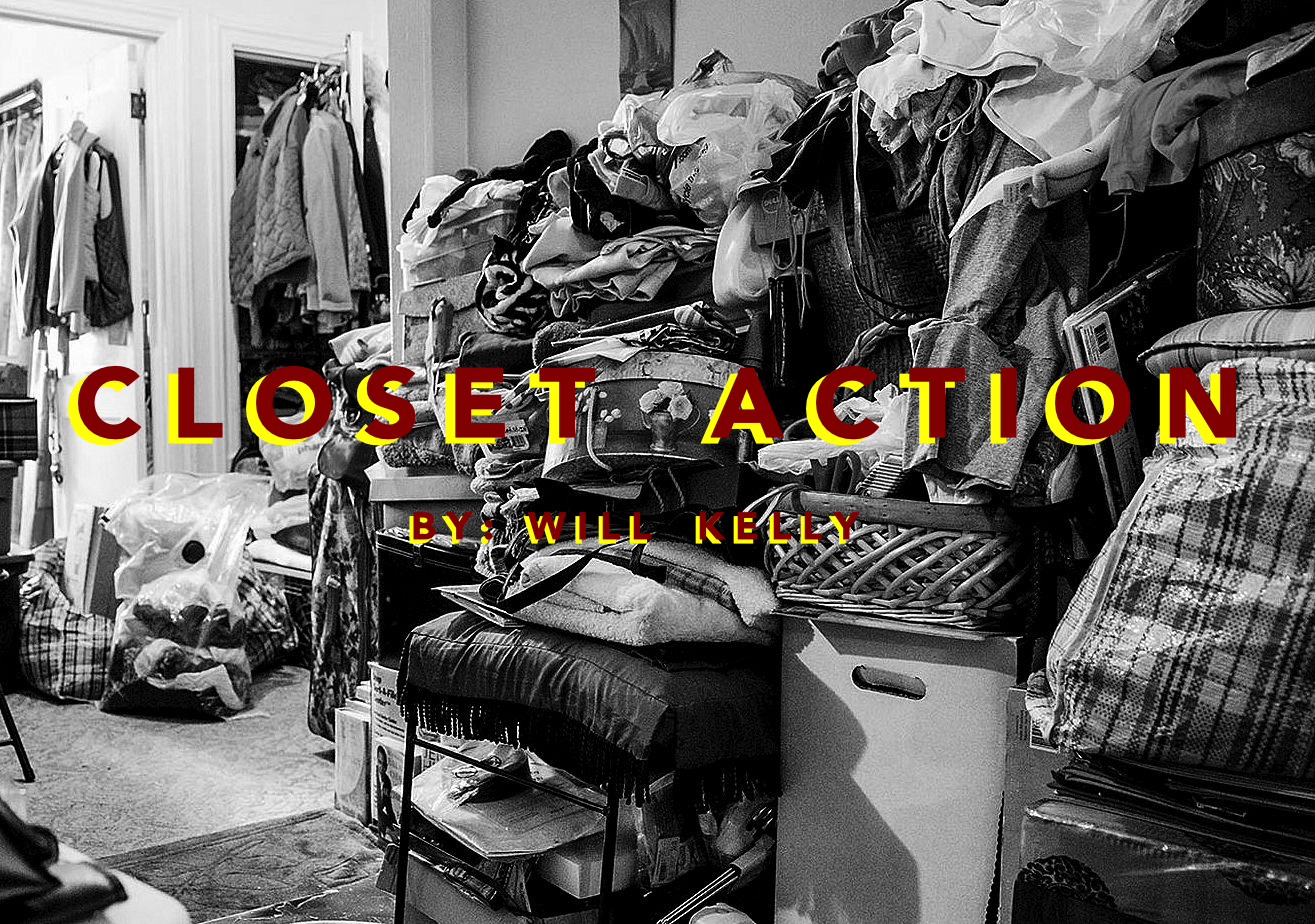 I organize my closet once a year. From experience, this means I'm going in deep and not seeing the sunshine for a whole weekend. Motivation to complete this task is never really set- just some whim when it becomes a wreck, the weather is bad and the calendar is empty. There are a few other factors: heavier clothing is moving around more and most of my hobbies that require certain dress have hit a yearly reset. Perhaps there is something in my soul that needs to redeem a resolution- but I confess, I'm not the most disciplined about this.
Through the years I've been entertained by my friend who runs Red Clay Soul, a fashion and lifestyle blog. He has a lot to say about apparel, but also a commentary about how to build and manage a wardrobe. A few comments by him entering the new year inspired me to be more intentional in my process. What I found after a long time organizing is that my wardrobe and personal effects are well… a deep reflection on how I live, think and exist. I knew confronting my "closet" meant shedding and culling. I am by definition sentimental- which lends to being the opposite of a minimalist. At the ripe middle age of forty-six, there a whole lot of lessons about the things I have amassed, consumed and taken care of. To say that I "cleaned a closet" is just a metaphor for a reflection on living.
There is a difference between fashion and style. There are tiers of formality within your closet. There are tiers of quality within your closet. I believe that advice from others and systems about how to organize a wardrobe can be helpful, but must fit into your value systems and style. I can look at the things that purged today, also the things that I was unwilling to part with, and get a good sense of my values and style. Reaching Zen-level minimalism will probably not happened for me. Oddly enough, a huge purge to Goodwill usually does not happen either. When I look at all the things I retire and repurpose there are commonalities and patterns. Clothing that I purchased or received as gifts that do not fit well- move on. Styles that I've never been comfortable wearing- out. Many of the things I chunked or got rid of today were lapses of judgment. Colors I would never wear, fashion details that may have had a moment, but deviated from the tried and true (for example, funny collars). At the end of the day, for me, classic traditional style reigns. The iconic pieces of men's style kept their place in the closet. Of these, the ones that had stains or visible wear were demoted to the "casual" side of the closet. If clothing was in tatters, in the rubbish, or cut into rags. (More on this later in "Cutting the grass in khakis and an Oxford cloth shirt".)
I am at a space in life when material things are weighing me down. I think we all struggle with this- but that intersection while organizing gives pause to measure what is important. I will say that for me, how I am dressed has always had an influence on my mood, comfort, and perhaps how successful my day will be. While that is not true for everyone- there are some incredible idiosyncrasies in what I chose to wear- at all times. This has always been about first and foremost how I see myself. Some people talk about fitting into their own skin- I include my choice of dress as part of this sentiment. I am not going to be the guy that takes the Steve Jobs road of style becoming ambient behind other attributes. This might fit into some of the new minimalist movements. I'm also not the kind of guy that lets current fashion, trends, and brands influence me. I think this sometimes drives the consumerism to replenish a closet yearly. I will say that all clothing is consumable- it wears, but so much modern clothing is designed with planned obsolescence. It is essentially disposable compared to finer quality garments of the past.
So what survived the purge?
Classically styled dress shirts and OCBDs, primarily without logos
Lots of tailored trousers in traditional colors. Many khaki variants, grays, and some that are specific to matching sport coats
Lots of off the rack cotton pants
A few pairs of blue jeans, all very middle of the road
A few pairs of "Bermuda style" shorts, some may call "club shorts", none of which are technical
Many many pairs of Standup shorts and baggies
About five graphic T-shirts, that I am very unlikely to wear- but might show up at the lake or on the beach
A handful of pique polos (most have a classic brand logo), a handful of golf-style shirts (call it what it is- they are all Criquet)
Lots of 3/4 zip fleece, lots of full zip vests
Bunches and bunches of suits and sport coats, bespoke and to me very sentimental
Bunches and bunches of ties
Only socks that are in top shape
Only boxers that are of one maker, size, and style that I've worn since I was 15 years old
The footwear that seems to be making the cut are all ones that should be able to last forever with a good cobbler, I don't think I own any shoes that have laces.
To say the least my wardrobe has continued to veer toward these values and trends:
Pay for the highest quality you can afford
Branding is for vanity, sometimes best makers have you pay for the name not quality
I am not a billboard for a brand, my style is my mark
Things become timeless because they pass the test of time
Where did all the "gear" go?
I'd say that between fly fishing, hunting, and an active outdoor lifestyle, there is a bunch of hobby specific clothing. I made the decision to move all of this stuff to another closet and keep it from blending into the daily rotation. This included a bunch of traditional hunting clothing, technical fishing clothing, lots and lots and lots of coats and jackets…. You get the picture. One of my big boy dreams was to have a closet like this, really a room fashioned like a lodge gunroom or boot rooms you see in English homes. I'm blessed to have a little private office that has been dedicated to this.
What did not survive the purge?
Bad decisions
Athletic and "technical" clothing
Lots of things I bought that almost fit, that I didn't try on or return, esp. web shopping- I have been the same size for thirty years- but sizes have changed. A 1995 XL is a 2020 L.
I have a confession to make:
I put a whole bunch of stuff in boxes and put them in the attic. Why? Because I've been around long enough to want things back again. I've been around long enough to see quality things come back around again. I've had a pretty consistent style, while I find myself out of habit using some things- they are sentimental or at least might have value later. Yes, this goes against what all the great closet organizing gurus tell you. But it's just me. On the off chance that my four boys end up my size and have the same style as me- they will be set when they go off to school. Not to mention—- how in the hell can you throw away a colossal hat collect, a box of cool belts, or fifty fraternity shirts??
Point Two: I tier my closet clothing into levels of formality, uses, and seasons- not just season alone. I eluded to cutting grass in an Oxford cloth shirt. I have a weird thing for collars, or better put- I always wear a shirt with a collar. I'm not the kind of guy that lives in a gym, but once I went and the trainer on staff laughed at me for working out in a polo shirt. Instead of having the traditional weekend knock-arounds— I move the clothes that are past an acceptable level of wear to one end of the closet. For example, for years I always wore the exact same Brooks Brothers khakis. When they didn't appear presentable enough, I always marked "retired" with a Sharpie in the waistband- same in the neckband button-ups and polos. I like to get dirty in the same type of clothing that I'm "fresh" in- but have to make an effort to keep the clean ones clean.
I have a thing for nice suits and sport coats. I always keep them in garment bags with cedar blocks in the bottom. I think that through the years I've made good enough decisions about styles I've had made up. They are very personal, both cut to fit me and somewhat of my own design. I will be very unlikely to purge them. The ones that are a little loud and deviant will never be cast aside either. At least a child or grandchild will enjoy them when they have their day in the sun. (My mom was the star of the show at a "Century Party" last year wearing my great grandmother's flapper dress.) Very nice trousers stay together on the same wooden hangers. More casual OTR pants are separate in the closet. Of course the "grasscutters" even more separate. Dress shirts are laundered professionally and kept in plastic dry cleaning bags. One BIG lesson from this weekend's organizing is that I have ruined a whole bunch of very nice shirts by hanging them with the belief they had another wear in them. Oil ruined many collars and for the most part, I am going to suck it up and always launder things right away, even If I think they seem clean. The cost of losing a very nice shirt to a yellow collar is way higher than the cleaning bill.
Point Three: I plan to do better putting my things away. One of the things that I found is that my closet was littered with items that belonged in other parts of the house. Likewise, other parts of the house had lots of things scattered around that belonged in my closet. I found more money, business cards, ammunition, pens, receipts than you could ever imagine in my closet. I took out a tall kitchen garbage bag full of papers and trash- I found that I have been doing a terrible job putting away my stuff. This is perhaps why it takes a closet crisis to inspire organization. I could write a whole post just on the incredible trinkets and sundries that find a way to the catchall, are left in pockets, and hide in the back of drawers.
Okay, reading back through this I am realizing that for many of you- this may be some of the worst advice you could be given- but this is how I do it. At the end of the day, all of my style is influenced by my grandfathers, my dad, and my favorite uncle. That favorite uncle, a sharp-dressed fashion retailer that was a preppy when the term was invented, set me in motion. I've pretty much worn the same garb my whole life- it's just hell to keep it all minimal, cared for, and organized when you start having a little too much of it. At the end of the day- I guess if I was stranded on a deserted island give me a pair of tailored khakis, a white OCBD, a perfect blue blazer, shell loafers, and a couple of good belts, some killer sunglasses and I'm good to go.
Cheers and Best Wishes,
Will