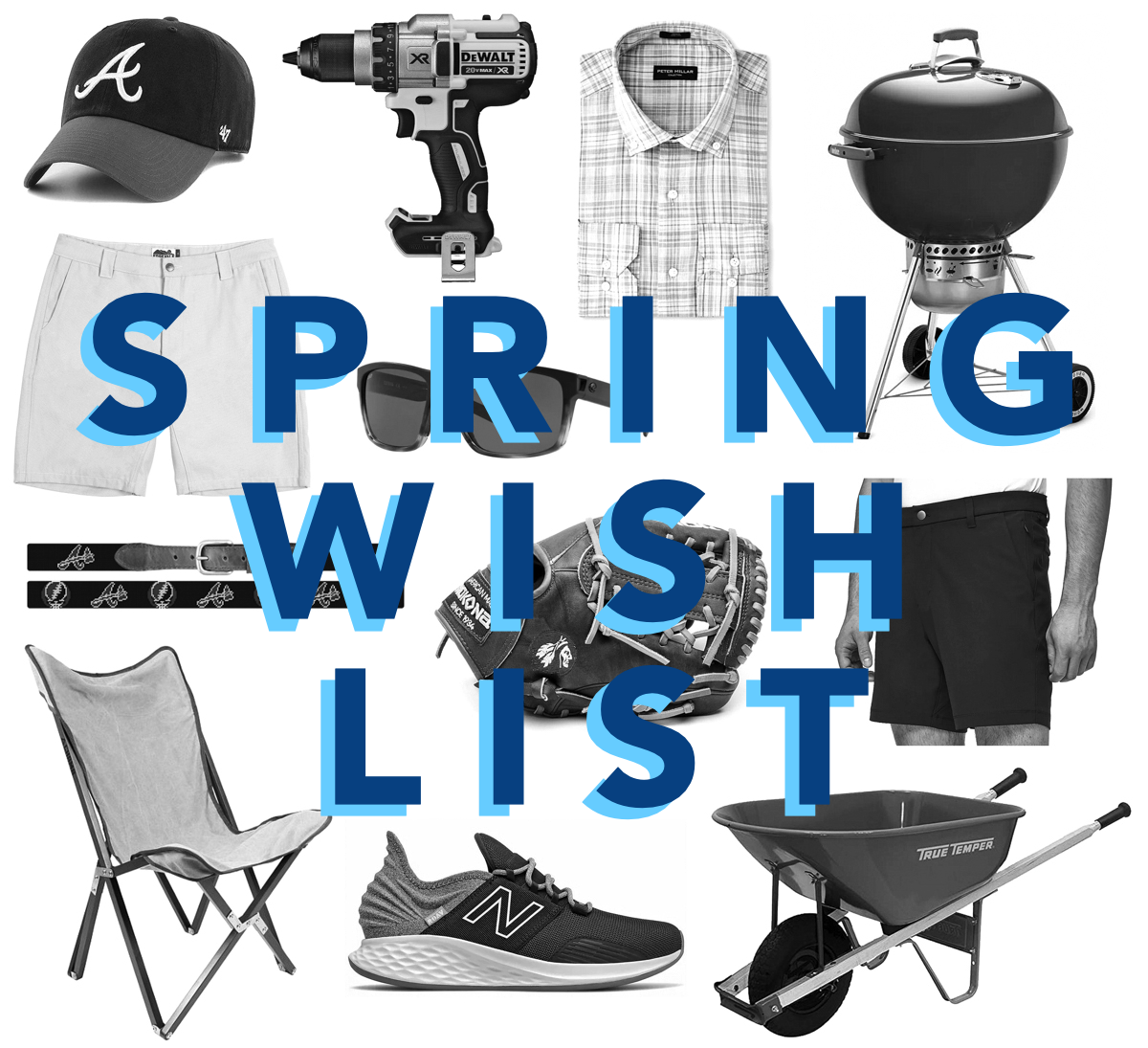 I know that Winter seems to be dragging along, but Spring will be here before you know it.  I don't know about y'all, but I'm excited to get out and have some fun.  Our boys are getting a little older, and are about to start playing some sports(!).  Not only that, there's plenty to do in the yard, which I'm really excited about.  Spring Training starts soon, and so do our family back deck cookouts.  You'll see that golf and fishing are noticeable absent from this list – and that's on purpose.  More on that later…  For now, here's what's on my Spring wish list: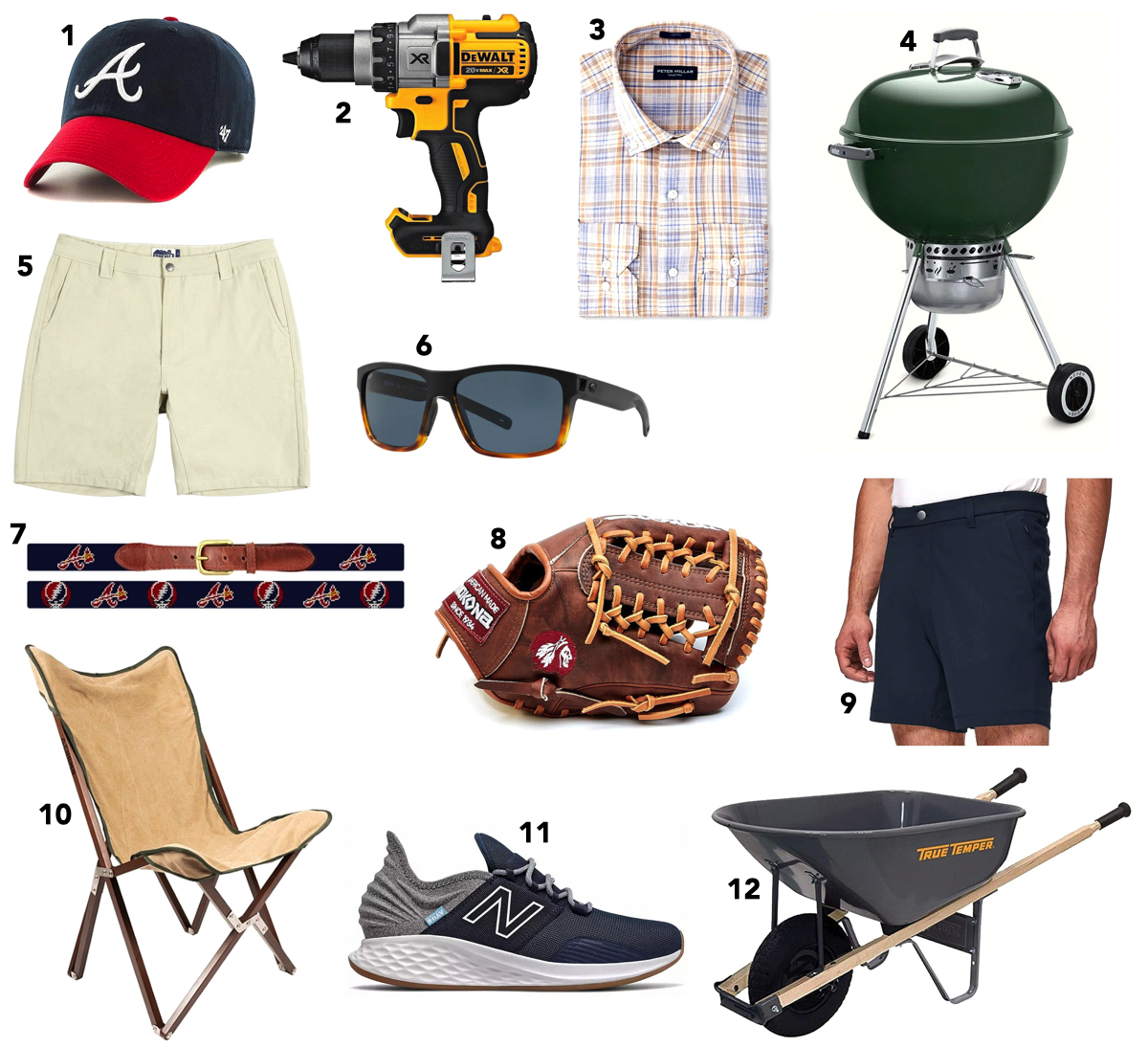 From top left:
1. Braves Hat:  I usually get a new Braves hat every year, and this year I'm going traditional.  Navy hat with a red bill.  I have no doubt that this will bring us all the luck we need to get back to the NLCS.
2. DeWalt Drill:  At this point, I'm actually looking for projects to do…and my current drill is laughable for what I'm about to attempt.  Time to upgrade.
3. Peter Millar Linen Blend Sport Shirt:  I used to bag on linen, but now I'm on board.  I like the look, especially when I wash/hang dry/warm iron – a little rough around the edges, but super cool.
4. Weber 22″ Charcoal Grill:  I'm tired of pining over these old charcoal grills.  I'm pulling the trigger.  Mrs. RCS and I LOVE to grill fish, burgers, steaks, and all sorts of other goodies and nothing can replace the taste of lump charcoal.  I can't wait.
5. Edgevale USA Yoder Shorts:  I'm going to add a pair of these Edgevale Yoder shorts (that are on sale!) to the rotation this year.  They are tough-as-nails canvas, and feature a great cut that isn't too Wookie.  I can only imagine how well these will break in.
6. Costa del Mar Slack Tide Sunglasses:  Most of the Costas I have feature the glass lenses.  While great, I want to add a lighter pair for ALL DAY trips to the lake or on the beach.  Lighter = more comfortable.
7. Braves Steal Your Face Needlepoint Belt:  I know you, Rider…
8. Nokona Baseball Glove:  As the boys get into sports, I need to be prepared.  My old gloves are a little past their prime, so I want one that'll last until after my boys are drafted.  Nokona makes incredible gloves in the USA, and I expect this will hold up longer than I need.
9. Lululemon Commission Shorts:  I got on these last year, and absolutely love them.  The 7″ inseam is perfect, and the fit is just right.  All I need now is a navy pair to round out my golf course look.
10. Chama Vaquero Chairs:  I'm already down with Lawn Chair USA, but I expect these will do a little better at the cul-de-sac parties and around the fire pit.
11. New Balance Fresh Foam Roavs:  I want to get a new pair of running shoes – something lightweight and sturdy, but not too technical.
12. New Wheelbarrow:  Lots of yard projects, and lots of rides for the boys.  It's like an amusement park over here.
What do you have your eye on as Spring arrives?